This Lemon Garlic Pasta is the easiest, refreshing dinner packed with healthy fat from olive oil and anti-inflammatory garlic and lemons.
Plus, the recipe works with any kind of pasta, and you can make it gluten-free or low-carb if needed.
If you like Mediterranean diet recipes packed with healthy fats from olive oil, herbs, and less dairy, you'll love this recipe.
This easy pasta dish is packed with anti-inflammatory garlic, lemon, and healthy omega-3 fatty acids from olive oil.
The creamy sauce is made from these simple ingredients, without heavy cream or dairy.
Plus, you can make this recipe with any pasta if you watch your carbs or gluten intake. Read below for tips on choosing the healthy pasta that works for you.
But first, let's see how to make this delicious lemon garlic pasta sauce.
How To Make Lemon Garlic Pasta
Lemon garlic pasta is a Mediterranean-inspired recipe, also called Pasta Al Limone in Italy, where the sauce is made dairy-free using pasta water.
Ingredients
Spaghetti or angel hair pasta. Any thin and long-strand pasta works. Feel free to use low-carb keto spaghetti. See the link in the recipe card for gluten-free pasta like rice pasta, buckwheat, or edamame spaghetti.
Freshly Squeezed Lemon Juice
Extra Virgin Olive Oil
Reserved Pasta Water from cooked pasta
Fresh Garlic
Freshly Chopped Parsley
Salt
Pepper or red pepper flakes
Choosing The Pasta
The best pasta for this lemon garlic pasta recipe is spaghetti.
Depending on your dietary requirements, you may want to choose a different kind of pasta like:
Gluten-Free Spaghetti – The ones made from rice, buckwheat, peas, or edamame are delicious.
Low-Carb Keto Spaghetti – They are often made from egg white, oat fiber, and pea protein isolate. See the ones listed in the recipe card.
Healthy Pasta – Wholewheat spaghetti or pulse-based spaghetti, like red lentil pasta, chickpea pasta, and spelt pasta are healthier.
Cook Al-Dente Pasta
The key to making delicious pasta dishes is to cook pasta al dente. It means the pasta is not too soft but still a bit tender and firm when bitten.
Plus, al-dente pasta is healthier because it is slower to digest and has a lower glycemic index. Less cooked pasta spikes blood sugar levels less.
Cook the pasta in a large pot of salted water. Reserve 1/3 cup of cooked pasta water for later.
Drain the pasta over a sieve. Set aside while making the lemon garlic sauce.
Lemon Garlic Sauce
For the sauce, use the same saucepan used to cook the pasta – no need to clean it.
Add olive oil and warm over medium heat. Add minced garlic and stir fry for a few seconds, then add finely chopped parsley and lemon zest.
Stir fry for a few seconds and add pasta water, lemon juice, salt, and pepper.
Simmer for one minute, then return the pasta to the pot and toss to coat with sauce.
Cook over low-medium heat for about 10 minutes or until the pasta is warm.
Serving
This lemon garlic pasta is delicious served with toppings like:
Grated Parmesan cheese, including dairy-free option if vegan.
Chili Flakes
Ground Pepper
Fresh Parsley
Toasted Pine Nuts
Protein Add-Ons
Of course, this pasta recipe is even better with some egg or meat on the side like some of the recipe below.
Storage Instructions
This pasta dish can be stored in the fridge in airtight containers for up to four days.
Rewarm pasta in the microwave, in a microwave-safe bowl, or a saucepan over medium heat.
You can freeze the pasta in a sealed container and thaw it in the fridge the day before.
Allergy Swaps
Find below some substitution options to match your dietary requirements or allergies:
Olive Oil – Another healthy oil for cooking is avocado oil. Or, if you prefer a lemon garlic butter sauce. Try grass-fed butter or ghee.
Low-FODMAP – Skip the garlic.
Low-Carb Keto – This sauce is low-carb-friendly. Use your favorite low-carb pasta for this recipe.
Gluten-Free – Use gluten-free spaghetti.
Frequently Asked Questions
Find below my answers to your most frequent questions about this recipe.
Can I Add Heavy Cream To The Sauce?
If you like your pasta creamy, stir in 1/3 cup of heavy cream with the reserved pasta water.
However, you may want to decrease the olive oil to 2 tablespoons, or the dish will be greasy.
Can I Use Butter?
You can use butter, but it's not as healthy as olive oil.
The best, if you want a butter flavor in the pasta dish, is to use three tablespoons of extra virgin olive oil and one tablespoon of butter.
Can I Make This Recipe Ahead?
Absolutely! I recommend cooking the pasta in the sauce the day before, cooling it down, and storing it in the fridge to increase resistant starch.
A recent study has shown that refrigerating high-carb food like rice or pasta decreases its impact on blood sugar levels.
It means that making ahead pasta recipes make them healthier and more satisfying as the cooked, cooled pasta turns into fiber-like ingredients, much more challenging to digest.
More Pasta Recipes
If you like this recipe, you'll love these other pasta recipes: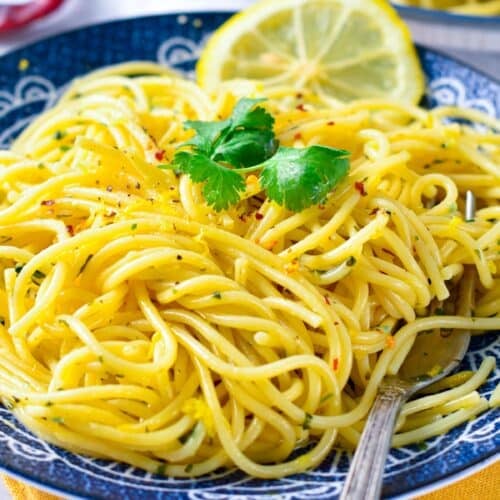 Lemon Garlic Pasta
This Lemon Garlic Pasta is an easy, light, and refreshing dinner packed with healthy fat from olive oil and anti-inflammatory garlic and lemons. Plus, the recipe works with pasta, and you can make it gluten-free or low-carb if needed.
Ingredients
12

oz

Spaghetti

uncooked

¼

cup

Extra Virgin Olive Oil

5

Garlic Cloves

minced

3-4

tablespoons

Lemon Juice

from fresh large lemons

1

tablespoon

Lemon Zest

from a fresh untreated large lemon

⅓

cup

Water

from cooked pasta

3

tablespoons

Fresh Parsley

finely chopped

¼

teaspoon

Black Pepper

1

teaspoon

Salt
Serving
1-2

tablespoons

Shredded Parmesan

1

pinch

Chilli Flakes

Fresh Parsley
This recipe may contain Amazon or other affiliate links. As an Amazon Associate I earn from qualifying purchases.
Instructions
Cook the pasta following the instructions on the packaging. Set aside 2/3 cup of warm pasta water.

Drain pasta in a colander and set aside.

Warm olive oil over medium heat in the same saucepan you cooked the pasta.

Add the minced garlic, stir fry for 20 seconds, then add three tablespoons of lemon juice, pasta water, and lemon zest.

Simmer for 1 minute, then stir in the cooked pasta in the pot.

Cook until pasta is warm, taste, and adjust with an extra tablespoon of lemon juice or Parmesan cheese.
Serving
Serve pasta with more freshly grated Parmesan, extra salt, fresh parsley, pepper, or chili flakes.
Notes
The nutrition panel is calculated with classic wheat pasta.
Want My Kitchen Equipment?
Serving:
1
serving
Calories:
300.2
kcal
(15%)
Carbohydrates:
44.1
g
(15%)
Fiber:
2.1
g
(9%)
Net Carbs:
42
g
Protein:
7.9
g
(16%)
Fat:
10.1
g
(16%)
Saturated Fat:
1.5
g
(9%)
Polyunsaturated Fat:
1.3
g
Monounsaturated Fat:
6.7
g
Cholesterol:
0.7
mg
Sodium:
408.4
mg
(18%)
Potassium:
160
mg
(5%)
Sugar:
1.8
g
(2%)
Vitamin A:
182.3
IU
(4%)
Vitamin B12:
0.01
µg
Vitamin C:
7.6
mg
(9%)
Vitamin D:
0.01
µg
Calcium:
29.5
mg
(3%)
Iron:
1
mg
(6%)
Magnesium:
32.9
mg
(8%)
Zinc:
0.9
mg
(6%)
Posted In: