Roasted Cauliflower With Tahini
This Roasted Cauliflower with Tahini is the easiest sheet pan recipe for a cauliflower lover. Moist and crispy cauliflower bits served in a creamy tahini lemon sauce.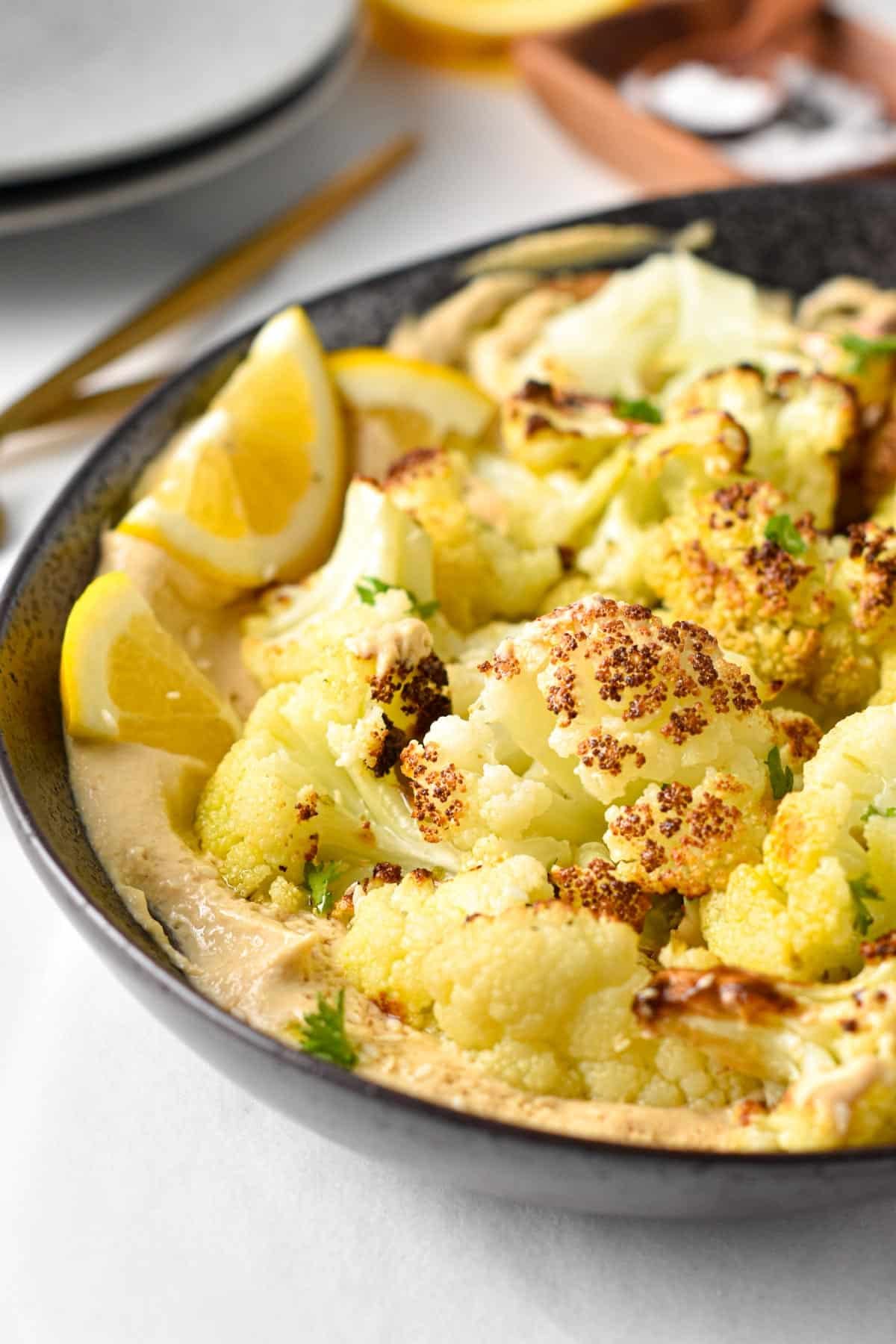 This side dish is simply a combination of my two favorite recipes: roasted cauliflower and tahini sauce. When put together, this side dish became the most delicious thing, perfect for a Thanksgiving side dish or on its own as a light vegan dinner.
In fact, tahini is packed with proteins and healthy fats and very filling. It's a great addition to cauliflower too if you love low carb dish recipes that won't take ages to prepare.
How To Make Roasted Cauliflower With Tahini
This is a two-step recipe, but it is so easy to whip in less than 30 minutes that it will be added to your weekly meal rotation.
Ingredients
All you need to make this delicious side dish are:
Large Cauliflower Head – Trim the green leaves, discard them, and then cut the cauliflower into small cauliflower florets.
Avocado Oil, olive oil, or any cooking oil you love. I recommend high smoke point oil for roasted vegetables because they are stable at high temperatures and won't smoke.
Garlic Powder or fresh crushed garlic. One or two is enough.
Oregano
Then, for the lemon tahini sauce, you need:
Tahini Paste – Unhulled tahini or hulled tahini work the same.
Lemon Juice
Water
Garlic Powder
Cumin
Tahini, paprika, or sumac for Middle-Eastern flavors.
Maple Syrup for a lightly sweet touch. Skip if you don't want to add sugar to the recipe.
Salt and Pepper
Preparation
First, preheat the oven to 430°F (220°C). It sounds like a high temperature, but if you don't want a mushy cauliflower, you must roast the florets at higher temperature. This deliver a perfect crispy texture around each bites while keeping the veggies tender and moist in the middle.
Cutting Cauliflower
First, trim the green leaves and discard them. Then, run a sharp knife around the core base of the cauliflower head to release big florets.
Separating Florets
Finally, cut the cauliflower forest into smaller pieces.
Place the cauliflower florets on a large baking sheet covered with parchment paper or a silicone mat.
Preparing Marinade
In a small bowl, whisk oil, spices and salt and pepper.
Coating Florets
Pour the oil mixture over the florets and toss by hand to cover each with the mixture.
If you don't mind having extra bowls to clean, toss the florets with the oil mixture in a large mixing bowl. It makes it easier to cover the florets evenly with oil.
Baking The Cauliflower
Bake in a single layer on the middle rack of the oven for about 20 to 25 minutes or until the outside is golden brown and the center is soft but still has texture.
Combining Tahini Sauce Ingredients
While the cauliflower is roasting, prepare the tahini garlic lemon sauce.
In a small mixing bowl, whisk tahini and lemon juice. Then, add the remaining ingredients except the water.
Stirring The Sauce
Stir to incorporate. At the end, gradually stir in cold water to thin out the tahini sauce. I like to make a thick paste that I spread on my dish and then top up with the warm roasted cauliflower.
But, if you prefer serving the roasted cauliflower recipe with a drizzle of tahini sauce, add more water to the sauce to turn it into a dressing.
Serving
To serve, spread the creamy tahini garlic sauce all over the bottom of a large serving dish. Add the warm roasted cauliflower florets on top.
Or, if you thin out the sauce into a tahini dressing texture, place the roasted cauliflower in the dish and serve with tahini on the side to drizzle on your plate later.
Garnish the dish with some of the below:
A sprinkle of red pepper flakes for a spicy touch.
Freshly chopped herbs like Parsley, mint, or cilantro.
A drizzle of lemon juice or lemon wedges.
Sesame seeds
A drizzle of extra virgin olive oil.
Pairing The Cauliflower Dish
This recipe is perfect to serve on Thanksgiving or Christmas as a side to roasted meat, Turkey, or chicken.
It's also a great recipe to serve with rice, or greens like lettuce to make a warm salad.
You can also try some of the recipes below to pair with this side dish for a healthy dinner.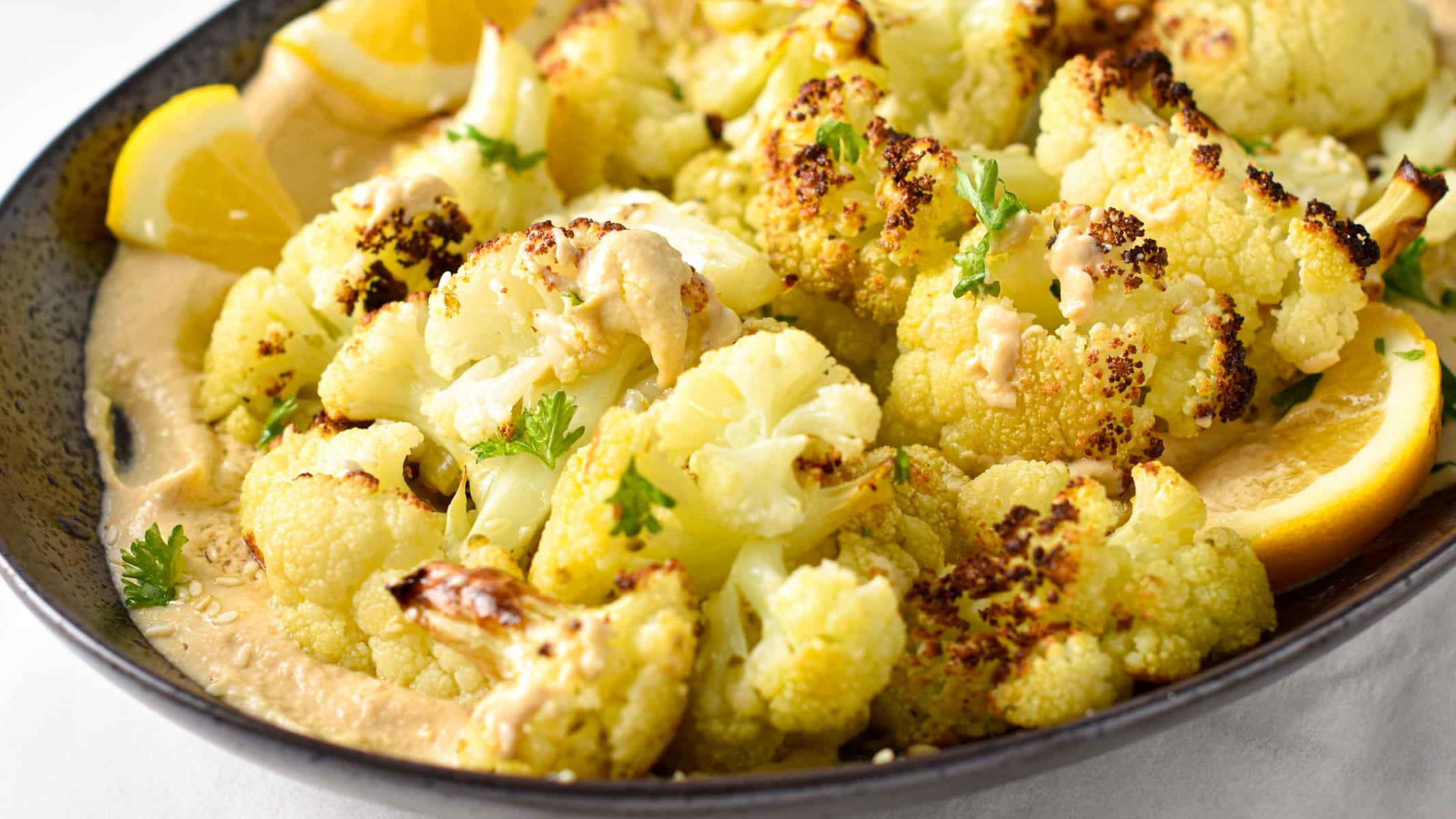 Storage Instructions
Fridge – Store leftovers in the refrigerator in an airtight container for up to 4 days. You can rewarm the cauliflower with the sauce in a microwave-safe dish. The sauce might dry out as it gets warmed up. Add a bit of water to thin it out if needed.
Freezer – Freeze in a sealed container for up to one month. Thaw in the fridge the day.
Make-Ahead – You can make the tahini sauce a few days before and pre-cut the cauliflower florets up to 2 days ahead. Store both in the fridge and roast the cauliflower just before serving.
Allergy Swaps
If you need to substitute some ingredients, try some of the options below.
Sugar-Free – Skip the maple syrup or use sugar-free liquid sweetener.
Tahini Swap – This recipe works with cashew butter or peanut butter if you don't have tahini. Of course, it won't deliver the same Mediterranean flavors.
Gluten-Free – The recipe is naturally gluten-free. Always check your tahini paste's packaging to ensure it has no added ingredients to the sesame seeds.
Frequently Asked Questions
Below are my answers about your most frequent questions about this easy side dish recipe.
Why Is My Roasted Cauliflower Mushy?
If you roast cauliflower at a low temperature, it cooks slowly and gets mushy.
You must roast cauliflower at 430°F (220°C) to quickly roast the edge and keep the center tender.
What Flavors Go With Cauliflower?
Cauliflower is pretty bland in flavor, and it goes well with most spices like garlic, lemon, oregano, paprika, sumac, cumin, and olive oil.
More Cauliflower Recipes
If you love this veggie, I have many more cauliflower recipes for you!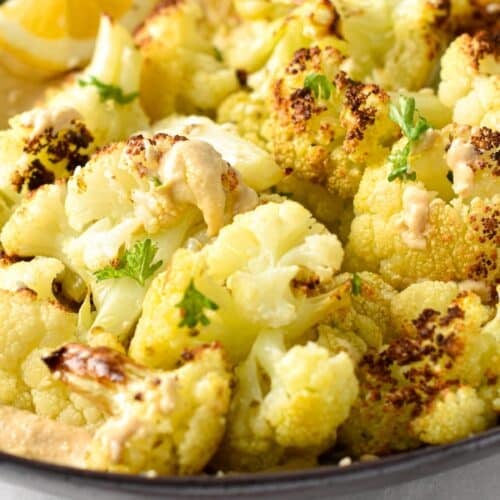 Roasted Cauliflower With Tahini
This Roasted Cauliflower with Tahini is the easiest sheet pan recipe for a cauliflower lover. Moist and crispy cauliflower bites served in a creamy tahini lemon sauce.
Nutrition Snapshot
Want My Kitchen Equipment?
Instructions
Preheat the oven to 430°F (220°C). Line a large baking sheet with parchment paper or a silicon mat. Set aside.

Cut the cauliflower head into small bite-size florets of the same size and place in a large bowl.

Toss the florets with avocado oil, salt, pepper, garlic powder, and oregano.

Spread the florets in a single layer onto the baking sheet.

Bake on the center rack of the oven for 18 minutes.

Shake the tray to move the florets around and keep baking for an extra 5 minutes until golden brown and the edges start to darken in color.

While the cauliflower is roasting, make the tahini sauce.
Creamy Tahini Sauce
In a medium bowl, stir tahini, lemon juice, maple syrup, salt, pepper, cumin, and garlic powder.

Stir in cold water gradually to thin out the sauce to your liking.

Spread the sauce over the bottom of a large serving dish.

Remove the roasted cauliflower from the oven and place it in the serving dish on top of the tahini sauce. Serve with extra salt, pepper, red pepper flakes, and freshly chopped herbs.
Storage
Store in a sealed container in the fridge for up to 3 days or freeze for up to 3 months. Thaw in the refrigerator the day before.
My Recipe Notes
Nutrition
Serving:
1
Cup
Calories:
256.5
kcal
(13%)
Carbohydrates:
13.8
g
(5%)
Fiber:
3.8
g
(16%)
Net Carbs:
10
g
Protein:
6.7
g
(13%)
Fat:
21.5
g
(33%)
Saturated Fat:
2.9
g
(18%)
Polyunsaturated Fat:
6.8
g
Monounsaturated Fat:
10.8
g
Sodium:
276.5
mg
(12%)
Potassium:
490.1
mg
(14%)
Sugar:
3.4
g
(4%)
Vitamin A:
26.1
IU
(1%)
Vitamin C:
61.1
mg
(74%)
Calcium:
70.5
mg
(7%)
Iron:
1.8
mg
(10%)
Magnesium:
43.6
mg
(11%)
Zinc:
1.5
mg
(10%)
Posted In: