Learn how to turn eggplant into the best side dish this summer with this sautéed eggplant recipe.
You will make everyone fall in love with these soft, tender, and caramelized pieces of pan-fried eggplant, on your next BBQ party.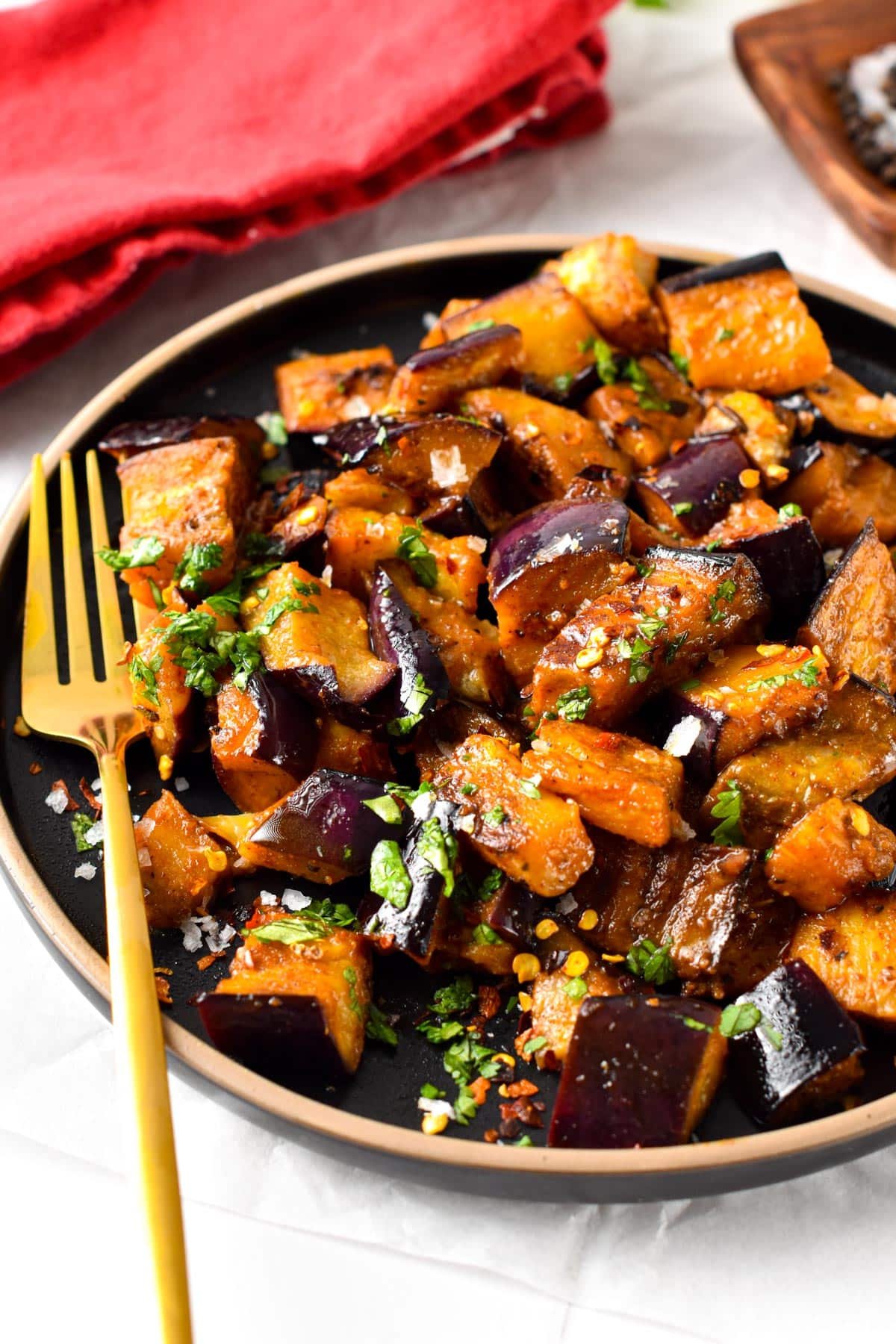 I love cooking with eggplant, they are so versatile and you can make so many tasty and healthy recipes with them.
You might have already tried some of my delicious eggplant appetizers like my Eggplant Dip, Zaalouk recipe, or my popular Eggplant Rollatini as a quick Italian dinner.
When you try this simple way of sautéing eggplants, you can't stop making them. It's the easiest eggplant recipe, yet so good and ridiculously healthy.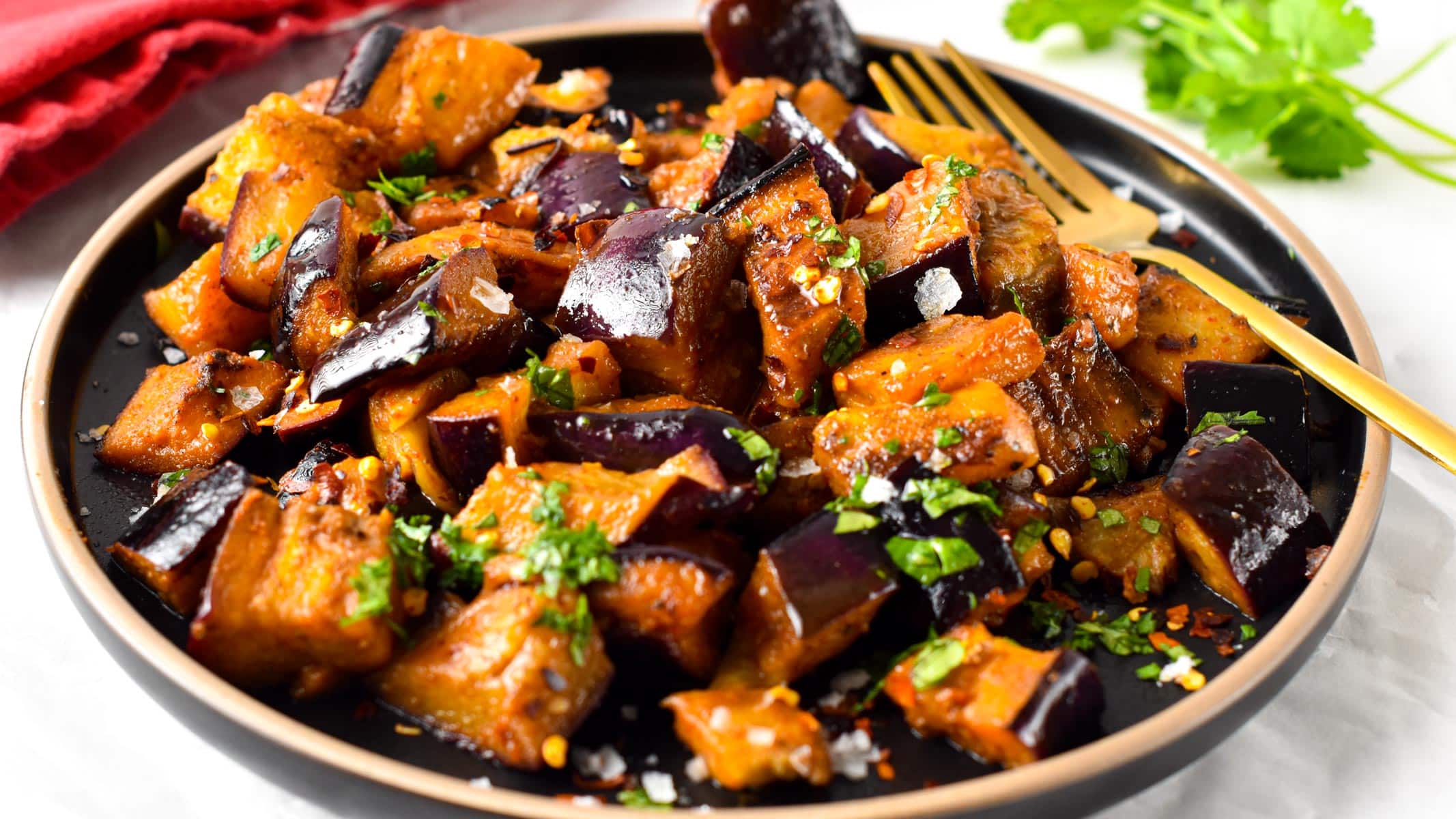 How To Make Sautéed Eggplant Recipe
Sauteed vegetables are vegetable pan fried in oil and cook until just tender, but still a bit firm.
For eggplant, you will need a bit more oil and the size you cut the vegetable matters too. Let me share my tips below to make the perfect sauce eggplant every time.
Ingredients
Eggplant– A fresh eggplant is firm to the touch with a smooth, shiny skin.
Garlic Cloves – crushed or minced
Olive Oil, avocado oil or sesame oil.
Sea Salt
Black Pepper
Cumin
Smoked Paprika
Red Pepper Flakes
Flat Italian Parsley or Cilantro or any chopped herbs you love like dill or parsley.
Choosing The Eggplant
Did you know there are 11 varieties of eggplants? They all have different shapes, sizes, skin colors, and tastes.
So below, I will list the top 5 eggplant types you can use for sauteed eggplant.
American Eggplant is also known as globe eggplant. This is the most common eggplant found at the grocery store. It's a large purple eggplant with thick shiny skin and firm flesh. Therefore, this eggplant goes well in any recipe from stew like my French ratatouille recipe or sauteed eggplant.
Italian Eggplant – It has a similar color and shape to the classic globe eggplant I am using in this recipe. However, Italian eggplants are sweeter, smaller, and softer so they are better for casseroles like eggplant rollatini
Chinese Eggplant or Japanese eggplant. These are long, thin, light purple eggplant with white flesh that contains barely any seeds. Since they are long and narrow, they are perfect for making sauteed eggplant slices or eggplant strips and flavor with a stir-fry sauce.
Fairy Tale Eggplant – these are perfect for sautéing or bringing on the BBQ because they are smaller and cook faster. They have lovely purple and white striped skin and taste very sweet.
White Eggplant – They have a pure white skin and flesh with a similar texture as globe eggplant. Therefore, you can use this eggplant in any eggplant recipe. White eggplants are the original variety, which is why the vegetable is called egg-plant.
Cutting The Eggplant
There are different ways you can cut eggplants. However, whatever the way you go with, keep in mind that you must keep the skin on the eggplant or the flesh turns mushy.
Trim the eggplant steam, then cut the eggplant the way you love, depending on how you intend to serve the dish.
Eggplant Slices – Cut the eggplant sideway into 1/4-inch slices (6mm). This method requires more olive oil because you will cook the slices in batches, adding extra oil every time you add fresh eggplant slices to the pan.
Eggplant Cubes – My favorite way of cutting the eggplant is into thick, large cubes. First, cut the eggplant in half lengthwise. Then, cut each half into large cubes. This method is classic for Mediterranean eggplant recipes like Moroccan eggplants.
Eggplant Sticks – Cut the eggplant into three large slices lengthwise. Then, cut each slice into long thick eggplant strips. This method is mostly used in Chinese eggplant recipes.
Sautéing Eggplant
In a large non-stick skillet over medium-high heat, warm olive oil.
Add the eggplant cubes, salt, minced garlic, cumin, pepper, and paprika. Cook, stir for 2 to 3 minutes until the eggplant flesh looks golden brown.
Reduce to medium heat, cover, and cook for a few minutes until they achieve a soft texture. You may need a bit more oil as pan-frying eggplant absorbs lots of oil.
Remove the lid and drizzle lemon juice to deglaze – it will sizzle in the pan.
Serving Sauteed Eggplant Recipe
Serve the eggplant as a side dish with freshly chopped herbs, an extra drizzle of virgin olive oil or truffle-infused oil, and a sprinkle of red chili flakes to add a spicy flavor.
Veggie To Serve With Eggplants
Eggplant is a summer vegetable that goes very well with zucchini, tomatoes, and root vegetables like rutabagas or potatoes.
Here are some other veggies to bring to the table next to these sauteed eggplant cubes:
Pairing Dishes
Sauteed eggplant goes amazingly well with meat. Below are some ideas of the main dish you can cook with this lovely side dish.
Storage Instructions
Store eggplant leftovers in a sealed container in the fridge for up to 3 days.
Rewarm them in a microwave-safe bowl or in a nonstick pan until just warm.
Variations
Feel free to skip the cumin, paprika, and lemon juice to try different flavors as per below.
Greek Eggplants – Cook them with dried basil and dried oregano and serve them with a drizzle of lemon juice, honey, and feta. Serve with fresh basil leaves.
Moroccan Eggplants – Cook the eggplants with cumin and paprika and serve them with a drizzle of harissa, honey, and lime juice. Serve with fresh Parsley.
Asian Eggplants – Cook them with five Chinese spices, deglaze them with mirin or sake, honey or brown sugar, and soy sauce. Serve with sesame seeds and green onion.
Allergy Swaps
If you need some ingredients substitutions ideas, pick some below.
Garlic Swap – Skip the garlic or use 1/2 teaspoon of garlic powder if preferred.
Oil Choice – Any oil works, like melted coconut oil, avocado oil, or sesame oil.
Honey – Feel free to use any liquid sweetener you love or skip to avoid sugar added.
Frequently Asked Questions
Below are my answers about this eggplant recipe.
Do I Have To Salt Eggplant Before Sauteing It?
You don't have to salt the eggplant, especially for roasted eggplant, sauteed, or stir-fried eggplant.
However, if you are making a casserole with lots of eggplant layers, salting eggplant and pat drying the slice will remove any excess water and prevent a runny casserole.
Do You Peel Eggplants Before Sautéing?
No, keep the eggplant skin on or the flesh turns too soft and mushy. Also, the skin adds fiber and nutrients to your plate.
What Is The Best Way To Cook Eggplants?
Sautéing eggplant is the fastest and easiest way to cook eggplant.
But if you have an oven or air fryer, try air frying oiled eggplant cubes at 400F (200C) or roasting in a single layer on a lined baking sheet.
More Veggie Recipes
If you like simple and healthy recipes, try these other veggie recipes: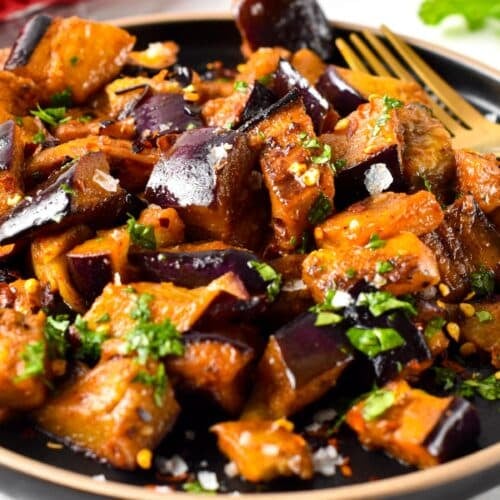 Sauteed Eggplant
Learn how to turn eggplant into the best side dish this summer with this sauteed eggplant recipe. You will make everyone fall in love with these soft, tender, and caramelized pieces of pan-fried eggplant at your next BBQ party.
Nutrition Snapshot
Want My Kitchen Equipment?
Instructions
Place the eggplant on a chopping board, cut off the stem and discard it.

Cut the eggplant into large cubes – see the pictures above for visual help.

Warm olive oil in a large skillet and add eggplant cubes, salt, crushed garlic, cumin, paprika, and pepper.

Cook, stir for 2-3 minutes or until flesh turns golden brown.

Reduce heat, cover, and cook for another 2-3 minutes until tender in the center.

Remove the lid, deglaze with lemon juice and honey if used. Serve with freshly chopped herbs or red chili pepper.
Storage
Store in an airtight container for up to 3 days in the fridge. Rewarm in a warm saucepan or microwave.
My Recipe Notes
Nutrition
Serving:
1
Serving
Calories:
178.9
kcal
(9%)
Carbohydrates:
12.8
g
(4%)
Fiber:
5.1
g
(21%)
Net Carbs:
7.7
g
Protein:
1.9
g
(4%)
Fat:
14.6
g
(22%)
Saturated Fat:
2
g
(13%)
Polyunsaturated Fat:
1.7
g
Monounsaturated Fat:
10.4
g
Sodium:
204.7
mg
(9%)
Potassium:
400.7
mg
(11%)
Sugar:
7.6
g
(8%)
Vitamin A:
481.2
IU
(10%)
Vitamin C:
6
mg
(7%)
Calcium:
27.7
mg
(3%)
Iron:
1.1
mg
(6%)
Magnesium:
26.7
mg
(7%)
Zinc:
0.4
mg
(3%)
Posted In: