This easy Steak Alfredo Fettuccine recipe combines creamy garlic Alfredo sauce, fettuccine egg pasta, and grilled steak for a delicious dinner that is quick and easy to whip up.
It's a quick 30-minute dinner full of proteins, and it's low-carb when made with low-carb egg noodles.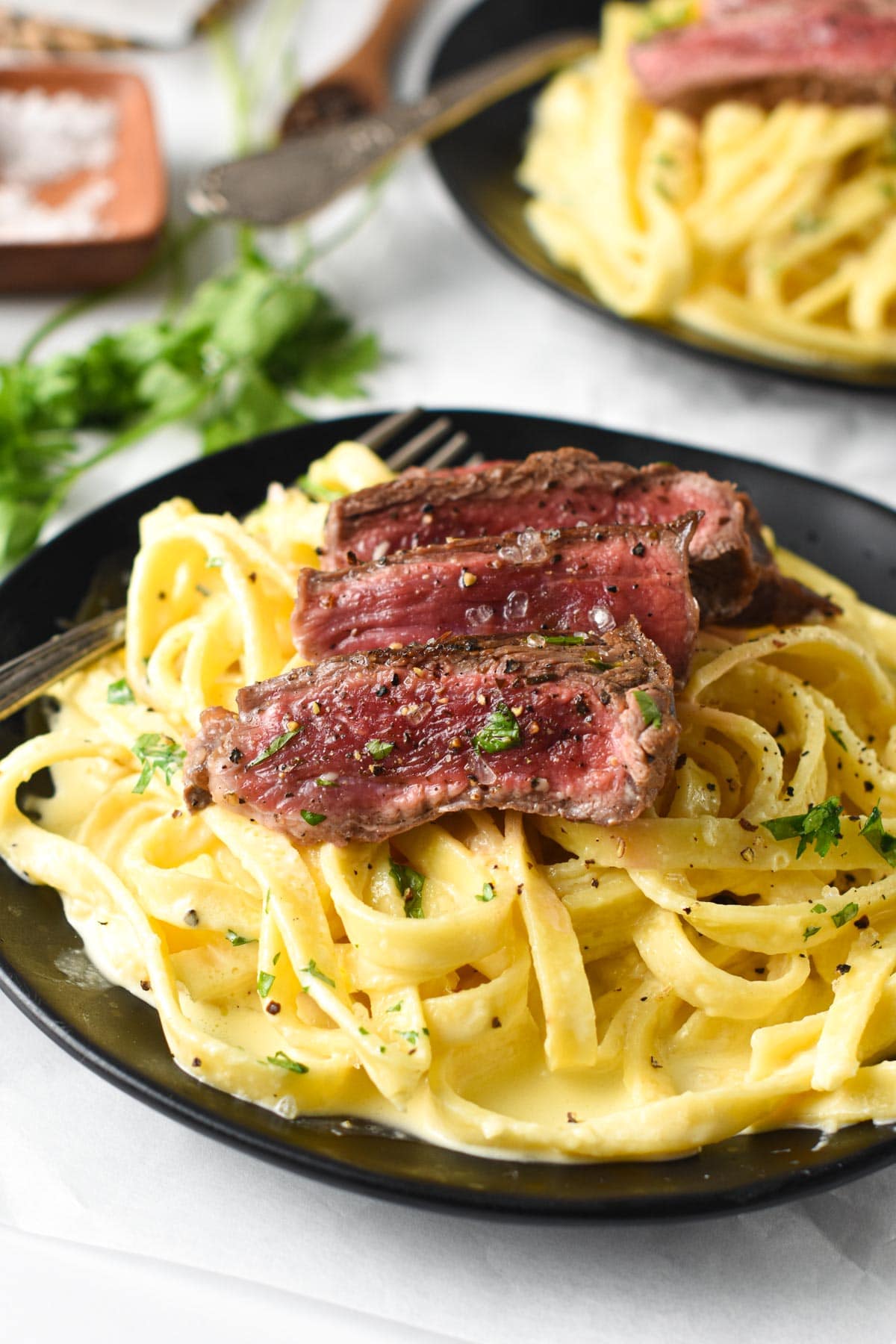 Why You'll Love This Recipe
If you love Alfredo pasta, you probably have made a chicken alfredo or spaghetti squash alfredo.
But have you ever tried Alfredo sauce and steak? It's the best combination ever and a must-try family dinner. It's:
Quick to make in under 30 minutes
Keto-Friendly if you use low-carb noodles
Super-creamy, with my signature Alfredo sauce
Very cheesy, because there's never enough
How To Make Steak Alfredo
It's very easy to make steak alfredo fettuccine for dinner.
Ingredients
These are the ingredients you need:
Fettuccine or spaghetti – if you are eating a low-carb diet, you can pick several low-carb options such as Al Dente's Carba Nada, or The Great Low-Carb Bread Company's Fettuccine.
Heavy Cream – heavy cream is naturally low in carbs. You can swap it for Gorgonzola cheese for a stronger taste.
Almond Milk – or milk of choice. Most plant-based are low in carbohydrates, but dairy milk is high in sugar.
Butter – prefer unsalted grass-fed butter for a delicious taste.
Garlic – freshly crushed is the best. To do so, chop it with a kitchen knife and use the same blade to crush it.
Parsley – fresh Italian parsley will bring the best flavor combination. If you don't have any you can use other mild fresh herbs such as fresh rosemary but avoid cilantro or dill.
Salt and Pepper – Himalayan pink salt and black pepper is the best combination.
Parmesan – For Italian pasta, you can either use shaved Parmesan or finely grated Parmesan. But grate it or shave it yourself. If you buy pre-grated or pre-shaved Parmesan, it's likely to include anti-caking agents like cellulose that can slightly alter its taste.
Pasta Choice
Before starting the recipe, choose your favorite pasta. The best pasta for alfredo recipes is long, egg pasta like egg fettuccine or spaghetti.
For a low-carb option, choose one of the below:
Low-carb Egg Fettuccine
Edamame Fettuccine
Heart Palm Fettuccine
Konjac Fettuccine
For a gluten-free option, use:
Brown rice Fettuccine
Quinoa
Buckwheat
Marinating The Steak
Marinate the steak at least 30 minutes before you start this recipe. The longer the steak marinates, the tastier it will be so if you can let it marinate overnight, it'll be even better.
You can use any cut of steak you love for this recipe – a sirloin steak is an excellent option for a low-cost dinner, but a filet or porterhouse will be delicious.
First, marinate the steak following my easy 3-Ingredient Steak Marinade.
Cooking The Pasta
Cook your pasta on medium-high heat following the packaging instruction, rinse, drain and set aside in a large saucepan.
Making The Alfredo Sauce
To make the alfredo sauce, add butter to a small saucepan. Melt the butter, then add heavy cream, garlic, and shredded parmesan.
Stir as it goes to melt the cheese and create a creamy smooth sauce. Add parsley, salt, and pepper.
Remove from heat and pour over the previous saucepan, where you set aside the cooked fettuccine.
Bring the saucepan with the fettuccine and the alfredo sauce over low-medium heat.
Stir and cook until the pasta is warm and flavored by the sauce. If the sauce dry out, add more heavy cream or almond milk to thin it out.
You can also make a Cauliflower Alfredo Sauce for a slightly different taste.
Grilling The Steak
Meanwhile, grill the steak on both sides. Follow my steak cooking guide to achieve the best steak cooking level.
The cooking time depends on what you like and how thick the meat is. It will range from 4.5 minutes on each side for a rare 1-inch cut to 8.5 minutes on each side for a well-done 2-inch cut.
Remove the steak from the frill and place it on a chopping board. Cut the steak into thick strips, as seen in the pictures below.
Serving
Serve about 1 cup of cooked Alfredo fettuccine and top with 2 ounces as a portion of steak.
Top up the plate with shredded parmesan and fresh parsley. You can also serve some fresh spinach on the side with a drizzle of balsamic vinegar, it's perfect with steaks.
Some also serve this dinner with my Spinach Pesto or Pesto Without Pine Nuts, and that's a delicious combination!
Storage Instructions
You can store the leftover of this steak fettuccine alfredo recipe in the fridge in an airtight container for up to 2 days.
Or, freeze the leftovers for up to 3 months. Thaw them in the fridge the day before.
Rewarming
To rewarm leftovers, you can bring the pasta to a large pot and add extra water or heavy cream, or almond milk to avoid the pasta sticking to the pan.
For the steak, rewarm it aside in a hot skillet or on the grill.
Frequently Asked Questions
Can I make dairy-free alfredo sauce?
Yes, absolutely. You can use any dairy-free cream like canned coconut cream or soy cream in this recipe.
For the cheese, use dairy-free parmesan and almond milk to thin out the sauce.
Can I make the recipe gluten-free?
Yes, you can choose your favorite gluten-free pasta brand for this recipe. There are many gluten-free fettuccine noodles available.
What meat goes with Alfredo?
Alfredo sauce is delicious with a thick cut of beef. like sirloin or rump steak. If you don't like beef, you can make the same sauce with chicken breast.
More Easy Dinner Recipes
Below I listed some more easy pasta dinner recipes for you to try: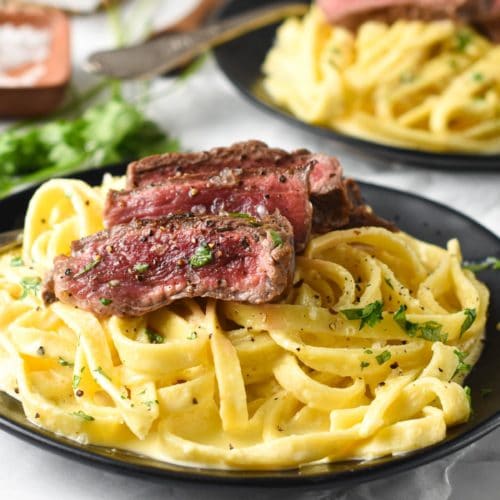 Steak Alfredo
This easy Steak Alfredo Fettuccine recipe combines creamy garlic, Alfredo sauce, fettuccine egg pasta, and grilled steak. A quick 30-minute Family dinner.
Yield:
servings (1 cup cooked pasta, 2oz steak)
Serving Size:
1
serving (1 cup cooked pasta, 2oz steak)
Ingredients
Alfredo sauce
¼

cup

Unsalted Butter

1 ¼

cup

Heavy Cream

¼

cup

Unsweetened Almond Milk

3

Garlic Cloves

crushed or 1/2 teaspoon garlic powder

¼

cup

Fresh Parsley

finely chopped

1

teaspoon

Salt

½

teaspoon

Pepper

1 ½

cup

Shredded Parmesan

16

oz

Sirloin Steak
This recipe may contain Amazon or other affiliate links. As an Amazon Associate I earn from qualifying purchases.
Instructions
Pick the fettuccine of choice, gluten-free or keto if desired. Cook following packaging instructions. Rinse, drain, and set aside in a large saucepan.
Making The Alfredo Sauce
In a small saucepan, melt butter over low heat.

Stir in heavy cream, crushed garlic, salt, pepper, and shredded Parmesan cheese.

Stir and cook on low heat, simmering the sauce for 1-3 minutes until cheese is melted and the sauce thickens, and strings of cheese form.

Stir in chopped parsley and unsweetened almond milk to make the sauce thinner – skip for a thicker sauce.

Pour the sauce over the cooked fettuccine, stir to combine, and bring the saucepan over low-medium heat to warm the pasta. If it gets too dry, add some almond milk or more heavy cream to thin out the sauce.

Meanwhile, grill the steak over a hot grill following my steak cooking level guide to reach your favorite meat texture. Season with salt and pepper while grilling.

When the steak reaches your favorite cooking level, remove it from the grill and place it on a wooden chopping board. Slice in thick slices.
Assemble the dish
Serve about 1 cup of pasta on your plate topped with grilled steak and extra chopped parsley.
Storage
Store leftovers in the fridge in an airtight container for up to 2 days or freeze for later.
Notes
The nutrition panel is calculated using low-carb fettuccine Carba-Nada.
Four cups of dried pasta make 8 cups of cooked pasta.
Want My Kitchen Equipment?
Serving Size:
1
serving (1 cup cooked pasta, 2oz steak)
Yield:
servings (1 cup cooked pasta, 2oz steak)
Serving:
1
serving (1 cup cooked pasta, 2oz steak)
Calories:
379
kcal
(19%)
Carbohydrates:
10.2
g
(3%)
Fiber:
2.1
g
(9%)
Net Carbs:
8.1
g
Protein:
23
g
(46%)
Fat:
27.5
g
(42%)
Saturated Fat:
16.1
g
(101%)
Polyunsaturated Fat:
1.2
g
Monounsaturated Fat:
7.2
g
Trans Fat:
0.2
g
Cholesterol:
108.2
mg
(36%)
Sodium:
718.2
mg
(31%)
Potassium:
282.1
mg
(8%)
Sugar:
1.1
g
(1%)
Vitamin A:
1044.9
IU
(21%)
Vitamin B12:
1
µg
(17%)
Vitamin C:
3.1
mg
(4%)
Vitamin D:
0.7
µg
(5%)
Calcium:
222.6
mg
(22%)
Iron:
1.2
mg
(7%)
Magnesium:
23.8
mg
(6%)
Zinc:
3.3
mg
(22%)
Posted In: