This homemade Spinach Pesto is a delicious pesto recipe made with spinach instead of basil.
It's a chunky pesto recipe with a delicious Parmesan and garlic flavor perfect for making pesto pasta or serving as a pesto dip.
I am in love with any Italian recipes, and pesto is one of my favorite dips of all time.
What's Spinach Pesto?
It's a pesto sauce made with spinach leaves instead of basil.
If you don't love basil flavor or have an allergy to basil, this spinach basil-free pesto recipe is a delicious recipe for making pesto pasta or sandwiches.
How To Make Spinach Pesto
It's easy to make homemade pesto with spinach at home in less than 15 minutes and is an excellent alternative to basil pesto.
Let's see the ingredients you need to start:
Ingredients
Fresh Baby Spinach Leaves – you can also use regular fresh spinach, but since the leaves are thicker, it takes much more time to pulse into a chunky texture. I would recommend trimming the spinach leaf stems if you use regular spinach.
Parmesan Cheese – Some other cheese like Grana Padano also works, and it's often less expensive than Parmesan.
Pine Nuts or walnuts – I like to make spinach pesto with walnuts. I think spinach and walnuts are a better combo than pine nuts that is more suitable for basil. But then, it's up to you to pick one or the other based on taste.
Fresh Garlic – peeled and crushed.
Extra-Virgin Olive Oil
Salt and Pepper
Blending
To make a great pesto recipe, you need a food processor.
First, add the S blade attachment to the bottom of the food processor bowl.
Then, place the baby spinach leaves and walnuts – or pine nuts – on top of the blade.
Next, blend on medium speed for 10 to 15 seconds to form a chunky mixture.
Pulsing
Stop the food processor, add Parmesan cheese, crushed garlic, salt, and pepper.
Pulse a few times to combine, stop the food processor, and use a silicone spatula to scrape down the side of the bowl to bring all the ingredients next to the blade.
Adding Olive Oil
Now, run the food processor on low speed and add the olive oil in a slow, steady flow.
You can use the food processor liquid dispenser attachment that fits the top of the plastic tube. This is the best tool to release oil slowly into the pesto mixture.
Stop when all the oil is incorporated or just before if you want to keep some chunky texture to the pesto.
If you stop it before, let the remaining oil flow down, then open the food processor and stir with a spatula to blend.
Serving
You can use this spinach pesto recipe on its own for:
Spreading on toasted bread – add scrambled eggs on top of tomato slices and mozzarella for the best easy healthy Italian-style lunch.
Dipping vegetables and crackers – dip almond flour crackers, keto crackers, or flaxseed crackers for an easy low-carb snack.
Stirring in pasta like in my pesto zucchini noodles.
Using as flavored oil to cook a spinach omelette or fried eggs.
Add-Ons
Of course, you can boost the flavor of this pesto recipe by adding some herbs like:
Chili Flakes for spiciness.
Dried Basil if you miss the basil flavor, this enhances the flavor without using fresh basil.
Lemon Juice – Add 1 to 2 teaspoons, if desired, for a tangy flavor.
Storage Instructions
This pesto recipe must be stored in a sealed, airtight container in the fridge. It lasts up to 3 to 4 days.
Freezing Pesto
You can freeze pesto in an airtight container or zip-lock bags and thaw it in the fridge the day before.
Or one of my favorite way to store pesto is in an ice cube tray because you can release just one single portion at once.
Plus, you can add one small frozen pesto cube in a warm saucepan to cook eggs like my pesto eggs or make a pesto omelette.
Frequently Asked Questions
Below are your most frequent questions about this easy spinach pesto recipe.
Can I Make Dairy-Free Pesto?
Yes, you can make this pesto recipe dairy-free by using dairy-free Parmesan cheese or 2 to 3 tablespoons of nutritional yeast to add a cheesy flavor without using dairy.
Can I Use Basil Leaves?
You can use this recipe to make a classic pesto but reduce basil to 2 cups.
You can also swap 1 cup of spinach for 1/2 cup of fresh basil leaves to add a basil flavor to the dip.
Can I Make Chunky Pesto?
For a chunky pesto texture, pulse, but don't blend the ingredients. As a result, they won't turn into a smooth mushy pesto.
Is Pesto Healthy?
Yes, pesto only contains healthy ingredients from fresh herbs or vegetables, low saturated fat olive oil, nuts, and garlic.
It's a very healthy dip on a Mediterranean diet to fill your body with healthy fats like omega-3 fatty acids good for your heart.
Can I Use Frozen Spinach?
No, I don't recommend using frozen spinach in pesto recipes. It releases too much water and lacks flavors.
More Dip Recipes
Below I listed some more easy healthy dip recipes for you to try
Did you try this spinach pesto recipe? Share a comment or review below.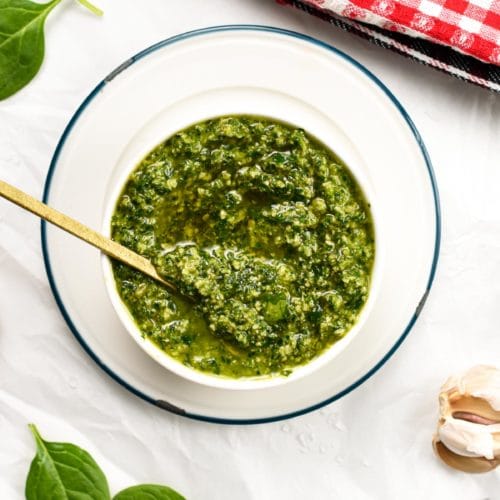 Spinach Pesto
This easy Spinach Pesto is a delicious pesto recipe made out of spinach instead of basil, perfect for using all your spinach and adding greens to your day.
Serving Size:
1
serving (1 tablespoon)
Nutrition Snapshot
Want My Kitchen Equipment?
Instructions
In a food processor, using the S blade attachment add the fresh baby spinach leaves and nuts-I used walnuts but pine nuts are also great.

Blend on medium speed for 10-15 seconds to create a chunky mixture.

Stop the food processor and add the crushed garlic, parmesan, salt, and pepper. Add any optional ingredients now as well.

Pulse a few times to break parmesan cheese through the dip.

Running the food processor on low speed, slowly add olive oil in a steady stream. I am using the oil diffuser attachment tube of my food processor to release oil steadily.

Stop when all the oil is incorporated or a little bit before if you want a chunky pesto dip.
Serving
Serve on top of toasted bread, in salad dressing to marinate chicken breasts, or as an appetizer to dip crackers or raw vegetables.
Storage
Store the pesto in a sealed glass mason jar for up to 3 days.
My Recipe Notes
Nutrition
Serving Size:
1
serving (1 tablespoon)
Serving:
1
serving (1 tablespoon)
Calories:
77.2
kcal
(4%)
Carbohydrates:
0.7
g
Fiber:
0.2
g
(1%)
Net Carbs:
0.5
g
Protein:
1
g
(2%)
Fat:
8.1
g
(12%)
Saturated Fat:
1.2
g
(8%)
Polyunsaturated Fat:
1.5
g
Monounsaturated Fat:
5
g
Cholesterol:
0.9
mg
Sodium:
58.8
mg
(3%)
Potassium:
46.2
mg
(1%)
Sugar:
0.1
g
Vitamin A:
480.5
IU
(10%)
Vitamin B12:
0.02
µg
Vitamin C:
1.6
mg
(2%)
Vitamin D:
0.01
µg
Calcium:
22.8
mg
(2%)
Iron:
0.3
mg
(2%)
Magnesium:
11
mg
(3%)
Zinc:
0.2
mg
(1%)
Posted In: