Celebrate avocado this summer with this quick and simple Spinach Avocado Dip Recipe! You'll love its incredibly creamy texture.
No need for mayo, sour cream, or any processed ingredients. It's one of my favorite dairy-free keto recipes on the blog.
Trust me, after making this Creamy Spinach Avocado Dip recipe. You'll never make another one!
Spinach Avocado Dip Recipe, a keto vegan recipe
I love party food during summer. It's so much easier to eat fresh finger food when it's hot outside.
No plate, no cutlery. Simple. I almost make an avocado dip recipe every single day. I know it looks excessive, but I love avocado so much that I can't stop eating those big, creamy avocados this summer.
The avocados that are currently harvested in New Zealand are absolutely delicious.
Their rich creamy and smooth texture is out of this world. I don't remember having ever eaten such lovely avocado back in France.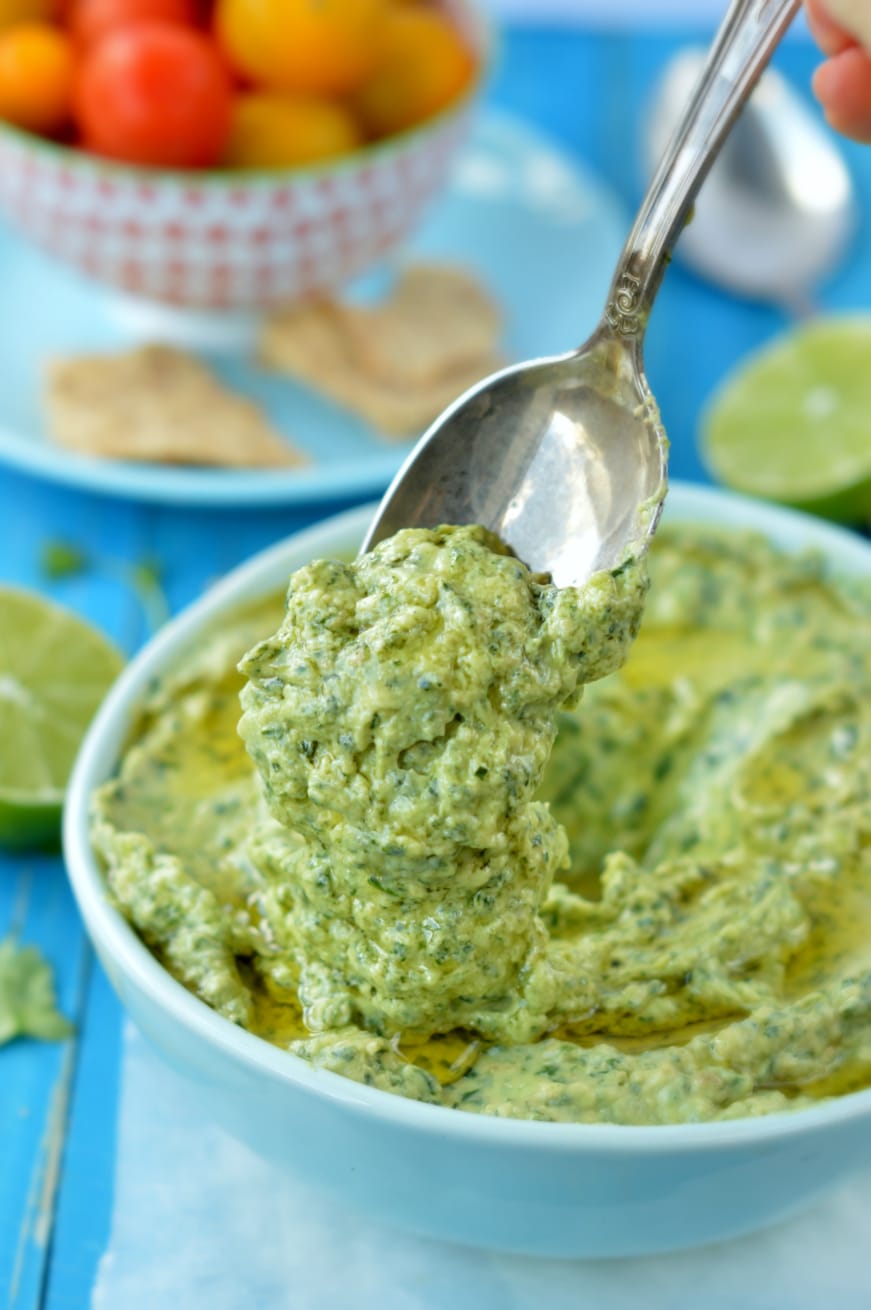 ⓧ
Are you new to Keto?
Receive my Keto Quick Start email series to learn all about the Keto diet and kick start your keto journey!
Anyways, after many attempts in the kitchen last week, I finally chose to share my favorite avocado dip, a dairy-free Spinach Avocado Dip.
My family calls this dip creamy because of its decadently smooth texture!
Surprisingly, I discovered that avocados are a delicious alternative to cream, mayo, or any cream cheese. This Spinach Avocado Dip is very simple to make.
As always, I'm a busy mum, and I love simple recipes. This quick and easy recipe is:
Dairy-free
Low Carb
Vegan
Some keto chips recipes to dip into this dip!
I recommend you try one of these easy keto crunchy recipes for dipping into your spinach avocado dip!
XOXO Carine
Recipe Card
Vegan Spinach Avocado Dip
A healthy, easy, low-calorie spinach avocado dip recipe with no dairy. No need for mayo or cream to make this delicious avocado dip with less than 100 kcal per serving. You'll love the creamy texture and super tasty mix of spinach, avocado, and garlic.
Ingredients
SPINACH AVOCADO DIP
½

cup

Fresh Spinach Leaves

blanched in boiling water for 2 minutes, squeezed, drained - about 20 large leaves of fresh spinach

2

Avocado

about 2 cups of mashed avocado

1

Garlic Clove

crushed

¼

cup

Fresh Cilantro

chopped (coriander outside the US)

¾

cup

Coconut Yogurt

(made of 100% coconut cream, pure fat) or cream cheese

1

tablespoon

Lime Juice

3

tablespoons

Avocado Oil

or vegetable oil of your choice

½

teaspoon

Salt

1

tablespoon

Avocado Oil

to drizzle on top
Instructions
Trim the fresh spinach leaves. Place them onto a large mixing bowl and cover with boiling water. Cover. Set aside for 2 minutes.

Drain the spinach, rinse with cold water, and using your hands, squeeze the cooked/blanched spinach leaves to remove all the extra water. Pat dry between two sheets of absorbent paper to remove all the extra water.

In a food processor, with S blade attachment, add the spinach, mashed ripe avocado, crushed garlic, coriander, coconut yogurt, lime juice, avocado oil, salt, and pepper.

Process until smooth - about 2 minutes on high speed. 

Transfer into a bowl. Drizzle extra virgin avocado oil on top if you like.

Refrigerate at least 30 minutes or overnight before serving to blend the flavor.
Storage
Store up to 3 days in an airtight container.
Yogurt option: for a dairy-free recipe, use coconut yogurt or soy yogurt. If you don't eat dairy-free, you can use cream cheese or plain Greek yogurt (full fat or low fat). Herbs:  The recipe works perfectly with any fresh herbs you like. I used cilantro - called coriander outside the US - but mint, basil, or parsley works well.  Oil options: if you don't have avocado oil, any vegetable oil works well. The healthiest alternative will be extra virgin olive oil. Storage: store well in the fridge for up to 1 week in an airtight container. The surface of the dip may change slightly in color - avocado oxidation - simple give a good stir and enjoy. Net carbs per serving: 1.4g
My Recipe Notes
Tools
Starting Keto
What Is Keto Diet?
Macro Calculator
Sweetener Converter
Keto Meal Plans
Keto Recipe Ebooks
Intermittent Fasting
Keto Fruits
Keto Vegetables
Keto FLours
Fighting Keto Flu
Keto Sweeteners
Nutrition Facts
Vegan Spinach Avocado Dip
Amount Per Serving (1 serve)
Calories 91
Calories from Fat 79
% Daily Value*
Fat 8.8g14%
Carbohydrates 3.1g1%
Protein 1.1g2%
Net Carbs 1.4g
* Percent Daily Values are based on a 2000 calorie diet.