This Pumpkin Pasta Sauce recipe is an easy 30-minute creamy and dairy-free pasta sauce with the most delicious pumpkin flavors.
It makes the most delicious vegetarian fall dinner packed with vitamins and nutrients.
What's Pumpkin Pasta Sauce
A pumpkin pasta sauce is a thick, creamy dairy-free pasta sauce made out of pumpkin puree and pumpkin spices.
It's the perfect comfort dinner for fall packed with nutrients, and vitamins, and is cheap to make using in-season real pumpkin or canned pumpkin puree for a quick dinner.
Why You'll Love This Sauce
This pumpkin sauce is naturally:
Dairy-Free – no cheese or cream cheese is needed to thicken the sauce as it's naturally thickened by vegetables.
Low-Saturated Fat – no cheese or cream added.
Gluten-Free
Vegan-Friendly
Low-Carb
How To Make Pumpkin Pasta Sauce
This pumpkin pasta sauce is very easy to make in less than 20 minutes and is the most delicious fall dinner that all the family, even kids, loves.
Ingredients
All you need to make this pumpkin sauce recipe are:
Pumpkin Puree – I made my own using fresh pumpkin that I peel, deseed, and boil until soft and fork tender. Then, I drain and steam out the cooked pumpkin flesh for 20 minutes before processing it to a puree in a food processor. You can also use canned pumpkin puree for a quick dinner.
Olive Oil
Onion
Garlic
Red Bell Pepper
Tomato Paste
Marinara Sauce
Oregano
Cinnamon
Nutmeg
Ginger
Salt
Pepper
Best Pasta For Pumpkin Sauce
First, add 18 ounces (500 grams) of uncooked pasta in a saucepan filled with boiled water.
Cover and cook the pasta following the packaging instructions for al dente pasta cooking time.
The best pasta shapes for this pumpkin pasta sauce recipe are fusilli or penne.
Below are some healthy pasta ideas:
Low-Carb Pasta – Use pasta made out Konjac, edamame, or beans.
Gluten-Free Pasta – Buckwheat or rice pasta.
High-Protein Pasta – Use quinoa pasta or red lentil pasta or edamame/black bean spaghetti.
Making Pumpkin Sauce
In a large non-stick saucepan warm olive oil and cook diced onion until fragrant and golden brown. It takes 2 to 3 minutes.
Stir in diced red bell pepper. Then, add garlic and cook until the vegetables softened and get roasted which takes 3 more minutes.
Add the pumpkin puree, tomato paste, marinara sauce, spices, and salt and pepper.
Stir to combine all the ingredients together, cover with a lid, bring them to a light simmer and cook them for 10 minutes until the sauce is fragrant.
Blending The Sauce
Stop the heat, uncover, and wait for 5 minutes before transferring to a heat-safe blender jug like a Vitamix.
Blend on the high-speed setting (speed 8-9 of a Vitamix blender) until the sauce is smooth. You can also use an immersion blender and dip it into the sauce.
Adjusting The Pasta Sauce Texture
We all have different tastes when it comes to pasta sauce. Some people love it thin, others thicker, and some like it cheesy.
So while I created this recipe entirely dairy-free here are some options for you below.
To thin out the sauce, add some heavy cream, cashew cream, coconut cream, or vegetable stock – up to 1/2 cup.
To thicken the sauce – add 1/2 cup of cream cheese or dairy-free cream cheese. Blend into the hot sauce.
To make it cheesy – in the blender, add 1/2 cup of Grated Parmesan.
Taste the sauce and add additional salt and pepper if needed. If you used cheese or thin out the sauce with some vegetable broth, you won't need to add any salt.
Add the cooked pasta into a large saucepan, pour the creamy pumpkin pasta sauce on top and stir to coat the pasta evenly with the sauce.
Bring the saucepan over medium heat and cook, stirring once in a while to prevent the pasta from sticking to the pan. Cook for 5 to 8 minutes until the dish is warm.
Serving
This easy pumpkin pasta dish is delicious on its own but even better with some of the suggested toppings below.
Add the toppings to your plate or on top of the dish just before serving.
A drizzle of olive oil
Fresh chopped Italian parsley
Fresh sage
Grated cheese – dairy-free if needed
Pinch of cinnamon to enhance the pumpkin flavors
Storage Instructions
Store the pumpkin pasta sauce in the fridge in airtight containers for up to 3 days.
You can freeze pasta sauce for up to 3 months – preferably without cheese or cream added. Freeze in zip lock bags or sealed boxes and thaw in the fridge the day before.
Rewarm in a non-stick saucepan or microwave-safe bowl until warm.
Allergy Swaps
This pumpkin pasta sauce is naturally allergy friendly as it's gluten-free, egg-free, and nut-free.
However, there are some other options if needed.
Dairy-Free – The cheese or cream is totally optional. You can use dairy-free coconut cream, cashew cream, or simply vegetable stock. Also, you can skip the Parmesan cheese, use dairy-free Parmesan, or 2-3 tablespoons of nutritional yeast to add cheesy flavors while making this sauce a vegan pumpkin pasta sauce.
Low-Carb Friendly – This sauce is naturally low-carb as pumpkin is an approved low-carb vegetable. Use your favorite low-carb pasta to combine with this sauce and keep the dish diabetes-friendly/
Frequently Asked Questions
Below are some answers to your most popular questions about this pumpkin pasta sauce.
Can I Use Homemade Pumpkin Puree?
Yes, you can make pumpkin puree from a large pumpkin.
Cut, deseed, and peel the pumpkin, then cut the flesh into small cubes.
Boil or steam the vegetable until fork tender, then mash or process into a food processor until you get the equivalent of 2 cans of pumpkin puree or 30 oz.
Can I Use Butternut Squash For This Recipe?
Yes, you can use any winter squash to make the puree. Measure the amount called by the recipe then use as listed below.
Note that acorn squash is very watery and it will thin out the sauce.
More Pumpkin Recipes
Below are some more healthy pumpkin recipes for you to try: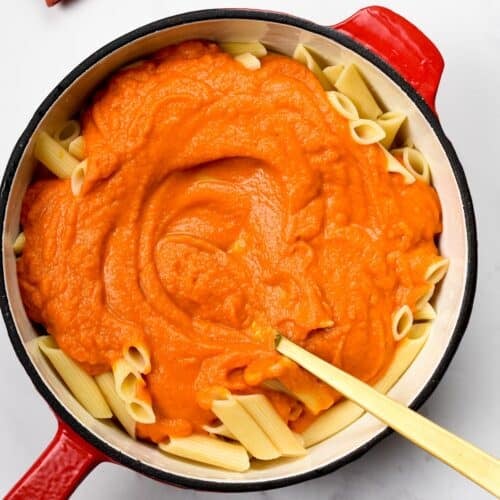 Pumpkin Pasta Sauce
This Pumpkin Pasta Sauce is a delicious creamy veggie-packed pasta sauce perfect for an easy fall dinner.
Ingredients
30

oz

Pumpkin Puree

equivalent 2 cans of 15 oz pumpkin puree or a medium pumpkin squash

2

tablespoons

Olive Oil

1

small

Onion

1

Red Bell Pepper

deseeded, diced

2

Garlic Cloves

3

tablespoons

Tomato Puree

¾

cup

Marinara Sauce

1

teaspoon

Dried Oregano

¼

teaspoon

Cinnamon

⅛

teaspoon

Nutmeg

⅛

teaspoon

Ginger

½

teaspoon

Salt

⅛

teaspoon

Ground Pepper
This recipe may contain Amazon or other affiliate links. As an Amazon Associate I earn from qualifying purchases.
Instructions
Making pumpkin puree – skip if using canned pumpkin puree
Peel, deseed the pumpkin, and cut it into small cubes – about 1.5 inches (3 cm).

Bring water to a boil in a large pot over medium-high heat. Add pumpkin cubes and cook uncovered, for 12-15 minutes or until the vegetable is soft and fork tender.

Drain and steam out for 10 minutes then roughly mash with a fork or process into a smooth puree in a food processor. Weigh 30 ounces and set it aside in a bowl.
Making the Pasta Sauce
In a large non-stick large saucepan, warm olive oil over medium heat.

Stir in diced onion and cook until fragrant – about 2-3 minutes.

Stir in diced red bell pepper and cook for an extra 2-3 minutes, until roasted and fragrant.

Stir in tomato paste, pumpkin puree, marinara sauce, garlic, oregano, cinnamon, nutmeg, ginger, salt, and pepper.

Bring to a simmer and cook. covered for 5-6 minutes, stirring once in a while, until sauce is fragrant and thick.

Uncover, steam out for 5 minutes, then transfer the ingredients into a heat-safe blender jug like Vitamix and blend on the high-speed setting (speed 8-9) until smooth. If too thick or difficult to blend, add in heavy cream or coconut cream and blend on high speed until smooth.

Optional, blend in 1/2 cup Grated Parmesan if desired.

Place the cooked pasta in a large saucepan, pour sauce over the pasta, stir and cook until warm.
Serving
Serve with fresh chopped parsley, and adjust salt and pepper if needed.
Storage
Store in the fridge in an airtight container for up to 3 days. Freeze for up to 3 months – if no cream or cheese is added – thaw in the fridge the day before.
Want My Kitchen Equipment?
Serving:
1
serving
Calories:
234.7
kcal
(12%)
Carbohydrates:
33.3
g
(11%)
Fiber:
5.7
g
(24%)
Net Carbs:
27.6
g
Protein:
6.1
g
(12%)
Fat:
9.8
g
(15%)
Saturated Fat:
5.4
g
(34%)
Polyunsaturated Fat:
0.7
g
Monounsaturated Fat:
2.9
g
Sodium:
263.7
mg
(11%)
Potassium:
441.7
mg
(13%)
Sugar:
6
g
(7%)
Vitamin A:
17145.8
IU
(343%)
Vitamin C:
27.1
mg
(33%)
Calcium:
47.4
mg
(5%)
Iron:
3.2
mg
(18%)
Magnesium:
48.6
mg
(12%)
Zinc:
0.8
mg
(5%)
Posted In: