This Steak Avocado Sauce is an easy, healthier steak sauce perfect to add avocado to your plate. It's ultra-creamy with a lovely garlic nutty flavor from ripe avocados.
Plus, the sauce is also gluten-free, and keto-friendly with a dairy-free option.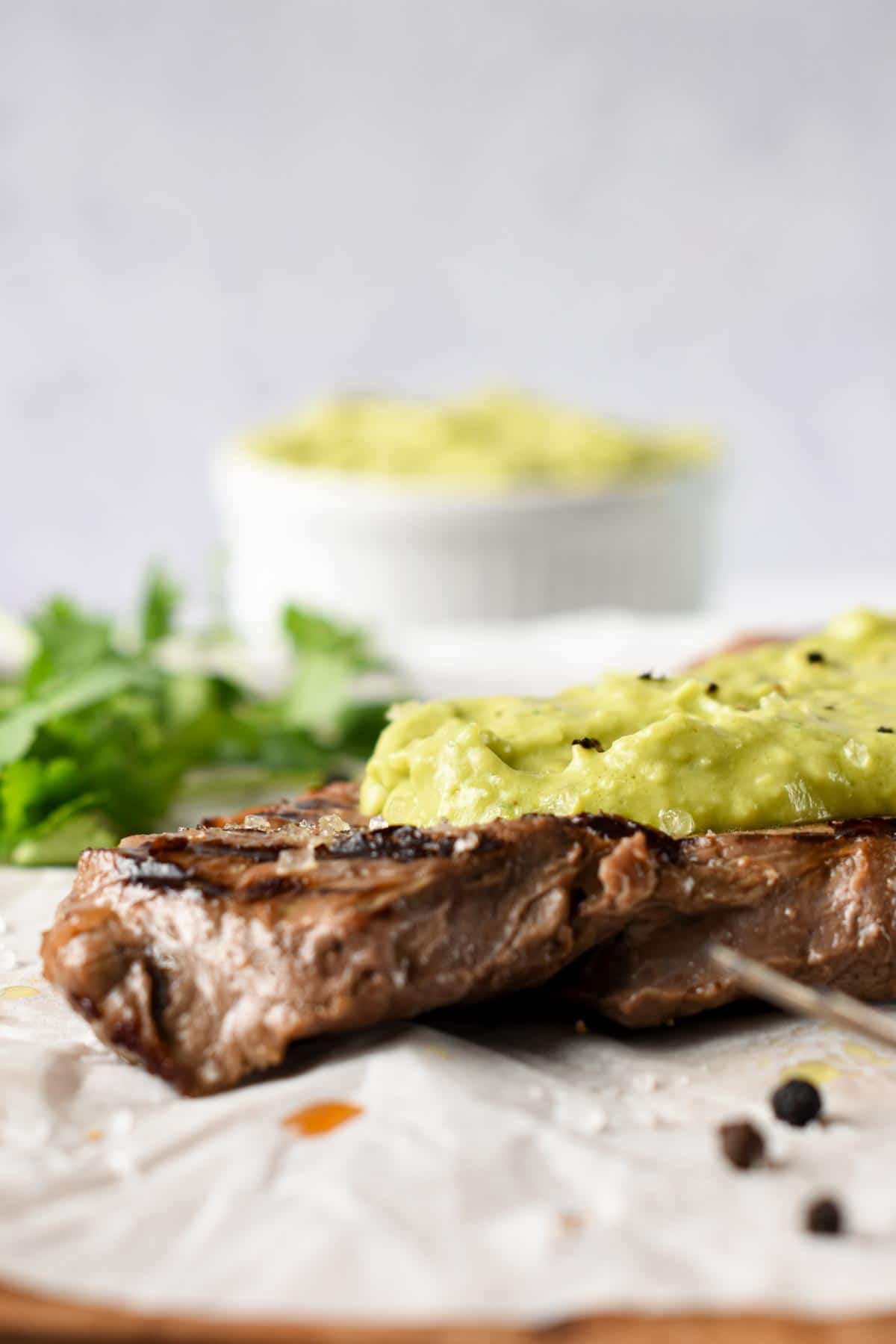 What's Avocado Steak Sauce?
My avocado steak sauce is a creamy, low-carb, and healthy sauce that you can use on any cooked piece of meat.
Once your steak has been cooked to your desired level, this sauce can dramatically transform its taste with a fine balance between the flavor of the warm meat and the fresh tanginess of the sauce.
Why You'll Love This Recipe
This sauce recipe is awesome because it is:
Keto-Friendly
Egg-Free
Gluten-Free
Nut-Free
Ready In 5 Minutes
Perfect for Steaks and Vegetables
How To Make Avocado Steak Sauce
Making this avocado steak sauce is very straightforward as it's ready in under 5 minutes.
Let me give you some tips on how to pick the best ingredients first.
Ingredients
Hass Avocado – Haas avocados tend to have more flesh than other varieties. Pick avocados that are ripe but with no black spots. If your avocados are too young, the sauce will be too bitter. On the other hand, if they are overripe, the sauce will have a strange taste. Remove the stem to see if the avocado flesh is bright green while soft to the touch to know they're ripe.
Olive Oil – any olive oil will do, but I like to use extra-virgin olive oil for this sauce recipe.
Sour Cream – or Greek yogurt, mayonnaise, or even dairy-free yogurt. This ingredient is bringing a lot of creaminess to the recipe.
Fresh Cilantro – if you're one of the 50% of the population that have the gene that makes cilantro taste soapy, opt for another fresh herb like Italian parsley.
Garlic – I like to use fresh minced and crushed garlic rather than garlic powder.
Lime Juice – Lime juice brings some acidity to the sauce which also helps keep the avocado green. Read my tips on how to squeeze a lime perfectly without a juicer.
Ground Black Pepper – or white pepper if you don't have black pepper.
Steps
Prepare the avocado by extracting all its flesh. If it has any darker spots, discard them as they will bring a bad taste.
If the avocados have started to form string-like fibers, they're too ripe.
Combine all the ingredients in the bowl of a food processor with the S blade attachment.
Process the avocado steak sauce on the high-speed setting until it's smooth and very creamy. It should only take about 45 to 60 seconds.
Transfer the sauce to a serving bowl and top it with poppy seeds or sesame seeds.
Pairing
This Avocado Steak Sauce is as its name implies best served with some cooked steak on the grill. Here are my preferred pieces:
Add-On Ideas
You can spice up this avocado steak sauce by adding some of the following:
Cumin
Paprika
Chili flakes or chili powder
Red Wine Vinegar – to turn this into an avocado chimichurri sauce.
Storage Instructions
You can store leftovers avocado steak sauce in a glass mason jar in the fridge for up to 3 days.
You can also freeze it and thaw the jars in the fridge the day before using them.
Frequently Asked Questions
Does avocado go with steak?
Avocado sauce is perfect with steaks as it brings a fresh, creamy taste that balances the grilled flavors perfectly.
How do you make creamy avocado sauce?
To make this avocado sauce super creamy, make sure to use ripe avocados and the right amount of sour cream.
Is avocado sauce the same as guacamole?
Avocado Steak Sauce is different from guacamole because it tends to be runnier than guac. Guacamole also contains onions and chopped cherry tomatoes.
What's An Avocado Chimichurri Sauce?
Chimichurri is a sauce made of fresh herbs, olive oil, and vinegar. An avocado chimichurri is like a classic sauce but with some avocado puree added to it.
More Dinner Recipes
If you like simple dinner recipes, you'll love these: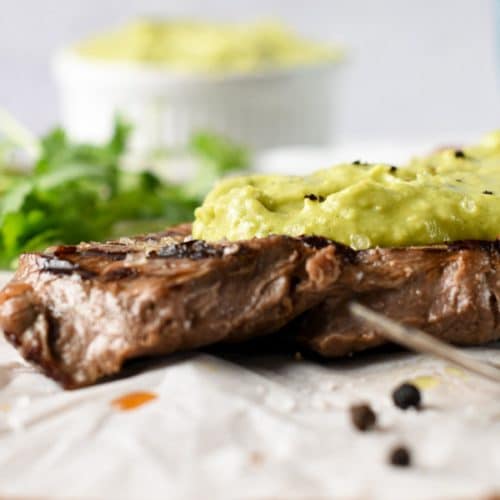 Avocado Steak Sauce
This Avocado Steak Sauce is an easy, creamy add-on to dip any piece of grilled steak.
Nutrition Snapshot
Want My Kitchen Equipment?
Instructions
In a food processor with the S blade attachment, add all the ingredients making sure you discard any black spots on your avocado flesh or the sauce will be bitter.

Process the avocado sauce on high speed until smooth.

Serve on top of your grilled steak or as a side to dip pieces of meat.

Store leftovers in a glass mason jar in the fridge for up to 3 days. You can also freeze it and thaw it in the fridge the day before.
My Recipe Notes
Nutrition
Serving:
1
serving
Calories:
100
kcal
(5%)
Carbohydrates:
0.8
g
Fiber:
0.1
g
Net Carbs:
0.7
g
Protein:
0.3
g
(1%)
Fat:
10.9
g
(17%)
Saturated Fat:
2.2
g
(14%)
Polyunsaturated Fat:
1
g
Monounsaturated Fat:
7
g
Cholesterol:
5.7
mg
(2%)
Sodium:
100.2
mg
(4%)
Potassium:
17.8
mg
(1%)
Sugar:
0.4
g
Vitamin A:
69.9
IU
(1%)
Vitamin B12:
0.1
µg
(2%)
Vitamin C:
0.8
mg
(1%)
Calcium:
11.2
mg
(1%)
Iron:
0.1
mg
(1%)
Magnesium:
1.3
mg
Zinc:
0.1
mg
(1%)
Posted In: