Vegan Spinach Avocado Dip Recipe
Celebrate avocado this summer with this quick and simple Spinach Avocado Dip Recipe! You'll love its incredibly creamy texture.
No need for mayo, sour cream, or any processed ingredients. It's one of my favorite dairy-free keto recipes on the blog.
Trust me, after making this Creamy Spinach Avocado Dip recipe. You'll never make another one!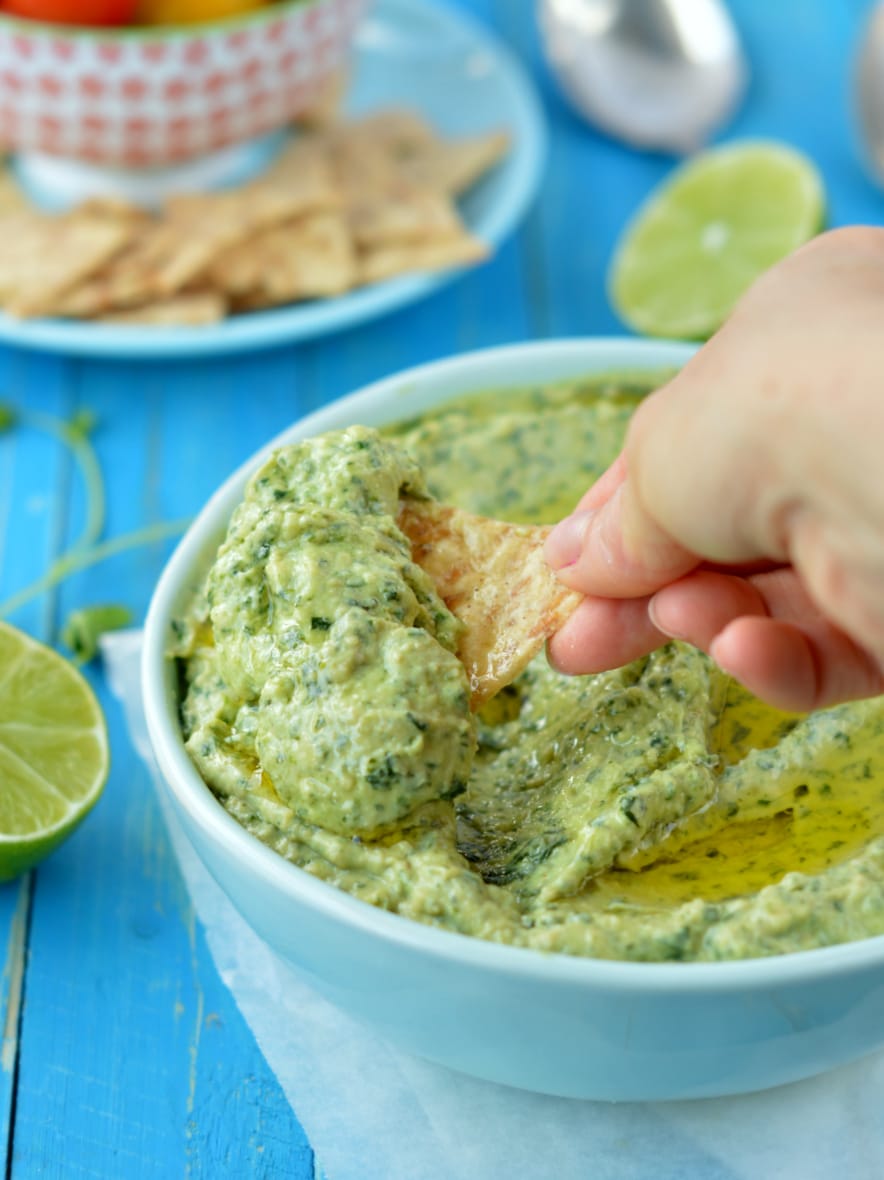 What's A Spinach Avocado Dip?
A Spinach Avocado Dip is similar to guacamole but is loaded with spinach.
It's a healthy dip that can be used with tortilla chips, celery sticks, or for dipping Mozzarella Sticks or Buffalo Cauliflower.
Why You'll Love This Recipe
This is such a simple and tasty recipe, but it's also:
Keto-Friendly
Egg-Free
Dairy-Free
Gluten-Free
Paleo
Ready in Under 10 Minutes
How To Make Spinach Avocado Dip
This spinach dip is very easy to make, it only takes a few healthy ingredients.
Key Ingredients
Spinach – I prefer to use fresh baby spinach for this recipe. You can use regular spinach as well, but it'll be stronger in taste.
Avocado – Pick perfectly ripe avocados. If they're too young, the dip will be a tad bitter. If too ripe, it will have a bit of a foul taste. To know if your avocado is ready, it should be soft to the touch but not mushy, and removing the stem should reveal a bright green flesh.
Cilantro – also known as coriander, cilantro is a fresh herb that 50% of the population cannot like because their taste buds detect a soap-like taste. If that's your case, use chopped parsley instead.
Yogurt – I prefer to use coconut yogurt as it keeps the dip dairy-free and vegan, but it also brings a nice tangy taste.
Lime Juice – or lemon juice, pick your favorite. Follow my tips on how to squeeze a lime without a juicer.
Avocado Oil – or any vegetable oil you like.
Making The Dip
I love party food during summer. It's so much easier to eat fresh finger food when it's hot outside.
Making this avocado dip is ridiculously easy, it's done in about 5 minutes.
First, trim, wash, and rinse the spinach. I also recommend blanching it in boiling water for a few minutes. It makes it more digestible and easier to blend.
Drain the spinach and squeeze the leaves as hard as possible to extract the excess water.
Combine all the ingredients in the jug of a high-speed blender and blend them for about 2 minutes.
Transfer the Spinach Avocado Dip to a serving bowl and drizzle some avocado oil on the top to prevent it from darkening.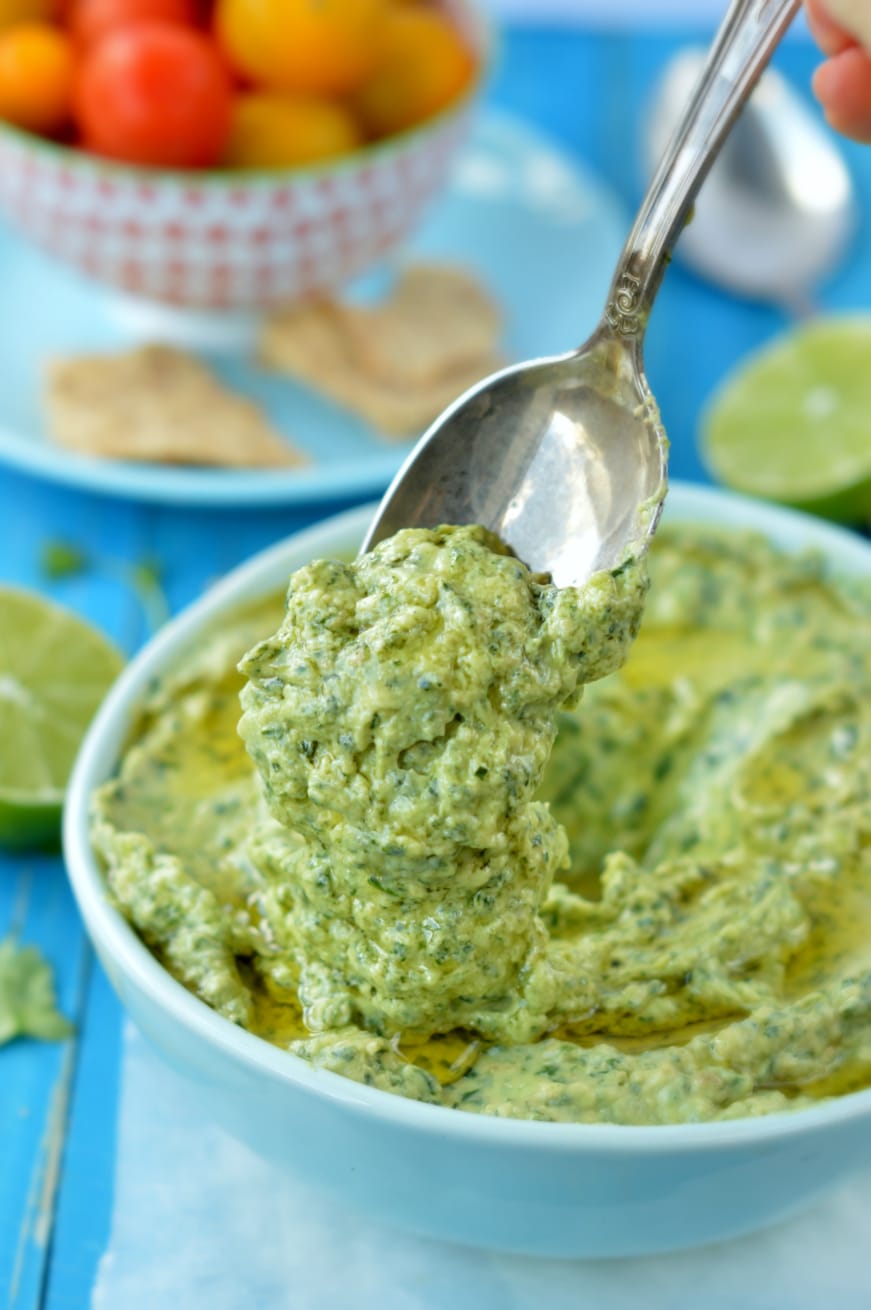 Storage Instructions
You can store this spinach avocado dip for up to 6 or 7 days in the fridge.
It stores better when there's a thin layer of oil on the top as it prevents the avocado from oxidizing and darkening.
I also recommend keeping some plastic wrapping on top of the bowl and as close as possible to the dip to limit the air in contact with the dip.
If some oxidation occurs, give the dip a good stir or remove the thin top layer of darker avocado.
Frequently Asked Questions
What Can I Dip Into This Spinach Dip?
I recommend you try one of these easy keto crunchy recipes for dipping into your spinach avocado dip!
How Many Carbs Are In Spinach Avocado Dip?
This spinach avocado dip recipe has only 1.4 grams of net carbs per serving.
More Healthy Dip Recipes
If you like simple, healthy dips, you'll love these:
Vegan Spinach Avocado Dip
A healthy, easy, low-calorie spinach avocado dip recipe with no dairy. No need for mayo or cream to make this delicious avocado dip with less than 100 kcal per serving. You'll love the creamy texture and super tasty mix of spinach, avocado, and garlic.
Ingredients
SPINACH AVOCADO DIP
½

cup

Fresh Spinach Leaves

blanched in boiling water for 2 minutes, squeezed, drained – about 20 large leaves of fresh spinach

2

Avocado

about 2 cups of mashed avocado

1

Garlic Clove

crushed

¼

cup

Fresh Cilantro

chopped (coriander outside the US)

¾

cup

Coconut Yogurt

(made of 100% coconut cream, pure fat) or cream cheese

1

tablespoon

Lime Juice

3

tablespoons

Avocado Oil

or vegetable oil of your choice

½

teaspoon

Salt

1

tablespoon

Avocado Oil

to drizzle on top
This recipe may contain Amazon or other affiliate links. As an Amazon Associate I earn from qualifying purchases.
Instructions
Trim the fresh spinach leaves. Place them onto a large mixing bowl and cover with boiling water. Cover. Set aside for 2 minutes.

Drain the spinach, rinse with cold water, and using your hands, squeeze the cooked/blanched spinach leaves to remove all the extra water. Pat dry between two sheets of absorbent paper to remove all the extra water.

In a food processor, with S blade attachment, add the spinach, mashed ripe avocado, crushed garlic, coriander, coconut yogurt, lime juice, avocado oil, salt, and pepper.

Process until smooth – about 2 minutes on high speed.

Transfer into a bowl. Drizzle extra virgin avocado oil on top if you like.

Refrigerate at least 30 minutes or overnight before serving to blend the flavor.
Storage
Store up to 7 days in an airtight container.
Notes
Yogurt option: for a dairy-free recipe, use coconut yogurt or soy yogurt. You can use cream cheese or plain Greek yogurt (full or low fat) if you don't eat dairy-free. Herbs: The recipe works perfectly with any fresh herbs you like. I used cilantro – called coriander outside the US – but mint, basil, or parsley works well. Oil options: if you don't have avocado oil, any vegetable oil works well. The healthiest alternative will be extra virgin olive oil. Storage: store well in the fridge for up to 1 week in an airtight container. The surface of the dip may change slightly in color – avocado oxidation – simply give a good stir and enjoy.
Want My Kitchen Equipment?
Serving:
1
serving
Calories:
105.2
kcal
(5%)
Carbohydrates:
3.7
g
(1%)
Fiber:
2.3
g
(10%)
Net Carbs:
1.4
g
Protein:
1.3
g
(3%)
Fat:
10.1
g
(16%)
Saturated Fat:
1.6
g
(10%)
Polyunsaturated Fat:
1.3
g
Monounsaturated Fat:
6.7
g
Cholesterol:
2
mg
(1%)
Sodium:
107.5
mg
(5%)
Potassium:
197.4
mg
(6%)
Sugar:
1
g
(1%)
Vitamin A:
204.4
IU
(4%)
Vitamin B12:
0.1
µg
(2%)
Vitamin C:
4.3
mg
(5%)
Vitamin D:
0.1
µg
(1%)
Calcium:
24.7
mg
(2%)
Iron:
0.2
mg
(1%)
Magnesium:
12.8
mg
(3%)
Zinc:
0.3
mg
(2%)
Posted In: