Learn how to make this Keto Lemon Pound Cake! An easy coconut flour cake with a delicious buttery texture and tangy lemon flavor.
This delicious keto lemon bread contains only 3.9 grams of net carbs per slice, and it is a delicious treat to pair with a cup of my bulletproof coffee for breakfast.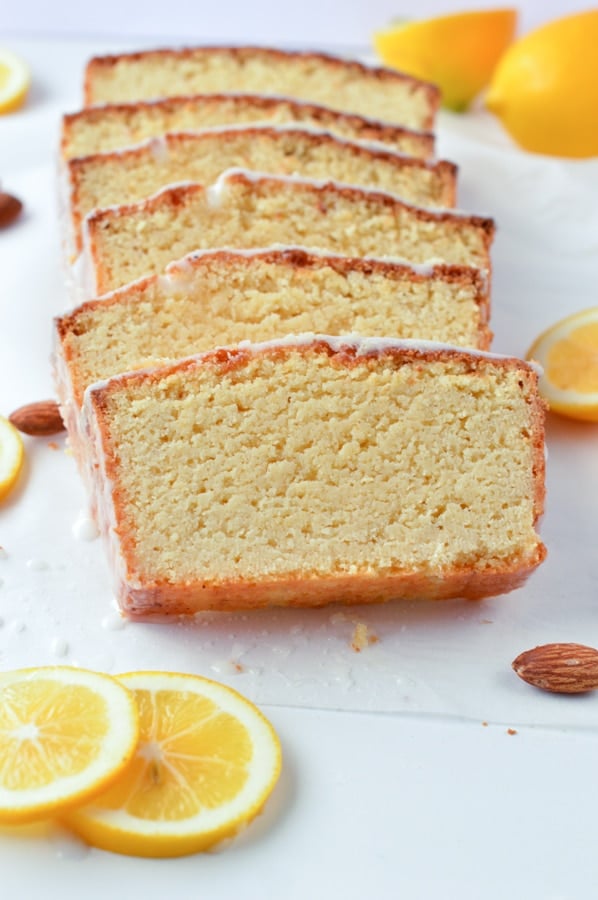 Is Lemon Pound Cake Keto?
Classic Lemon Pound Cakes aren't keto-friendly because they're made with sugar and all-purpose flour. Two ingredients that are full of carbs.
But this Keto Lemon Pound Cake is very much keto-friendly.
It uses only keto-friendly ingredients such as almond flour and coconut flour, this keto pound cake has only 3.9 grams of net carbs per slice!
Why You'll Love This Recipe
There is no need to be on a keto diet to appreciate the moist and buttery texture of a keto lemon cake.
This cake is also:
Gluten-Free
Keto-Friendly
Low-Carb
Paleo
Dairy-Free
How To Make This Keto Lemon Pound Cake
This lemon keto cake recipe has only a few ingredients and steps to follow.
It does not require fancy pieces of equipment or ingredients, and you will quickly make this recipe in 15 minutes of prep.
Ingredients
First, let's have a look at what you need.
Eggs – a delicious buttery and moist pound cake that has eggs. Please stick to the recipe and do not try to substitute eggs in this recipe.
Almond Flour – you can also use almond meal if desired but ultra-fine almond flour is the best option. To learn more about keto flour, read my keto flour guide!
Coconut Flour – as always in keto baking-uses fresh flour with no lumps for perfect results.
Coconut Oil – or melted butter if preferred.
Lemon Juice – fresh is the best if you can. Lemons are great keto-friendly fruits! If you don't have a juicer, read my guide on how to juice a lemon without a juicer.
Lemon Zest – this is optional. I recommend you use untreated organic lemon if you intend to use the zest. This avoids adding nasties to your cake. A few drops of the lemon extract also work!
Sugar-Free Crystal Sweetener – as always I love to use a crystal blend of Monk Fruit sweetener and erythritol, but powdered erythritol or Xylitol also are great options. Check out my review of keto-friendly sweeteners to convert from one to another.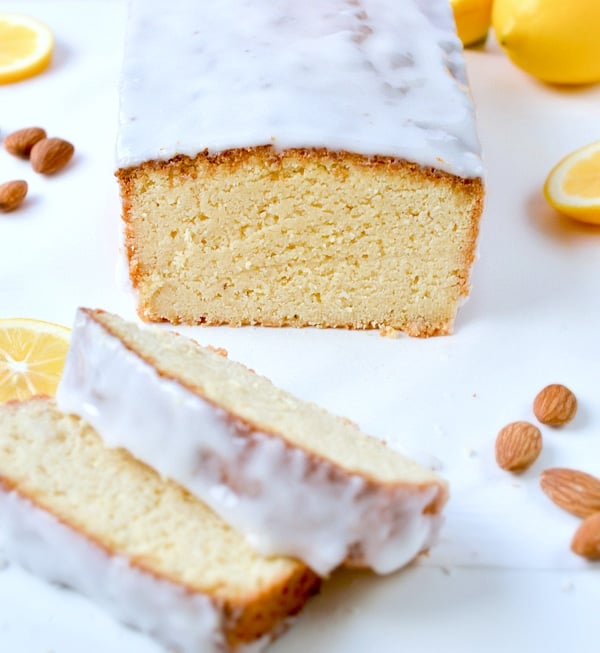 Baking The Keto Lemon Bread
Next, let's talk about the most important part of this recipe: ingredient temperature.
While this is a very straightforward keto lemon pound cake recipe there is one trick!
You must use eggs at room temperature. In fact, baking with coconut oil involves using ingredients at room temperature.
The reason is pretty simple, coconut oil gets solid under 76°F (24°C).
It means that if your eggs are straight out of the fridge they will create lots of coconut oil lumps.
The best is to store your eggs out of the fridge the day before or at least 4 hours before making this recipe.
Otherwise, use melted butter instead of coconut oil. This will not happen with butter.
For more tips on never failing a keto recipe, have a look at my keto baking guide, I share in this ebook all my tips and secrets to never failing a recipe!
Storage Instructions
This keto lemon bread can be stored in the fridge for up to 4 days in an airtight container.
You can also freeze this almond flour pound cake. First, slice the whole cake into 16 slices. Then, freeze the keto lemon loaf into a zip-lock bag or in an airtight container.
Make sure the slices do not overlap, it makes it easier to defrost one by one.
Finally, defrost your slices the day before at room temperature.
The next day, toast the slices in the toaster if you like. Of course, if you freeze your sugar-free lemon cake with the frosting on top don't bring it to the toaster.
Enjoy plain or spread some sugar-free jam on top.
Frequently Asked Questions
Is This Keto Lemon Pound Cake Healthy?
This is probably the healthiest coconut flour lemon cake recipe you will find around. Let me tell you why. First, it is sugar-free, low-carb, and dairy-free, yes eggs are not dairy.
Dairy products come from bovine animals only include milk, cream, butter, and cheese. So, this keto lemon bread is dairy-free meaning it is easy to digest.
Next, it is a high-protein cake perfect to serve at breakfast or for a fulfilling afternoon tea. Proteins keep you full for longer and you won't feel hungry after one slice.
Finally, it is a gluten-free lemon cake high in fiber from coconut flour. Fibers are part of healthy gut health and stabilize blood sugar levels.
How Many Carbs Are In Keto Lemon Bread?
This keto lemon pound cake has only 3.9 grams of net carbs per slice.
More Keto Baking Recipes
We all love a good piece of cake and I have plenty of other delicious keto cake recipes for you to try.
Enjoy the delicious paleo lemon cake recipe and if you make this don't dig in too fast. Take a picture of your creation and share it with me on Instagram.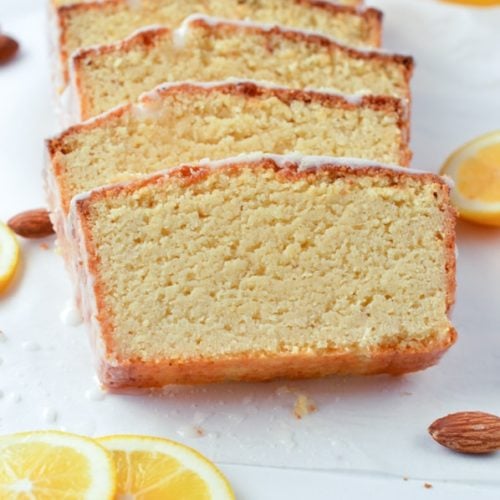 Keto Lemon Pound Cake
This keto lemon pound cake recipe has only a few ingredients and steps to follow. It doesn't require fancy equipment or ingredients and you will quickly and easily make this in 15 minutes.
Nutrition Snapshot
Want My Kitchen Equipment?
Instructions
Preheat oven to 350°F (180°C). Line a 9-inch x 5-inch loaf pan with a piece of parchment paper. Slightly oil the paper to make sure the pound cake doesn't stick to the pan. Set aside.

In a medium mixing bowl, whisk together eggs, sugar-free crystal sweetener, melted coconut oil (or butter), and lemon juice. Ensure that your coconut oil is not burning hot, or it will 'cook' the eggs and create lumps. All your ingredients must be roughly at the same temperature, think room temperature, especially the eggs and lemon juice. Cold ingredients just out of the fridge will solidify the coconut oil creating oil lumps. Otherwise, use melted butter to prevent this to happens. Set aside.

In a different large mixing bowl, whisk together the almond flour, coconut flour, and baking powder. Stir to combine the flours evenly.

Pour the liquid ingredients onto the dry ingredients.

Stir all the ingredients together with a baking spoon until it forms a thick cake batter with no lumps. Combine for at least 2 minutes to make sure the coconut flour fiber absorbs the moisture.

Transfer the cake batter onto the loaf pan. Make sure you are using the same loaf pan size, or it will impact your baking time.

Place the loaf pan in the center of your oven and bake at 180°C (350°F), fan-forced mode, if you can, for 15 minutes. After 15 minutes, decrease the temperature to 160°C (320°F) and cover the loaf pan with a loose piece of foil. This will prevent the top from burning, and the middle will bake slowly. Keep baking for 45-60 minutes in total, or until a toothpick inserted in the center of the pound cake comes out with little to no crumbs on it.

Cool for 10 minutes in the loaf pan, then lift out the pound cake from the pan using the parchment paper.

Transfer to a cooling rack to cool completely. It is a thick cake, and it usually takes 3 hours to fully cool. Be patient and add the lemon glazing on the cake when it reaches room temperature, not before!
Lemon glazing
To make the lemon glazing, whisk together the sugar-free powdered erythritol with lemon juice until no lumps remain. If needed, add more lemon juice to get a thinner glazing or more powdered sweetener to get thicker glazing.

Drizzle over the cooled pound cake.

You can place the cake for a few minutes in the freezer to set the glazing if too runny.

Store your cake in the pantry on a cake box for up to 3 or 4 days. Slice before serving to keep the cake moist.

Enjoy as breakfast, teatime, plain, or with sugar-free chia seed jam.
How to freeze your pound cake?
Slice the cake into 16 slices before freezing. Freeze the cake in an airtight box, making sure the slice doesn't overlap, or place a piece of parchment paper between each slice to make it easier to defrost individually. Defrost the slice the day before at room temperature, on a plate, don't overlap the slices.

The next day, you can toast the slices in a toaster before serving.
My Recipe Notes
Nutrition
Serving:
1
slice
Calories:
174
kcal
(9%)
Carbohydrates:
5.1
g
(2%)
Fiber:
1.2
g
(5%)
Net Carbs:
3.9
g
Protein:
4.4
g
(9%)
Fat:
10.9
g
(17%)
Sugar:
1.1
g
(1%)
Posted In: