Keto Jam Recipe with only 4 Ingredients
This keto jam recipe is an easy raspberry chia jam recipe using frozen berries and chia seeds.
Bonus, this healthy jam recipe doesn't require cooking! So keep reading to learn how to make diabetes-friendly jam using chia seeds!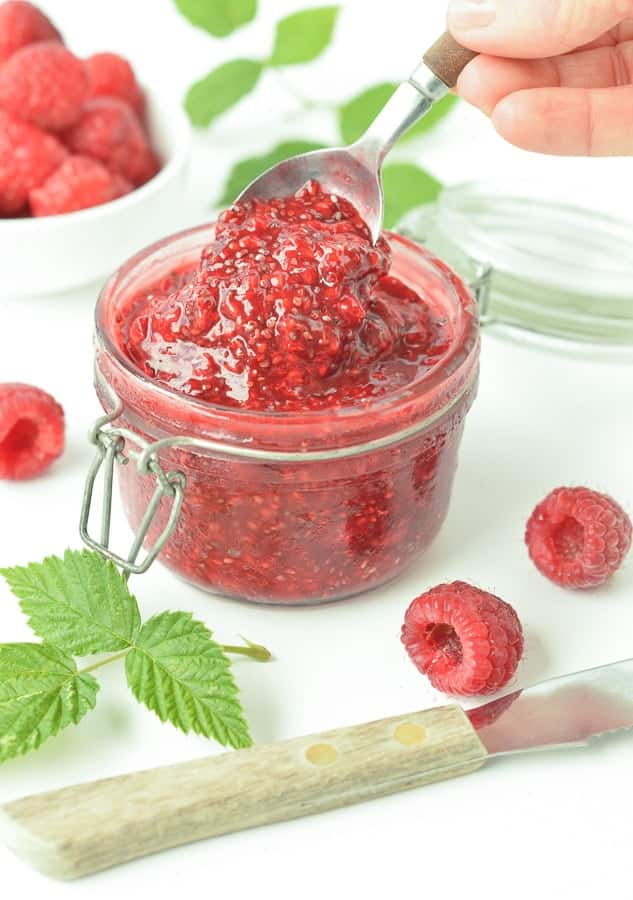 What's Keto Jam?
Keto Jam is like regular fruit jam but without any added sugar and made with some of the lower-carb fruits to keep the net carbs low.
Making Keto Jelly is super easy as it's made with only 4 ingredients.
Why You'll Love This Recipe
Don't you crave jam some days? Great news, you can have jam on a keto diet, or should I say you can have this keto jam recipe.
Obviously, most jams are not keto-approved as they are loaded with at least 50% of added sugar. So, raspberry chia jam to the rescue!
It's also:
Dairy-Free
Egg-Free
Vegan
Gluten-Free
Nut-Free
Made with 4 Ingredients
Ready In Under 15 Minutes
Keto-Friendly
How To Make This Keto Jam
There is nothing easier than a chia jam recipe! In fact, chia seeds are amazing low-carb superseeds to create raw jam recipes.
All you have to do is combine any low-carb keto fruit with chia seeds and let the magic happen.
Well, if you are not using frozen fruits, you will have to add about 1/4 cup of water to the recipe.
But my lazy way to make keto jam is to use frozen berries!
Ingredients
Say hello to my frozen berry jam recipe that requires only 4 ingredients:
Chia Seeds – white or black chia seeds, both have the same properties. If you wonder if chia seeds are keto-approved, the answer is yes. Chia seeds are mainly made of fat, and fiber and therefore contain a low amount of net carbs. They are keto-friendly seeds with only 2.7g net carbs per serving of 25g (about 2 tablespoons). Also, note that the whole recipe here uses 2 tablespoons, so you will never eat that much at once, keeping the carbs per serving of chia seeds very low.
Frozen Raspberries – I love to use raspberries because they are the lowest carb fruits on a keto diet. Check my list of keto fruits if you want more information about which fruits you can eat on a keto diet.
Lemon juice
Sugar-free powdered sweetener – I recommend using powdered erythritol or monk fruit, or allulose. The most popular brands are Swerve and Lakanto. You can also use stevia drops but avoid crystal sugar-free sweeteners that will give a gritty texture to the jam. Check out my full review of keto-friendly sweeteners.
Making Keto Jelly
This is not only a keto jam recipe but also a healthy jam recipe for everyone!
In fact, chia seeds make this frozen berry jam nourishing, adding lots of fiber, healthy omega-3 fatty acids, and powerful nutrients like magnesium and manganese to your breakfast.
And of course, it's a sugar-free jam!
Storage Instructions
This is a raw chia jam recipe, and therefore it won't store well at room temperature. Actually, this keto jam recipe must be stored in the fridge in a glass mason jar.
You can store the jam for 3 days in the fridge.
Frequently Asked Questions
How Can I Use With This Keto Jelly?
This keto jam recipe is absolutely amazing on keto coconut flour crepes, keto cream cheese pancakes, or on a piece of my 90-second keto English muffins.
How Does Keto Jam Taste?
A chia seed jam is slightly lighter in texture than a regular jam, with tiny pieces of seeds that feel like the one you are used to in store-bought raspberry jam.
Also, if you don't like the pieces of seeds in chia seed jam, you can simply blend the whole recipe in a blender to smoothen it!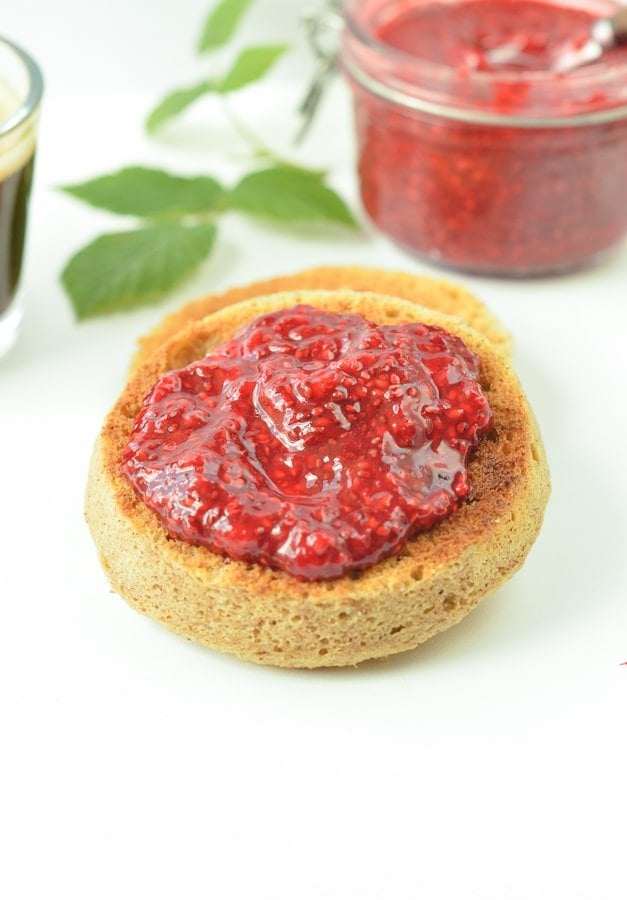 More Keto Pantry Recipes
If you enjoy this recipe, you'll love these:
Have you made this chia seed jam recipe and want to share a picture with me! Join me on Instagram!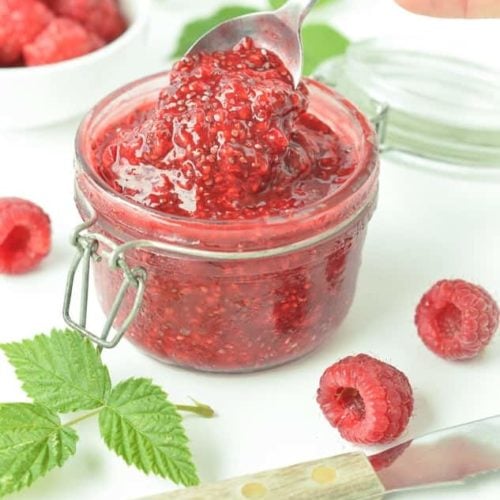 Keto Chia Jam Recipe
An easy sugar-free jam recipe with frozen berries and only 1 gram of net carbs per serving.
Yield:
Servings of 2 Tablespoons
Serving Size:
1
serving (2 tbsp)
Nutrition Snapshot
Want My Kitchen Equipment?
Instructions
In a medium-size mixing bowl, add frozen raspberries, chia seeds, lemon juice, and powdered sweetener of choice. I recommend raspberries as they contain less sugar and carbs than others berries. Check my keto fruit list to choose other fruits.

Cover and keep the bowl at room temperature for 1 hour or until the berries are defrosted.

When the berries are fully defrosted, mash them with a fork or potato masher until it reaches the consistency you love.

If you don't like chia seeds lumps, you can blend the jam in a blender.

This recipe makes 12 servings of 2 tablespoons of jam each.

Transfer the chia jam into an airtight container and store it for 3 days in the fridge.
My Recipe Notes
Nutrition
Serving Size:
1
serving (2 tbsp)
Yield:
Servings of 2 Tablespoons
Serving:
1
serving (2 tbsp)
Calories:
16
kcal
(1%)
Carbohydrates:
2.6
g
(1%)
Fiber:
1.6
g
(7%)
Net Carbs:
1
g
Protein:
0.5
g
(1%)
Fat:
0.6
g
(1%)
Sugar:
0.7
g
(1%)
Posted In: