Almond Flour Keto Scones (Gluten-Free)
An Easy Gluten-free Almond Flour Scone recipe perfect as a low-carb breakfast and delicious with sugar-free jam and whipped cream.
Bonus, this scone recipe is also gluten-free, paleo-friendly.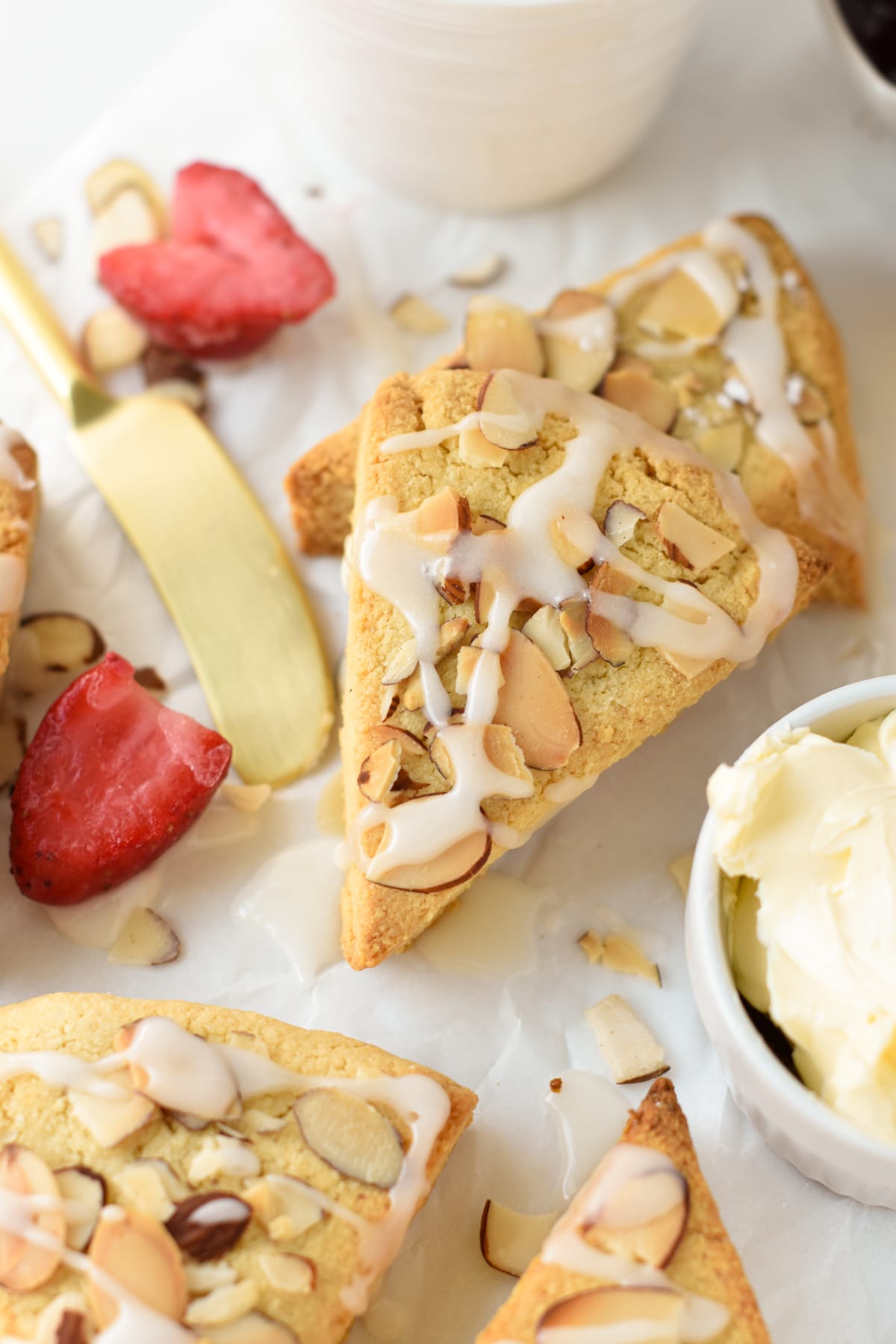 I have a passion for baking low-carb keto recipes that are gluten-free, and these scones never disappoint.
They are crispy outside, light, buttery inside with a delicious almond flavor from almond flour.
If you are after a great-tasting gluten-free scone recipe, this is the one to try!
Are Scones Keto-friendly?
Classic Scones are not keto-friendly or low-carb because they are made with wheat flour (high in carbs) and milk (high in carbs).
To make a low-carb version of the classic scones, it is imperative to use low-carb flour and replace the milk with a low-sugar alternative.
How To Make Almond Flour Scones
Follow the simple recipe card at the bottom of this post, or read my more detailed instructions below.
Ingredients for Almond Flour Scones
Almond flour – if you are new to baking with almond flour, make sure the one you buy is ultra-fine and golden in color. Never use a thick, dark almond meal for baking, or the result is grainy and gritty. Learn how to choose the best keto-friendly flour.
Egg – I tried flax egg many times in this recipe, and always the scones fall apart. You can use boxed egg replacers, but flax eggs don't work for an egg-free almond flour scone recipe.
Sweetener of choice – I used erythritol, but any keto crystal sweetener works well. If not on a keto diet, coconut sugar can be used as a paleo option.
Vanilla extract
Almond milk at room temperature – The temperature is essential if you are using melted coconut oil. Coconut oil solidifies in contact with liquids coming straight out of the fridge. It results in oil lumps in your scone batter, which are difficult to remove and impact the taste.
Baking powder
Salt
Melted butter or coconut oil – both options work very well with different results in color and taste. For example, coconut oil makes the scones hard and whiter in color. For a buttery golden almond flour scone, use melted butter.
Preparing the Baking Sheet
Before you start, preheat the oven to 350°F (180°C). Line a baking sheet with parchment paper. Set aside.
Making the Scone Batter
In a large bowl, add the almond flour, sweetener of choice, and baking powder. Give a good whisk to combine. Set aside.
In another bowl, beat the egg with almond milk and melted butter or melted coconut oil and vanilla extract.
Finally, combine the wet ingredients with the dry ingredients. Keep stirring until it forms a thick scone batter.
Shaping Wedge Scones
Lightly grease your hands with coconut oil before handling the batter, as it can be sticky.
Next, on a parchment-lined baking sheet, place the scone batter and flatten it into a 1-inch-thick disc (2.5 cm).
Use a sharp knife or pizza cutter to cut out 8 wedges. Then, spread each wedge onto the baking sheet to prevent the scones from touching each other.
This ensures that the scone sides bake properly and crisp well. In fact, if you don't spread each wedge on the baking sheet, the edges stay moist and under-baked.
Finally, brush the top of each scone with almond milk and sprinkle some extra sugar-free sweetener on top – I used erythritol.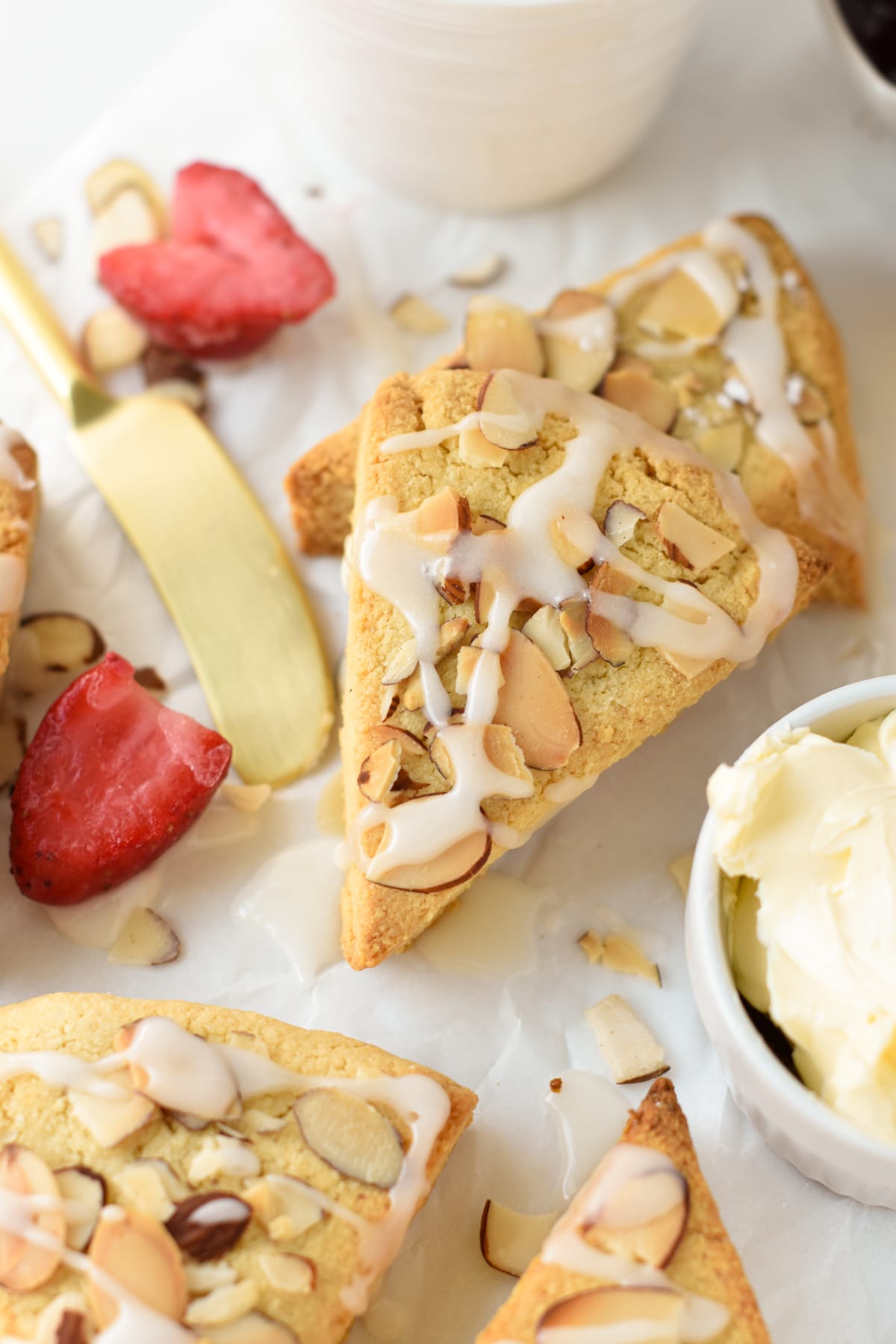 Shaping Round Scones
That's not my favorite scone shape simply because round scones take a little more work to do. But if you love round scones that you can slice and fill with sugar-free jam, then here's how to make them.
To make round scones, place the scone batter onto a piece of lightly greased parchment paper.
Place another piece of parchment paper on top of the dough and flatten it with a rolling pin or your hand into a 1-inch thickness.
Peel off the top piece of parchment paper and then use a crinkle cookie cutter shape to cut out pieces of dough.
Transfer the round pieces of dough onto a baking sheet lined with parchment paper, leaving some space between each scone so they don't touch each other.
I like to slide a spatula or flat tool under the cut scones to transfer gently to the baking tray. This prevents the scones from breaking or losing their shape.
Then, use the remaining dough from the outside of the cut shapes to reform a dough ball.
Repeat the steps above to cut more round scones from the dough.
Baking the Scones
Bake your scones with almond flour at 350°F (180°C) for 20 – 30 minutes or until golden brown on top and dry on the edges.
Cool down on a wire rack for at least 1 hour. The scones are slightly fragile when out of the oven and get crispy after cooling down.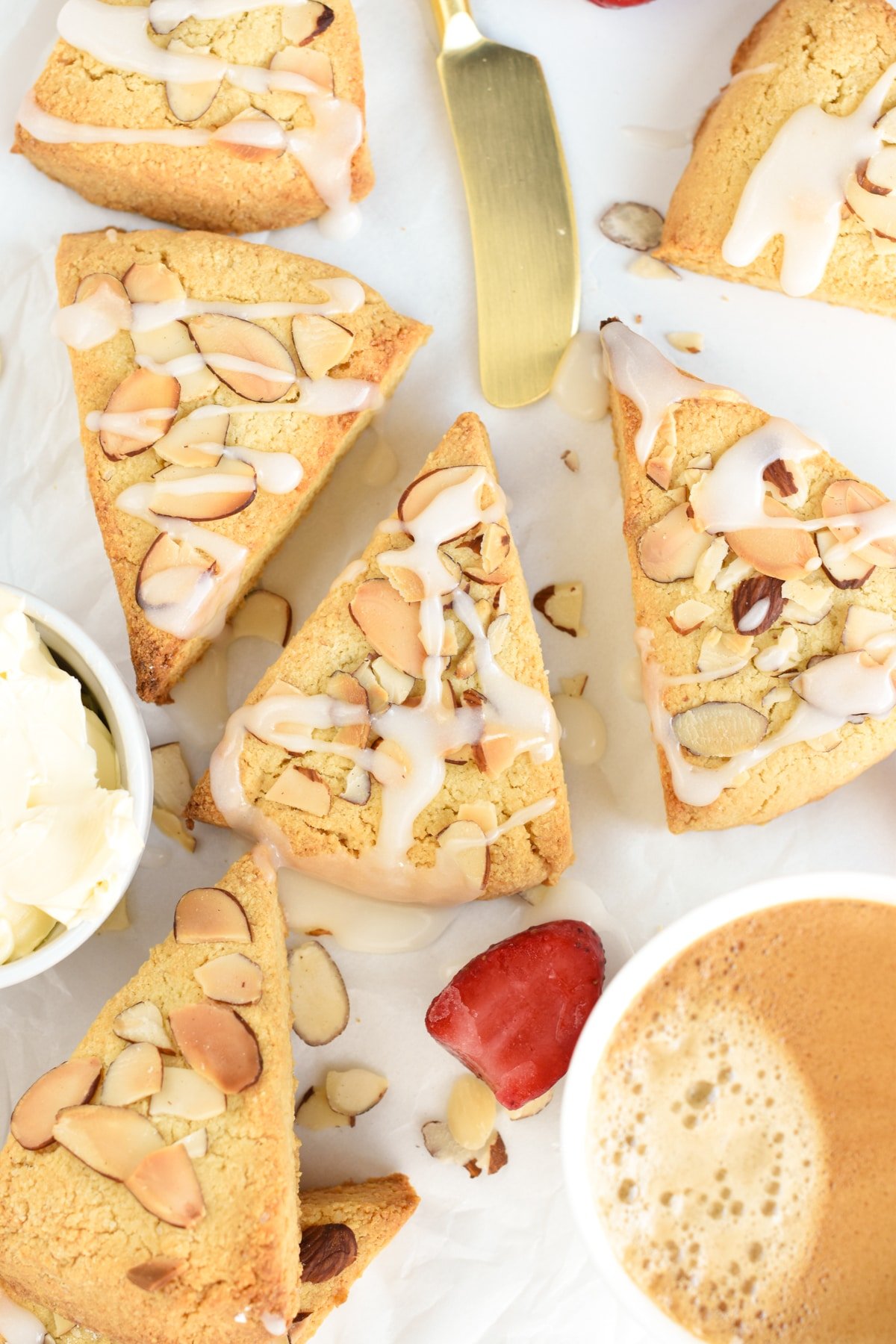 Serving the Scones
Plain almond flour scones are delicious on their own or taste even better with toppings or filling.
Topping the Scones
I love to sprinkle some sliced almonds on the top of my scones before baking. It results in grilled toasted, crispy almonds on each scone.
Or you can drizzle some sweet glazing on top of the baked scones. To make sweet glazing, combine:
1/2 cup of powdered erythritol
1-2 tablespoons heavy cream or almond milk
Cool the baked scones down. Then, use a spoon to drizzle the sweet glazing on top of each scone.
You can flavor the glazing by adding 1 teaspoon vanilla extract, almond extract, or lemon zest.
Filling the Scones
In the UK or New Zealand, scones are served plain, in a round shape, and then cut in half to be filled.
The most delicious filling for these almond flour scones that are also healthy and keto-friendly are:
Or why not spreading some of these:
Salted butter
Peanut butter
Almond Butter
Anything tastes great on these almond scones! Be creative and play with flavor and spreads.
Scone Flavoring Options
You can use this plain almond flour scone recipe to create a range of flavorsome keto scones.
To do so, I listed below some food you can stir in the finished batter:
Blueberries and lemon zest – that's the most popular combination of flavors for scones. In fact, blueberry scones and lemon zest taste amazing and work in any season. Stir in 1/2 cup of fresh or frozen blueberries and 1 tablespoon of grated lemon zest.
Strawberries or raspberries – stir in 1/2 cup of finely chopped strawberries or raspberries.
Dark chocolate chips – sugar-free chocolate chips taste amazing in this almond flour batter.
Storage Instructions
You can store the scones in the pantry wrapped in a clean kitchen towel to keep them fresh and crispy. They can be kept for up to 3 days at room temperature.
Freezing scones is easy. Place the scones in an airtight box or freezer bag and freeze for later.
To thaw frozen scones, bring on a wire rack the day before and thaw at room temperature.
You can rewarm the scones by slicing them in half and bringing them into a bread toaster.
Allergy Swaps
If you have some food allergy and you can't use some of the ingredients listed in this recipe. There are options for you.
Below I listed the most common food allergies and food swaps you can apply to these almond flour scones without losing on taste and texture.
Nut allergy – of course, this is an almond flour scone recipe, so it's made of nuts, but if you want to make a keto gluten-free scone without almond flour, there are three options. You can use the same amount of sesame flour, pumpkin flour, or sunflower seed flour. Note that the last two options make the scones darker in color. Sometimes baked goods with these flours can also turn greenish.
Dairy-free – use melted coconut oil instead of butter.
Egg-free – as mentioned before, flax eggs don't deliver great results in this scone recipe. The batter won't firm up, and the scones are left fragile and break easily. Another egg-free option is Bob Red Mill's egg replacer.
Gluten-free – this scone recipe is naturally gluten-free, but if you have a strong intolerance to gluten, make sure your baking powder is gluten-free.
Frequently Asked Questions
I've listed below the answers to the most common questions about this recipe.
Can I Use Coconut Flour?
No, coconut flour doesn't absorb liquids the same way and would give a completely different texture. You have to use Almond Flour in this recipe.
Can I Substitute Almond Flour For All-purpose Flour?
Yes, you can use regular flour in this recipe, but keep in mind that they wouldn't be low-carb scones anymore!
Is Eating Almond Flour Bad For You?
No, Almond Flour is a perfectly safe flour to eat.
Can I Make Scones Without Eggs?
It is possible to make this recipe without eggs. Using a Flaxseed Egg doesn't really work, but some egg replacers Bob Red Mill's Egg Replacer does.
More Almond Flour Recipes
Below I listed more almond flour baked goods for you to try. All these healthy recipes are 100% gluten-free and keto-friendly.
Have you made these almond flour scones? Share your review or comment below to let me know how you serve these amazing scones for breakfast!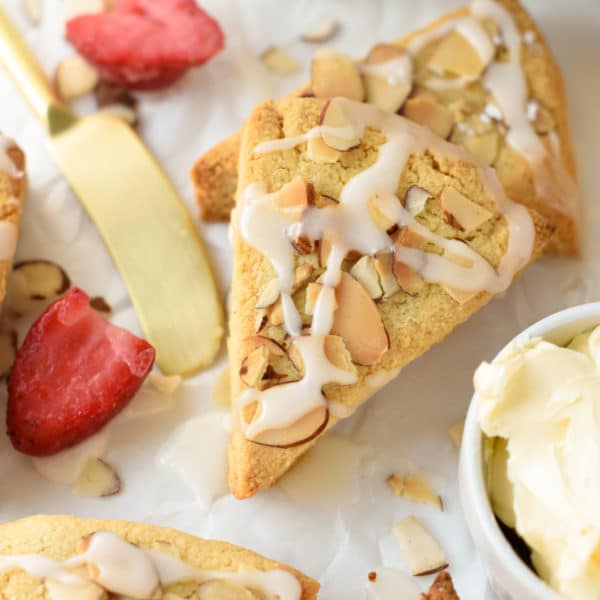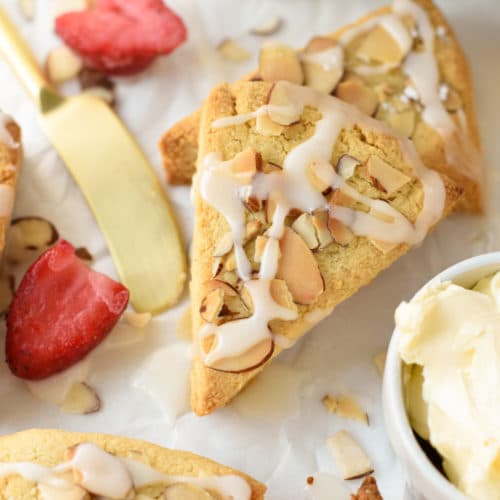 Almond Flour Scones
An Easy Gluten-free Almond Flour Scones recipe crispy on the outside and buttery and fluffy in the center for a delicious keto breakfast.
Nutrition Snapshot
Want My Kitchen Equipment?
Instructions
Preheat oven to 350°F (180°C). Lien a cookie sheet with parchment paper. Slightly oil the paper. Set aside.

In a large bowl, whisk almond flour, sweetener, baking powder, and salt.

In another bowl, beat egg with melted butter or melted coconut oil, almond milk, and vanilla extract. Make sure all ingredients are roughly at room temperature for best results.

Combine the liquid ingredients with the dry ingredients until a thick scone batter forms – you should be able to shape a ball with it, as seen in the pictures above.

Place the batter in the center of the prepared sheet and flatten with slightly oiled hands (no need of a rolling pin), or place another piece of parchment paper on top of the dough ball to flatten into a 1-inch thick disc (2.5 cm).

Use a long sharp knife or pizza cutter to cut the disc into 8 wedges and spread the wedges slightly to make sure they don't stick to each other and bake well on the sides.

Brush some melted butter or almond milk on top of the wedges and press a few sliced almonds to decorate.

Bake on the center rack of the oven for about 20 minutes or until the top is just golden brown. Don't over-bake, or the center gets very hard and crunchy.

Slide a flat spatula under the baked scones to gently transfer onto a cooling rack without breaking.

Cool down on a wire rack for at least 1 hour. They firm up with time, so be patient.

Serve with a drizzle of powdered sweetener combined with almond milk. I combined 3 tablespoons of sugar-free powdered erythritol with 2 teaspoons of almond milk.
Storage
Store scones in a cooled dry place for up to 4 days or freeze in an airtight container. Thaw at room temperature the day before.
My Recipe Notes
Nutrition
Serving:
1
scone
Calories:
232.7
kcal
(12%)
Carbohydrates:
6.7
g
(2%)
Fiber:
3.4
g
(14%)
Net Carbs:
3.3
g
Protein:
7.5
g
(15%)
Fat:
21.5
g
(33%)
Saturated Fat:
5.8
g
(36%)
Polyunsaturated Fat:
0.2
g
Monounsaturated Fat:
0.6
g
Trans Fat:
0.1
g
Cholesterol:
23.3
mg
(8%)
Sodium:
86.4
mg
(4%)
Potassium:
8.6
mg
Sugar:
1.1
g
(1%)
Vitamin A:
33.8
IU
(1%)
Vitamin B12:
0.1
µg
(2%)
Vitamin D:
0.1
µg
(1%)
Calcium:
74.2
mg
(7%)
Iron:
1.3
mg
(7%)
Magnesium:
0.8
mg
Zinc:
0.1
mg
(1%)
Posted In: