These Keto Lemon Bars are the best keto dessert for summer to fix your sweet tooth with no guilt and only 2.5 grams of net carbs per serving.
A melt-in-your-mouth shortbread crust topped with tangy lemon curd for a refreshing decadent sugar-free dessert.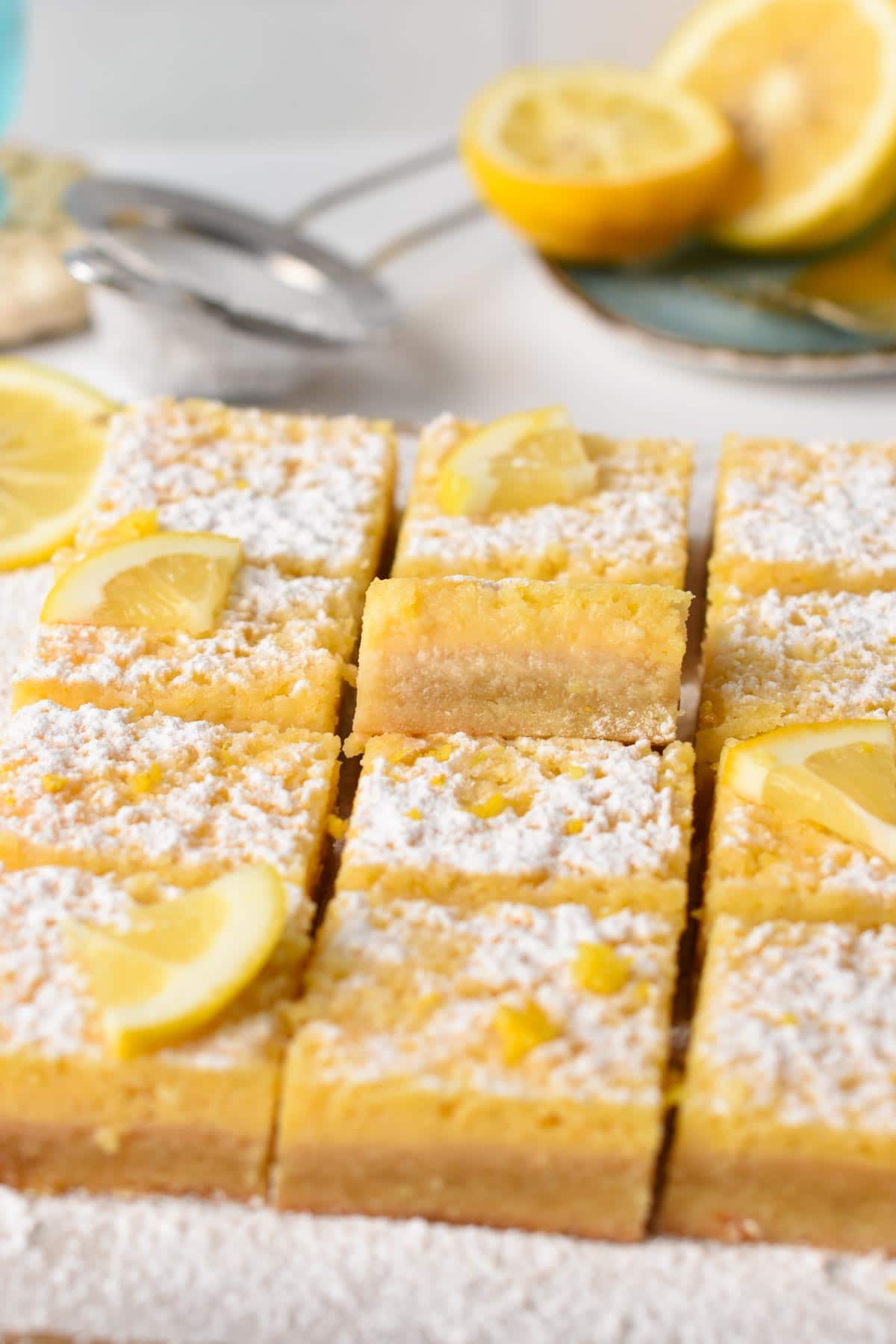 Are Classic Lemon Bars Keto?
No, a classic lemon bar is made with a high-carb wheat-based crust topped with sweet curd made with lots of sugar.
Therefore this is not diabetic-friendly unless you adapt the recipe.
Time to enjoy a lemon ow carb recipe and welcome summer with no guilt!
Why You'll Love These Bars
These low-carb keto lemon bars are not only a diabetic-friendly dessert but also naturally:
Gluten-Free
Paleo-Friendly
Grain-Free
Vegetarian
Dairy-Free Option
Low-Carb
Keto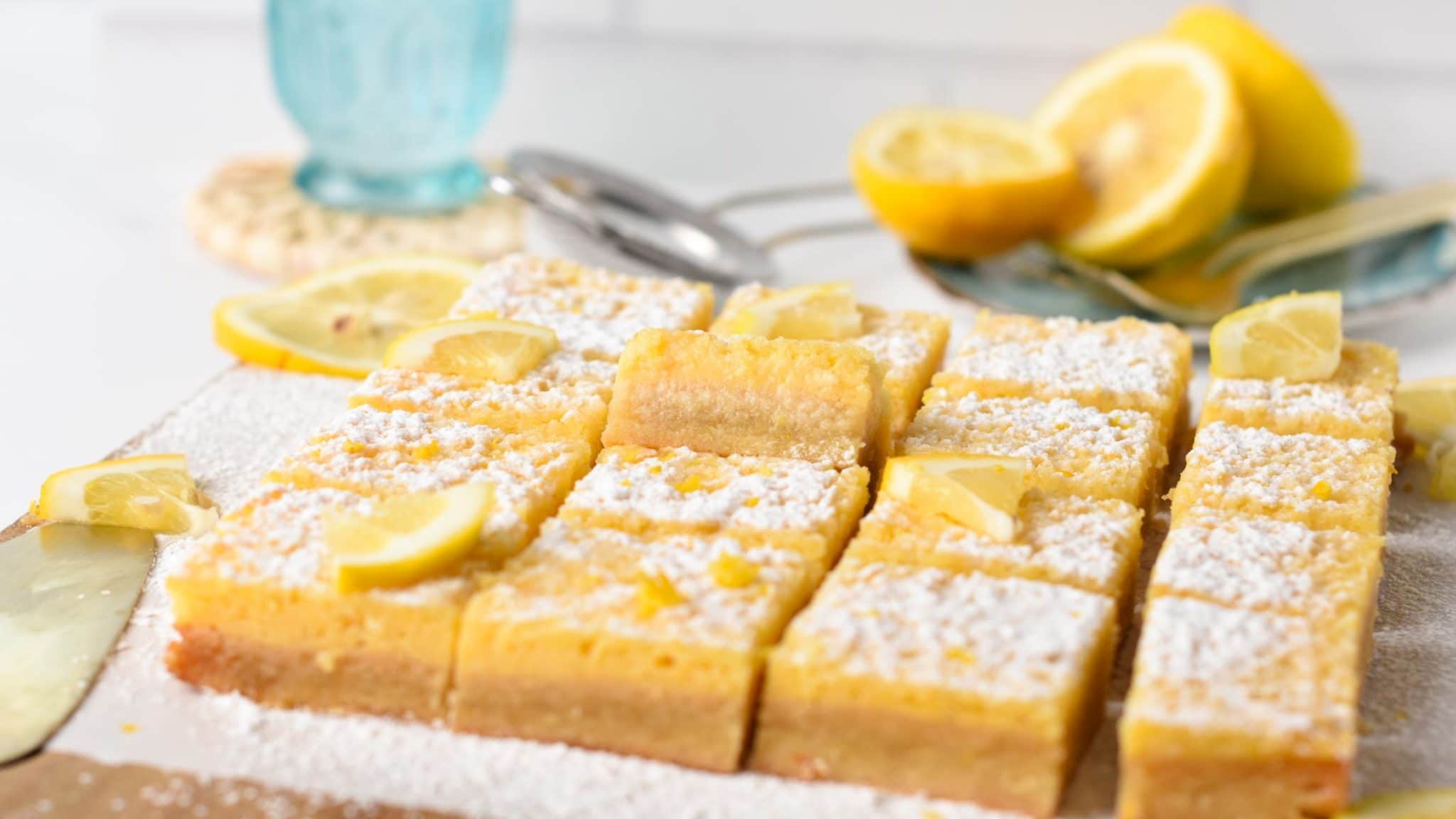 How To Make Keto Lemon Bars
It's very easy to make keto-friendly lemon bars you first need to make a low-carb shortbread biscuit using low-carb flours and keto sweeteners.
Then, you need to prepare a sugar-free lemon curd to spread on top of the shortbread base and bake the entire dessert until set.
Finally refrigerate, slice, and serve.
Ingredients
For the low-carb almond crust, you need:
Eggs – Prefer free-range organic eggs for the best taste. Eggs are keto-friendly ingredients.
Blanched Almond Flour – use ultra-fine almond flour and avoid almond meal that is coarse and dark in color. It makes gritty shortbread.
Low-Carb Granulated Sweetener, like erythritol or allulose.
Vanilla Extract
Melted Butter or melted coconut oil for a dairy-free option.
Pinch of Sea Salt
For the low-carb lemon curd you need:
Fresh Lemons– squeezed to get the lemon juice and lemon zest
Melted butter or melted coconut oil
Eggs
Almond Flour
Preparing The Shortbread
Preheat the oven to 350°F (180°C).
First, line an 8-inch x 8-inch square pan with parchment paper.
Make sure there's some parchment paper overhanging on the sides. It makes it easier to remove the low-carb lemon bar from the pan later.
Spray oil over the pan to prevent the crust from sticking to it.
Next, in a large mixing bowl, combine all the shortbread crust ingredients: almond flour, egg, melted butter, vanilla extract, sweetener, and salt.
The batter should look crumbly but not dry either.
You should be able to stick ingredients together if squeezed in your hand. If not add a little bit more melted butter or coconut oil.
Baking The Shortbread
Press the shortbread biscuit at the bottom of the prepared pan to form an even layer. Use the back of a spoon or silicone spatula to smooth the layer and press it down easily.
Prick the biscuit with a fork to prevent it from puffing in the oven.
Bake in the center rack of the preheated oven at 350°F (180°C) until the crust is golden brown – about 15 minutes.
Making Lemon Curd
Meanwhile, prepare the lemon curd. In a mixing bowl, beat eggs with melted butter and lemon juice.
You don't have to use an electric beater, use a hand whisk and beat until just combined.
Then, stir in almond flour. Set aside at room temperature until the crust is baked.
Remove the pan from the oven and immediately pour the filling on top of the baked crust.
Bake again until the curd is set. Watch it carefully and remove the pan from the oven when it's set on top but still a bit jiggly in the middle to keep the dessert moist.
Cool completely in the pan for one hour then place the pan for 3 hours in the fridge before slicing.
This technique ensures the slice is firm and easy to slice without breaking apart.
Release the bar from the pan using the hanging part of parchment paper.
Pull out the gluten-free lemon bar from the pan and place the bar on a chopping board and cut it into 16 squares.
Serving
These keto lemon bars are delicious served with some topping like:
Unsweetened Whipped Cream
Freshly Grated Lemon Zest
Coconut Yogurt
Thin Slices of Lemon
Dust of Sugar-Free Powdered Sweetener like powdered erythritol or powdered allulose.
Storage
These almond flour lemon bars can be stored in an airtight box in the fridge for up to 4 days.
You can also freeze lemon bars, preferably in zip-lock bags or airtight containers to keep the keto lemon bars recipe fresh and moist.
Thaw in the fridge the day before serving.
Allergy Swaps
Below I answered all your questions about how you can adapt the recipe to your food allergies:
Dairy-Free – replace the melted butter with melted coconut oil. I recommend using refined coconut oil to avoid adding a coconut flavor to the bars even if lemon coconut is a delicious combination. Note that the filling comes out less yellow using this option.
Nut-free – the best swap to almond flour is sunflower seed flour or sesame flour. Both are gluten-free keto flour that can be used as a 1:1 ratio swap to almond flour
You can't make this recipe egg-free, it wouldn't work.
Frequently Asked Questions
Can I Replace The Almond Flour With Coconut Flour?
You can't use coconut flour or it will be a very different ratio since coconut flour contains four times fiber.
Can I Use Packaged Lemon Juice?
You can but the flavor of the dessert won't be as flavorsome and you will miss some lemon flavor.
You can balance that by adding 1 teaspoon of natural lemon extract to the custard.
Can I Use Almond Meal Instead Of Almond Flour?
You can but the texture won't be the same. The crust and filling will be slightly grainy and darker in color.
How Many Carbs Are In Keto Lemon Bars?
These Keto Lemon Bars have only 2.5 grams of net carbs per serving.
More Keto Lemon Desserts
Below I listed some more keto lemon dessert recipes for you to try.
Have you made this keto lemon bar recipe? Share a comment or review below to connect with me!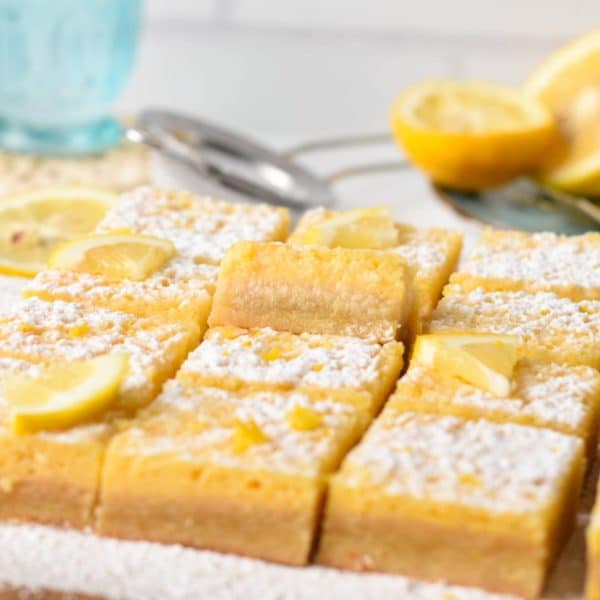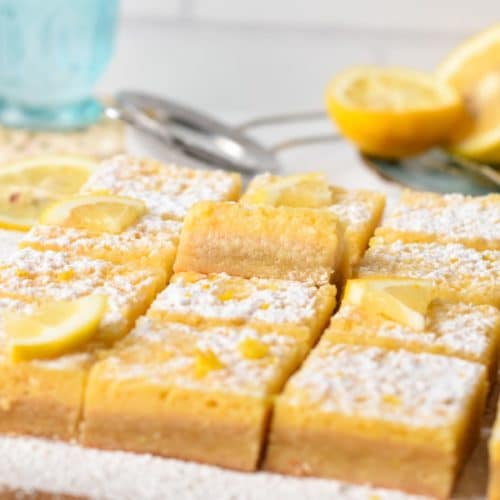 Keto Lemon Bars
These Keto Lemon Bars is a delicious sugar-free lemon dessert with an almond flour crust topped with tangy lemon curd.
Ingredients
Almond flour crust
2

cups

Almond Flour

¼

cup

Erythritol

2

tablespoons

Melted Butter

or melted coconut oil

1

large

Egg

¼

teaspoon

Salt

1

teaspoon

Vanilla Extract
Lemon Curd filling
4

large

Eggs

½

cup

Lemon Juice

¼

cup

Melted Butter

1

tablespoon

Lemon Zest

¼

cup

Almond Flour

⅓

cup

Erythritol
This recipe may contain Amazon or other affiliate links. As an Amazon Associate I earn from qualifying purchases.
Instructions
Preheat the oven to 350°F (180°C). Line a 9-inch square pan with parchment paper. Make sure you keep hanging parts of paper on sides. Slightly grease paper with butter or coconut oil. Set aside.

Prepare the shortbread crust. In a mixing bowl, stir almond flour, salt, erythritol, beaten egg, vanilla extract, and melted butter. The mixture should be crumbly but not dry, if pressed together it holds. If not, add an extra tablespoon of melted butter.

Pour the crumbly shortbread crust over the prepared pan and press firmly and evenly with a flat tool. Prick the crust with a fork.

Pre-bake for 15 minutes until the crust is golden brown and crispy on the edges

Meanwhile, prepare the lemon filling.

In a mixing bowl, use a hand whisk to beat eggs with lemon juice, melted butter, erythritol, and lemon zest. Beat in almond flour at the end.

When the crust is baked, remove the pan from the oven and immediately pour the filling on top.

Return the pan to the oven for 15-18 minutes or until the filling is set on the top but still soft and jiggly in the middle. Don't overbake, or the filling will be dry, watch it carefully.

Cool down in the pan for 1 hour then cool down in the fridge for 3 hours or overnight before slicing.

Serve with powdered erythritol if desired and extra lemon zest for flavor.
Storage
Store in an airtight cake box in the fridge for up to 3 days or freeze and thaw in the fridge the day before.
Want My Kitchen Equipment?
Serving:
1
square
Calories:
152.1
kcal
(8%)
Carbohydrates:
4.3
g
(1%)
Fiber:
1.8
g
(8%)
Net Carbs:
2.5
g
Protein:
5.4
g
(11%)
Fat:
13.6
g
(21%)
Saturated Fat:
1.9
g
(12%)
Polyunsaturated Fat:
1.4
g
Monounsaturated Fat:
2.7
g
Trans Fat:
0.1
g
Cholesterol:
58.1
mg
(19%)
Sodium:
108.6
mg
(5%)
Potassium:
33
mg
(1%)
Sugar:
0.9
g
(1%)
Vitamin A:
274.6
IU
(5%)
Vitamin B12:
0.1
µg
(2%)
Vitamin C:
3.8
mg
(5%)
Vitamin D:
0.3
µg
(2%)
Calcium:
44.8
mg
(4%)
Iron:
0.9
mg
(5%)
Magnesium:
2.6
mg
(1%)
Zinc:
0.2
mg
(1%)
Posted In: