This Keto Lemon Curd is a delicious, creamy, smooth dessert with a tangy lemon flavor, no sugar, and only 0.5 grams of net carbs per serving.
You'll love this low-carb lemon curd as a dessert, on its own, or for breakfast with keto scones or keto crepes.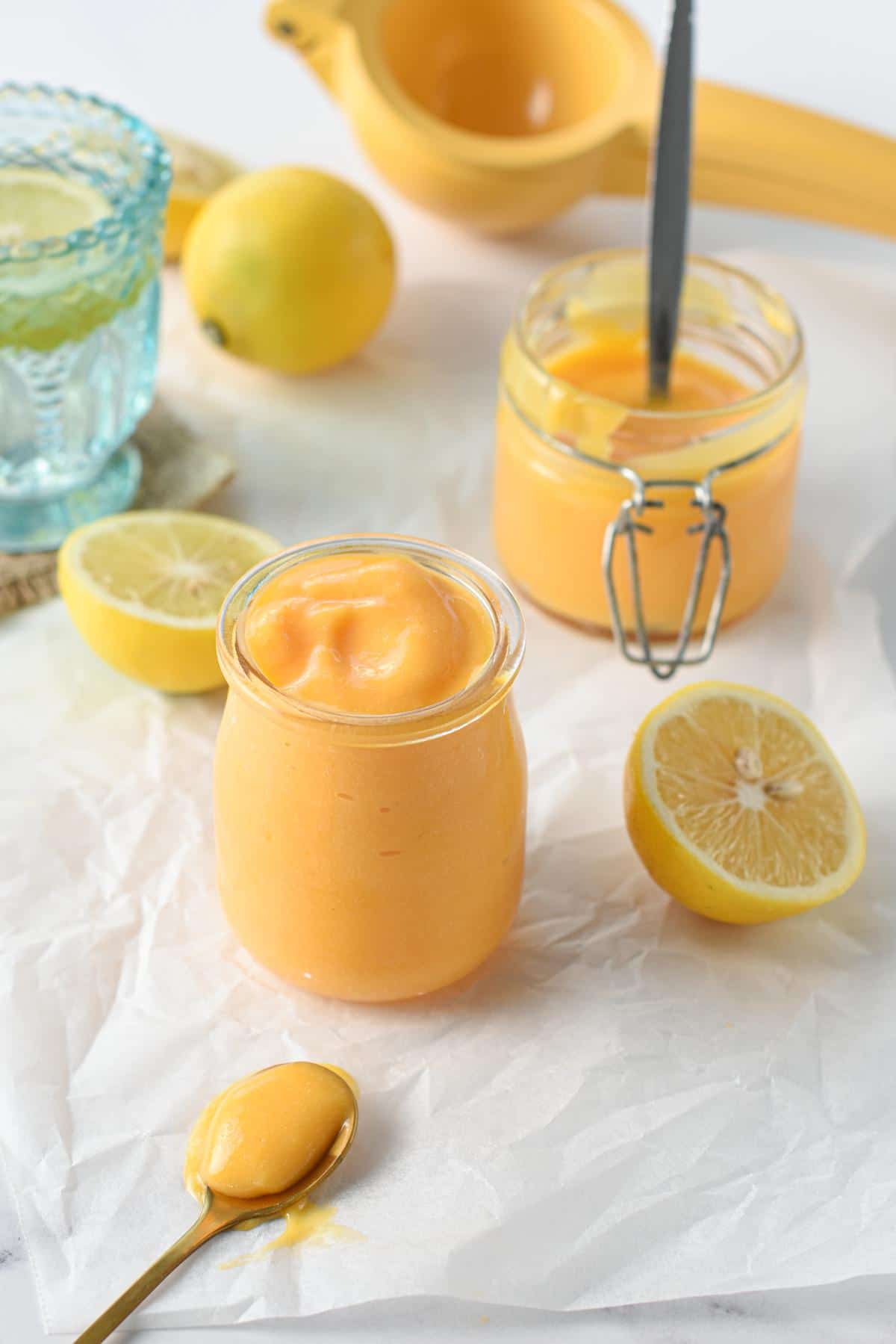 Lemon curd is one of the most classic desserts and one of the first recipes I created for my keto lemon tart recipe.
Here's the plain recipe that you can eat on its own or serve as a side for low-carb breakfast baked goods.
Is Lemon Curd Keto?
Unfortunately, a regular lemon curd recipe is made from sugar and sometimes the addition of high-carb flour, like cornstarch, to thicken the mixture.
So to make low-carb lemon curd, you need to twist the recipe to avoid the added carbs.
How To Make Keto Lemon Curd
All you need to make lemon curd without sugar are five simple ingredients.
The key is to cook the curd over a simmering saucepan.
It's called a double broiler method in baking, and it's a great way to thicken the eggs and lemon juice gently, creating a smooth curd that is smooth and velvety without cooking the eggs.
Ingredients
Egg yolk – You can store the egg whites in the fridge for later and make some keto macaroons with them. Eggs are keto-friendly products.
Powdered Erythritol – You can use monk fruit sweetener or any powdered sweetener you love – I recommend using a powder form to avoid a grainy texture in the sugar-free lemon curd. In fact, the curd is cooked at a low temperature, and sugar-free sweeteners won't dissolve very well, unlike sugar. Learn how to pick the best keto-friendly sweeteners.
Lemon Zest
Lemon Juice – fresh lemon tastes the best!
Unsalted Butter – this adds texture and velvety texture to the curd. Feel free to use dairy-free butter if you have a dairy intolerance. Learn why butter is keto-friendly.
Whisking Ingredients
First, in a glass bowl or a bowl that can handle the heat, whisk the egg yolk, sweetener, lemon juice, and lemon zest. Set aside.
Then, select a saucepan that is wide enough to welcome the previous mixing bowl tightly.
If the saucepan is too small, the heat won't diffuse, and it can take ages to firm up the curd.
Double-Broiler Method
Now, place the saucepan with 2 inches of cold water over low, medium heat.
When the water simmers or reaches a light boil, place the bowl on it and constantly whisk until the curd firm up.
Be patient. It's a long process, and it takes from 8 to 10 minutes to thicken.
You can increase the heat slightly after 6 minutes if you don't see the texture changing much but don't worry, lemon curd thickens suddenly around 10 minutes.
Adding Butter
When the sugar-free lemon curd has thickened, remove the pan from heat, stir in the cubes of butter.
Transfer the curd to a glass mason jar and cover the top with a piece of plastic wrap, touching the curd directly to prevent the formation of curd skin.
After about 40 minutes, remove the plastic, close the jar with a lid and refrigerate the curd overnight or at least 4 hours.
Serving
This low-carb lemon curd is the best keto dessert on its own or topped with:
Fresh berries like raspberries
Unsweetened whipped cream
Sliced almonds
Desiccated coconut
Storage Instructions
This sugar-free lemon curd recipe can be stored for up to 10 days in the fridge.
You can also freeze it for up to 3 months. Thaw it in the fridge overnight before using it in cakes or pies.
Frequently Asked Questions
Is Lemon Keto?
Yes, lemon is a keto-friendly fruit with only 0.5 grams of net carbs per serving. It's a great addition to the sauce, curd, or custard without adding sugar to your recipes.
Is lemon curd the same as lemon custard?
Lemon curd is typically a bit thicker than lemon custard. The latter is made with milk, making it runnier. Custard is also often just flavored with lemon rind while curd has lemon juice for a stronger lemon taste.
What is a serving of lemon curd?
A typical serving of lemon curd is one tablespoon.
Why do they call it lemon curd?
The name lemon curd comes from the way the recipe was originally made which was from curdling cream with the acidity of lemon.
How Can I Use Lemon Curd?
Lemon Curd can be enjoyed on its own or as a filling for cakes, pies, or pastries.
More Keto Dessert Recipes
If you love delicious keto desserts, I have plenty for you!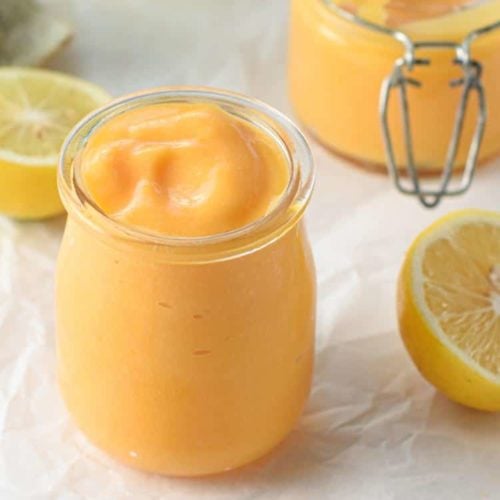 Keto Lemon Curd
An easy Sugar-free Keto Lemon Curd recipe to serve as a dessert on its own or to fill low-carb pie crust and make lemon pie.
Serving Size:
1
tablespoon
Ingredients
4

Egg Yolks

keep egg white in the fridge for another recipe

⅓

cup

Lemon Juice

about 3 freshly squeezed medium lemons

⅓

cup

Powdered Erythritol

1

tablespoon

Lemon Zest

6

tablespoons

Unsalted Butter
This recipe may contain Amazon or other affiliate links. As an Amazon Associate I earn from qualifying purchases.
Instructions
In a glass mixing bowl, whisk egg yolk, powdered sweetener, lemon juice, and lemon zest. Set aside while you prepare the saucepan for the double boiler cooking technique.

Select a saucepan, making sure the previous bowl fits the width of the saucepan as you will place it on top of it. You want it to fit snugly but without touching the water at the bottom of the saucepan.

Bring 2 inches of cold water to a simmer in the saucepan.

Cover the saucepan with the bowl with the egg yolk. Keep over low heat, so the water keeps simmering.

Whisk the egg yolk constantly for about 8-10 minutes or until the curd thickens. If it doesn't thicken, increase the heat.

Remove from heat and gently whisk in the cubes of butter. Pour in a glass jar, cover with a piece of plastic wrap touching the curd directly to prevent skin from forming. The curd firms up as it cools down to room temperature.
Storage
After 30-40 minutes, remove the plastic wrap, close the jar with a lid and refrigerate the curd. Store it for up to 10 days or freeze it and thaw it in the fridge before using.
Want My Kitchen Equipment?
Serving Size:
1
tablespoon
Serving:
1
tablespoon
Calories:
53.4
kcal
(3%)
Carbohydrates:
0.6
g
Fiber:
0.1
g
Net Carbs:
0.5
g
Protein:
0.8
g
(2%)
Fat:
5.5
g
(8%)
Saturated Fat:
3.1
g
(19%)
Polyunsaturated Fat:
0.3
g
Monounsaturated Fat:
1.6
g
Trans Fat:
0.2
g
Cholesterol:
59.9
mg
(20%)
Sodium:
36
mg
(2%)
Potassium:
12
mg
Sugar:
0.2
g
Vitamin A:
196.6
IU
(4%)
Vitamin B12:
0.1
µg
(2%)
Vitamin C:
2.5
mg
(3%)
Vitamin D:
0.2
µg
(1%)
Calcium:
7.9
mg
(1%)
Iron:
0.1
mg
(1%)
Magnesium:
0.7
mg
Zinc:
0.1
mg
(1%)
Posted In: