Keto Lemon Cake with Blueberries
This Keto Lemon Cake with Blueberries is a moist lemon almond cake with a delicious keto cream cheese buttercream frosting.
Bonus, this sugar-free lemon blueberry cake is also gluten-free!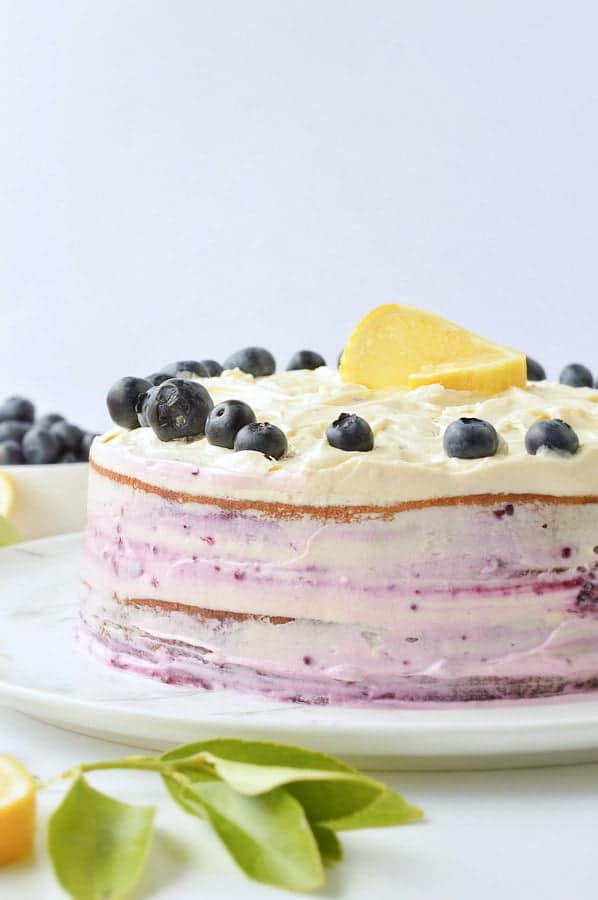 What's A Keto Blueberry Cake
A Keto Blueberry Cake is a low-carb cake made from two sponge cake layers that contain fresh blueberries and a delicious sugar-free blueberry coulis.
I couldn't resist adding blueberries to this cake. I have a passion for the lemon-blueberry combo, and I can't stop myself. So keto lemon almond cake to the rescue!
Why You'll Love This Recipe
This cake is delicious, but it's also:
Gluten-Free
Keto-Friendly (4.9g of net carbs)
Vegetarian
Refine Sugar-Free
Made in 1 Bowl
Ready in jut 45 minutes
How To Make Keto Blueberry Cake
This sugar-free lemon blueberry cake is a 1-bowl recipe. It means that the whole keto cake batter makes two cake layers, and you won't have to repeat the recipe twice.
How cool is that? You know I love easy keto recipes, especially when it comes to keto desserts, as I can't wait to fix my sweet tooth.
Ingredients
So all you need to make a lovely keto lemon cake are a few ingredients :
Almond flour – I recommend super fine unblanched almond flour for best results and to avoid the gritty texture of almonds.
Coconut flour – make sure it is fresh flour with no lumps. Also, always measure your coconut flour scooped and leveled to avoid adding too much of it – this would significantly dry out the lemon cake.
Sugar-free crystal sweetener like erythritol or monk fruit stevia blend. Check my top 4 keto-friendly sweeteners to find out which ones I prefer!
Lemon juice
Eggs – this is very important to use large eggs at room temperature.
Coconut oil – melted at room temperature or lukewarm but not hot, or it will 'cook' the eggs.
Blueberries – fresh or frozen. Blueberry is relatively high in carbs, so it is important not to add too many. Check out my list of keto-friendly fruit to learn which fruits are the best on your keto journey.
Lemon zest – from an organic lemon.
Baking powder
Baking soda
Vanilla
Making Keto Buttercream
The combo of butter and cream cheese makes the most delicious keto lemon frosting for this lemon cake. Cream cheese and lemon cake go really well together!
Buttercream Ingredients
All you need for the frosting are:
Softened cream cheese – bring it out of the fridge 1 hour before making the frosting.
Softened butter – I recommend you bring the butter to room temperature for 3 hours before making the frosting. Also, precutting the butter into cubes will make it soften faster.
Lemon juice
Powdered sugar-free sweetener – same as above but powdered. If you can't find powdered sugar-free sweeteners in your supermarket, crush the crystal sugar-free sweetener into a blender. Blend 45 seconds on high speed to make your own sugar-free icing sweetener!
Unsweetened almond milk or heavy cream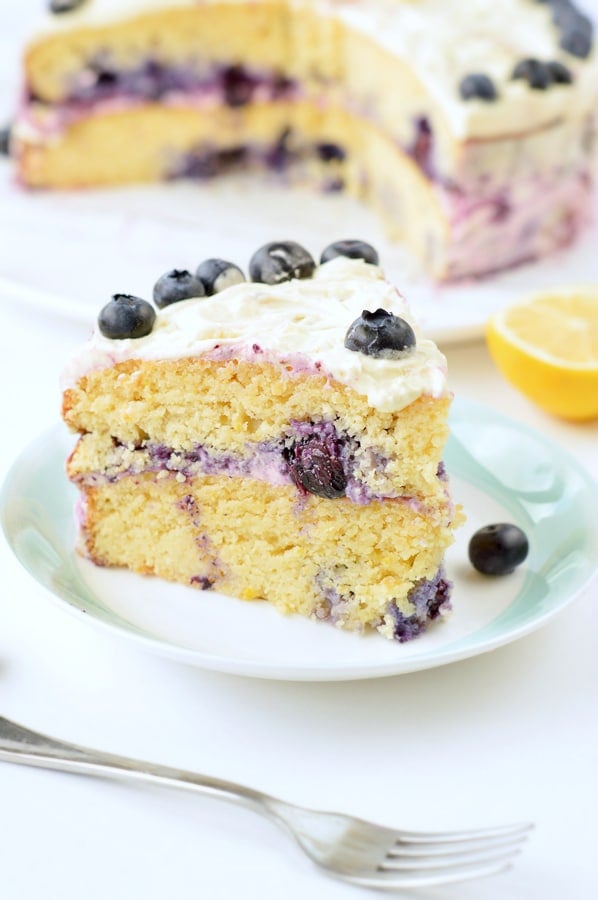 Sugar-Free Blueberry Chia Coulis
This cake wouldn't be the same without the tangy lemon blueberry coulis.
Of course, this is optional, but trust me, this brings this keto lemon cake to the next level.
Bonus, this coulis doesn't require fancy ingredients and only 3 minutes to make, so you don't have to sweat it!
Simply gather:
Blueberries – fresh or frozen.
Chia seeds – this helps thicken the coulis.
Sugar-free crystal sweeteners like erythritol or monk fruit stevia blend.
Water
Lemon juice
Storage Instructions
If you've made a little too much frosting or coulis, you can store any leftovers in an airtight container in the fridge for up to 3 days.
You can store this keto blueberry cake in the fridge in a cake box for up to 3 days.
You can also freeze cake slices, but I recommend freezing the unfrosted cake for better taste when defrosted.
Defrost the slices in the fridge for a few hours.
More Keto Cakes Recipes
If you like healthy cakes, you'll love my other cake recipes:
Made this keto lemon cake yet? Follow me on Instagram and share a picture on your Instagram story tagging my page! I love to reshare your creation with my Instagram followers and see what you made.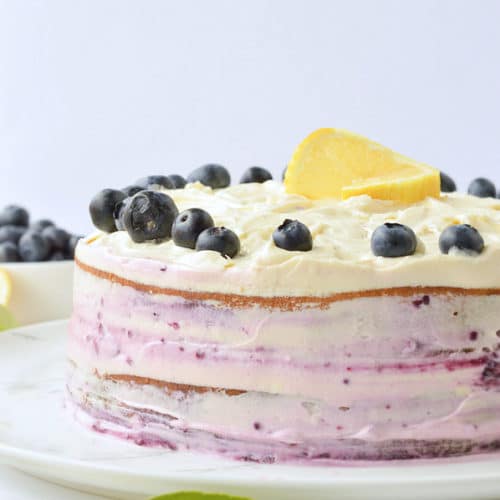 Keto Lemon Cake with Blueberries
Keto lemon blueberry cake with lemon buttercream frosting.
Nutrition Snapshot
Want My Kitchen Equipment?
Ingredients
Keto Lemon buttercream frosting
Instructions
Before you start, make sure ALL the ingredients are at room temperature including eggs, lemon juice, unsweetened almond milk, and flours.

Preheat oven to 350°F (180°C).

Grease two 9-inch round cake pans with coconut oil or butter. Set aside.

In a large mixing bowl, combine almond flour, coconut flour baking powder, and baking soda. Set aside.

In another mixing bowl, add eggs (at room temperature) with sugar-free crystal sweetener. Beat on high speed for 45 seconds until foamy and lighter in color.

Bring back the mixing bowl with the dry ingredients. Make a well in the center of the flour and add the lemon zest, lemon juice, melted coconut oil, vanilla, and beaten eggs.

Beat gently on low speed to incorporate all the ingredients together and form a consistent cake batter.

Stop the electric beater, and using a spatula, fold in the blueberries into the batter.

Transfer half of the cake batter into one cake pan and the other half of the batter into the second cake pan. You now have two cake pans filled with roughly the same amount of cake batter.

Bake each cake layer for 20-25 minutes or until a skewer inserted in the center of the cake comes out clean. If you have a convection mode on your oven you can easily bake the two cake layers at the same time. Otherwise, it is preferable to bake one cake layer at a time. You can keep the second layer at room temperature while the first cake layer is baking.

Let the cake cool down for 10 minutes in the pan then release it on a cooling rack.

Cool down for at least 3 hours or until the cakes are at room temperature before frosting. Don't cool down in the fridge, or the cakes will lose their moisture and become dense.
Keto lemon buttercream
In a medium-size mixing bowl, add the soft butter, and using an electric beater, beat soft butter for 1 minute. Stop beater, then add softened cream cheese.

Beat on medium speed for about 1-2 minutes or until fluffy and light in color.

Stop the beater and add in lemon juice, unsweetened almond milk, and powdered sugar-free sweeteners.

Beat again, at low speed first, to prevent the powdered sugar from bursting outside of the mixing bowl, then on medium speed until the frosting is thick.

Use the frosting to assemble the 2-layer cake.

You can make the frosting ahead of time and store it in the fridge in an airtight container while the cake layers are cooling down.
Blueberry chia coulis
In a small saucepan, add blueberries, lemon juice, chia seeds, and sugar-free powdered sweetener.

Bring to a boil, smash the blueberries with a fork, then simmer 2-3 minutes, stirring constantly until it forms a slightly thick coulis.

Use the coulis between the cake layer, preferably add on top of the first layer of buttercream.
Storage
Store leftover frosting, coulis in an airtight container in the fridge for up to 3 days.

Store the lemon cake in the fridge in a cake box for up to 3 days. You can freeze the cake too, but I recommend freezing unfrosted cake for better taste when defrosted.
My Recipe Notes
Nutrition
Serving:
1
slice
Calories:
235
kcal
(12%)
Carbohydrates:
6.2
g
(2%)
Fiber:
1.3
g
(5%)
Net Carbs:
4.9
g
Protein:
4.5
g
(9%)
Fat:
18.5
g
(28%)
Sugar:
2.6
g
(3%)
Posted In: