Gluten-Free Coconut Cake with Coconut Flour
This Gluten-Free Coconut Cake is a moist coconut flour cake perfect for any occasion.
Plus, this gluten-free coconut flour cake is also keto-friendly and dairy-free, so keep reading to learn more.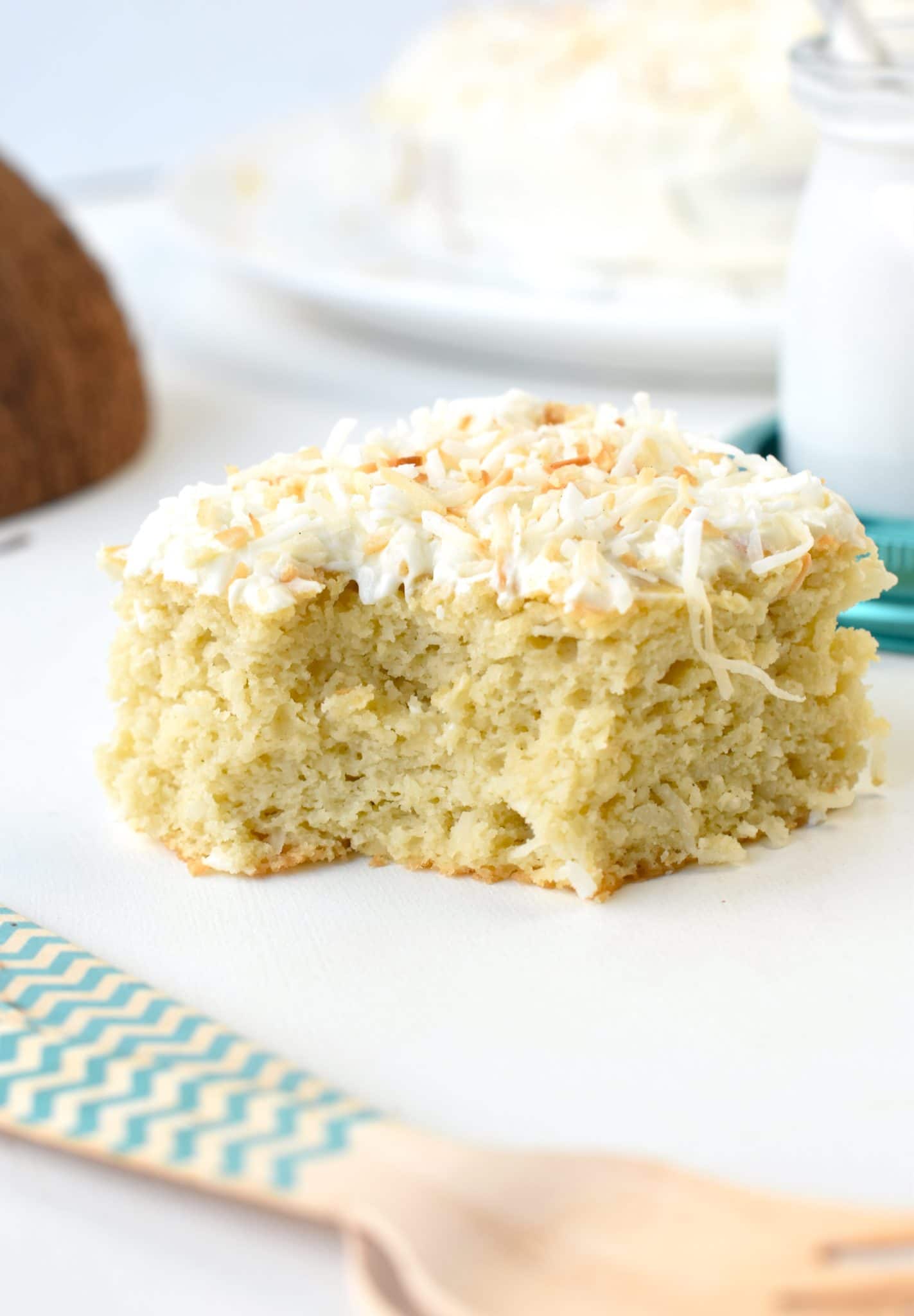 This moist gluten-free coconut flour cake is perfect for coconut lovers!
What's better than a coconut cake filled with toasted coconut and coconut cream?
Is Coconut Flour Gluten-Free?
Coconut flour is a low-carb, gluten-free flour.
It's also a very healthy flour high in fiber, protein, and nutrients. It's perfect for baking low-carb, gluten-free recipes like gluten-free cakes or gluten-free cookies.
Coconut flour also adds a delicious coconut flavor to your baked goods, perfect for this coconut cake recipe.
How To Make A Gluten-Free Coconut Cake
It's very simple to make gluten-free coconut cake using basic coconut ingredients.
Ingredients
Coconut flour – make sure you are using fresh flour, with no lumps for precision.
Unsweetened desiccated coconut – some coconut contains added sugar, so check the ingredient list.
Coconut cream – I love to use full-fat canned coconut cream to enhance the coconut flour of this raspberry coconut cake, but heavy cream works as well.
Shredded coconut
Large eggs – at room temperature.
Vanilla extract
Granulated sweetener of choice – use Erythritol or any other keto sugar-free crystal sweetener you like for a keto cake.
Baking powder
Coconut extract for enhancing the coconut flavor of the cake.
Making The Cake Batter
First, in the bowl of a stand mixer, beat eggs and granulated sweetener until fluffy and lighter in color. It takes about 1 minute at high speed.
Next, add coconut cream, vanilla extract, and coconut extract. Beat on low speed until just combined.
Finally, add the coconut flour, baking powder, and shredded coconut and beat on low speed again until the batter is well combined.
Keep in mind that coconut flour cake batter is slightly thicker and grainy in texture.
Optional Cake Add-Ons
This step is optional. You can stir in the batter some fresh fruits like:
Pineapple
Raspberries
Strawberries
Or some chocolate chips.
Here the gluten-free coconut cake batter is filled with juicy raspberries and dark chocolate chips.
Baking
Line a 9-inch square baking pan with lightly oiled parchment paper. Pour the batter into the cake pan and spread evenly.
Bake for 30 minutes at 350°F (180°C) or until a pick inserted in the center of the cake comes out clean.
Making Cake Layers
If you want to make a layer of cake, I recommend two options.
Option 1: fill the pan and bake the entire recipe in a round greased 9-inch cake pan. Then, cool down the cake for a few hours at room temperature and cut the cake lengthwise to form two layers.
Option 2: bake the recipe in two 9-inch greased round cake pans (or 8 inches for thicker layers). Set the oven on the convection mode if you are baking both layers at the same time. Then place both pans in two different oven levels – center and bottom, for example, and bake until a pick inserted in the center of the cake comes out clean. Otherwise, bake on the regular mode in the center rack of the oven and keep the over pan at room temperature while the first layer is in the oven.
Cooling Down
Cool the cake layers down on a cooling rack at room temperature for about 1 hour before frosting or adding any toppings.
Decoration
You can serve this coconut flour cake on its own or with some delicious toppings like:
Whipped cream
Toasted coconut
Powdered sugar
If you are making a layer cake, use buttercream frosting to assemble the cake layers.
Frequently Asked Questions
Can I replace coconut flour with something else?
No, unfortunately, the recipe won't work with gluten-free all-purpose flour or almond flour.
In fact, coconut flour contains four times more fiber than other classic flour, and therefore it requires more liquid in the batter to create a moist cake.
Can I add pineapple?
Yes, you can add crushed pineapple pieces to the cake batter.
Can I make a layered cake with this gluten-free cake recipe?
Absolutely! You can use this recipe to make two 9-inch layers of cake and assemble them.
What kind of granulated sweetener works the best?
You can use cane sugar, coconut sugar, or any sugar-free granulated sweetener like allulose or xylitol, or erythritol.
Coconut flour is diabetic-friendly, and if you are using one of the sugar-free sweeteners, the cake will be keto-friendly.
More Gluten-Free Cake Recipes
If you love gluten-free baking recipes using healthier low-carb flours, I recommend also trying:
Made this recipe? Share a comment or review below.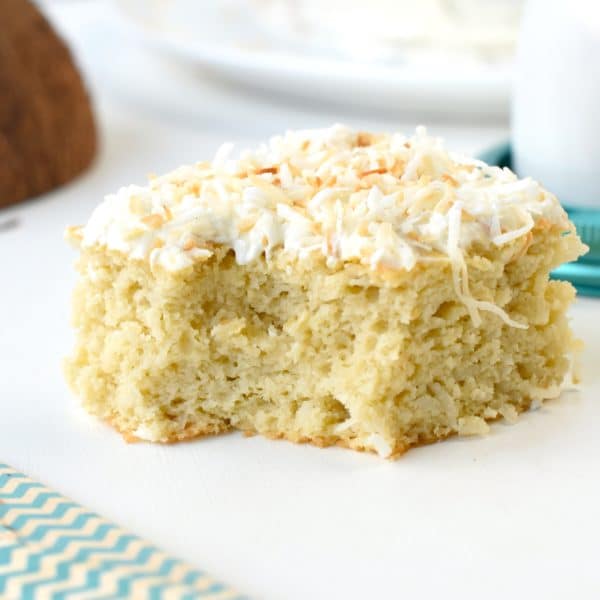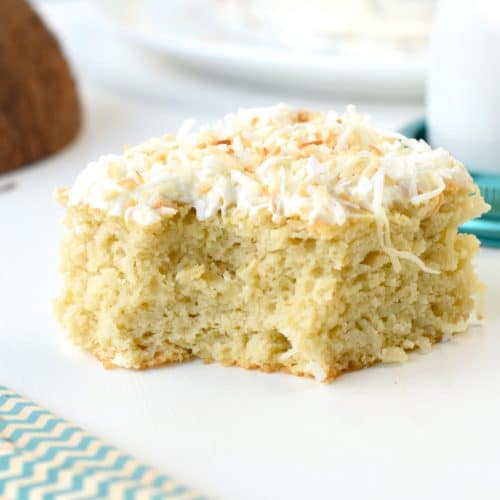 Gluten-Free Coconut Cake
This Gluten-Free Coconut Cake is a simple dessert or breakfast made with Coconut Flour.
Nutrition Snapshot
Want My Kitchen Equipment?
Instructions
Preheat the oven to 350°F (180°C).

In the bowl of your stand mixer, beat eggs and granulated sweetener on the high-speed setting until light and fluffy – it takes about one minute.

Add in vanilla extract, coconut extract, and coconut cream and beat on low speed for a few seconds to combine.

Fold in coconut flour, baking powder, shredded coconut, and beat on low-medium speed until it forms a thick cake batter.

Transfer the batter into a 9-inch x 9-inch square baking pan, covered with a piece of oiled parchment paper.

Sprinkle 1/4 cup unsweetened shredded coconut on top of the cake if desired.

Bake 40-45 minutes at 350°F (180°C) or until the cake is set in the middle. Insert a skewer in the middle of the cake. If it comes out clean, the cake is baked.

Cool in the pan for 10 minutes, then pull out the pieces of parchment paper to release and transfer the cake to a cooling rack. Cool for about 2-3 hours or until it reaches room temperature.
Storage
Slice into 12 squares and store the cake for up to 3 days in the fridge, in an airtight container.

Freeze leftovers in an airtight container and defrost the day before.
Serving suggestion
Serve with unsweetened whipped cream on top and toasted coconut.
My Recipe Notes
Nutrition
Serving:
1
slice
Calories:
162.5
kcal
(8%)
Carbohydrates:
7.5
g
(3%)
Fiber:
3.7
g
(15%)
Net Carbs:
3.8
g
Protein:
4.3
g
(9%)
Fat:
13.2
g
(20%)
Saturated Fat:
10.6
g
(66%)
Polyunsaturated Fat:
0.5
g
Monounsaturated Fat:
1.3
g
Trans Fat:
0.1
g
Cholesterol:
65.8
mg
(22%)
Sodium:
112.9
mg
(5%)
Potassium:
117.6
mg
(3%)
Sugar:
1.4
g
(2%)
Vitamin A:
124.3
IU
(2%)
Vitamin B12:
0.2
µg
(3%)
Vitamin C:
0.6
mg
(1%)
Vitamin D:
0.4
µg
(3%)
Calcium:
56.8
mg
(6%)
Iron:
1.1
mg
(6%)
Magnesium:
11.9
mg
(3%)
Zinc:
0.5
mg
(3%)
Posted In: