This keto vanilla cake is the most delicious, moist and buttery diabetic birthday cake. Plus, this vanilla cake is dairy free, gluten free and made with only 6 ingredients in 1-bowl! So keep reading to learn how to make it.
Here we are! It is my birthday and I am turning 36. I am also celebrating 6 years of an happy sugar free life and the reversal of my prediabetes. So it's with a lot of excitement that I am sharing my easy keto birthday cake recipe with you today.
A 1-bowl keto vanilla cake
This is the perfect recipe for keto beginners. It's definitely a no-fail keto vanilla cake recipe made in 1-bowl with only 6 simple ingredients. Let's see what you need to make this moist and buttery vanilla cake.
Almond flour – I recommend fine almond flour rather than almond meal. Almond meal would work well too but the cake would be less moist
Eggs – this recipe is not vegan friendly, I am sorry. But hey, it's my birthday and I love my eggs so I don't have to share with my vegan husband right ? 🙂 I am kidding I will make my keto vegan mug brownie for him. He is the only one who doesn't eat eggs in the house so that small-serve recipe is perfect.
Sugar-free crystal sweetener – I love Monk fruit but erythritol or xylitol are great options too. Check out my review of keto-friendly sweeteners for alternatives.
Coconut oil – or any oil with a light taste will work very well here. Avoid vegetable oils, they are not keto. Great options are avocado oil, almond oil, flaxseed oil. If you are using melted coconut oil, make sure it is not burning hot when you add it to the cake batter. Hot oil will 'cook' the eggs.
Baking powder or half the amount of baking soda meaning 1/2 teaspoon.
Vanilla extract

How to avoid cake to stick to the pan?
Usually, keto cake batter stick a bit more to cake pans so it is very important to use a non stick high-quality aluminized pan. It may sounds expensive to invest in a high-quality pan but they last for years. The one below is in my kitchen for 7 years and non of my cakes stick to it.
Pan choice
I am using a 9 inches cake pan with non-stick coating, removable sides that clamp around the base and ridged texture at the bottom.
Pan preparation
If your pan doesn't have ridged texture your cake may stick slightly at the bottom. To avoid your keto cakes to stick to the pan I recommend a double greasing method. First, grease the whole pan, bottom and sides, with butter or coconut oil. Then, cut out a piece of parchment paper, same diameter of the pan, so here 9 inches circle. Place the piece of parchment paper at the bottom of the pan, it will stick to the pan since you grease it before. Finally, grease the whole pan again, including the paper. This 2 step greasing method will ensure that your keto cake don't stick to the pan.
Do I have to make layer cake?
Of course no! You can simply follow the keto vanilla cake recipe and serve this delicious vanilla cake in 30 minutes. It is a great tea cake to enjoy plain or with the vanilla buttercream frosting recipe provided. I recommend the layers and frosting to make a lovely diabetic birthday cake.
How to make a beautiful layer keto vanilla cake?
I recommend you bake 2 vanilla cakes. It means you repeat the entire vanilla cake recipe 2 times. This is the best way to create a lovely vanilla layer cake with even layers and a decent cake height. Following are my top 3 tips to make a layer cake:
Make the vanilla cake recipe provided two times
I know it is tempting to double up the recipe to save time and then divide the batter in half. It would work but I don't like this technique because it is very difficult to perfectly halve the batter. Often, you end up with a layer thicker than the other.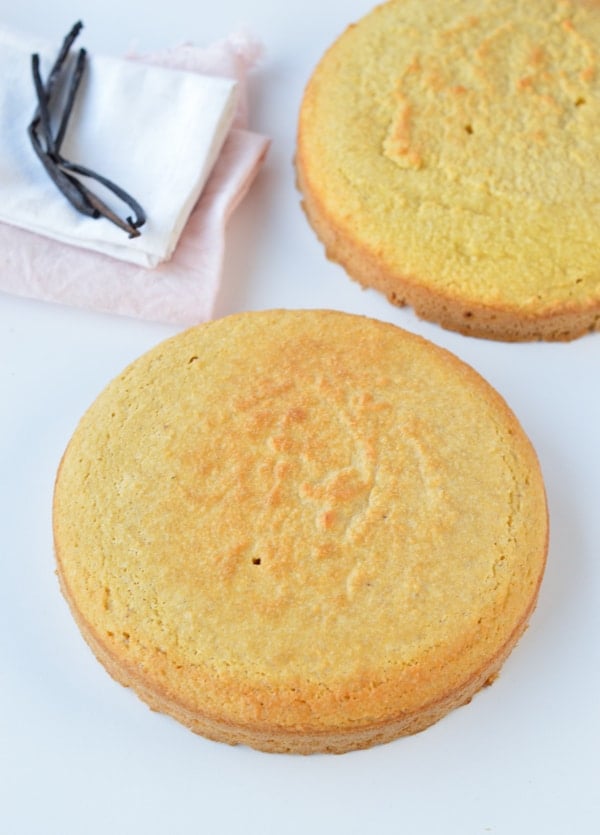 Bake one cake at a time
Never bake two cakes at the same time in your oven. It will impact the baking time too much and the baking won't be consistent. There is always one cake that burn and one that is not cooked. So take time and bake them separately
Level the cakes layer before frosting
Your cake will come up with a small bump on top. Fully cool the cake then use a knife a cake leveler tool to remove that bump and create 2 flat cake layers. This is much easier to frost them later on.

How to assemble your keto vanilla cake?
First, make sure your cake layers are cool, at room temperature to prevent the frosting from melting. Then, I recommend using a turning table and icing spatula. Add a tablespoon of frosting in the center of the turning table and place the first cake layer on it. The frosting will act as glue and stick the cake to the table.

Next, add 1 cup of frosting in the middle of the cake. Spread the frosting with a icing spatula turning the table at the same time to spread evenly. The frosting will fall on the sides and that is ok. Finally add the second cake layer and repeat this process until you have covered all the top of cake. Use more frosting to cover the edges.
I hope you enjoyed my 36-year-old diabetic birthday cake recipe. Happy birthday to you too if you try this recipe for your birthday today.
More keto cake to try !
If you love this keto cake recipe I recommend you also try my:
Don't forget to Pin this recipe to  save it for later and to comment below if you try it !
xoxo Carine