This keto vanilla cake is the most delicious, moist and buttery diabetic birthday cake. Plus, this vanilla cake is dairy free, gluten free and made with only 6 ingredients in 1-bowl! So keep reading to learn more.
Here we are! It is my birthday and I am turning 36. I am also celebrating 6 years of an happy sugar free life and the reversal of my prediabetes. So it is with lots of excitement that I am sharing my easy keto birthday cake recipe with you today.
A 1-bowl keto vanilla cake
This is the perfect recipe for keto beginners. It is definitely a no fail keto vanilla cake recipe made in 1-bowl with only 6 simple ingredients. Let see what you need to make this moist and buttery vanilla cake.
Almond flour – I recommend fine almond flour rather than almond meal. Almond meal will work well too but the cake will be less moist
Eggs – this recipe is not vegan friendly, I am sorry. But hey, it is my birthday and I love my eggs so I don't have to share with my vegan husband right ? 🙂 I am kidding I will make my keto vegan mug brownie for him. He is the only one who doesn't eat eggs in the house so this small serve recipe is perfect.
Sugar-free crystal sweetener – I love Monk fruit but erythritol or xylitol are great options too.
Coconut oil – or any oil with a light taste will work very well here. Avoid vegetable oils, they are not keto. Great options are avocado oil, almond oil, flaxseed oil. If you are using melted coconut oil, make sure it is not burning hot when you add it to the cake batter. Hot oil will 'cook' the eggs.
Baking powder or half the amount of baking soda meaning 1/2 teaspoon
Vanilla extract

Do I have to make layer cake?
Of course no! You can simply follow the keto vanilla cake recipe and serve this delicious vanilla cake in 30 minutes. It is a great tea cake to enjoy plain or with the vanilla buttercream frosting recipe provided. I recommend the layers and frosting to make a lovely diabetic birthday cake.
How to make a beautiful layer keto vanilla cake?
I recommend you bake 2 vanilla cakes. It means you repeat the entire vanilla cake recipe 2 times. This is the best way to create a lovely vanilla layer cake with even layers and a decent cake height. Those are my top 3 tips to make a layer cake:
1.Follow the vanilla cake recipe provided two times. I know it is tempting to double up the recipe to save time and then divide the batter in half. It will work but I don't like this technique because it is very difficult to perfectly half the batter. Often, you end up with a layer thicker than the other.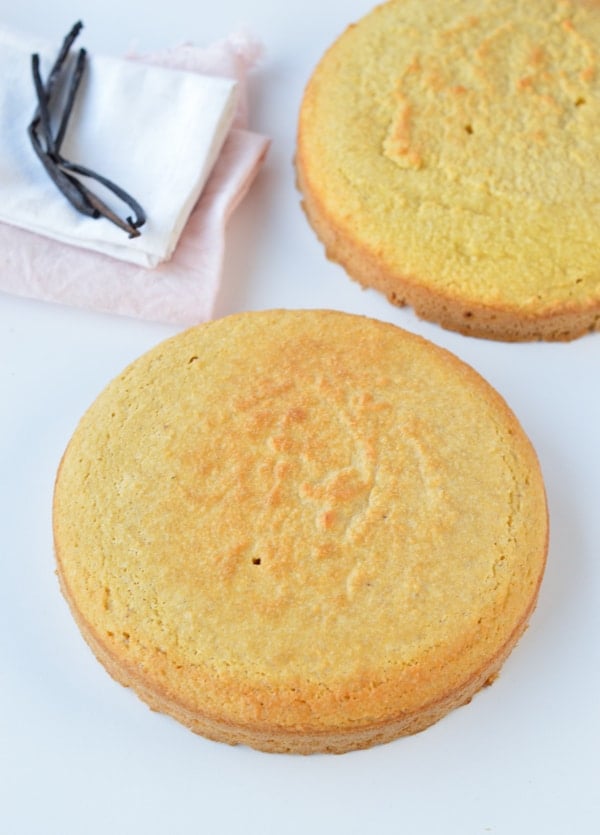 2. Bake one cake at a time. Never bake two cakes at the same time in your oven. It will impact the baking time too much and the baking won't be consistent. There is always one cake that burn and one that is not cooked. So take time and bake them separately
3. Level the cakes layer before frosting. Your cake will come up with a small bump on top. Fully cool the cake then use a knife a cake leveler tool to remove that bump and create 2 flat cake layers. This is much easier to frost them later on.

How to assemble your keto vanilla cake ?
First, make sure your cake layers are cool, at room temperature to avoid the frosting to melt. Then, I recommend using a turning table and icing spatula. Add a tablespoon of frosting in the center of the turning table and place the first cake layer on it. The frosting will act as glue and stick the cake to the table.

Next, add 1 cup of frosting in the middle of the cake. Spread the frosting with a icing spatula turning the table at the same time to spread evenly. The frosting will fall on the sides and that is ok. Finally add the second cake layer and repeat this process until you covered all the cake on top. Use more frosting to cover the edges.
I hope you enjoyed my 36 years old diabetic birthday cake recipe. Happy birthday to you too if you try this recipe for your birthday today.
More keto cake to try !
If you love this keto cake recipe I recommend you also try my:
Don't forget to Pin this recipe to save it for later and to comment below if you try it !
xoxo Carine
Keto Vanilla Cake
Keto Vanilla Cake an easy 1-bowl recipe for a moist and buttery dairy free diabetic birthday cake with sugar free buttercream icing.
Prep Time: 25 mins
Cook Time: 30 mins
12 people/slices
Print The Recipe
Vanilla Buttercream frosting
Vanilla cake
Preheat oven to 160C (325F). Grease a 9 inches round cake pan with coconut oil or butter. Set aside.

In a large mixing bowl, whisk eggs with sugar free sweetener, oil and vanilla. Process as if you whisk a breakfast omelette. It should not take more than 30 seconds-1 minute, all you want is to combine the ingredients together.

Whisk in almond flour and baking powder and whisk until evenly combined.

Pour the vanilla cake batter into the prepared pan.

Bake for 25 minutes, in the center of your oven, fan-bake mode is ideal if you have one otherwise use regular mode. Your cake is cooked when a skewer inserted in the middle of the cake come out clean or with few to no crumbs on it.

Cool 5 minutes in the pan then release the cake on a cooling rack. Cool for 1 or 2 hours before adding the frosting or enjoy plain.

Note that this is a gluten free cake, it doesn't raise much, you should expect a small bump raise in the middle, not more. The recipe is made to create flat cake layers to make layer birthday cake.
Layer vanilla cake
Repeat the vanilla cake recipe one more time to create a second vanilla cake

Make sure you clean, dry and grease again the cake pan before baking the second cake.
Buttercream frosting
Add the soft butter cubes and vanilla in a stand mixer. Make sure you use the paddle attachment. Mix on high speed until it forms a pale, smooth and fluffy butter.

Reduce to low speed and gradually add the sugar free powdered sweetener, half a cup at a time. When all the sugar free sweetener has been added, mix on medium speed for 2 minutes until it forms a fluffy cream.

Add cream and keep whisking for 1 minute to incorporate.

Spread the frosting between the 2 cake layers and on sides using a icing spatula. Watch my video to learn how to frost your layer cake easily.

Place the cake in the fridge for 2 hours to set up the frosting if desired.
Storage
You can make this cake 24 hours before, store in a airtight cake box in the fridge to avoid the frosting to dry.

Store leftover up to 4 days in the fridge or freeze in zip bags. Defrost the day before at room temperature.
Nutrition panel is for one slice of single layer vanilla cake with no frosting.
Nutrition Facts
Keto Vanilla Cake
Amount Per Serving (1 slice)
Calories 151 Calories from Fat 65
% Daily Value*
Fat 7.2g11%
Carbohydrates 3.7g1%
Fiber 0.7g3%
Sugar 0.8g1%
Protein 4.8g10%
Net Carbs 3g
* Percent Daily Values are based on a 2000 calorie diet.