This keto chocolate frosting is an easy healthy frosting for cakes or to snack on and fix your chocolate craving in a sec! Plus, you will love that one serve contains only 100 kcal and 0.8 g net carbs! So keep reading to learn how to make this paleo frosting recipe now!
Who is craving chocolate frosting in the middle of the day? I do! and this healthy frosting aka. chocolate almond butter frosting is my go to keto chocolate frosting for those days.
A 5 ingredients healthy frosting – keto + paleo frosting
Good news is, this frosting recipe is not only keto approved but also a paleo frosting for cake! In fact, the recipe is made of 5 easy healthy wholesome ingredients approved by both diet. Let's see what you need to make this easy healthy frosting recipe.
Grass-fed butter
Almond butter – salted or unsalted as you like
Unsweetened cocoa powder
Unsweetened almond milk 
Chocolate stevia drops

How to store chocolate frosting?
This recipe makes lots of serves, exactly 36 serves and each serve represent 2 tablespoons. Of course, you can store your keto chocolate frosting in an airtight container in the fridge for up to 4 days. But, you may not eat all this paleo frosting recipe in 4 days so I recommend you freeze your frosting in ice cubes tray. Fill each ice cube tray with 2 tablespoons of frosting and freeze. When your chocolate frosting craving is coming defrost 1 ice cube, it will take barely 1 hour to get soft at room temperature. Another option is to defrost your snack the day before in the fridge. Note that this recipe is not soft straight out of the fridge! It soften at room temperature as butter solidify in the fridge.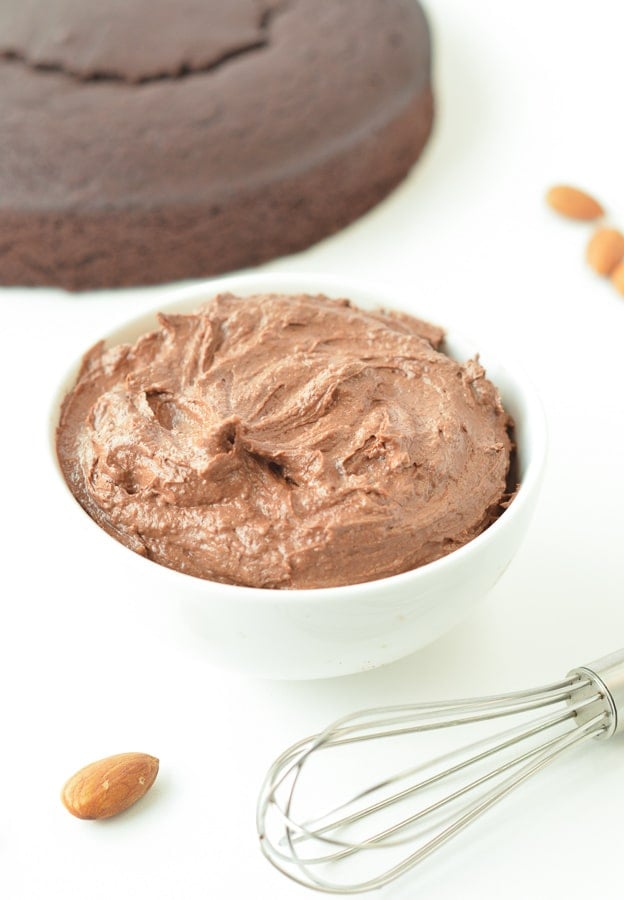 What to do with keto chocolate frosting?
There is many options to use this paleo frosting. First, one its own as a keto snack to reach your fat intake. In fact, 2 tablespoons of this healthy frosting will get you 10 grams of fat for only 100 kcal and 0.8 g net carb! It means this is the perfect healthy keto sweet snack. Then, you can use this recipe to frost any keto birthday cake like my keto vanilla cake or keto chocolate cake.
Finally, you can use this frosting on top of a keto chocolate mug cake !
Let me know in the comment section below how you love to eat your keto chocolate frosting and if you make some share a picture with me on instagram! I love to hear about you.
xoxo carine.
Keto chocolate frosting
Keto chocolat frosting an easy 5 ingredients healthy frosting to snack on with only 0.8 grams net carbs per serve and 100 kcal!
36 serves
Print The Recipe
In a large mixing bowl, add the cubes of soft butter. Your butter must be very soft and out of the fridge for at least 3 hours. It is easier to first cut your cold butter in small cubes. Then, pack those cubes into a measuring cup. Finally, transfer the cubes of cold butter into a bowl and wait 3 hours at romm temperature or overnight, until soft.

Add almond butter and with an electric beater, beat the butter and almond butter together until a light brown cream form. It shouldn't tak more than 40 seconds on medium/high speed.

Stop the beater, add stevia drops, unsweetened cocoa powder and unsweetened almond milk.

Beat again on slow speed at first to avoid the cocoa powder to burst out of the bowl, then increase to medium speed. If the frosting is too thick to your liking, add more almond milk (at room temperature, not cold!) , 1 tablespoon at a time, beat and add up to 1/4 cup extra milk until you reach your favorite texture. The more you add, the fluffier it will be. It won't affect your net carbs per serve very much (around 0.1g extra net carbs).

Adjust stevia drops if the frosting is not sweet enough for you. Always add stevia 2 drops at a time as it is very strong in flavor. Otherwise add powdered erythritol but note that this option thicken the frosting a lot!

Serve as a snack, 2 tablespoons at a time, on top of a keto mug cake or on its own as a fat bomb snack. You can also frost a keto birthday cake with this recipe
Storage
Store the frosting in the fridge in an airtight box for up to 4 days. The frosting gets hard in the fridge becasue the butter harden at cold temperature. Simply remove the frostin from the fridge for 3 hours to get it soft and creamy again.

Freeze in ice cube tray, 2 tablespoon in each cube hole and defrost at least 2 hour before at room temperature to soften.
Nutrition Facts
Keto chocolate frosting
Amount Per Serving (2 tablespoons)
Calories 102 Calories from Fat 93
% Daily Value*
Fat 10.3g16%
Carbohydrates 1.8g1%
Fiber 1g4%
Sugar 0.4g0%
Protein 2g4%
Net Carbs 0.8g
* Percent Daily Values are based on a 2000 calorie diet.