Chocolate avocado pudding is an allergy-friendly, paleo, keto, and vegan dessert that even the kids love. An easy healthy sweet treat, 100% sugar-free sweetened with sugar-free flavored maple syrup (Monk Fruit) for a silky smooth low carb keto chocolate pudding.
Chocolate avocado pudding Paleo +Keto + Vegan
This chocolate avocado pudding is paleo but also Keto and vegan! Yes, this recipe has it all. It has no sugar, no dairy, and the best silky smooth pudding texture you will ever taste. I love easy low carb recipes, even more, when I can share them with my vegan partner and this one hits the spot.
My kids absolutely adore this chocolate avocado pudding recipe as the chocolate avocado mousse I shared earlier!
They usually don't like raw avocado but they eat this pudding-like crazy – which makes me the happiest mum on earth, I never complain about extra veggie on their plate.
An easy healthy 5-ingredient chocolate pudding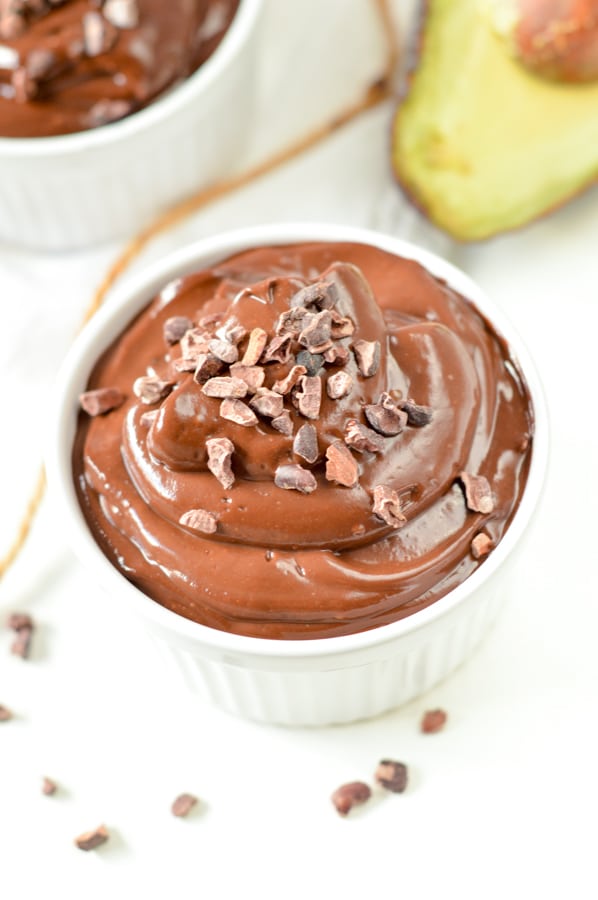 So this is what you need to make the best chocolate avocado pudding Paleo recipe at home:
Avocado – no surprise, you need 2 perfectly ripe avocados, soft with a beautiful green flesh, no black/brown spots, if so discard them to avoid a weird flavor in your pudding. Avocados are great keto-friendly vegetables with a good amount of fiber.
Unsweetened cocoa powder – this is the best way to add a delicious chocolate flavor to your pudding recipe without adding sugar
Liquid sweetener – I am using Sugar-free Monk fruit syrup – also called sugar-free maple-flavored syrup, the name changes, depending on brands. I recommend this as a sugar-free keto sweetener but if you are vegan or paleo the recipe will perfectly work with 100% natural maple syrup. It will simply raise the sugar and carbs of your servings. Check out my review of keto-friendly sweeteners for more details!
Unsweetened canned coconut milk – I love canned coconut milk for this recipe because it adds a creamy rich texture and a delicious coconut flavor too. Other options are unsweetened almond milk or any plant-based milk you like.
Vanilla extract – just because a hint of vanilla in a dessert makes things taste better, but it's optional
Sea salt – believe me, you won't regret that pinch of sea salt, it perfectly balances the sweet chocolate flavor and it will blow your mind!

Does it taste like avocado?
It's probably the first question that crosses your mind right now. Honestly? NO.
ⓧ
Are you new to Keto?
Receive my Keto Quick Start email series to learn all about the Keto diet and kick start your keto journey!
I am using the perfect amount of sugar-free monk fruit syrup in this recipe to cover the avocado flavor. You will enjoy the silk smooth avocado texture without the veggie aftertaste.
If you still think this recipe has a too strong avocado flavor, you can add a few drops of liquid stevia to adjust sweetness and fully cover the avocado flavor.
But trust me, my kids eat this and never noticed there was avocado in there, and they are picky eaters.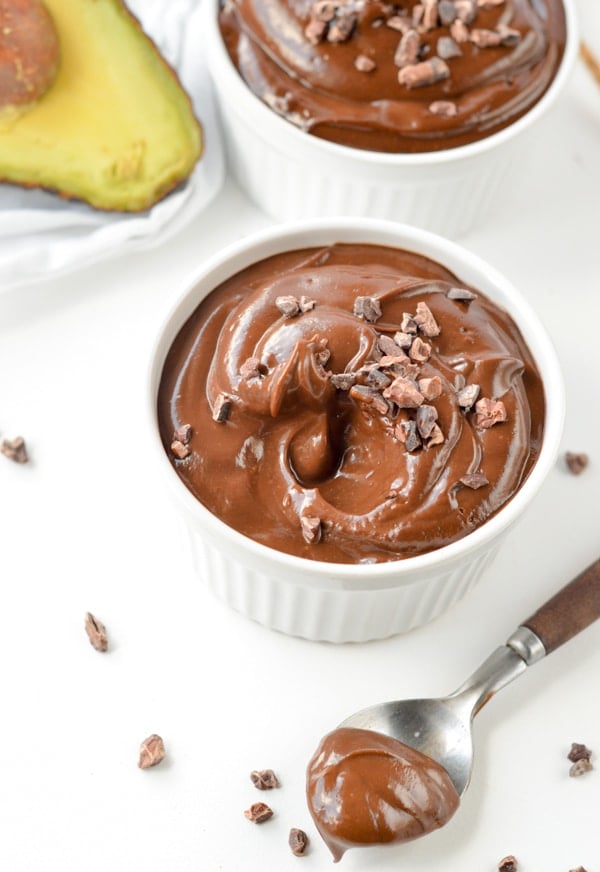 Smooth silky texture
What I love the most about this chocolate avocado pudding is the smooth light texture. It reminds me of French chocolate custard. It makes a delicious dessert on its own or you can use it as a cake frosting too!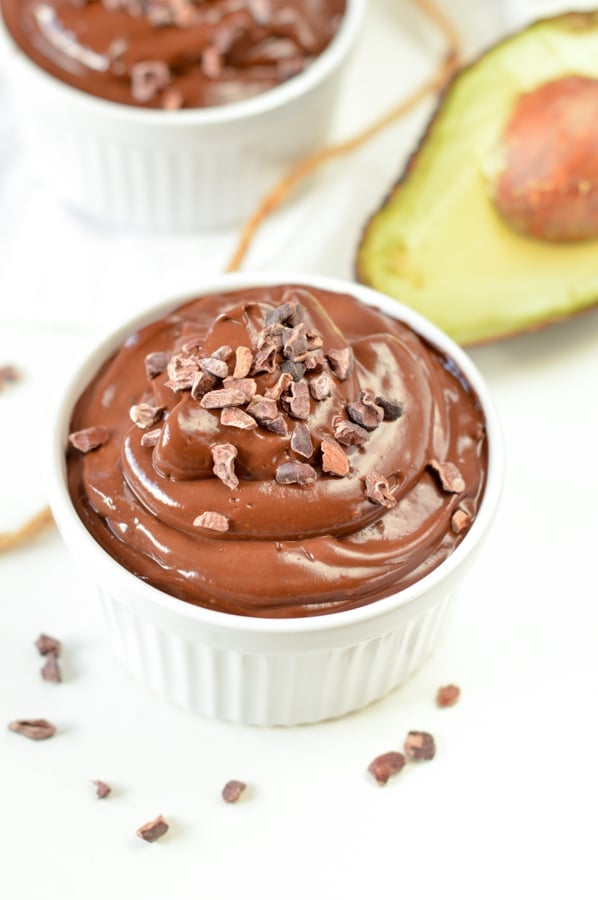 I hope you enjoyed this easy chocolate avocado pudding paleo recipe. Don't forget to share your creation with me on Instagram. I love to look at your pictures when you make my recipes.
xoxo Carine
Recipe Card
Chocolate avocado pudding Paleo and Sugar-free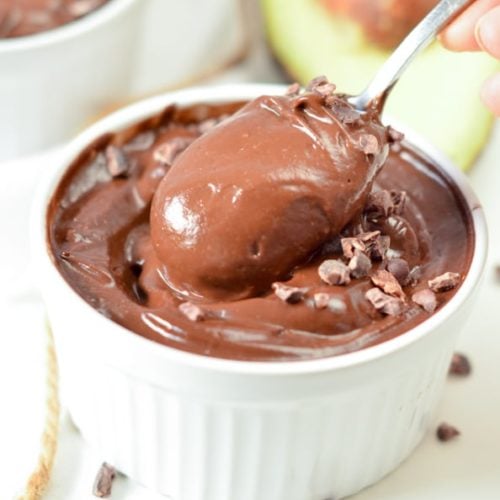 Chocolate avocado pudding paleo, keto and vegan. An easy healthy sweet treat, 100% sugar-free sweetened with sugar-free flavored maple syrup (Monk Fruit) and low carb. Kids love it too! 
Instructions
Scoop out the ripe avocado flesh into a blender or food processor. Make sure you remove any dark spot in the flesh, this is what because weird avocado taste in avocado dessert recipes.

Add in the rest of the ingredients, order doesn't matter.

Blend/process at high speed for 1 minute. Stop, scrape down the sides of the bowl, repeat for 20 seconds until there are no more lumps of avocado and it forms a silky smooth chocolate pudding.

Taste the flavor, adjust sweetness by adding extra stevia drops if needed. If you want a more liquid pudding, add more dairy-free milk of your choice, 1 tablespoon at a time.

Serve into ramekin or glass jar. 

Refrigerate at least 1 hour before serving. The flavor and texture will be better if served fresh. 

Store for 3 days in an airtight container in the fridge.

The recipe serves 4 puddings.
Ingredient substitutions:
Milk: you can use any plant-based milk you like for this recipe but I highly recommend canned coconut milk to fully hide the avocado flavor and create the best silk texture.
Sweetener:
Keto/low carb/sugar-free, use sugar-free liquid sweetener made of Monk fruit or powdered erythritol (same ratio) but this second option will make the pudding less smooth.
Paleo/vegan: feel free to use maple syrup or agave syrup if you prefer. But not that it will raise the sugar and carbs content of each serving!
Net carbs: 3.6 g per serving
My Recipe Notes
Tools
Starting Keto
What Is Keto Diet?
Macro Calculator
Sweetener Converter
Keto Meal Plans
Keto Recipe Ebooks
Intermittent Fasting
Keto Fruits
Keto Vegetables
Keto FLours
Fighting Keto Flu
Keto Sweeteners
Nutrition Facts
Chocolate avocado pudding Paleo and Sugar-free
Amount Per Serving (1 pudding)
Calories 199
Calories from Fat 160
% Daily Value*
Fat 17.8g27%
Carbohydrates 10.2g3%
Protein 2.9g6%
Net Carbs 3.6g
* Percent Daily Values are based on a 2000 calorie diet.