This rich creamy Keto Chocolate Pie with a buttery almond flour pie crust is filled with thick, fudgy chocolate ganache. A French-inspired chocolate dessert revisited sugar-free and gluten-free.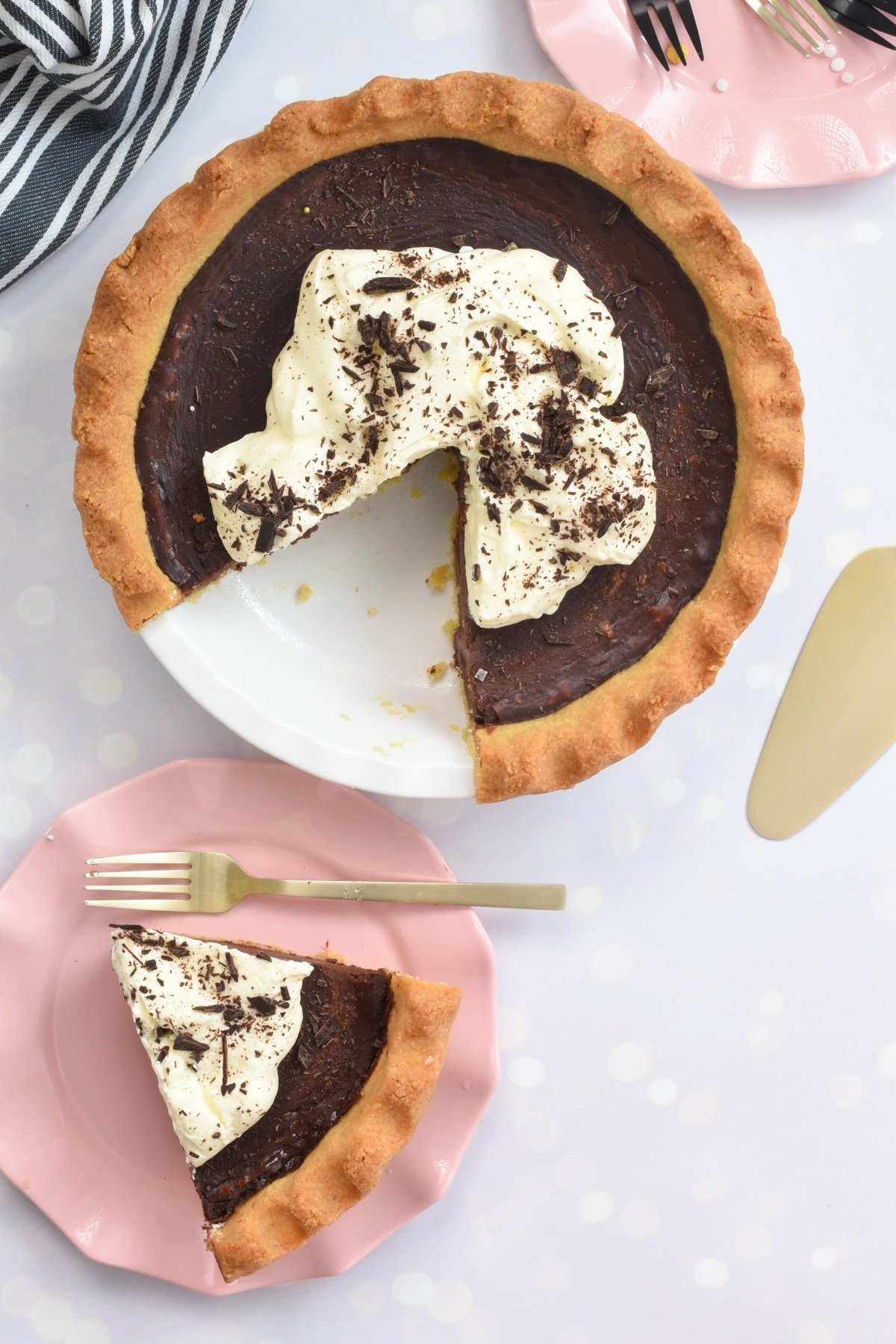 Most chocolate pies are made of whipped cream or cream cheese, but as a French person, I want to share with you my French-style keto chocolate pie.
My passion for the past years has been to ketofied my favorite childhood French dessert. I have already shared my French Keto Macaroons, French Lemon Pie, and French Green Beans.
Now, let me share this French chocolate pie recipe made of a thick chocolate ganache. It's not a light and fluffy filling. It's more of a fudgy, thick chocolate layer made of sugar-free dark chocolate, cream, and eggs.
It tastes like chocolate fudge on top of a buttery almond gluten-free pie crust.
Let me share with you my French version of this sugar-free chocolate pie.
How To Make A Keto Chocolate Pie
This gluten-free chocolate is the easiest keto dessert for your holiday table.
All you need to make this keto chocolate mousse pie is to make a pie crust and the chocolate filling.
Making The Keto Pie Crust
The base of this low-carb chocolate pie is made with a grain-free pie crust into an 8-inch pie pan.
Choose one of my two keto pie crust recipes below:
Receive my Keto Quick Start email series to learn all about the Keto diet and kick start your keto journey!
I prefer using the almond flour crust, but the coconut flour one is delicious and makes a scrumptious flavor combo.
Pick the crust that matches your taste buds or the keto flour you have in the pantry.
Pre-baking The Crust
In my keto pie crust recipes, I provide the instructions to cover the pie pan with the crust, prick crust and pre-bake the pie crust.
Follow these instructions, use foil to protect the sides of the pie to prevent the sides from darkening too fast.
Then cool the pie crust on the benchtop.
Prepare the chocolate filling meanwhile.
Filling Ingredients
For the chocolate pie filling, you need:
Melting The Chocolate
First, in a saucepan, over medium-high heat, bring the heavy cream and milk to a high boil.
As soon as the liquid boils, remove it from the heat, add the sugar-free chocolate chips, and use a wooden spoon or silicone tool to stir the chocolate chips into the hot liquid.
Stir until the chocolate chips are fully melted and a shiny chocolate ganache forms.
Now stir in vanilla extract and one egg at a time. Wait until the first egg is fully incorporated before adding the next one, and always work without heat – not on a stove – or you will cook the eggs.
Baking The Pie
Now, pour the chocolate mixture into the pre-baked pie crust and bake at 120°C (250°F) for 45 minutes.
When the filling of the chocolate pie is set, remove it from the oven and let it cool down overnight at room temperature.
You can cool down the pie in the fridge, but the top loses its shine, and the filling gets less fudgy, denser, and harder.
So I recommend making this pie the day before serving, storing it in a cool room overnight before slicing.
Serving
This pie is even better topped with whipped heavy cream that you can sweeten with a few drops of stevia drops or powdered erythritol.
I whipped 1 cup of cold heavy whipping cream with 1/4 cup of keto powdered sweetener like a blend of monk fruit and erythritol.
Whip until a stiff peak forms and spread the whipped cream on top of the chocolate pie just before serving.
You can also skip the cream and decorate with shredded dark chocolate or Christmas sprinkles.
This pie serves 12 slices with 5 grams of net carbs each from an 8-inch pie plate. Get the full nutritional information below in the recipe card.
Making Ahead
This chocolate keto-friendly pie must be prepared 24 hours before. You can also make the crust up to 3 days before. Store the crust in the fridge and pre-bake it the day you prepare the chocolate filling.
Always chill the entire baked chocolate pie for at least 24 hours before slicing for the best texture.
Storage
You can store the pie for up to 3 days in an airtight container in the fridge.
I recommend removing the pan from the fridge 2 hours before serving for the best fudgy chocolate texture.
Swaps
You can make this pie with the allergy swaps listed below:
Nut-free – use a coconut flour pie crust instead of the almond flour crust.
Dairy-free – swap heavy cream for canned coconut cream and use only the top creamy part of the cream in the can, not the liquid at the bottom. Replace butter with coconut oil or dairy-free butter. These options convert the pie into a paleo chocolate pie recipe!
Eggs – this recipe won't work without eggs. The filling would be too thick and dense.
More Keto Dessert Recipes
Below I listed more keto pie recipes for your dessert table this Christmas or Thanksgiving.
Have you made this keto chocolate cream pie for your keto dessert table? Share a comment or review below to tell me how much you love it.
XOXO Carine
Recipe Card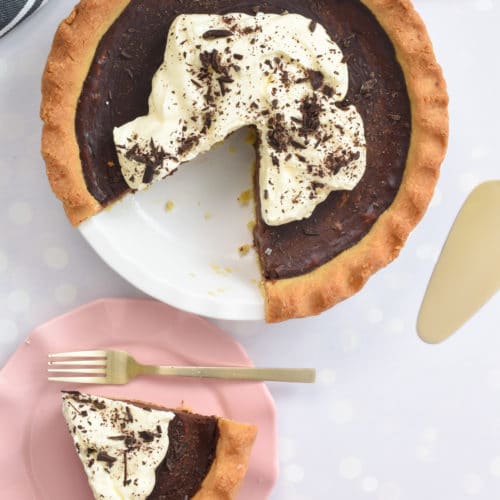 Keto Chocolate Pie
A buttery almond flour pie crust filled with a decadent sugar-free chocolate ganache. The best keto pie for your gluten-free and sugar-free guests!
Yield:
12
slices (8-inch pan)
Recipe Macros
Want My Kitchen Equipment?
Instructions
First, make the almond flour pie crust, and prebake the crust in a greased 8-inch pie pan for 15-20 minutes following the prebaking instruction on the keto pie crust post.

When the pie crust is prebaked and golden, set aside at room temperature and decrease oven temperature to 250°F (120°C).

Meanwhile, in a saucepan over medium-high heat, bring the cream, butter, and almond milk to a high boil. As soon as it's boiling, remove the pan from heat and pour chocolate chips over the hot milk/cream.

Stir with a wooden or silicone spatula until the mixture is fully melted and shiny.

Stir in vanilla extract and the eggs, one at a time, stirring well between each egg addition to incorporate and form a thick chocolate ganache.

Pour the ganache into the pre-baked pie crust and place the pie in the center rack of the oven at 250°F (120°C) for 45 minutes, or until the center of the pie is set.

Cool it down at room temperature overnight before slicing. You can cool down in the fridge, but the filling loses its shine and becomes harder and less creamy.
Serving
Before serving, whip the cold heavy whipping cream in the bowl of the stand mixer using the whisk attachment. Whisk on high speed until stiff peak form. Add powdered erythritol and whisk on low for a few seconds to incorporate.

Spread the whipped cream on top of the pie and some shredded dark chocolate if desired. Slice into 12 even slices.
Storage
Store in the fridge for up to 3 days in a cake box.
My Recipe Notes
Nutrition Facts
Keto Chocolate Pie
Amount Per Serving (1 slice)
Calories 364.2
Calories from Fat 306
% Daily Value*
Fat 34g52%
Cholesterol 72.5mg24%
Sodium 55.3mg2%
Potassium 31.9mg1%
Carbohydrates 23.9g8%
Protein 5.6g11%
Net Carbs 5.2g
Vitamin A 496.9IU10%
Vitamin B12 0.1µg2%
Vitamin C 0.1mg0%
Vitamin D 0.4µg3%
Calcium 69.2mg7%
Iron 0.9mg5%
Magnesium 2.9mg1%
Zinc 0.2mg1%
* Percent Daily Values are based on a 2000 calorie diet.