I love grain free pie crust particularly this coconut flour pie crust made with only 4 ingredients.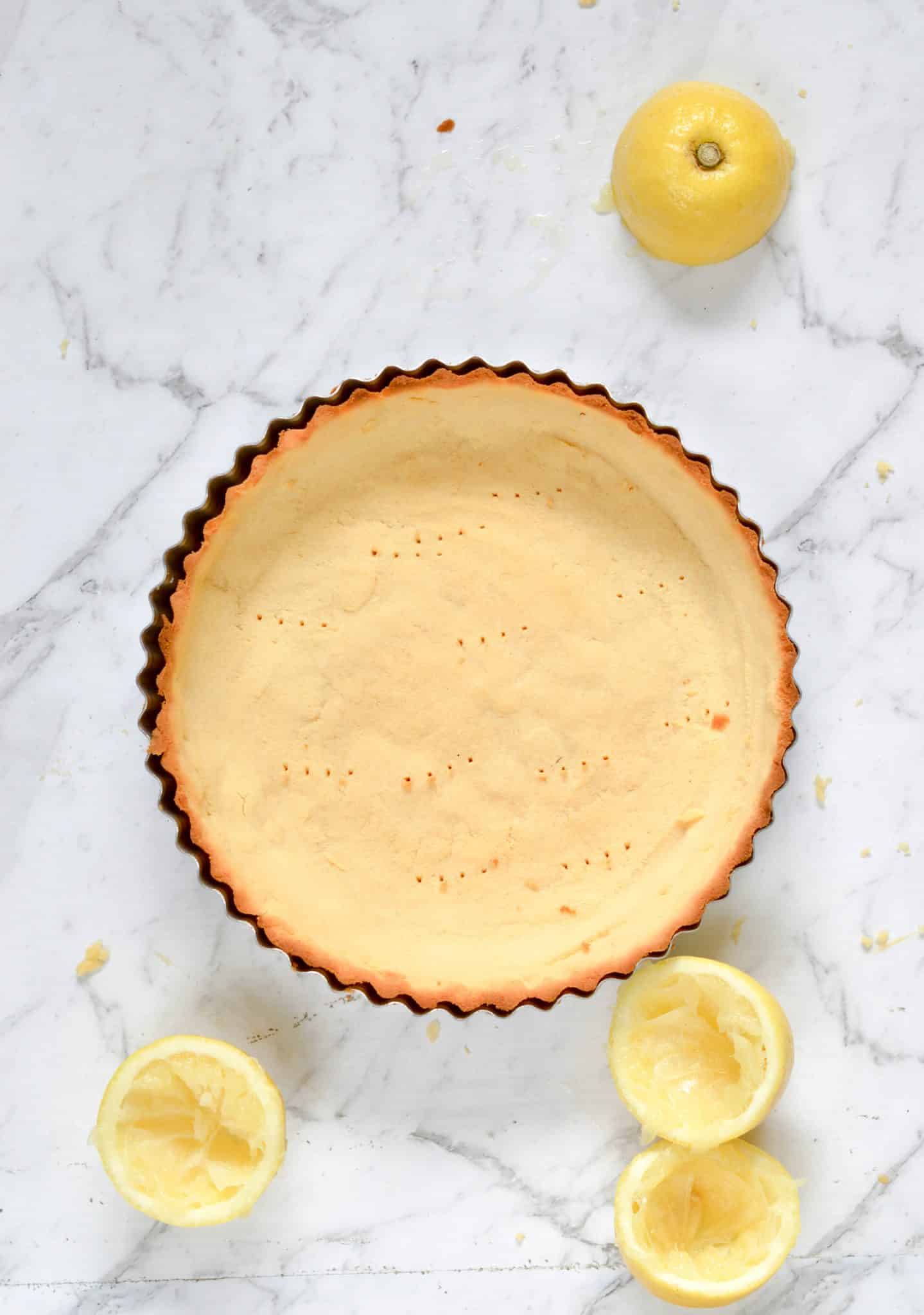 Coconut flour pie crust made 100% with coconut flour, an easy 4 ingredients low carb, keto and paleo crust perfect for sweet or savory pie.
How to make a coconut flour pie crust ?
This simple and easy 4- ingredients Coconut Flour Pie Crust is a delicious clean eating recipe that works for ANY pie. It creates the most decadent healthy quiche or  healthy pumpkin pie for thanksgiving. It is a paleo pie crust too!
All you need to make this delicious flaky shortbread coconut flour pie crust are 4 basic ingredients:
Coconut Flour
Extra virgin melted coconut oil
Eggs
Salt or sweetener for a sweet pie – you can use erythritol for a low carb sugar free option or coconut sugar
Today I used this recipe to make a lovely Broccoli and Bacon quiche as an healthy dinner. I also love to use this coconut flour pie crust to make my sugar free lemon pie recipe or my sugar free pumpkin pie. It takes barely 2 minutes to make this simple coconut flour pie crust using a food processor.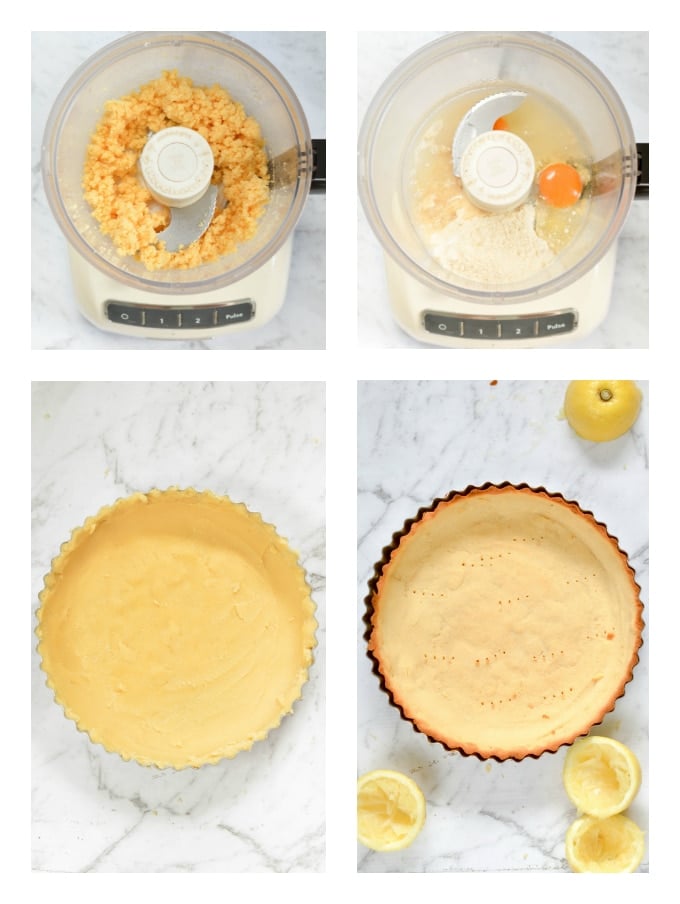 No need to let the dough sit in the fridge, you can use it straight away. Isn't that easy and simple ?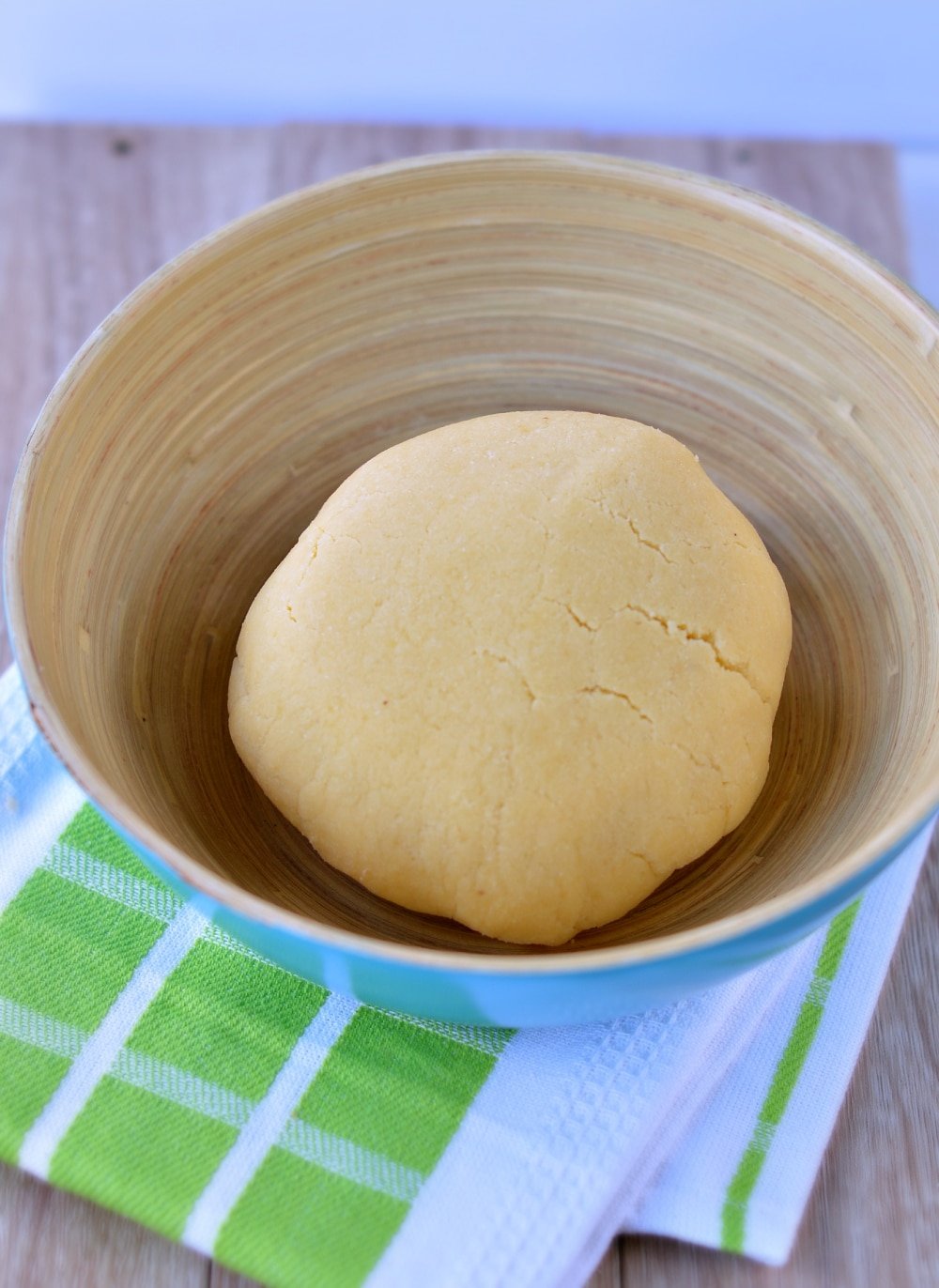 How to use the coconut flour pie crust ?
Sweet pie:
Replace salt by coconut sugar or erythritol if you are on a sugar free diet,
Pumpkin pie : bake the crust and filling at the same time – all together until the filling is set
Pie shell: For sweet dessert like cheesecake or fruit tarts I recommend you  bake the crust on it is own first for 30 minutes at 160C (320F) until crispy and golden on the sides. Cool down before adding the cool filling or ingredients like cream cheese, curd or fruits.
Which Pan to use?
After few attempts I noticed that this coconut flour pie crust is:
Easier to remove from the pan when using a removable bottom round pie pan. I am now using the pan below to make this crust : Non-Stick 9-Inch Round Pan with Removable Bottom

.
Both 8 inch and 9 inch size pan works. I used both, the 8 inch makes a slightly thicker crust that I prefer for a sweet pie.
Don
Don't roll the dough in the pan – simply spread the dough in the pan using your hands – look at the video for more details
It is a crumbly and buttery coconut flour shortbread crust with a divine coconut taste. It is also a little bit healthier than regular shortbread pie crust as coconut flour contains lots of fiber which makes this crust a low carb crust recipe for anyone on a low carb diet or diabetic diet. It is  a diabetes friendly crust that can be incorporated in your weekly meal plan. If you are a coconut lover this pie crust is for you.
WATCH THE COCONUT FLOUR PIE CRUST RECIPE VIDEO AND MAKE THIS NOW !
This recipe HAS BEEN UNCHANGED I simply added more recent picture and a video (27/11/2017) to help you succeed this simple recipe even better ! Enjoy 🙂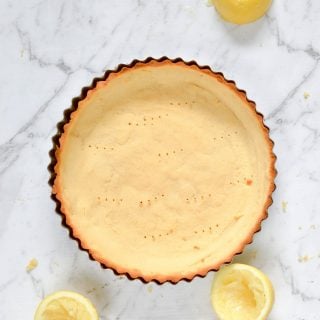 Print Recipe
Coconut Flour Pie Crust
The Coconut Flour Pie Crust is a 4 ingredient easy gluten free, grain free, paleo and low carb pie crust perfect for a healthy pumpkin pie or savory quiche.

Ingredients
3/4

cup

Coconut Flour

2

eggs

1/3

cup

extra virgin coconutoil

melted

1/4

teaspoon

salt

or 1 tablespoon powdered sweetener for a sweet pie
Instructions
Preheat oven fan forced 180C (356 F)

In a large mixing bowl or a food processor with the S blade attachment, add the coconut flour, eggs, melted coconut oil and salt (or sweetener depending on what your making a savory pie or a sweet pie).

Combine until it form a crumbly dough.

Transfer the crumble into a piece of plastic wrap and wrap the dough. Refrigerate for 15 minutes to firm up slightly or 2-3 minutes in the freezer if you are in a hurry.

Meanwhile grease a 24 cm (9 inches) pie pan with butter or coconut oil. Use a pie pan with a removable bottom to make the un molding process easier.

Remove the dough from the freezer, unwrap and place into the center of the pie pan.

Press with your hand to flatten the ball. It will becomes crumbly again, that is what you want to have a lovely shortbread coconut pie crust. Use your finger to spread and press evenly the dough all over the pan and press to stick the dough to the pan until it forms a lovely smooth crust.

You can use the back of a teaspoon to press the dough to the pan and smoothen the surface. The more you press the more it will hold together when serving.

Prick crust prior to baking for non filled baked pies.

Bake with your filling of your choice like quiche fillings, pumpkin filling until your filling is set. You can also bake the crust on its own at lower temperature (160C- 320F) for 15-20 minutes or until the sides are golden brown and use it as a pie case for any cold filling like custard and fruits. To avoid the border of the crust to get to brown I love to cover the crust with a piece of foil - half way baking time.

Cool down the crust in the pan before un molding. For the crust itself wait 15 minutes, for a pumpkin pie wait for 30 minutes, transfer to a rack and fully cool down.

Serve slices with a 24 cm (9 inches) pie pan.
Notes
Powder sweetener: for a sweet sugar free pie I recommend to use swerve as a sugar free sweetener or erythritol. There is no carbs, calories or aftertaste using those. If not sugar free, I recommend coconut sugar or unrefined cane sugar. Salt: don't use salt if you are using this pie for a sweet pie Pie pan: I use a loose bottom quiche pan - much easier to un mold the crust without breaking it. I used this recipe in a 8 inch quiche pan and in a 9 inch quiche pan. There is enough dough for both. The crust will be thinner in a 9 inch pan of course. Use the pan size you want regarding the crust thickness you love. I love a thicker crust for sweet pie and use a 8 inch quiche pan for pumpkin pie. 
Nutrition
Serving:
12
slices
|
Calories:
93
kcal
|
Carbohydrates:
4.1
g
|
Protein:
2
g
|
Fiber:
2.6
g
|
Sugar:
0.5
g