Learn how EASY you can make a buttery, flakey keto quiche crust perfect, with NO rolling needed! A simple press-in almond flour crust recipe, 100% gluten free, freezable and perfect for any quiche or savory pie.
How to make keto quiche crust?
It's very easy to make a keto quiche crust and it doesn't take longer to make than regular quiche crust. I would even say, it's easier to make as you don't have to roll the dough! In fact, most keto quiche crusts are also known as press-in crust. It means that you press the dough into the quiche pan to cover it instead of rolling the dough. There are two ways to make a quiche crust very low in carbs. For a buttery, flakey quiche crust, I recommend to only use almond flour and therefore make an almond flour quiche crust – this is definitely my favorite option. For a crispy (not flakey!) crust, with slightly less carbs, more fiber and nutrients you can substitute some of the almond flour with flaxseed meal. Let me explain.
1. Almond flour pie crust
This is by far my favorite keto crust for quiche, for many reasons. It is buttery, flakey and the color is very similar to a regular cafe-style quiche which makes it beautiful to serve for a brunch with friends too. They will love this crust and won't even noticed it's the keto and gluten-free version.

All you need to make this almond flour pie crust with almond flour are:
Almond flour – use ultra-fine, blanched for best results, no almond meal.
Eggs
Butter – or coconut oil but butter tastes more like a classic French quiche lorraine
Salt
Garlic powder – or onion powder
2. Almond flaxseed meal crust
It's a very similar recipe as above except that you will use only 1 1/2 cup of the almond flour in the recipe and add 1/2 cup of flax seed meal. Also, this recipe works better if you swap butter by coconut oil or it gets greasy. The purpose of using a part of flaxseed meal in your crust is to:
reduce carbs in the crust by 1g per serve – we are all looking for less carbs in our plate so it matters, right?
increase fiber and nutrients
create a crispy crust not flakey
a rustic darker color
So remember, in order to make this version, use only 2 cups of almond flour and add 1/2 cup of flaxseed meal. The rest of the ingredients and methods remains unchanged.
Can I use coconut flour to make a quiche?
I don't recommend coconut flour to make a quiche crust. Coconut flour has a sweet flavor that doesn't go well with a savory quiche. However, this is my point of view, and we all have different taste buds and food allergies. If you are looking for a nut-free keto quiche crust try my 4-ingredient coconut flour crust recipe. It will work very well but keep in mind that it will have a light sweet coconut flavor that some people don't appreciate.
Which option to choose?
Both of these almond flour pie crusts are very different in color and texture. If you love a golden, flakey buttery crust, go for the almond flour recipe. Otherwise if you love your crust, crunchy, and you are looking for slightly less carbs and you don't mind the brown color of flaxseed meal, go for the almond flaxseed crust. This quiche crust will be very different in color and texture.
No tools required: a fuss-free crust recipe
You don't need a food processor or a roller pin to make this low-carb quiche crust, simply bring all the ingredients together in a bowl and combine until a dough forms. Press the dough all over a greased quiche pan to evenly cover it. It's as simple as this and takes just 10 minutes. My only tip, use egg and butter at room temperature.
How to prepare the quiche crust?
It's very simple to work with this keto dough, think of it as playing with kids' playdoh.
Press-in the dough
Place the ball of dough in the center of a greased quiche pan and press with the palm of your hand first to spread as much as possible. Then, gather pieces and fill holes until the whole pan is covered with the dough. Smoothen the dough using a spatula.

Prick and refrigerate
After you press-in the dough into the pan, it is important to use a fork to prick the crust all over. This prevents the crust from puffing up and breaking in the center while prebaking. Also, refrigerate the pan for 10 minutes before prebaking. This will prevent the crust from releasing too much butter and getting too greasy and fragile.
Pre-bake and fill
This almond flour quiche crust needs a quick 7-9 minutes of pre-baking time at 7-8 minutes at 350F (180C). Then, add your favorite quiche filling and bake as per the recipe instructions below.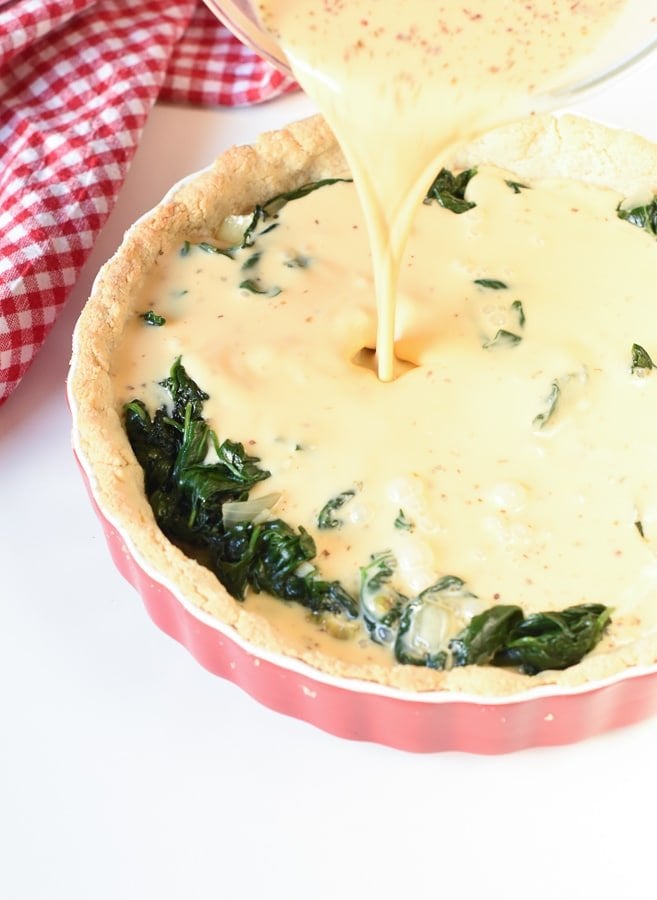 Can I make ahead or freeze my crust?
Making ahead a quiche crust
Yes, you can make ahead this keto quiche crust and refrigerate for up to 48 hours before making a quiche. There are two options to refrigerate this almond flour quiche crust:
The BEST option is to press-in the dough into the quiche pan and refrigerate the whole pan covered with a piece of plastic wrap to prevent the top of the crust from drying out. When you are ready to make your quiche, remove the quiche crust from the oven, prebake 7 minutes at 350F (180C) and follow my keto quiche recipe for filling.
Wrap the dough ball into a piece of plastic wrap and refrigerate. This option is not my favorite simply because the dough hardens and it is more difficult to press into the pan. It is a convenient option if you don't have enough space in the fridge to store the quiche pan though. But I will recommend taking the dough out of the fridge 1 hour before pressing in the pan to make it easier.

Freeze the crust
Of course you can freeze this quiche crust and you don't have to pre bake the crust to do so. Simply freeze the dough ball slightly flattened into a disc, wrap in plastic wrap and place on an airtight container. This double-seals the dough and prevents any moisture from coming in. Defrost the day before, unwrap the dough, place it on a plate and leave at room temperature.
More keto crust recipes
I love baking my own pies, quiches and pizza crusts, I have plenty of other low-carb crusts for you to try.
Almond flour pizza crust
A crispy, thin keto pizza crust with almond flour and an egg-free option.
Net Carbs:
3
g
per serving | Serves
8
10 minutes
Check out this recipe
Coconut Flour Pie Crust
A delicious simple Coconut Flour Pie Crust with almond meal. A low carb crust recipe perfect for quiche or sweet pies.
Net Carbs:
2
g
per serving | Serves
8
10 minutes
Check out this recipe
If you've made this keto quiche recipe and you want to share a picture with all the SweetAsHoney followers, join us on my Facebook Support Group. There I also reply to all your questions regarding my recipes or the keto diet in general. I see you there!
XOXO Carine
Keto quiche crust with almond flour
Keto quiche crust 2 ways, 100 % almond flour or a combo of almond flour and flax seed meal for an lower carb quiche crust
8 serve
Print The Recipe
Almond flour Keto quiche crust
2 1/2 cup Almond Flour fine, blanched not almond meal
1/4 teaspoon Salt
1/4 teaspoon Garlic powder
1 large Egg beaten, at room temperature,
1/4 cup Butter ,melted, at room temperature,or melted coconut oil
Almond flour Flaxseed Keto quiche crust
Preheat oven to 350°F (180°C). Grease a 10 inch (26 cm) quiche pan with butter. Set aside.

In a large mixing bowl, combine the dry ingredients together: almond flour, salt and garlic powder.

Stir in melted butter and beaten egg at room temperature or the butter may 'cook' the egg.

Combine with a spatula at first hen knead with your hand to form a consistent dough.

Place the dough ball in the center of the greased quiche pan and press the dough to cover all the pan with an even thickness of dough. Don't hesitate to take small pieces to pacth holes or area that are uncovered.

Smoothen the crust using a spatula or back of a spoon.

Prick the crust all over using a fork and refrigerate the pan for 10 minutes.

Remove the pan from the fridge and prebake the crust for 7-9 minutes then use to make your favorite quiche recipe.
Storage
You can make-ahead the dough up to 48 hours before making a quiche.

Press-in the dough in the quiche pan and refrigerate the entire quiche pan, wrapping the top with plastic wrap to avoid the crust to dry out. The day you want to make a quiche, remove from the fridge, prebake at 350F (180C) for 7-10 minutes then add your quiche recipe filing and bake until the quiche filling is set - about 40 minutes.
Freezing
Flatten the dough ball into a thick disc, wrap into plastic wrap and place in an airtight container. The double sealing avoid moisture to goes into the crust

Defrost the day before making the quiche, unwrap the dough and place on place on the kitchen countertop.
Nutrition panel showing is for the almond flour quiche crust.  Nutrition panel for the almond flour/flax seed crust per serve: Calories: 226 kcal, Fat: 20.5 g, Saturated fat: 5.8 g, Fiber: 5 g, Carbs: 7.5g, Protein: 7.1 g, Net carbs: 2.5 g  Egg note: the recipe doesn't work with a egg-replacer like flax egg, it is not recommended to remove egg in this crust recipe
Nutrition Facts
Keto quiche crust with almond flour
Amount Per Serving (1 slice)
Calories 257.9 Calories from Fat 213
% Daily Value*
Fat 23.7g36%
Saturated Fat 5.1g32%
Cholesterol 38.5mg13%
Sodium 132.3mg6%
Potassium 8.6mg0%
Carbohydrates 7.5g3%
Fiber 3.7g15%
Sugar 1.3g1%
Protein 8.3g17%
Vitamin A 211IU4%
Calcium 78.7mg8%
Iron 1.4mg8%
Net Carbs 3.8g
* Percent Daily Values are based on a 2000 calorie diet.