Mini Pie Crust (Coconut Flour and Almond Flour)
This Mini Pie Crust with coconut flour and almond flour is the best mini crust recipe.
It is 100% gluten-free, paleo, and low-carb. The texture is crispy with a lovely nutty flavor and easily made in a few minutes in a food processor.
What's A Mini Pie Crust?
A mini pie crust is similar to a regular full-size pie but in a smaller size. To make this mini pie crust healthier, it only uses coconut flour and almond flour.
How To Make Almond Coconut Mini Pie Crust
Making this mini pie crust is super simple. All it takes is 4 staple ingredients and less than 10 minutes to prepare.
Ingredients
Making The Mini Pie Crusts
To make the mini pie crusts, place the 4 ingredients into a food processor with the S-blade attachment.
Process the pie crust batter for about 2 to 3 minutes.
Then gather the almond coconut pie crust dough into a ball and flatten it between two pieces of parchment paper.
Roll it with a rolling pin before transferring it to your mini pie mold.
Bake the mini pie crusts for 25 to 35 minutes at 350°F (180°C).
Using The Mini Pie Crusts
Once the pie crusts have been prebaked, you can fill them with your filling of choice.
You can use this mini pie crust to make many different pies, both sweet and savory.
Mini Blueberry Pie
Leek Pie
If you want to make a sweet pie, you can add a tablespoon or two of a sweetener like erythritol.
Allergy Swaps
If you are allergic to coconut, you might have to go for another pie crust like my almond flour pie crust as it's a tough one to substitute.
You can however substitute the almond flour for sunflower seed flour.
Storage Instructions
You can store these baked mini pie crusts for a day or two in the fridge before adding the filling and baking them again.
Alternatively, you can store the unbaked dough for up to 5 days in the fridge before rolling it.
It's even possible to freeze the dough for up to three months. Thaw it in the fridge overnight before rolling it into mini pie crusts.
Frequently Asked Questions
Is The Coconut And Almond Flour Mini Pie Crust Healthy?
This pie is very healthy and good for you:
– Lower GI index than white flour, which means it helps to stabilize your blood sugar level, decrease sugar craving, loss of energy, and hunger feeling.
– High-fiber content and high-protein flour, which means it keeps your stomach full for longer, and you feel satisfied quickly after eating.
Do I Need To Prebake The Crust?
Prebaking the crust guarantees that it will remain crispy. But you can also add the filling to the unbaked pie crust if it has been pricked with a fork.
Can I Use This For The Top Crust?
Yes, you can use this recipe to make the top crust of a closed pie.
More Healthy Crust Recipes
If you like keto pie crust, you'll love these: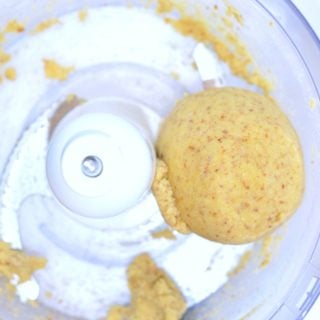 Mini Pie Crust With Almond And Coconut Flour
A delicious simple Mini Pie Crust with almond flour and coconut flour. A low-carb crust recipe perfect for quiche or sweet pies.
This recipe may contain Amazon or other affiliate links. As an Amazon Associate I earn from qualifying purchases.
Instructions
Preheat the oven to 350°F (180°C) on the fan-forced mode.

Grease an 8-inch round pan with coconut oil or butter. Set aside.

Place all the ingredients into a food processor with the S-blade attachment. The order in which you add the ingredient does not matter.

Process on medium speed until all the ingredients come together and form a ball. About 2-3 minutes depending on your food processor. You may have to stop the food processor every 30 seconds to scrape down the ball and repeat until the dough ball forms.

Roll the dough between two layers of plastic wrap sheets or parchment paper to prevent it from sticking to the rolling pin. When the dough is as flat and thin as you like, remove the top plastic wrap layer. Flip over the crust onto the round pie pan.

If the dough breaks, use your fingers to shape the dough evenly onto the sides of the pan as you would with kids' playdough.

Bake for 25 to 35 minutes or until golden and crispy on the sides.

Cool down in the pan for 10 minutes. Then push the removable bottom of the pan and gently transfer the crust onto a cookie rack to cool down.
Notes
Quiche: If you are using this crust for a quiche, don't pre-bake the crust. Directly fill the crust with your quiche filling and bake until the sides of the crust are golden brown, and your filling is set. Baking: for a fruit pie or a curd pie where the filling doesn't need to be baked, simply bake the crust for 25 minutes or until the sides are golden brown. Fully cool down before filling with cold curd or fruits. Sweet crust: feel free to add 2 tablespoons of erythritol or sugar-free crystal sweetener to the food processor to create a sweet crust.
Want My Kitchen Equipment?
Serving:
8
people
Calories:
131
kcal
(7%)
Carbohydrates:
4
g
(1%)
Fiber:
2
g
(8%)
Net Carbs:
2
g
Protein:
3
g
(6%)
Fat:
12
g
(18%)
Saturated Fat:
7
g
(44%)
Sodium:
12
mg
(1%)
Potassium:
6
mg
Sugar:
1
g
(1%)
Calcium:
22
mg
(2%)
Iron:
1
mg
(6%)
Posted In: