Keto Avocado Key Lime Pie
Keto Avocado Ley Lime Pie is a vegan, no-bake, and paleo-friendly treat. A healthy raw dessert with a coconut, almond, and cashew crust!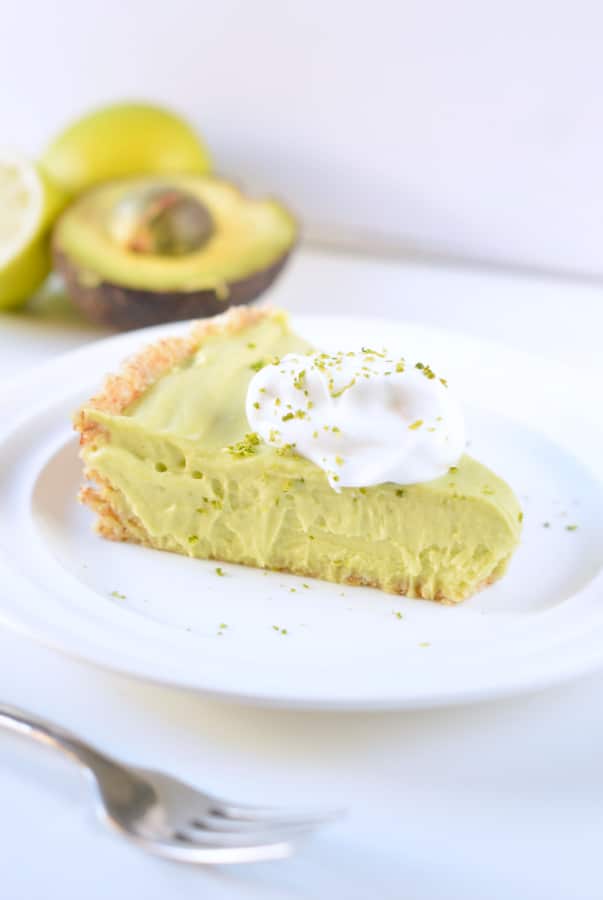 What's an Avocado Key Lime Pie?
An Avocado Key Lime Pie is like a revisited Key Lime Pie recipe, with the sweetened condensed milk replaced with avocado pulp!
Are regular Key Lime Pies keto-friendly?
No, a traditional Key Lime Pie is made with condensed milk, icing sugar, and a lot of juice, so it is not keto-friendly at all!
In fact, a classic Key Lime Pie contains as many as 50 grams of carbs per serving!
So, let's see how to make a keto-friendly version of this classic recipe!
How To Make The Keto Avocado Key Lime Pie
My Keto Avocado Key Lime Pie is naturally vegan, using fresh avocado to create a lovely creamy key lime filling. Plus, it's super easy to make.
Ingredients for the Keto Key Lime Pie
All you need are 10 ingredients that we all have in our pantry:
Desiccated Coconut – I am using super-fine unsweetened desiccated coconut. If you live in the US, check the ingredient list to make sure there's no sugar added.
Cashew – feel free to use roasted or unroasted. Both work. I prefer the flavor of unroasted nuts.
Almonds – same as above, feel free to use roasted or unroasted. Again, I'm a fan of raw almonds.
Liquid sweetener – as I love low-carb, sugar-free desserts, I am using sugar-free maple syrup in this recipe to make it keto-friendly. However, any liquid sweetener would perfectly work. My healthy recommendations are brown rice syrup or maple syrup. Read my review of keto sweeteners for a full list!
Sea salt – optional, but you can balance the flavors very well in any dessert.
Vanilla – same as above the optional touch that makes a huge difference.
Avocado – I provided the amount in cups to make the recipe very precise. Some avocados make 1/2 cup, but some larger South American ones can measure as much as one full cup. Make sure yours are soft, ripe but with no darken part inside. Avocados are one of the best keto-friendly vegetables.
Coconut milk – I made the recipe either with canned coconut milk or light package coconut milk. Regular milk isn't keto-friendly, so it is essential to use plant-based milk.
Coconut oil – I used unrefined coconut oil, but if you don't like the coconut flavor so much, use refined coconut oil. Don't use any other oil!
Lime juice – did you know you don't need a juicer to get all the juice of a lime? Read my simple instructions to juice a lime with just a fork!
Lime zest – of course, this is another optional ingredient but so much recommended!
Preparing The Keto Key Lime Pie
This recipe makes a 10-inch key lime pie.
You can use a regular glass dish pie or a removable bottom tart pie – that's what I am using: easy to unmold, beautiful presentation.
However, you can use a glass pie dish and use a pie server to serve each pie slice.
Frequently Asked Questions
Does it taste like avocado?
Your guests won't believe there's an avocado in there! It doesn't taste like avocado at all.
The lime juice and sugar-free maple syrup cover the avocado flavor perfectly.
How Many Carbs Are In Avocado Key Lime Pie?
This recipe contains 6.2 grams of net carbs per serving.
More Keto Pies
If you like pies, you'll love these:
Enjoy the easy healthy avocado key lime pie, and don't forget to share a picture of your creation with me on Instagram if you try this!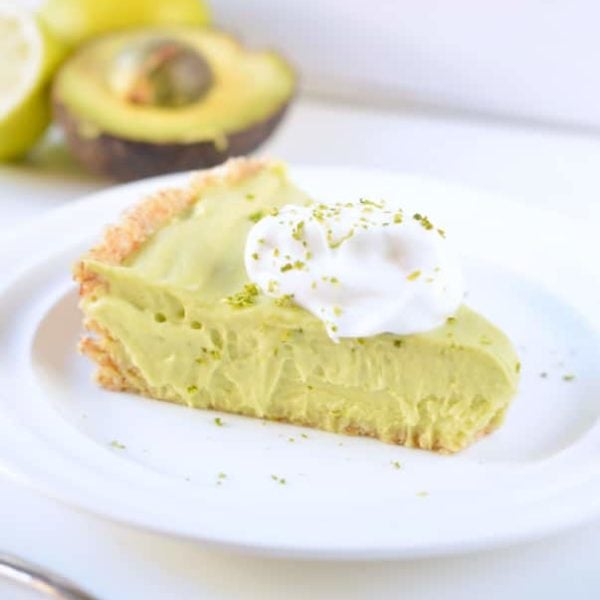 Keto Vegan Avocado Key Lime Pie
Keto Vegan Avocado Key Lime Pie is a healthy raw paleo dessert with a coconut almond and cashew crust.
Nutrition Snapshot
Want My Kitchen Equipment?
Instructions
Make the base
In a food processor, with the S blade attachment, add all the base ingredients. The order doesn't matter.

Blend at high for about 1-2 minutes. Stop the food processor, scrape down the side every 30 seconds and repeat until the ingredients come together and form a sticky batter that is easy to press into a pie dish to form a crust. If too dry or crumbly, add an extra 1-2 tablespoons of water.

Press the mixture into an 8-inch non-stick removable bottom tart pan. You can also use an 8-inch glass pie dish. I found the first option easier to unmold and serve beautiful pie.

Make sure the mixture gets an even thickness on the bottom and sides of the tart pan – about 3-4 mm thick is what I found the best to hold well. Freeze while you prepare the key lime filling.
Make the filling
Place all the filling ingredients into a blender or food processor, except the lime zest.

Blend/process on high until it forms a creamy green batter. It should have no lumps.

Stir in the lime zest with a spatula.
Assembly
Pour the avocado key lime filling into the prepared pie base, spread evenly with a spatula, and return to the freezer for 1 hour a least or 3 hours in the fridge.

To unmold, push up the removable bottom of your tart mold and it will release the pie easily. If you are using a glass pie dish, simply cut the pie into 8-12 servings. Serve the slice using a pie server.

Store up to 5 days in the fridge in a cake plastic box. The box prevents the avocado from being in contact with the cold air, and it won't change the lovely green color.

Serve with a dollop of dairy-free coconut yogurt and extra lime zest.
Notes
Nutrition panel is using a sugar-free crystal sweetener, net carbs per slice 6.2 g. Note that net carbs go to 14g per slice if you don't use sugar-free maple syrup. Freezing: if this pie is too large, freeze any extra slice! Defrost 1 hour before serving.
My Recipe Notes
Nutrition
Serving:
1
slice
Calories:
289
kcal
(14%)
Carbohydrates:
9.8
g
(3%)
Fiber:
3.6
g
(15%)
Net Carbs:
6.2
g
Protein:
3.4
g
(7%)
Fat:
27.7
g
(43%)
Sodium:
65.7
mg
(3%)
Sugar:
4.1
g
(5%)
Vitamin C:
9.9
mg
(12%)
Calcium:
30
mg
(3%)
Iron:
0.9
mg
(5%)
Posted In: