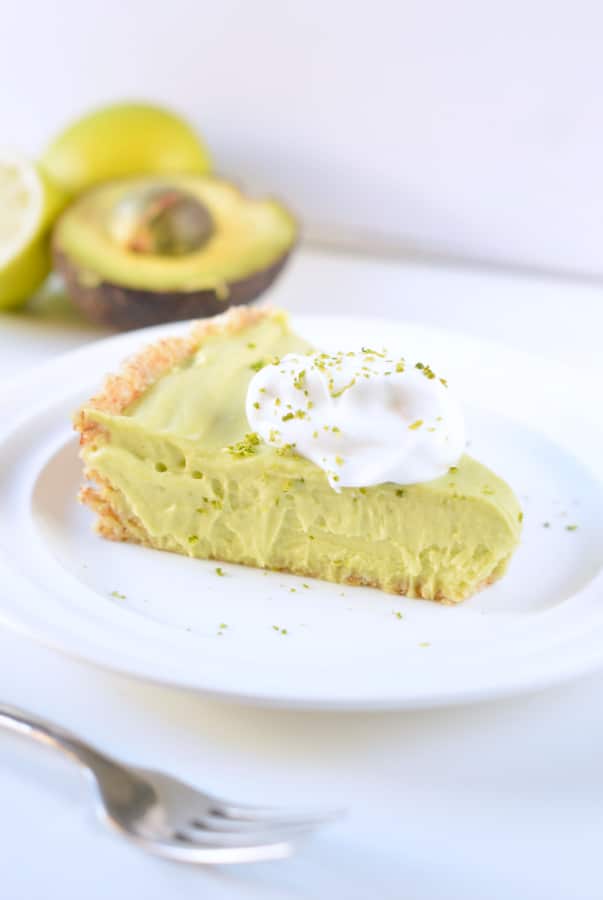 Avocado key lime pie vegan, no bake and low carb. An healthy raw desserts with a coconut almonds and cashew crust with NO dates!
Avocado key lime pie vegan + low carb
If you love fresh, creamy lime dessert this avocado key lime pie is for you! It is naturally vegan, using fresh avocado to create a lovely creamy key lime filling. Plus, it is super easy to make.
All you need is a bunch of 10 ingredients that we all have in our pantry.
Desiccated Coconut – I am using super fine unsweetened desiccated coconut. In New Zealand, coconut is always unsweteened. If you live in US check ingredient list to make sure there is no sugar added.
Cashew – feel free to use roasted or unroasted. Both works I simply prefer unroasted nuts flavor.
Almonds – same as above, feel free to use roasted or unroasted. Both works I simply prefer unroasted nuts flavor.
Liquid sweetener – as I love low carb sugar free desserts, I am using sugar free maple syrup in this recipe. However any liquid sweetener will perfectly work. My healthy recommendation are brown rice syrup or maple syrup.
Sea salt – optional but balance the flavors very well in any desserts
Vanilla – same as above the optional touch that makes a huge difference
Avocado – I provided the amount in cups to make the recipe very precise. In New Zealand an avocado makes 1/2 cup avocado. Make sure yours are soft, ripe but no darken part inside.
Coconut milk – I made the recipe either with canned coconut milk of light package coconut milk. Any milk works well.
Coconut oil – I used unrefined coconut oil but if you don't like the coconut flavor so much use refined coconut oil. Don't use other oil!
Lime zest – of course this is another optional ingredients but so much recommended!
Does it taste like avocado?
Most people won't believe there is avocado in there ! I am usually combining avocado with chocolate to hide its taste like in this chocolate avocado muffins . In this recipe, there is no need of chocolate. The lime juice and sugar free maple syrup cover the avocado flavor perfectly.My kids loves it and ask for more! Remember they won't eat avocado usually so it is big success!
How to prepare ?
This recipe makes a 10 inche key lime pie. You can use a regular glass dish pie or a removable bottom tart pie – that is what I am using: easy to unmold, beautiful presentation. However, you can use a glass pie dish and use a pie server to serve each pie slice.
More Keto avocado desserts
You may also want to try those delicious keto recipes made from avocado.
Enjoy the easy healthy avocado key lime pie and don't forget to share a picture of your creation with me on Instagram if you try this !
xoxo Carine
Avocado key lime pie vegan
Avocado key lime pie vegan, paleo, low carb. An healthy raw desserts with a coconut almonds and cashew crust. NO dates!
Prep Time: 20 mins
chill 1 hr
Total Time: 20 mins
12 people
Print The Recipe
Make the base
In a food processor, with the S blade attachment, add all the base ingredients. Order doesn't matter.

Blend on high for about 1-2 minutes. Stop the food processor, scrap down the side every 30 seconds and repeat until the ingredients comes together and forms a sticky batter that is easy to press into a pie dish to form a crust. If too dry or crumbly add an extra 1-2 tablespoons of water.

Press the mixture into a 8 inches non stick removable bottom tart pan. You can also use a 8 inches glass pie dish. I found the first option easier to unmold and serve beautiful pie.

Make sure the mixture get an even thickness on the bottom and sides of the tart pan - about 3-4 mm thick is what I found the best to hold well. Freeze while you prepare the key lime filling.
Make the filling
Place all the filling ingredients into a blender or food processor, except the lime zest.

Blend/process on high until it forms a creamy green batter. It should have no lumps.

Stir in the lime zest with a spatula.
Assembly
Pour the avocado key lime filling into the prepared pie base, spread evenly with a spatula and return to the freezer for 1 hour a least or 3 hours in the fridge.

To un mold, push up the removable bottom of your tart mold and it will release the pie easily. If you are using a glass pie dish, simply cut the pie in 8-12 servings. Serve the slice using a pie server.

Store up to 5 days in the fridge in a cake plastic box. The box avoid the avocado to be in contact with the fridge air, and it won't change the lovely green color.

Serve with a dollop of dairy free coconut yogurt and extra lime zest.
Nutrition panel is using sugar free crystal sweetener, net carb per slice 6.2 g. Note that net carb goes to 14g per slice if you use sugar free maple syrup Freezing: if this pie is too large, freeze any extra slice! Defrost 1 hour before serving.
Nutrition Facts
Avocado key lime pie vegan
Amount Per Serving (1 slice)
Calories 289 Calories from Fat 249
% Daily Value*
Fat 27.7g43%
Sodium 65.7mg3%
Carbohydrates 9.8g3%
Fiber 3.6g15%
Sugar 4.1g5%
Protein 3.4g7%
Vitamin C 9.9mg12%
Calcium 30mg3%
Iron 0.9mg5%
Net Carbs 6.2g
* Percent Daily Values are based on a 2000 calorie diet.