This keto peanut butter pie is a decadent, comforting no-bake keto dessert made with a chocolate crust and creamy peanut butter mousse.
This is without any doubt the best keto peanut butter dessert, perfect for your Christmas or Thanksgiving table!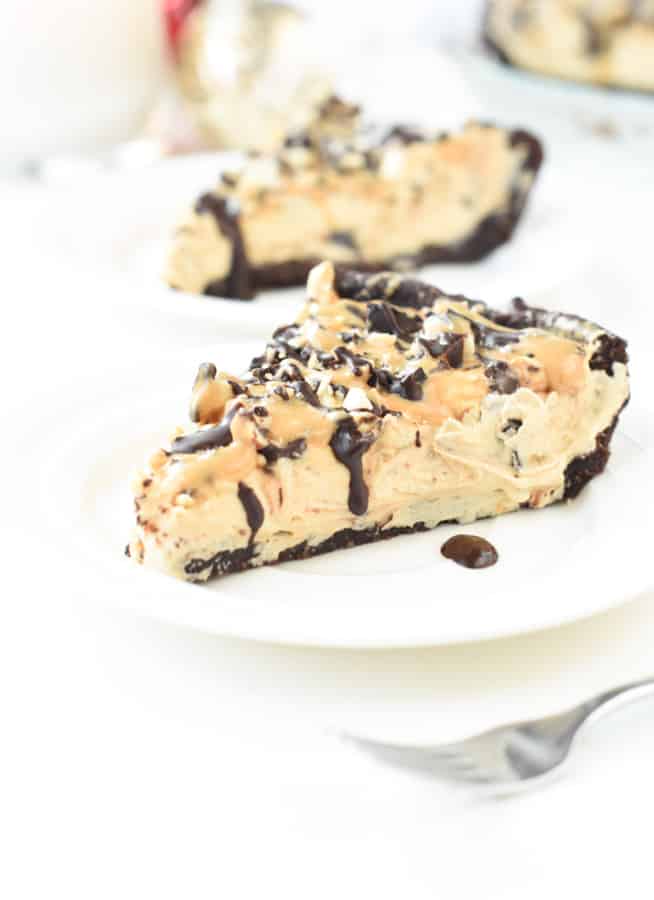 Are Peanut Butter Pies Keto?
No, a classic peanut butter pie is not keto-friendly as it contains many high-carb ingredients including confectioners sugar, a graham cracker crust or an Oreo biscuits crust, and sweetened whipped cream.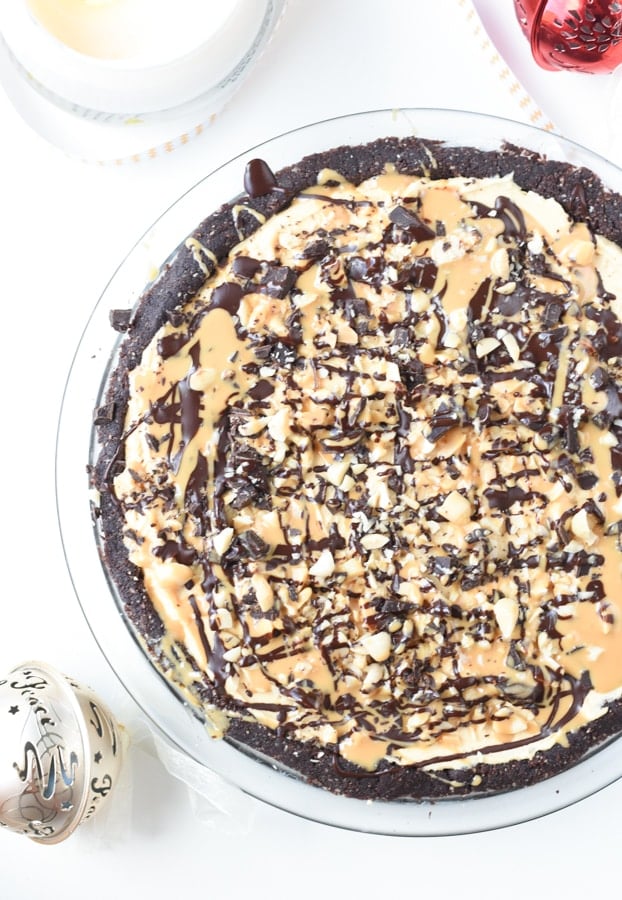 How To Make Keto Peanut Butter Pie
Luckily, there is an easy way to make a delicious easy keto peanut butter pie at home with only a few ingredients.
Let's see below the ingredients you need to make the no-bake peanut butter pie crust and then the fluffy peanut butter filling.
Crust Ingredients
This keto peanut butter pie recipe is made with a no-bake chocolate pie crust.
While a classic no-bake pie crust contains a lot of store-bought sugar-loaded ingredients like Graham crackers or Oreo, here the crust is made with:
Almond flour – one of the best gluten-free and keto flours for no-bake keto desserts. In fact, almond flour is edible raw, very low in carb, and delicious.
Unsweetened cocoa powder
Vanilla extract
Erythritol or any keto-approved sweetener you love like Xylitol or Allulose.
Melted coconut oil or melted butter – I personally prefer melted coconut oil as it firms up better and the no-bake keto crust is much crunchier.
Water
Making The Crust
Simply bring all the ingredients above into a large mixing bowl and stir to combine.
You may want to use your hands to squeeze the ingredients together and form a consistent dough.
It will be sticky but not wet and should look like a crumble that sticks together really well if squeezed in your hands.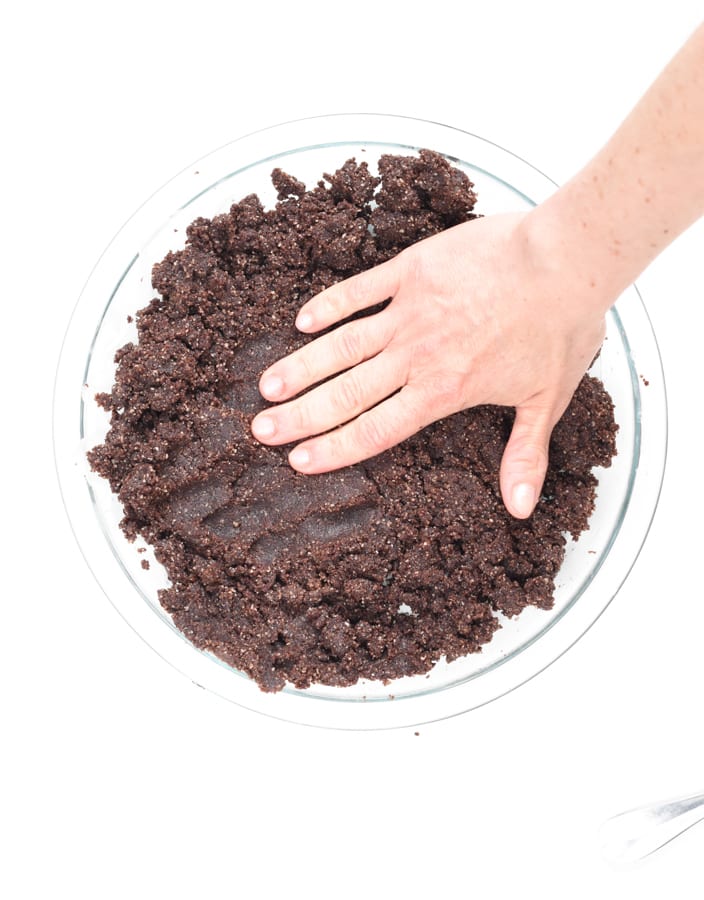 Pressing the dough into a 9-inch pan
I love to use a removable-bottom pan or pyrex pan for this recipe.
The removable bottom pie pan is great if you want to transfer the whole sugar-free peanut butter pie onto a pie plate.
But it's lovely to serve the pie in a pyrex dish and it slices pretty well.
Place the dough in the greased pan of your choice and press all around the pan to evenly cover the bottom and borders.
It is great to use the back of a teaspoon to smooth the dough onto the pan.
Refrigerating
This is a no-bake sugar-free peanut butter pie crust and it gets all its texture in the fridge.
The cold from the fridge firms up the crust and solidifies the coconut oil or butter to create a delicious no-bake chocolate crust.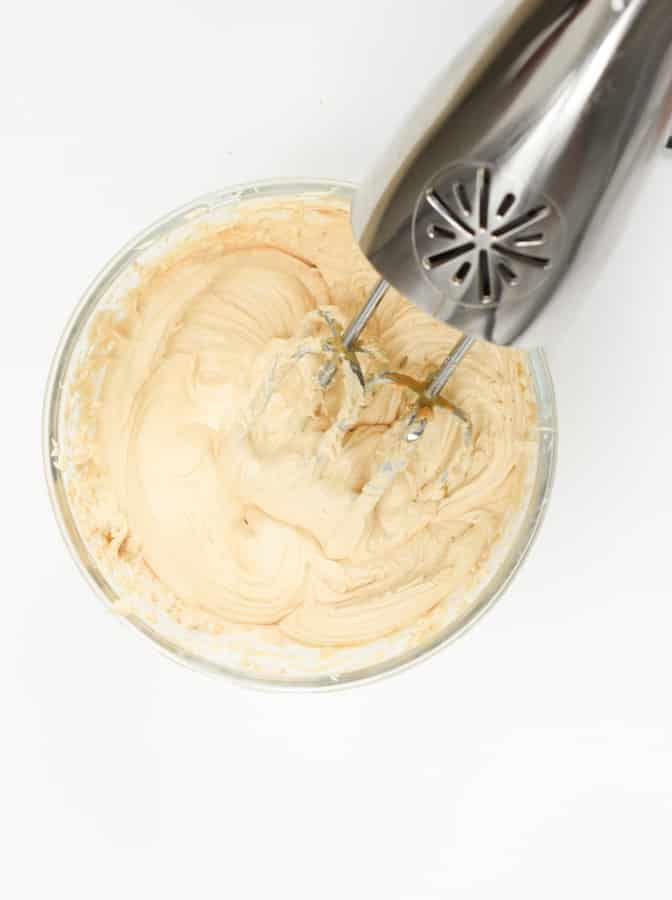 Peanut Butter Pie Filling Ingredients
Meanwhile, prepare the keto peanut butter cream cheese pie filling. In a large mixing bowl add the following ingredients:
Soft cream cheese – you can use any cream cheese even lactose-free or vegan cream cheese if you want a dairy-free option. I recommend removing the cream cheese from the fridge 1 hour before making the recipe. It makes it easier to whip with the electric beater.
Heavy cream – or canned coconut cream but keep in mind that this option ups the carbs and add a strong coconut flavor to the pie. Note that unsweetened almond milk is not an option here. It makes the filling very runny and doesn't create a rich, creamy filling also decreasing the fat.
Natural peanut butter – make sure you are using a healthy peanut butter brand, which means peanut butter that only contains peanut, and eventually salt. But the ingredient list shouldn't include sugar or added vegetable oils. These ingredients are not keto-approved.
Powdered erythritol – or any keto powdered sweeteners like powdered xylitol or allulose. Don't use crystal sweetener for the filling. This will leave crunchy sweetener bites in the peanut butter mousse.
Vanilla extract
To make a fluffy, light peanut butter cream cheese filling, you must use:
a stand mixer with the whisk attachment
or an electric beater
Whisk the ingredients on low speed at first, this prevents the cream cheese and cream from bursting out of the mixing bowl.
Then, increase to high speed to add air to the mixture and create a fluffy cream cheese filling.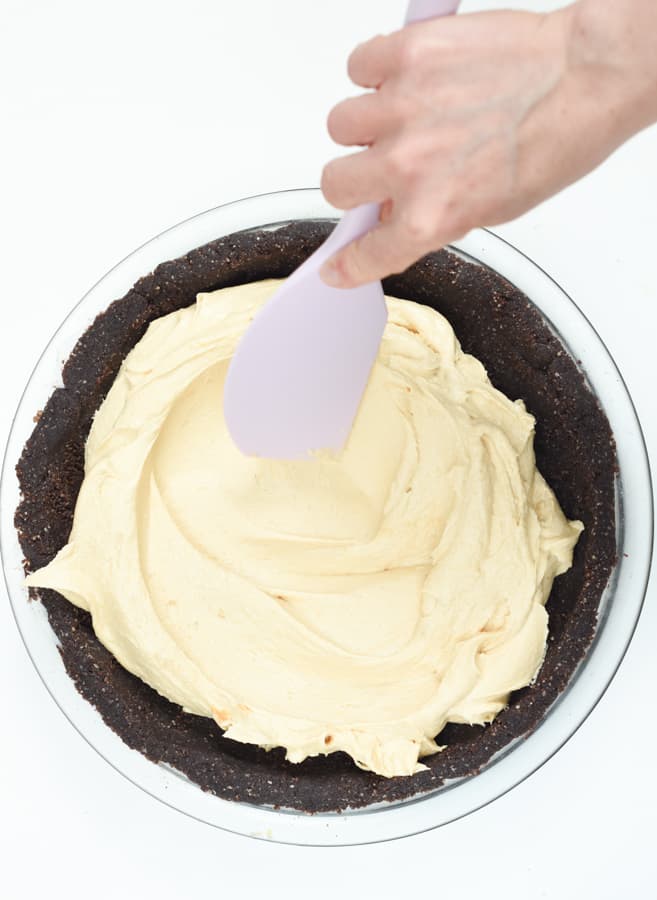 Assembling the low-carb peanut butter cream cheese pie
Remove the no-bake crust from the fridge and pour the peanut butter mixture into the center of the pan.
Use a spatula to spread the filling all over the crust.
Return the pan to the fridge for 1 hour to set the filling.
Decorating The Keto Peanut Butter Pie
There are many ways you can decorate this healthy peanut butter pie.
Most classic keto pie recipes are topped with chopped peanut butter cups.
If you want, you can make my keto peanut butter cup recipe, chop 3 or 4 of them and sprinkle them on top of your pie.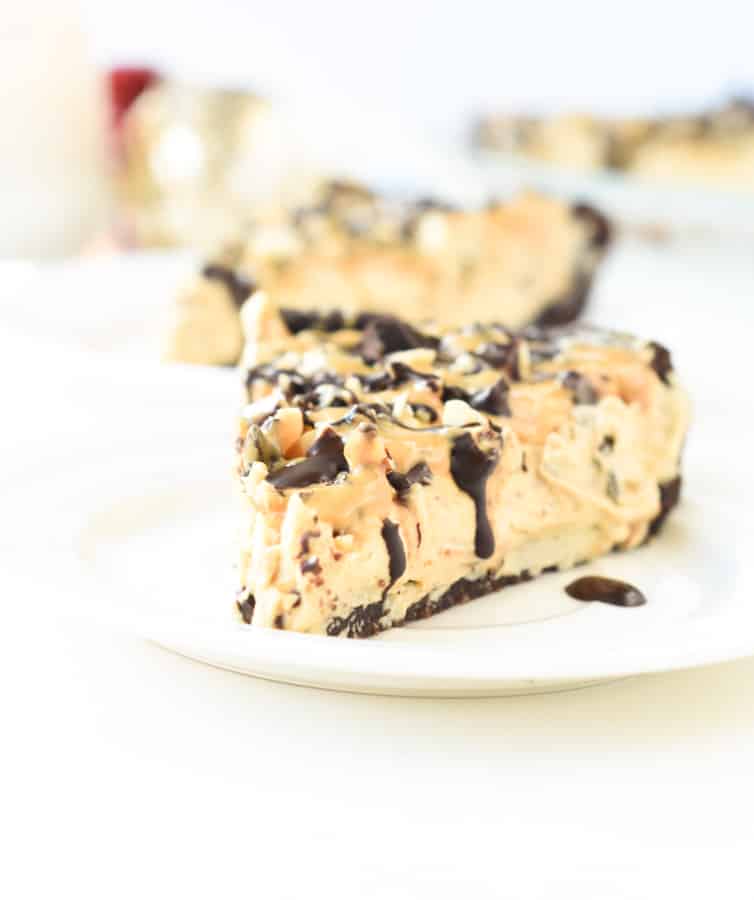 Otherwise, I listed below some easy keto ingredients that you can use to decorate your sugar-free peanut butter pie in a few minutes.
Keto chocolate pieces – roughly chop some keto chocolate bars and sprinkle them on top of the pie.
Chopped roasted peanuts – sprinkle some peanuts all over the top to add some crunch.
Peanut butter – add a drizzle of natural peanut butter. If yours is a bit hard, melt 1/4 cup of peanut butter in a bowl with 1 teaspoon of butter or coconut oil to create a runny sauce.
Melted chocolate – melt some keto chocolate chips or bars and drizzle on top of the pie.
Heavy whipping cream – make your own using unsweetened whipped cream and serve with a dollop on top of each slice.
To set the decoration, especially the melted chocolate, refrigerate the pie again until the chocolate hardens, or freeze the pie for 5-8 minutes for a quick set.
Storing Keto Pies
The great thing about no-bake keto desserts: you can freeze them!
Freezing the pie
You can freeze this low-carb peanut butter cream cheese pie and thaw it in the fridge the day before serving.
Always freeze after covering it with a film of plastic wrap or a thin solid layer will dorm on the top.
Refrigerating the keto pie
This low-carb chocolate peanut butter pie stores very well in a cake box in the fridge for up to 4 days.
How Many Carbs Per Serving?
This sugar-free peanut butter pie with no-bake ingredients serves 12 slices.
One slice makes a fulfilling serve and contains 5.7 grams of net carbs, without any toppings.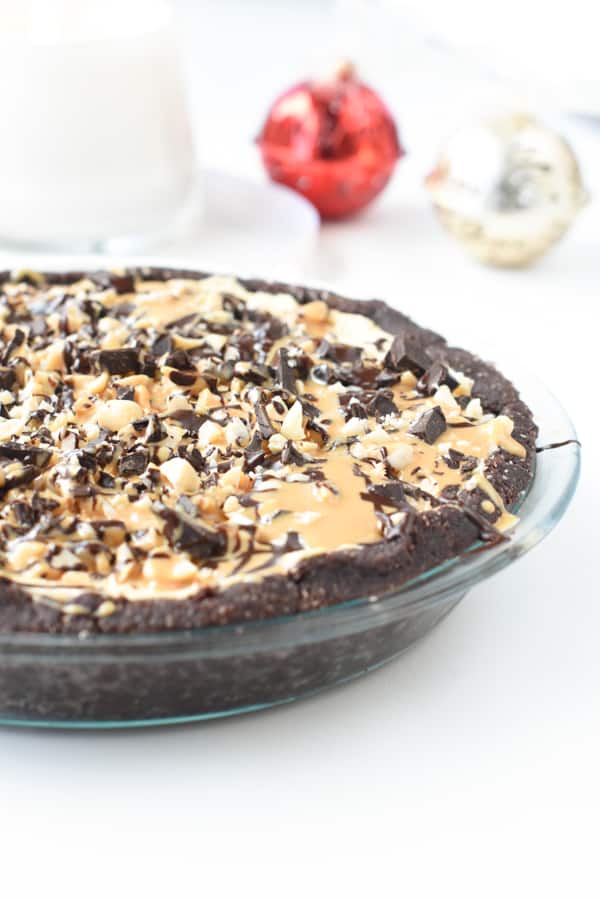 Allergy Swaps
If you have food allergies, but still want to make the best keto peanut butter pie, I have a few alternatives for you below.
Nut-free swaps
Peanut butter – replace with the same amount of sunflower seed butter. It's still a keto-friendly option. However, it can add a slightly bitter aftertaste and greenish color to the filling.
Almond flour – swap for ultra-fine sesame flour or sunflower seed flour.
Dairy-free swaps
Cream cheese – use vegan cream cheese or lactose-free cream cheese.
Heavy cream – use canned coconut cream. Shake the can before measuring.
Peanut butter swap
If you are not tolerating peanuts well, or want to decrease the carbs of this recipe, replace peanut butter with natural almond butter. It is also a great paleo option!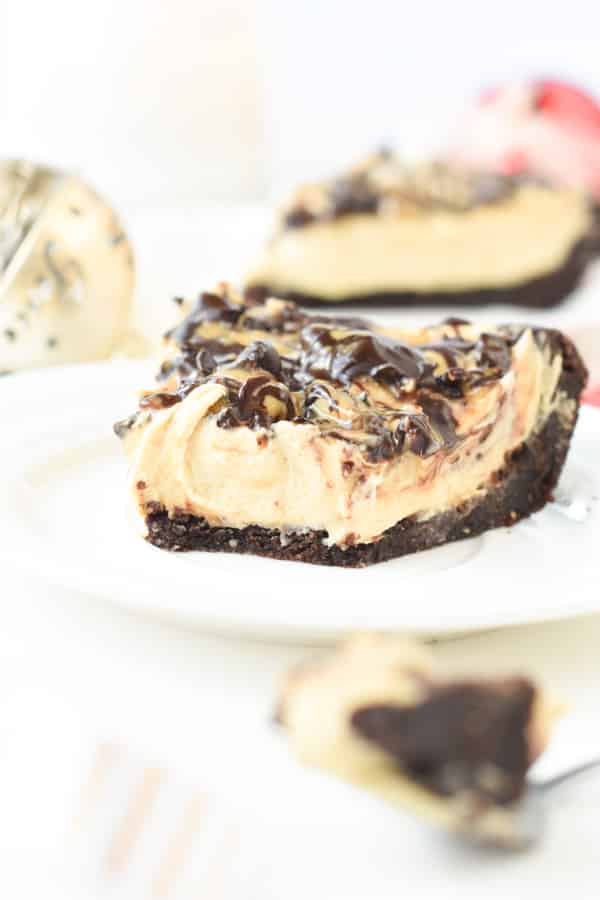 More Keto Peanut Butter Recipes
If you like Keto recipes with Peanut butter, you'll love these:
Made this keto chocolate peanut butter pie? Share a review or comment below to tell me how it went!
Also, you can get more keto recipe inspiration from me on Pinterest, follow me there!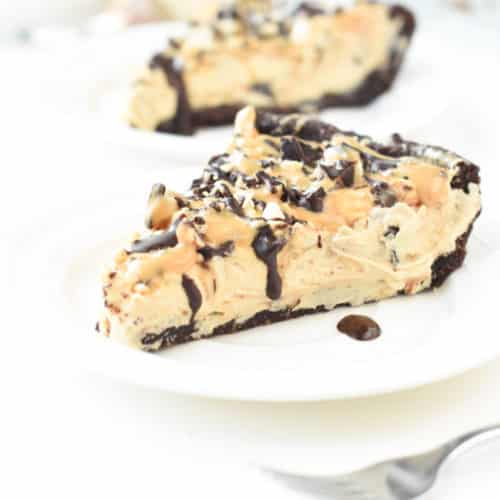 Keto Peanut Butter Pie
An easy low-carb peanut butter pie cream cheese recipe with no-bake chocolate crust and fluffy peanut butter filling.
Serving Size:
1
slice (without toppings)
Ingredients
Keto cookie crust
1 ¾

cup

Almond Flour

5

tablespoons

Unsweetened Cocoa Powder

scoop and level method

1

teaspoon

Vanilla Extract

⅓

cup

Erythritol

¼

cup

Coconut Oil

3

tablespoons

Water
Keto peanut butter filling
8

ounces

Cream Cheese

lactose-free cream cheese or vegan cream cheese work as well

¾

cup

Natural Peanut Butter

natural, no added sugar or oil

1

teaspoon

Vanilla Extract

⅓

cup

Powdered Erythritol

¾

cup

Heavy Cream
This recipe may contain Amazon or other affiliate links. As an Amazon Associate I earn from qualifying purchases.
Instructions
Grease a 9-inch round pie pan with butter or coconut oil. Set aside.

In a large mixing bowl, combine all the dry ingredients: almond flour, unsweetened cocoa powder, and erythritol.

Stir in melted coconut oil, water and vanilla, and combine until it is soft and sticks easily together. It shouldn't be overly wet but sticky. If too wet, add more almond flour. If too dry, add 1 tablespoon more water.

Press the dough with your fingers to evenly cover the bottom and sides of the pan. You can use the back of a spoon to smoothen the surface perfectly.

Place in the fridge while making the filling. This step will also harden the no-bake crust.
Keto peanut butter filling
In a large mixing bowl, using an electric beater, beat soft cream cheese with peanut butter, vanilla extract, powdered sweetener, and heavy cream until thick and slightly fluffy.

Stop the beater and remove the pie crust from the fridge.

Spread the fluffy peanut butter filling into the pie pan.

Chill 1-2 hours or overnight, covered with a piece of plastic wrap to prevent the top from drying out.
Optional decoration ideas
Another idea is to add 1/4 cup chopped sugar-free chocolate bars, 1/4 cup chopped roasted peanuts, and a drizzle of about 2 tablespoons of melted chocolate and 1 tablespoon of runny peanut butter.
Storage
Store in a sealed cake box in the fridge for 4 days or freeze the whole pie or pie slices in sealed containers. Thaw in the fridge the day before serving.
Want My Kitchen Equipment?
Serving Size:
1
slice (without toppings)
Serving:
1
slice (without toppings)
Calories:
348.9
kcal
(17%)
Carbohydrates:
9.1
g
(3%)
Fiber:
3.4
g
(14%)
Net Carbs:
5.7
g
Protein:
9.3
g
(19%)
Fat:
33
g
(51%)
Saturated Fat:
13.4
g
(84%)
Cholesterol:
41.2
mg
(14%)
Sodium:
141
mg
(6%)
Potassium:
173.6
mg
(5%)
Sugar:
2.8
g
(3%)
Vitamin A:
472.5
IU
(9%)
Vitamin C:
0.1
mg
Calcium:
72.1
mg
(7%)
Iron:
1.3
mg
(7%)
Posted In: