Peanut Butter Bread (Keto, Gluten-Free)
Peanut butter bread is a healthy moist keto bread perfect for breakfast toast or afternoon tea with only 5 grams net carb per slice.
Plus, it is gluten-free and dairy-free. This healthy peanut butter bread is a dream. My two favorite things come together into the most delicious comforting keto bread.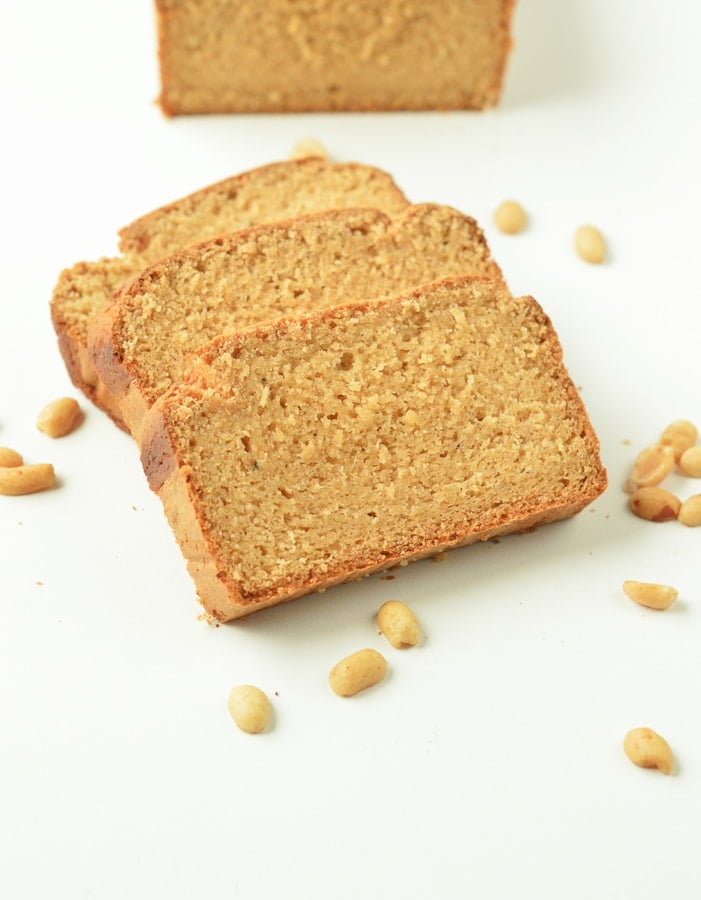 Is Peanut Butter Keto?
Yes, you can safely eat peanuts or peanut butter on a keto diet while staying in ketosis.
Note that 100 grams of peanuts contain 16 grams of carbs but 9 grams of fiber.
It means that you get only 7 grams of net carbs per 100 grams of peanuts.
Also, you never go more than 30 grams of peanut butter at once, so you will barely get 2 grams of net carbs per serving!
Obviously, you must use peanut butter with no added sugar to keep it in the safe range, and don't overdo it.
But overall, you can definitely have a slice of this bread to fix any sweet bread cravings safely.
What Is Keto Peanut Butter Bread?
A keto peanut butter bread is a simple sweet bread recipe made with peanut butter, keto flour, and eggs.
It has a soft fluffy bread texture delicious for breakfast toast with sugar-free strawberry jam or on its own.
How To Make Peanut Butter Bread
More than keto bread, this is a healthy peanut butter bread made only with wholesome ingredients.
Indeed, this bread contains lots of plant-based fiber and protein.
Ingredients
Let's see what you need to make this.
Peanut butter – make sure fresh, runny peanut butter that has no oil or sugar added in the peanut butter.
Eggs – this adds the fluffy texture to the bread, and because the recipe use only 2 eggs, it has no eggy flavor at all.
Almond flour – I used fine almond flour which gives the best result. Almond meal works but makes the bread heavier and denser.
Psyllium husk – I used the whole husk. It is my secret ingredient to this soft bread texture. Don't use Metamucil fiber supplements in my recipes. This is not the same product as whole psyllium husk fiber. Metamucil is a husk powder that is not suitable for baking keto bread. It will turn food dry, purple, or blue.
Baking powder, or you can use half the amount of baking soda.
Unsweetened almond milk – I am using Almond breeze as always because it has no aftertaste in my recipes and contains barely a few carbs, and no added sugar.
Vanilla – optional but always delicious with it! Use vanilla seeds if you cant find a sugar-free vanilla extract.
Apple cider vinegar or lemon juice, you need this to activate the baking powder as the recipe is gluten-free.
Serving Peanut Butter Bread?
This is a delicious sweet bread for breakfast toast. First, I recommend spreading sugar-free chia seed am on top or simply butter. Also, you can toast the slices to add a little crispiness!
Finally, you can serve this bread as a breakfast bread. One slice with a cup of my bulletproof coffee for breakfast is delicious to start the day.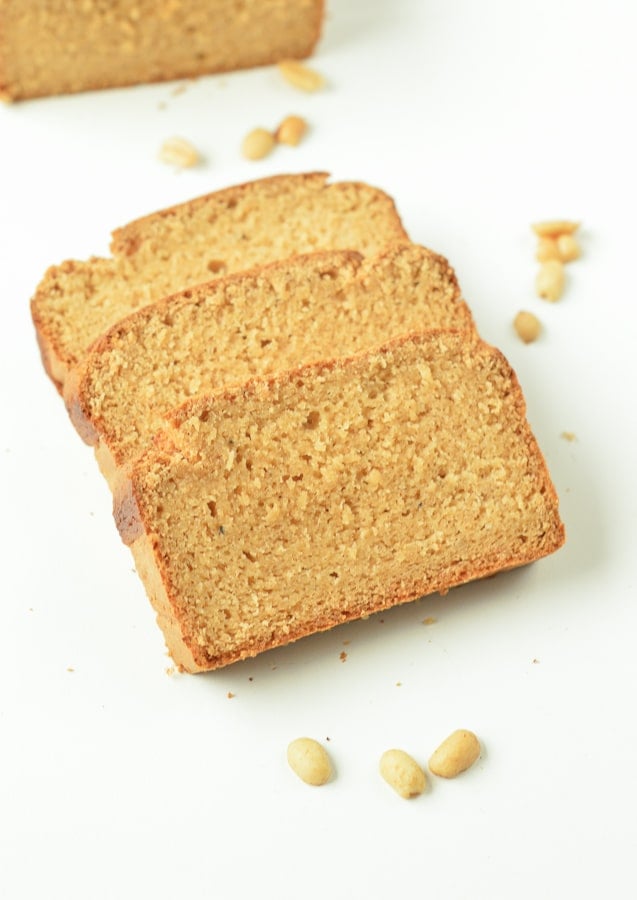 More Sweet Keto Bread Recipes
I have got so many keto bread recipes for you to try. Have a look at those other sweet bread; if you crave a sweet bread on your keto diet, you deserve it!
I hope you enjoyed this healthy peanut butter bread recipe. If so, share your picture with me on Instagram! I love to connect with you and see your creations from your kitchen.
Keto Peanut Butter Bread
Peanut butter bread is a delicious keto bread for breakfast or tea time and 5 grams of net carbs per slice.
Nutrition Snapshot
Want My Kitchen Equipment?
Instructions
Preheat oven to 400°F (200°C), fan-forced if you can otherwise regular baking mode.

Line a 9×5-inch loaf pan with parchment paper. Set aside.

In a food processor, with the S blade attachment, add peanut butter, unsweetened almond milk (at room temperature, not too cold, or it will harden the peanut butter), eggs, vanilla, and sugar-free crystal sweetener.

Close the food processor and process until smooth about 40 seconds.

Open the food processor and add almond flour, apple cider vinegar, and baking powder.

Process again on medium/high speed until the almond flour is well incorporated, about 30-40 seconds.

Open the food processor and add psyllium husk. You can add husk in the previous step, with almond flour but it can form lumps so I prefer to add them separately. Process again on medium/high speed for 40 seconds to combine all the ingredients and form the peanut butter bread batter.

Pour the peanut butter bread batter into the prepared loaf pan. Bake for 50 minutes. I recommend wrapping the loaf pan with a piece of foil after 20 minutes to prevent the top of the bread from burning. Bake for at least 50 minutes up to 70 minutes if needed, or until the bread has set in the center. Check if it is cooked by inserting a pick in the middle of the bread. If it comes out clean it is cooked.

Remove the pan from the oven. Cool down for 10 minutes into the pan then loosen the side with a knife and pull out the bread from the pan using the pieces of parchment paper.

Cool down on a rack for at least 3 hours or overnight before slicing.
Storage
You can store your bread in an airtight box or wrapped in a clean towel for up to 4 days at room temperature.

Otherwise, freeze the sliced bread in an airtight container or bag. Defrost the slices 1 hour before at least or overnight at room temperature and bring to the toaster to add some crispiness.

Enjoy your bread slice raw or bring it to the toaster to add some crispiness.

I recommend spreading butter, sugar-free chia seed jam or sugar-free chocolate spread for extra decadence! Use this bread as a base for my keto French toast recipe if you like!
Notes
Psyllium husk: don't use Metamucil fiber supplement in my recipes, this is not the same product as whole psyllium husk fiber. Metamucil is a husk powder that is not suitable for baking keto bread. It will turn food dry, purple or blue.
My Recipe Notes
Nutrition
Serving:
1
slice
Calories:
186
kcal
(9%)
Carbohydrates:
7.9
g
(3%)
Fiber:
2.8
g
(12%)
Net Carbs:
5.1
g
Protein:
6.2
g
(12%)
Fat:
11.1
g
(17%)
Posted In: