This Keto Cinnamon Bread is the most delicious keto breakfast bread with a moist vanilla crumb and sweet cinnamon swirl in the center.
Bonus, this breakfast bread has only 2.5 grams of net carbs per slice, and it is dairy-free (no cream cheese!), gluten-free, and paleo-friendly!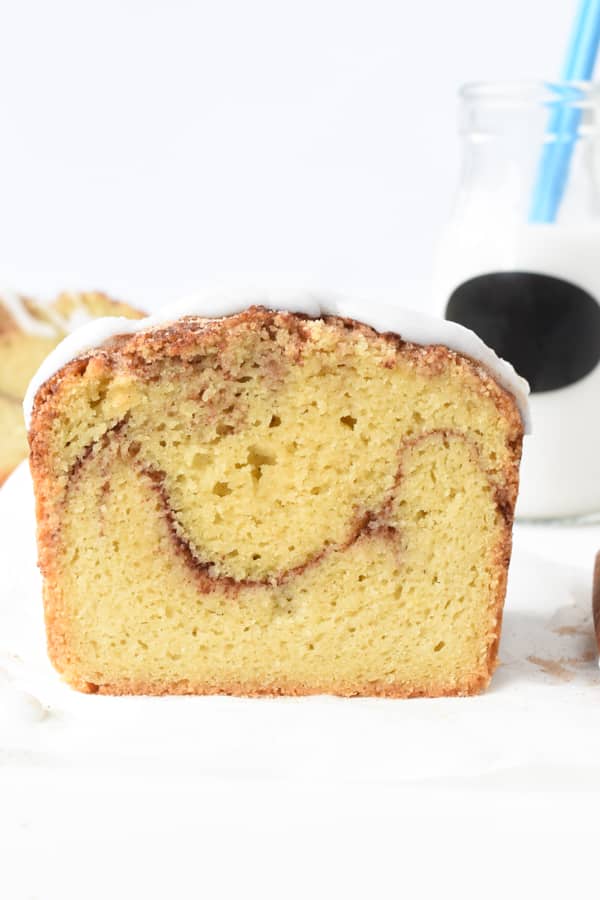 What's A Keto Cinnamon Bread?
A Keto Cinnamon Bread is the low-carb version of the classic cinnamon bread. It's a sweet pound cake with a signature cinnamon swirl in the middle.
This keto version of the classic loaf is much lower in carbs thanks to the use of low-carb flour and sugar-free sweeteners.
Why You'll Love This Recipe
This keto cinnamon cake is absolutely amazing, it tastes delicious and won't hurt your macros, it's also:
Gluten-Free
Dairy-Free
Paleo
Vegetarian
Keto-Friendly (2.5g of net carbs)
9 Wholesome Ingredients
15 Minutes of Prep
How To Make Keto Cinnamon Bread?
This keto cinnamon bread recipe is the easiest keto breakfast bread recipe ever to pair with your bulletproof coffee in the morning!
All you need to make this quick cinnamon bread are 10 simple, wholesome ingredients.
Ingredients
I recommend you measure all your ingredients in small bowls before starting to make sure you don't miss any ingredients and for precision.
Eggs – at room temperature. Eggs are keto-friendly ingredients.
Erythritol or any keto-friendly crystal sweetener you love like xylitol.
Coconut Oil – you can also use melted butter, but the bread will be denser.
Unsweetened Almond Milk – or any other low-carb plant-based milk.
Vanilla Extract
Ground Cinnamon – Learn how to make perfect cinnamon sugar.
Almond Flour – no almond meal. You must use ultra-fine almond flour to achieve the same fluffy and moist bread crumb. Learn how to pick the best keto flour.
Coconut Flour – you must use a combination of both keto gluten-free flours. Coconut flour adds a real bread texture and almond flour adds moisture. Also, make sure you measure these ingredients precisely. Coconut flour contains a lot of fiber, and if you add slightly too much in a keto recipe, it dries out the bread quickly.
Baking Powder
Dry Ingredients
First, measure the dry ingredients precisely. If you are using a measuring cup, fill-pack the flour and level it.
Whisk all your dry ingredients together to evenly combine them.
Liquid Ingredients
In another bowl, beat the liquid ingredients all together, making sure they are all at room temperature.
In fact, if you are using cold almond milk straight out of the fridge, it will solidify the coconut oil, creating oil lumps.
Combine
Add the dry ingredients into the wet ingredients and combine until it forms a thick, but not dry, batter.
The batter will be thicker than a wheat-based bread batter but not thick as cookie batter.
It should be wet, as seen in the picture below. If your batter is extremely dry, it's because you added too much coconut flour or you used coarse almond flour.
To fix your batter, add a splash more almond milk, adding 1 tablespoon at a time but don't add more than 3 tablespoons.
Preparing The Sugar-Free Cinnamon Mix
To make a lovely low-carb cinnamon bread with a cinnamon swirl in the center, you need a cinnamon 'sugar' layer.
First, prepare the cinnamon 'sugar.' Of course, you are going to use a keto sugar-free sweetener – erythritol or xylitol – so it's a sugar-free cinnamon mix.
In a small bowl, simply whisk erythritol and ground cinnamon.
Making Bread Layers
First, add half the bread batter. Next, sprinkle 1/2 of the sugar-free cinnamon mixture.
Add the remaining bread batter and spread evenly. Finally, add the remaining cinnamon sugar mix.
Making The Cinnamon Swirl
To create a swirl effect in your keto cinnamon bread with almond flour, use a knife.
Insert the knife on one side of the loaf pan, draw the knife through the batter and swirl to create a marble effect.
Don't overdo it; 2 swirls are usually enough.
Baking
Bake your cinnamon keto bread for 50 to 65 minutes in a preheated oven at 350°F (180°C).
I recommend adding a piece of foil on top of the loaf pan after 20 minutes to prevent the top of the bread from browning too fast.
Glazing
This is optional, but this cinnamon bread loaf is even better with a simple keto glazing.
To make it, combine 1/3 cup sugar-free powdered erythritol with 1-2 teaspoons of heavy cream or canned coconut cream if dairy-free.
Cool the bread loaf completely before drizzling the sugar-free glazing on top.
Add nuts!
I designed this quick keto cinnamon bread recipe to contain minimal carbs and maximum taste.
However, if you don't mind adding 0.5 grams of net carb per slice, then add 1/2 cup of chopped walnuts or pecans into your batter.
Believe me, nuts and cinnamon are the most amazing combo!
Storage Instructions
This keto bread with cinnamon stores well in the fridge in a cake box for up to 5 days.
I recommend slicing the bread just before serving to keep the crumb moist.
You can also freeze slices of this gluten-free cinnamon quick bread. Thaw at room temperature the day before.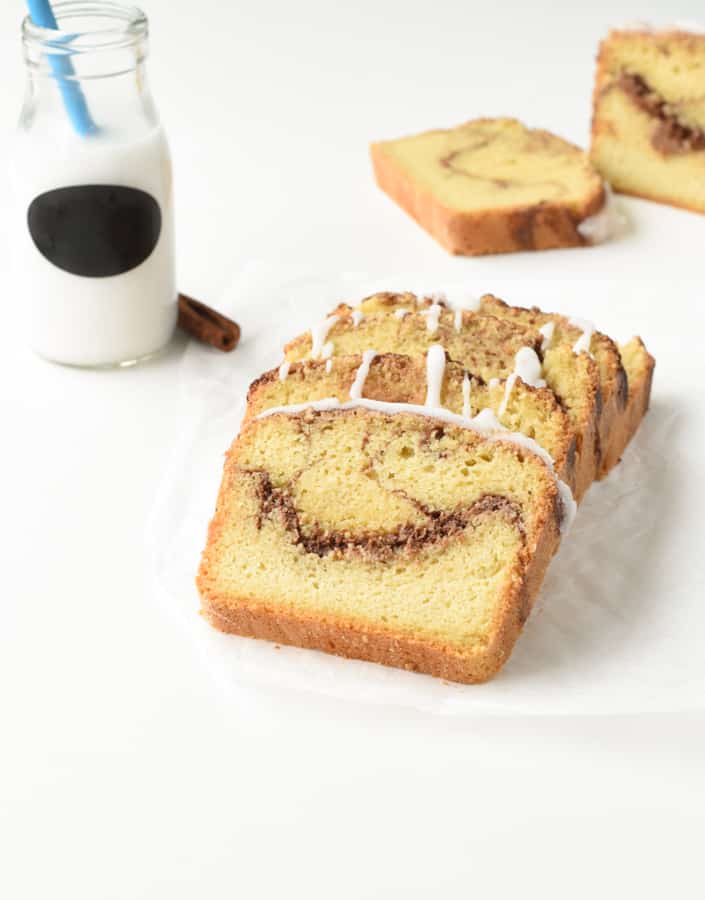 More Sweet Keto Bread Recipes
If you love this gluten-free cinnamon bread recipe, you will also love the keto bread below: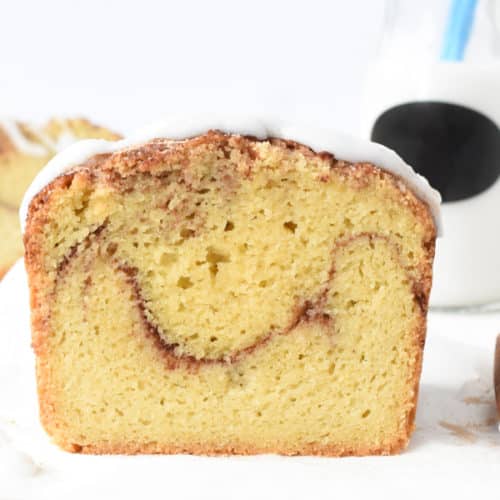 Keto Cinnamon Bread
A delicious fall breakfast bread with buttery vanilla crumb and cinnamon sugar swirl.
Ingredients
5

Eggs

at room temperature

½

cup

Erythritol

monk fruit, erythritol or xylitol

½

cup

Coconut Oil

or melted butter

¼

cup

Unsweetened Almond Milk

2

teaspoons

Vanilla Extract

2

cups

Almond Flour

¼

cup

Coconut Flour

1

tablespoon

Baking Powder
Cinnamon Sugar Swirl
½

cup

Erythritol

1 ½

tablespoons

Ground Cinnamon
This recipe may contain Amazon or other affiliate links. As an Amazon Associate I earn from qualifying purchases.
Instructions
Preheat oven to 350°F (180°C). Line a 9-inch x 5-inch loaf pan with a piece of parchment paper. Lightly oil the paper to make sure the bread doesn't stick to the pan. Set aside.

In a small mixing bowl, prepare the cinnamon swirl, whisk erythritol, and cinnamon. Set aside.

In a medium mixing bowl, whisk together eggs, sugar-free crystal sweetener, melted coconut oil (or butter), almond milk, and vanilla. Make sure that your coconut oil is not burning hot or it will 'cook' the eggs and create lumps. All your ingredients must be roughly at the same temperature, think room temperature, especially the eggs and almond milk. Cold ingredients just out of the fridge will solidify the coconut oil creating oil lumps. Otherwise, use melted butter to prevent this from happening. Set aside.

In a different large mixing bowl, whisk together the almond flour, coconut flour, and baking powder. Stir to evenly combine the flours.

Pour the liquid ingredients onto the dry ingredients.

Stir all the ingredients with a baking spoon until it forms a consistent bread batter with no lumps. Combine for at least 1 minute to make sure the coconut flour fiber absorbs the moisture.

Transfer roughly half the bread batter onto the loaf pan.

Sprinkle half the reserved cinnamon/erythritol mixture, add the remaining batter and sprinkle the remaining cinnamon/erythritol mixture on top of the bread.

Draw a knife through the batter and swirl to create a marble effect. See my picture in the post for tips.

Place the loaf pan in the center of your oven and bake at 180°C (350°F). After 15 minutes, cover the loaf pan with a loose piece of foil. This will prevent the top from burning and will allow the middle to bake slowly. Keep baking for 45-60 minutes in total, or until a toothpick inserted in the center of the bread comes out with little to no crumbs on it.

Cool for 10 minutes in the loaf pan, then lift out the cinnamon bread from the pan using the hanging pieces of parchment paper.

Transfer to a cooling rack to cool completely. It is a thick bread loaf and it usually takes 3 hours to fully cool. Be patient!
Storage
Store your bread in the pantry on a cake box for up to 3 or 4 days. Slice before serving to keep the bread crumb moist.

Enjoy this bread as breakfast, teatime, plain, or with sugar-free chia seed jam.

Freeze the bread slices in an airtight box, making sure the slices don't overlap (or place a piece of parchment paper between each slice to make it easier to defrost individually. Defrost the slice the day before at room temperature, on a plate, don't overlap the slices.
Want My Kitchen Equipment?
Serving:
1
slice
Calories:
170.3
kcal
(9%)
Carbohydrates:
5.2
g
(2%)
Fiber:
2.7
g
(11%)
Net Carbs:
2.5
g
Protein:
5
g
(10%)
Fat:
15.4
g
(24%)
Saturated Fat:
7.1
g
(44%)
Cholesterol:
51.1
mg
(17%)
Sodium:
108.2
mg
(5%)
Potassium:
23.3
mg
(1%)
Sugar:
0.8
g
(1%)
Vitamin A:
74.3
IU
(1%)
Calcium:
95.9
mg
(10%)
Iron:
1
mg
(6%)
Posted In: