A keto orange pound cake is a moist buttery pound cake with delicious orange flavor. Plus, this pound cake recipe is dairy-free, gluten-free and paleo-friendly.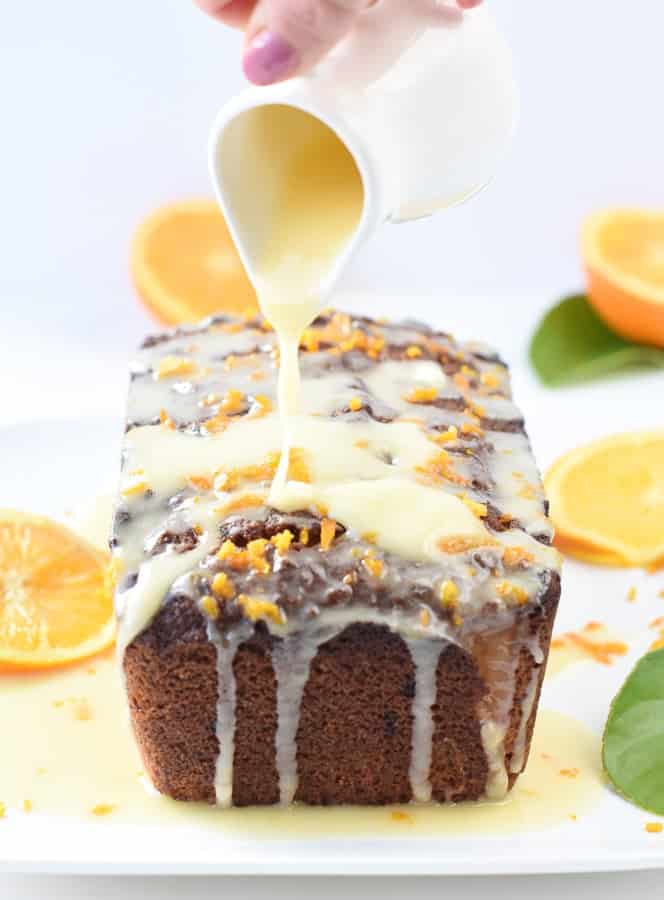 While pound cakes have traditionally been made with flour, butter and sugar, I am here showing you how to make your pound cake the keto way. A keto orange pound cake is a sugar-free low-carb cake with a delicious moist buttery texture. It's a delicious cake to have for breakfast or for an afternoon snack.
How to make a keto orange pound cake?
In order to make a delicious keto pound cake, you need some very basic keto pantry ingredients including:
Almond flour or almond meal
Coconut flour – don't replace for more almond flour or the texture of your bread will be too moist. This flour combo is the key to the best pound cake texture
Erythritol or any sugar-free crystal sweetener, use my keto sweetener converter tool to know how much other sweetener you need for this recipe
Eggs
Coconut oil – while the recipe works with melted butter too, I recommend melted coconut oil for the best flavor and texture
Orange juice – use fresh organic oranges. Organic oranges are better because their skin is not treated and therefore, it's safe to use the grated zest from them
Orange zest
Baking powder
Powdered erythritol – for the glazing
Is it safe to have oranges on keto diet?
Oranges, when used in small amount are keto friendly fruit, perfect to add sweetness to your keto baking. You can check my keto fruit list article to read more about all the fruit options you can eat safely on a keto diet.
How to store pound cake?
This pound cake stores very well in the fridge for up to 5 days, in an airtight box. You can also freeze slices of pound cake wrapped individually. When you feel like cake, defrost one slice of pound cake on a plate at room temperature.
How to make sugar-free glazing?
You can can glaze keto cakes using powdered sugar-free crystal sweetener like erythritol, allulose or Monk fruit erythritol blend. If you don't like your glazing too sweet I recommend using allulose. Like for any glazing, combine powdered sweetener with a liquid, like orange juice here, to enhance the orange flavor, or simply water. You can play with the texture, adding more powder sweetener for a thick glazing or more liquid for a runny glazing. Note that powdered sugar-free crystal sweeteners have a similar look and texture to real icing sugar, without the carbs. However, it can be overly sweet so make sure you stick to the glazing recipe for perfect sweetness balance.
More keto pound cake recipes
If you love pound cake I also recommend you to try:
Have you made this keto pound cake recipe yet? Share a picture with me on Instagram! I love to see your creation and connect with you.
xoxo Carine
Keto Orange Pound cake
A moist keto pound cake with orange flavor and orange glazing
16 slices
Print The Recipe
Orange glazing
2 tablespoons orange juice
1 tablespoon orange zest - optional
NEW
My no-fail Keto Baking Recipe ebooks are now available
for a limited time, 50% OFF if you enter the code
INPLNCHOFFER
Preheat oven to 180°C (350°F). Line a loaf pan 9 inches x 5 inches with parchment paper. Slightly grease the paper with coconut oil or butter to prevent the cake from sticking to it. Set aside.

In a large mixing bowl lightly beat eggs with erythritol, melted coconut oil, orange juice and orange zest. Make sure ALL the ingredients are at room temperature! if your eggs or juice are cold they will solidify the coconut oil formings oil lumps. The recipe will still work but it will impact the cake texture. Set aside.

In another bowl, combine almond flour, coconut flour and baking powder.

Make a well in the middle of the flours and pour the liquid ingredients into it.

Combine with a spoon until all the ingredients come together and form a consistent cake batter with no lumps.

Pour the batter into the prepared loaf pan.

Bake for 40-50 minutes or until a pick inserted in the center of the cake comes out clean.

Cool 10 minutes in the pan then lift out the cake from the pan and transfer on a cooling rack for at least 4 hours.

When the pound cake is at room temperature, prepare the glazing.
Sugar-free orange glazing
In a small mixing bowl, combine powdered erythritol with orange juice and orange zest. If the mixture is too thick, add few more drops of orange juice. If it's too thin add more powdered erythritol, 1 tablespoon at a time, until it reaches your favorite texture.

Drizzle the orange glazing on top of the pound cake.

Slice the pound cake into 16 slices.
Net carbs: 3.2g per slice
Nutrition Facts
Keto Orange Pound cake
Amount Per Serving (1 slice)
Calories 173 Calories from Fat 98
% Daily Value*
Fat 10.9g17%
Carbohydrates 4.3g1%
Fiber 1.1g5%
Protein 4.4g9%
Net Carbs 3.2g
* Percent Daily Values are based on a 2000 calorie diet.