Healthy Marble Cake (Keto)
This keto marble cake is a moist almond flour pound cake with chocolate and vanilla layers.
Plus, it's a healthy marble cake for you with no sugar, no gluten, no dairy, and only 3.8 grams of net carbs per slice!
What's A Marble Cake?
A Marble Cake is a classic pound cake recipe made with alternating and swirling layers of vanilla cake and chocolate cake.
This Keto Marble Cake is a low-carb version of the classic marble pound cake recipe.
Why You'll Love This Recipe
This Keto Marble Cake is delicious and tastes amazing, but it's also:
Gluten-Free
Dairy-Free
Low-Carb
Keto-Friendly
How To Make A Marble Cake
A marble cake is a chocolate and vanilla layer cake. Therefore, you need two batters to create a marble cake, one with vanilla flavor and one with chocolate flavor.
The easiest way to make a marble cake is to first make a large vanilla batter. Then, separate a part of the vanilla batter in a different bowl and flavor it with cocoa powder.
Making a moist marble cake requires using oil in the recipe – not butter! That makes a whole lot of difference giving the most delicious moist texture to the almond flour pound cake.
The best healthy oils to use in this recipe are melted coconut oil, avocado oil, or almond oil.
Of course, if you want to use coconut oil, make sure you melt it first and cool it down before adding it to the batter.
In fact, hot oil can cook your eggs and create lumps in the batter.
Ingredients
A marble cake is basically a pound cake, with two layers with different flavors. The trick to making this easy marble cake is to use all ingredients at room temperature.
Let's see what you need to make a healthy marble cake keto and gluten-free.
Almond flour – fine, not almond meal. Almond Flour is one of the best keto-friendly flours.
Coconut flour – Coconut flour is made from ground dried coconut flesh. It's a keto flour rich in fiber and nutrients.
Eggs at room temperature. You can take an egg out of the fridge for up to 2 hours without any risk, but it takes less than 30 minutes for them to reach room temperature.
Sugar-free crystal sweetener – erythritol, xylitol, or a combo of Monkfruit/erythritol. Check out my keto sweetener converter to convert from one sweetener to another.
Oil – avocado, almond, or coconut oil, melted at room temperature. Note: vegetable oils are not keto-friendly so don't use these oils.
Vanilla Extract – for the taste.
Unsweetened Cocoa Powder – it's essential to make sure the cocoa powder doesn't contain added sugar.
Coconut cream or heavy cream at room temperature.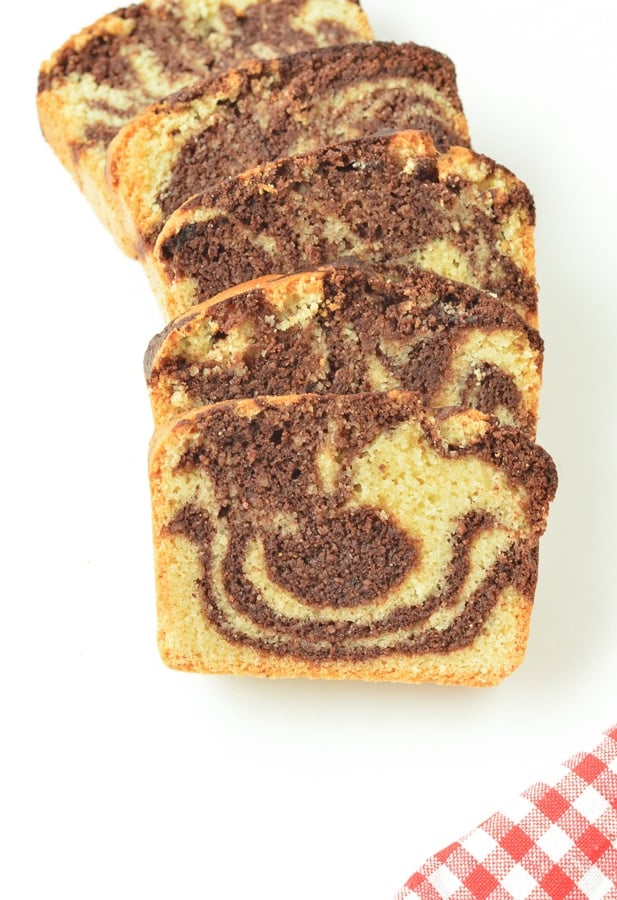 Storage Instructions
You can store this marble cake in an airtight cake box in the pantry for up to 3 days, or freeze cake slices in individual boxes for up to 3 months.
Defrost the marble cake slices the day before, can be rewarmed in a toaster or oven if desired.
More Keto Pound Cake Recipes
If you love this keto pound cake recipe, I have many more for you to try:
Made this healthy marble cake recipe? Share a picture with me on Instagram!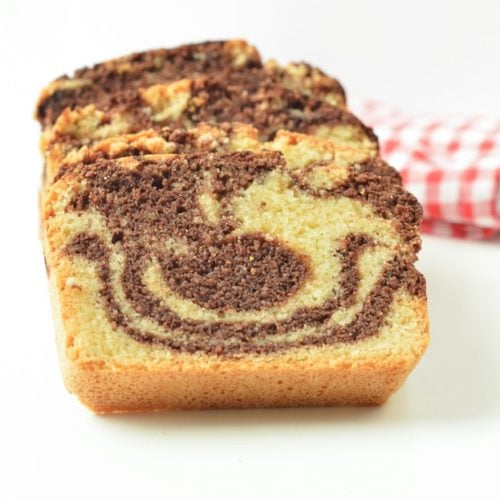 Keto Marble Cake
Keto marble cake, a sugar-free almond flour pound cake with moist chocolate vanilla layers.
Nutrition Snapshot
Want My Kitchen Equipment?
Instructions
Before you start, make sure all the ingredients including, oil, cream, eggs, flour, are at room temperature to avoid lumps. The best is to take them out of the fridge 30 minutes before you start the recipe.

Preheat oven to 350°F (180°C). Cover a 9-inch x 5-inch loaf pan with parchment paper. Oil the paper if yours tends to stick to food. Set aside.
Vanilla cake layer
In a medium mixing bowl, lightly whisk eggs with sugar-free crystal sweetener, vanilla, and coconut cream.

Stir in coconut oil (at room temperature! hot melted coconut oil will cook your eggs. You don't want this to happen), baking powder, coconut flour, and almond flour.

Whisk quickly to combine evenly. The vanilla cake batter is thick but spreads easily, shiny, with no lumps. If there are lumps (it shouldn't have some if you used ingredients at the same temperature). If so, use an electric beater, beat few seconds to get a smooth batter.
Chocolate cake batter
In another medium-size mixing bowl, add 1 ½ cup of the vanilla batter you just made.

To create the chocolate cake batter, stir in this medium bowl unsweetened cocoa powder and coconut cream until it forms a smooth chocolate batter. You should have 2 bowls of batter, one with 1 ½ cup of chocolate cake batter and one with vanilla cake batter.
How to make a marble cake?
Alternate dollops of vanilla cake batter with chocolate cake batter until no more left. I highly recommend watching my recipe video tutorial below to see how to make marble cake step by step.

When no more batter is left, use a knife to swirl the top of the batter. Next, insert the knife into the loaf and gently swirl into the batter, once or twice, to create a marble swirl effect.

Bake at 180°C (350°F) for 50-65 minutes or until a skewer inserted in the middle of the loaf comes out clean with few to no crumbs on it.

Cool marble cake for at least 4 hours, or overnight, on a cooling rack, before slicing. Don't slice too early, or the cake would crumble apart. You should be able to slice 14 slices in this loaf.
Storage
Store the cake in an airtight cake box in the pantry for up to 3 days, or freeze the cake slices in individual boxes/bags.

Defrost the day before, can be rewarmed in a toaster or oven if desired.
Notes
Sweetener: if you are not on a keto diet, you can use the same amount of any crystal sweetener you like. A healthy option will be coconut sugar (contain carbs and sugar but paleo!
My Recipe Notes
Nutrition
Serving:
1
slice
Calories:
212
kcal
(11%)
Carbohydrates:
5.3
g
(2%)
Fiber:
1.5
g
(6%)
Net Carbs:
3.8
g
Protein:
5.2
g
(10%)
Fat:
14.2
g
(22%)
Sugar:
1.2
g
(1%)
Posted In: