Keto Chocolate Zucchini Bread
This Keto Chocolate Zucchini Bread is an ultra-moist keto chocolate bread.
It's an easy, healthy, gluten-free chocolate loaf made with almond flour and unsweetened cocoa powder, 100% keto, low-carb, sugar-free, and paleo.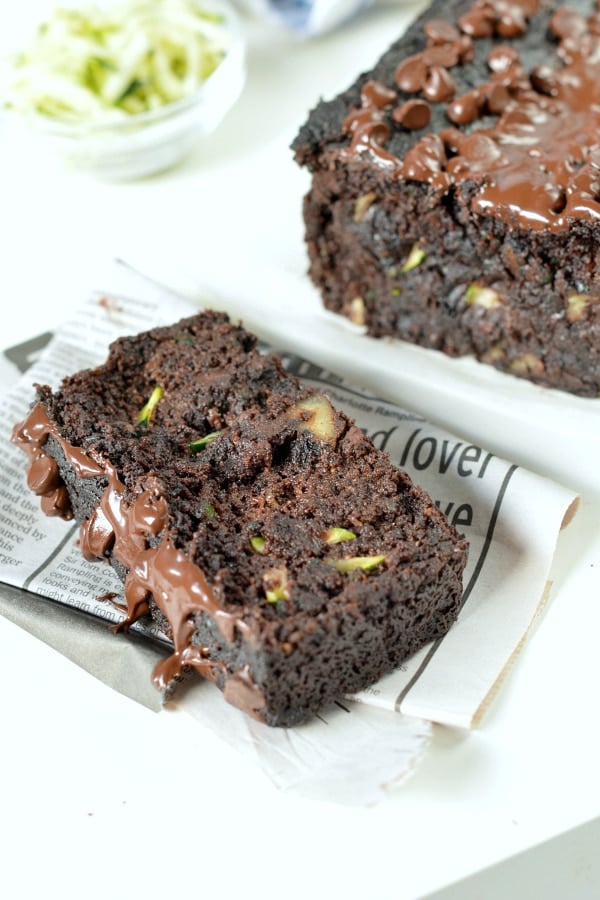 What Is A Chocolate Zucchini Bread?
The idea of putting zucchini in a cake is not new, I have several other recipes with zucchinis like my Almond Flour Zucchini Bread.
But this recipe combines the moist zucchini with chocolate for a delicious low-carb bread loaf.
How To Make Keto Chocolate Zucchini Bread
If you love thick, moist chocolate bread, this paleo chocolate zucchini bread will make you so happy.
Ingredients
All you need to make a delicious paleo chocolate zucchini bread are:
Grated zucchini – make sure you pack the zucchini very well into the measuring cup for precise measurement. If some liquid is released from the grated zucchini, discard it or the bread will be too moist and won't hold as well. Zucchinis are great keto-friendly vegetables with less than 2g of net carbs per 100g!
Egg – I used large eggs. Eggs are 100% keto-friendly.
Coconut oil – if you don't like the flavor of coconut oil, use refined coconut oil. It does not have a coconut flavor. I won't recommend a different oil for this bread.
Canned coconut cream – or cream of your choice.
Sugar-free crystal sweeteners – Monk fruit crystal is my favorite option. To learn more about keto-friendly sweeteners or to convert them, try my sweetener converter.
Almond flour– the finer, the better. Learn how to pick your keto flour.
Baking soda
Vanilla extract
Chopped walnuts – or chopped pecan or omit if you don't like nuts in your bread.
Sugar-free chocolate chips – store-bought or your homemade sugar-free chocolate chips.
Unsweetened cocoa powder or unsweetened cacao powder for a stronger chocolate flavor.
Cinnamon
Instructions
Start by grating the zucchini with a hand grater or the grater attachment of a food processor.
Place the grated zucchini in a kitchen towel and squeeze it hard to extract as much water as possible from the zucchinis.
Combine all the dry Keto Chocolate Zucchini Bread ingredients in a large mixing bowl.
Add the grated zucchini and all the liquid ingredients and whisk them with a silicone spatula until they form a thick batter.
Incorporate the chopped nuts and sugar-free chocolate chips.
Transfer the Keto Chocolate Zucchini Bread batter into a 9-inch x 5-inch loaf pan lined with lightly oiled parchment paper. Keep some overhang of parchment paper to make it easier to unmold the bread.
Bake your zucchini bread for 50 to 55 minutes in an oven preheated to 350°F (180°C).
You know it's cooked when a skewer inserted in the middle comes out relatively free of crumbs.
Cooling
This paleo chocolate zucchini loaf is ultra moist due to its large amount of zucchini. My trick, cool it down to room temperature, then pop it in the fridge for one hour to firm up.
Trust me; you won't regret it! The bread is much easier to slice, as well as it firms up in the fridge creating the most delicious fudgy chocolate texture!
It is very important to be patient with this bread.
I recommend cooling it down for 10 minutes in the loaf pan, then 40 minutes on a cooling rack, and finally popping it in the fridge for 1 hour for the best result.
Of course, it is up to you, but I notice that the cooler it is, the fudgier it becomes. Plus, it is much easier to slice!
Chocolate Decoration
I decorated the top of my bread with a good amount of sugar-free chocolate chips. I always add them after I transfer the chocolate zucchini bread to my cooling rack.
The bread is still hot, and the chocolate chips melt on top.
If you intend to cool down in the fridge as recommended before the chips will harden, it makes the cutting much more difficult with the hard chocolate shell on top of the moist bread, so be aware of that, and choose what is right for you!
Storage
Store the keto chocolate zucchini bread in the fridge for up to 4 days in a cake box or airtight container.
You can also freeze slices in individual zip-lock bags for up to 3 months.
Frequently Asked Questions
Can I Use An Egg Replacer?
No, egg replacers or flaxseed eggs wouldn't work in this recipe. You have to use an egg.
Can I Use Swerve As A Sweetener?
Yes, Swerve is essentially just erythritol so it's a perfectly fine option.
Can I Swap The Baking Soda?
Yes, you can replace the baking soda with twice the amount of baking powder.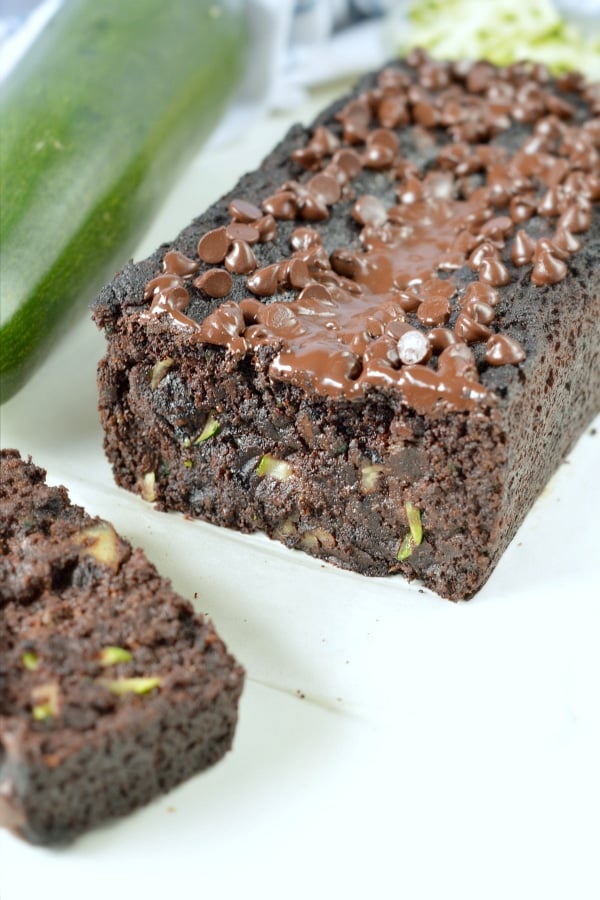 Enjoy the paleo chocolate zucchini bread recipe and tag me on Instagram if you give this a try! I love to see your creation.
Keto Chocolate Zucchini Bread
This Keto Chocolate Zucchini Bread is an easy, healthy, gluten-free loaf, super moist with almond flour, and unsweetened cocoa powder.
Nutrition Snapshot
Want My Kitchen Equipment?
Instructions
Preheat oven to 350°F (180°C). Line a baking loaf pan (9 inches x 5 inches) with parchment paper. Set aside.

Remove both extremities of the zucchinis, keep their skin on.

Finely grate the zucchini using a vegetable grater. Measure the amount needed in a measurement cup. Make sure you press/pack them firmly for a precise measure and to squeeze out any liquid from the grated zucchini. I usually don't have much! If you do, discard the liquid or keep it for another recipe.

In a large mixing bowl, stir all the dry ingredients: almond flour, unsweetened cocoa powder, sugar-free crystal sweetener, cinnamon, sea salt, and baking soda. Set aside.

Add all the wet ingredients into the dry ingredients: grated zucchini, coconut oil, coconut cream, vanilla, egg, and apple cider vinegar.

Stir to combine all the ingredients.

Stir in the chopped nuts and sugar-free chocolate chips.

Transfer the chocolate bread batter into the prepared loaf pan.

Bake for 50 – 55 minutes. You may want to cover the bread loaf with a piece of foil after 40 minutes to prevent the top from darkening too much, up to you.

The bread will stay slightly moist in the middle and firm up after fully cool down.
Cool down
Cool down for 10 minutes in the loaf pan, then cool down on a cooling rack until it reaches room temperature. It can take 4 hours as it's a thick bread. Don't slice the bread before it has cooled down. If too hot in the center, it would be too soft and would fall apart when you slice. For a faster result, cool down 40 minutes at room temperature then pop in the fridge for 1 hour. The fridge will create an extra fudgy texture and the bread will be even easier to slice as it firms up.

Store in the fridge up to 4 days in a cake box or airtight container.
My Recipe Notes
Nutrition
Serving:
1
slice
Calories:
185
kcal
(9%)
Carbohydrates:
6.1
g
(2%)
Fiber:
2.7
g
(11%)
Net Carbs:
3.4
g
Protein:
4.9
g
(10%)
Fat:
17.1
g
(26%)
Sugar:
1.2
g
(1%)
Posted In: