Crustless Zucchini Pie – Keto, Gluten-free
An easy 30-minute Crustless Zucchini Pie for a delicious low-carb dinner and perfect to use all your summer zucchinis.
You will love this light, fulfilling protein pie with cheesy eggs, juicy shredded zucchinis, and low-carb coconut flour to keep your carbs under control.

What's A Crustless Pie?
A crustless pie, also known as crustless quiche, is a light dish, similar to a quiche but made without a crust.
As a result, a crustless pie is much easier, faster, and healthier since it contains less saturated fat or carbs.
Are Crustless Pies Keto-Friendly?
Not all crustless pies are keto-friendly because most of them use a baking mix or white flour in the egg mixture.
These options add carbs to the dish.
That's why I am sharing a crustless zucchini pie using coconut flour, a low-carb keto flour that keeps your entire meal at 4 grams of net carb per slice.
How To Make Crustless Zucchini Pie
Crustless Zucchini pie is the easiest summer dinner!
It's perfect to use all your garden zucchini or summer squash, and all you need to make this zucchini pie are only a few ingredients.
Ingredients
To make a low-carb crustless zucchini pie, you need:
Shredded drained Zucchinis – a low-carb vegetable. Read my paragraph below and look at my pictures to see how to perfect shred and drain the zucchinis to make crustless zucchini quiche.
Shredded cheese – I love to combine two cheese flavors, sharp cheddar and Emmental, or cheddar and parmesan cheese. Don't use boxed parmesan. You must use shredded hard cheese! If you prefer low-saturated fat cheese, you can use low-fat shredded cheese like hard goat gouda cheese. Learn why most cheeses are keto-friendly.
Eggs – a keto-friendly source of protein.
Heavy cream or almond milk for a dairy-free crustless pie.
Salt and pepper
Garlic powder
Green onions or chives.
Coconut flour or almond flour – both are gluten-free low-carb flours perfect for making a low-carb keto-friendly crustless pie.
Grease the pan
First, preheat the oven to 400°F (200°C). Grease a round 9-inch pie plate with olive oil or cooking spray. Set aside.
Shredding Zucchini
The key to making a delicious crustless zucchini quiche is to shred and drain the zucchinis. In fact, zucchinis are made of 95% water, and they release a large amount of liquid in recipes if not drained.
To avoid a runny crustless quiche, you must drain the zucchinis first. Let me explain how to prepare your zucchinis or yellow summer squash to make this keto zucchini pie recipe.
For this recipe, I used 2 medium zucchinis. First, trim the ends of zucchinis and keep the skin on for added fiber and nutrients.
Then, using a hand grater or food processor with the smaller grater attachment, shred the zucchinis.
Finally, place the shredded zucchinis in the center of a clean towel, wrap and squeeze the zucchinis to extract all the zucchini juice.
Discard the zucchini juice and keep the drained shredded squash in the baking dish.
Now, combine half of the shredded cheese with the shredded zucchinis directly in the baking dish. Spread evenly in the dish and set aside.
Slicing Zucchini
If you don't have a hand grater at home, you can still make this recipe. First, use a sharp knife and thinly slice the zucchini into 1/4 inch slices.
Lay half the zucchini slices in the pie pan, sprinkle 1/2 cup shredded cheese, then add the remaining slices and remaining 1/2 cup cheese.
Finally, pour the egg batter on top.
Egg Batter
In a large mixing bowl, whisk the eggs, heavy cream, garlic powder, sliced green onions, coconut flour, salt, and pepper.
Pour the egg mixture over the zucchini and cheese.
Sprinkle the remaining 1 cup of cheese all over the pie.
Baking
Bake in the center rack of the oven at 400°F (200°C) until the top is golden brown, the sides are set, and a knife inserted in the middle of the pie comes out clean.
Serving Ideas
A crustless pie is a delicious light dinner served with a cold side dish like green lettuce or spinach salad.
You can also serve this zucchini pie as a summer brunch or breakfast.
This zucchini pie is also delicious topped with:
Sour cream
Avocado dip
Hot sauce
Fresh chopped herbs like flat parsley, chives, or green onions.

Making It Ahead
You can make ahead this crustless zucchini pie and serve it the next day for a brunch or lunch. There are two options:
Bake the pie the day before and rewarm in preheated oven 150°C (300°F), just before serving.
Assemble the pie in the pie plate, wrap top with plastic wrap, and store in the fridge until the next day.
Bake in preheated oven 400°F (200°C), just before serving.
Storage Instructions
You can store this pie in the fridge for up to 4 days. To do so, cover or wrap the pie pan with plastic wrap and store it in the top rack of the fridge.
You can also freeze the pie entirely or sliced it in an airtight box.
Thaw the zucchini pie the day before and rewarm in the oven. Don't freeze the crustless zucchini pie unbaked!
The eggs must be cooked to be frozen.

Allergy Swaps
If you have food allergies or you are missing some ingredients in this recipe, below I listed some alternatives for you to pick from:
Zucchini – yellow summer squash or spaghetti squash strands work as a replacement.
Heavy cream – can be replaced with dairy-free options like almond milk or canned coconut cream.
Coconut flour – swap for 6 tablespoons of almond flour.
More Zucchini Recipes
In summer, we all have plenty of fresh garden zucchinis to use.
That's why I have created so many zucchini recipes, and below I am sharing my favorite for you to try.
Have you made this keto zucchini pie recipe? Share a review or comment below to let me know how it goes!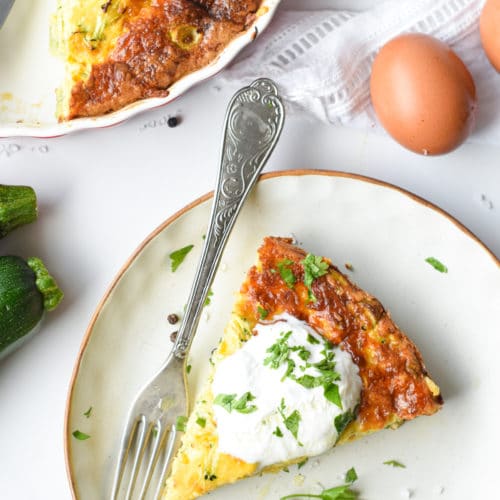 Crustless Zucchini Pie
This Keto Crustless Zucchini Pie is an easy low-carb dinner to use all your summer zucchinis!
Ingredients
2

cups

Shredded Zucchini

excess water removed

2

cups

Grated Cheese

divided, I used 1 cup of sharp cheddar and 1 cup of shredded parmesan (do not use the boxed/powder variety).

8

large

Eggs

½

cup

Heavy Cream

¼

teaspoon

Garlic Powder

2

tablespoons

Coconut Flour

or 6 tablespoons of almond flour

½

cup

Scallions

finely sliced

½

teaspoon

Salt

¼

teaspoon

Pepper
This recipe may contain Amazon or other affiliate links. As an Amazon Associate I earn from qualifying purchases.
Instructions
Preheat oven to 400°F (200°C).

Slightly grease a 9-inch round quiche pan with coconut oil or olive oil. Set aside.

Shred zucchinis, skin on, using a hand grater or food processor. Place the grated zucchini in a clean towel, firmly wrap the zucchinis in the towel to squeeze out all the water. Discard zucchini water.

Place the drained shredded zucchini in the round quiche pan and use a fork to evenly combine with 1 cup shredded cheese (I used 1/2 cup shredded cheddar and 1/2 cup shredded Emmental). Watch my picture above in this post for visual help. Set aside.

In a mixing bowl, whisk together eggs, heavy cream, salt, pepper, garlic powder, coconut flour, and green onions.

Pour the egg mixture over the zucchini/cheese mixture.

Sprinkle leftover cheese on top of the pie.

Bake for 30-40 minutes or until the eggs are set, and a knife inserted in the center of the pie comes out clean.

Serve hot with a green salad on the side.
Storage
Store for up to 4 days in the fridge in the quiche pan. Wrap the pan with plastic wrap to prevent the pie from drying out. It can be frozen and thawed in the fridge the day before. Rewarm in the microwave or in an oven preheated to 150°C (300°F).
Want My Kitchen Equipment?
Serving:
1
slice
Calories:
328.2
kcal
(16%)
Carbohydrates:
5.6
g
(2%)
Fiber:
1.5
g
(6%)
Net Carbs:
4.1
g
Protein:
19.3
g
(39%)
Fat:
25.4
g
(39%)
Saturated Fat:
14.2
g
(89%)
Polyunsaturated Fat:
1.9
g
Monounsaturated Fat:
7.6
g
Trans Fat:
0.1
g
Cholesterol:
311.5
mg
(104%)
Sodium:
457.2
mg
(20%)
Potassium:
272.7
mg
(8%)
Sugar:
2
g
(2%)
Vitamin A:
1155.9
IU
(23%)
Vitamin B12:
1.4
µg
(23%)
Vitamin C:
9.1
mg
(11%)
Vitamin D:
1.7
µg
(11%)
Calcium:
341.6
mg
(34%)
Iron:
1.7
mg
(9%)
Magnesium:
30.9
mg
(8%)
Zinc:
2.4
mg
(16%)
Posted In: