Keto Stuffed Zucchini with Ground Beef
This easy keto ground beef stuffed zucchini recipe is a healthy, gluten-free, and low-carb dinner recipe for taco nights!
Bonus, with only 4 grams of net carbs per serving, these are perfect keto zucchini boats to integrate into your keto meal plan.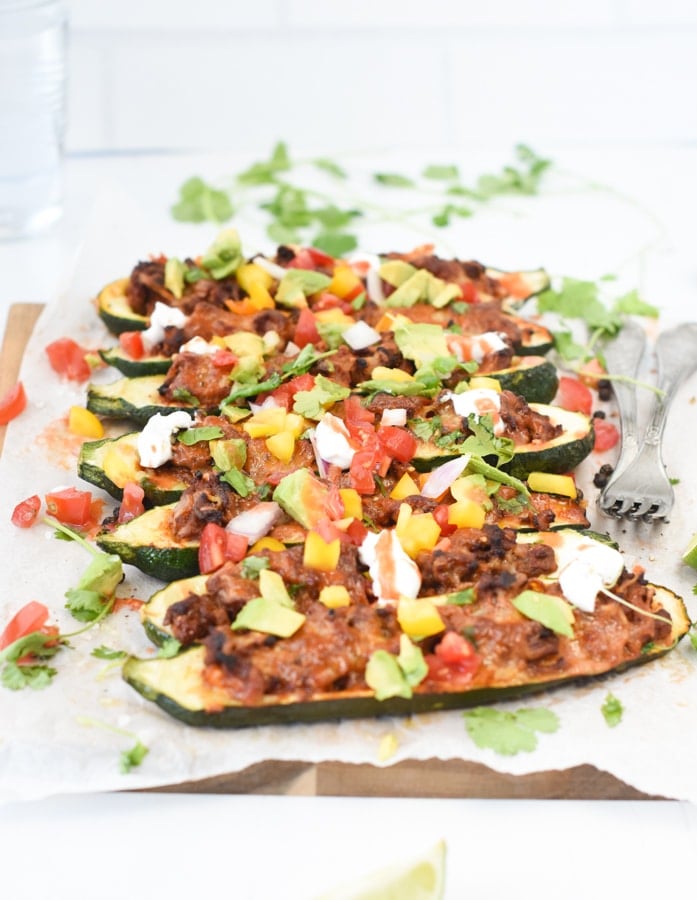 What Are Stuffed Zucchinis?
Baked stuffed zucchini is a healthy low-carb meal using low-carb vegetable zucchini shells as a taco shell.
They are also known as zucchini boats or zucchini tacos.
In a stuffed zucchini recipe, the zucchinis are cut lengthwise, cored, and filled with cooked meat like ground sausage, ground beef, ground turkey, or vegetarian filling.
The filled zucchini are then baked in the oven.
Are Stuffed Zucchinis Keto?
Not all stuffed zucchini recipes are keto-friendly because some use bread crumbs on top of the zucchinis.
But this ground beef stuffed zucchini recipe is keto-friendly, 100% made with low-carb ingredients.
How To Make Stuffed Zucchini
It is super easy to make stuffed zucchinis at home.
Ingredients
For the taco stuffed zucchini, you need:
Zucchinis – read below to learn how to pick them.
Ground beef or ground Italian sausage, it's up to you. Both options make tasty keto stuffed zucchini boats.
Homemade taco seasoning – or a combination of cumin, paprika, chili, garlic powder, chili powder.
Olive oil
Yellow onion – red onion works as well. It's slightly higher in carbs, so for a keto stuffed zucchini recipe, it's better to use yellow or white onion.
Tomato paste
Beef broth
Sour cream or plain Greek yogurt to lighten the recipe and make healthy stuffed zucchini boats.
Grated cheddar or any hard grated cheese like grated mozzarella or grated Parmesan cheese.
Salt and pepper
Choose medium zucchinis
You must choose zucchinis that:
Fit your baking sheet – too long zucchinis won't fit, and if you cut the zucchini ends, the filling drips out.
Are not too thick – choose medium zucchinis, about 8 inches long and 2 inches wide. Avoid large zucchini that take ages to bake and stay crunchy.
Prepare the zucchinis
Zucchinis are made at 95% water, and you don't want all the vegetable water to end up in your dish. So first, cut the zucchinis lengthwise, keep the skin on, and don't cut the sides!
Use a teaspoon to carefully scoop out the flesh from each zucchini half, as seen in the picture below.
Watch out. If you go too deep, you can break the zucchini halves. Discard the flesh from the zucchinis or set it aside to use in a keto soup recipe later.
Then, lay each zucchini boat on a large baking dish – at least 9-inch x 13-inch to fit 4 medium zucchini or 8 zucchini halves.
Lightly oil the dish with olive oil and sprinkle salt all over the zucchinis. The salt will extract the water from the zucchinis. They are going to sweat!
Set aside the zucchinis for 20 minutes while preparing the filling.
Pat dry
After 10 minutes, use an absorbent kitchen paper towel to pat dry the zucchini.
Cooking The Meat
In a large frying pan, heat olive oil, and cook the onion until fragrant.
Then, add ground beef and, using a spoon, crumble the beef to create small pieces of meat that grill evenly on all sides.
Finally, add taco seasoning, beef broth, sour cream, and tomato paste, and keep cooking the beef for 5-6 minutes until cooked through and fragrant.
The mixture should be thick and not runny. If too runny, keep cooking until it forms a paste and the liquid evaporates.
Filling The Zucchini Shells
Now, spray a large 9×13-inch baking sheet with olive oil. Next, lay the zucchini shells next to each other onto the baking sheet.
It's fine if they touch each other.
Fill the zucchini with the cooked ground beef and add the grated cheese on top of each keto-stuffed zucchini boat.
Bake the stuffed zucchini ground beef and cheese for 15-25 minutes or until the cheese is melted.
Serving Taco-stuffed Zucchini Boats
Remove the baking tray from the oven and serve immediately as a low-carb alternative to tacos for taco night!
Serve the stuffed zucchini boats with keto Mexican toppings like:
Cilantro
Sour cream
Diced yellow bell pepper
Diced avocado
Storage Instructions
Store the cooked zucchinis in an airtight container in the fridge for up to 3 days or freeze for up to 3 months.
These healthy stuffed zucchini boats are amazing to meal prep healthy lunch or dinner.
They are delicious when rewarmed in the microwave or a frying pan until piping hot.
Frequently Asked Questions
What low-carb healthy sides to serve with zucchini boats?
These stuffed zucchini boats with ground beef are very fulfilling on their own, and you don't have to serve them with any sides.
However, if you really fancy something on the side, you can add some of these keto-friendly sides:
Cauliflower rice or broccoli rice – stir-fried in a teaspoon of olive oil.
Lettuce with a simple Italian dressing.
More Healthy Zucchini Recipes
Zucchini is a wonderful low-carb vegetable for creating tasty and healthy zucchini recipes.
Below I listed more low-carb keto zucchini recipes for you to try.
Have you made these keto stuffed zucchinis with ground beef? Share a review or comment below to tell me how it goes!
XOXO Carine
Keto Stuffed Zucchini with Ground Beef
An easy keto stuffed zucchini recipe with ground beef, taco seasoning for a healthy low-carb taco night.
Yield:
zucchini halves (filled 1/3 cup)
Serving Size:
1
Zucchini half (filled 1/3 cup meat + cheese)
Ingredients
4

medium

Zucchinis

2

teaspoons

Olive Oil

½

Yellow Onion

Diced

1

pound

Ground Beef

½

tablespoon

Chili Powder

1

teaspoon

Cumin

½

teaspoon

Salt

½

teaspoon

Garlic Powder

½

teaspoon

Paprika

¼

teaspoon

Oregano

¼

cup

Beef Broth

½

cup

Tomato Paste

½

cup

Sour Cream

or Greek yogurt

½

cup

Grated Cheddar
This recipe may contain Amazon or other affiliate links. As an Amazon Associate I earn from qualifying purchases.
Instructions
Preheat oven to 400°F (200°C). Spray olive oil all over a large baking dish that fits the length of the zucchinis. I used a 9×13-inch baking dish that fits 8 medium zucchinis halves.

Cut the zucchinis in halves lengthwise, don't peel, don't cut sides, or the filling runs out when baked later.

Use a teaspoon to carefully scoop out the flesh of the zucchinis. Don't go too deep, or you can break the zucchini halves. Scroll up in this post to watch the step-by-step pictures.

Place each zucchini half next to each other on the baking dish. Sprinkle 1 teaspoon of salt all over the zucchini halves and set aside 20 minutes while cooking the meat. This step makes the zucchini 'sweat' out their water and avoids a watery dish.

In a large skillet, heat olive oil under medium/high heat. Add onion and cook for 2-3 minutes until fragrant.

Stir in ground beef and stir with a wooden spoon to crumble the meat into tiny pieces and cook on all sides.

Stir in the beef broth, spices, sour cream, and tomato paste, and keep cooking the meat for 5-8 minutes or until the meat is cooked through, and it forms a thick meat sauce, not runny. Stop the heat, keep the meat in the skillet.

Now, use an absorbent paper towel to pat dry the zucchini halves and remove all the water they released.

Use a spoon to fill each zucchini half – you should fit about 1/3 cup of ground meat per zucchini half.

Top up each zucchini half with grated cheese.

Place the baking dish in the center rack of the oven and bake for at least 15 minutes or until the cheese is melted and grilled.

Serve hot with toppings of your choice like diced avocado, fresh cilantro, sour cream, or yogurt, chopped yellow bell pepper, or chopped tomatoes.
Storage
Store in the fridge in an airtight container for up to 3 days or freeze for up to 3 months. Thaw in the fridge. Rewarm in a skillet, oven, or microwave until piping hot.
Want My Kitchen Equipment?
Serving Size:
1
Zucchini half (filled 1/3 cup meat + cheese)
Yield:
zucchini halves (filled 1/3 cup)
Serving:
1
Zucchini half (filled 1/3 cup meat + cheese)
Calories:
236.8
kcal
(12%)
Carbohydrates:
5.7
g
(2%)
Fiber:
1.6
g
(7%)
Net Carbs:
4.1
g
Protein:
13.5
g
(27%)
Fat:
18.1
g
(28%)
Saturated Fat:
7.8
g
(49%)
Trans Fat:
0.7
g
Cholesterol:
55.1
mg
(18%)
Sodium:
364.1
mg
(16%)
Potassium:
523.2
mg
(15%)
Sugar:
3.9
g
(4%)
Vitamin A:
588.1
IU
(12%)
Vitamin B12:
1.3
µg
(22%)
Vitamin C:
19.7
mg
(24%)
Vitamin D:
0.2
µg
(1%)
Calcium:
104.2
mg
(10%)
Iron:
2.2
mg
(12%)
Magnesium:
36.9
mg
(9%)
Zinc:
3.1
mg
(21%)
Posted In: