This easy, baked Keto Zucchini Casserole with cheese and sour cream is the best keto vegetarian meal or side dish.
Plus, this healthy zucchini gratin is egg-free and gluten-free. The best keto casserole recipe for using all your summer zucchinis.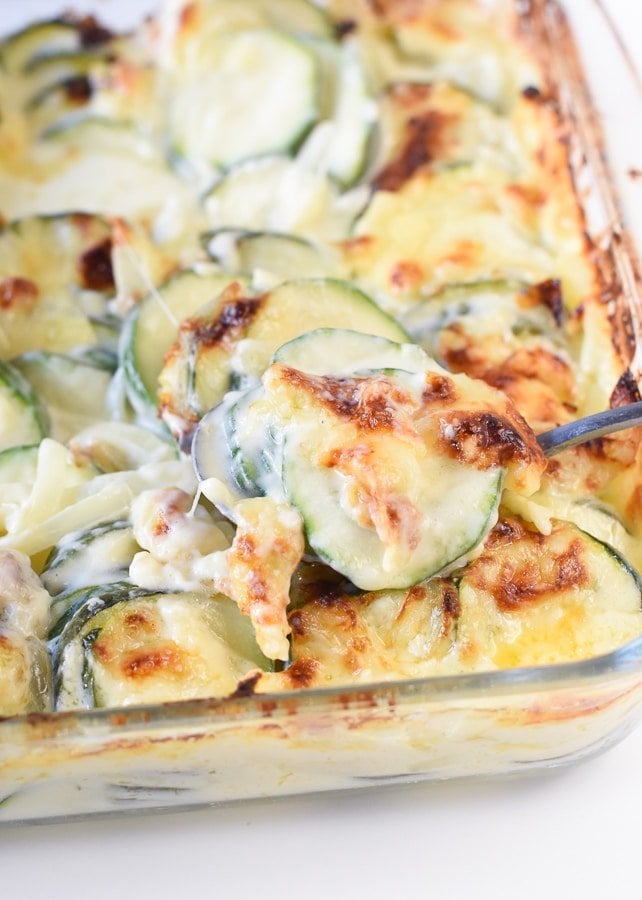 How To Make Keto Zucchini Casserole
A keto zucchini casserole is a low-carb casserole made with a cheesy wheat-free white sauce. In fact, most regular zucchini casseroles use a combination of milk, flour, and butter to create a thick white sauce.
However, milk and flour are not keto-friendly. Milk contains a lot of carbs and sugar from lactose, and flour is a high-carb ingredient.
So, the trick to achieving a similar texture is to make your zucchini casserole with sour cream, cream, and shredded hard cheese.
Ingredients
Let's see the simple ingredients to make your casserole flavorsome:
Zucchini – see next paragraph on how to prepare zucchinis to make the best zucchini casserole. Zucchinis are great keto-friendly vegetables with very low net carbs!
Onion – fried onion is my French twist to this zucchini gratin! Soft, butter-fried onions are a delicious addition to the zucchini. However, you can skip them if you are not a fan of onions or can't digest them very well.
Garlic
Salt
Heavy cream – is a great keto-friendly dairy product with only 2.8 grams of carbs per 100 grams.
Sour cream – sour cream is keto-friendly. It's regular cream, just fermented with lactic acid bacteria resulting in a naturally sour cream perfect for thickening your keto sauce.
Grated parmesan – the best cheese to add a strong cheesy, salty flavor to any gratin.
Grated hard mozzarella – if you love strings in your sauce, mozzarella is the best choice.
Making Keto Zucchini Casserole
There's nothing complicated about making your own baked zucchini casserole. However, there are a few tips and tricks to make the best zucchini casserole.
A good cheesy casserole must be not watery with perfectly baked zucchini tender and not mushy.
So let me explain step-by-step how you can achieve perfection in your next zucchini casserole recipe.
Drain the zucchini slices
This is the most important step to avoiding a watery zucchini casserole.
In fact, zucchinis are low-carb vegetables made of about 95% water! Incredible, right? This said it is crucial to extract the zucchini water before preparing your baked zucchini casserole.
Otherwise, the water will release into the pan, and you will end up with a watery, diluted cheese sauce. Not what we want, right!
To keep the zucchini crunchy in your gratin, first slice the zucchini with their skin on. Place the slices in a bowl with 1 teaspoon of salt and toss well.
The salt will naturally extract the liquid from the vegetables within 20 minutes. After this time, drain and pat dry with absorbent paper.
Baking dish size
The key to making a good casserole is to bake all the ingredients at the same speed. Therefore, the size of the baking dish matter.
How do you check the size of a baking dish? Well, always look at the volume of your pan, not the size!
In fact, not all pans of a similar size have the same height, and as a result, the volume of vegetables you will be able to fit in would be different.
This will impact the baking time, and texture and can end up in an overcooked casserole.
So, always check the volume of your baking dish. It is pretty simple to fill in the baking dish with water and see how much it can take.
As a rule of thumb, I am using a 1.5-liter (50-fluid-once or 6-cup) glass pan for zucchini casserole.
A square size is always the best to fit the length of one zucchini in a row.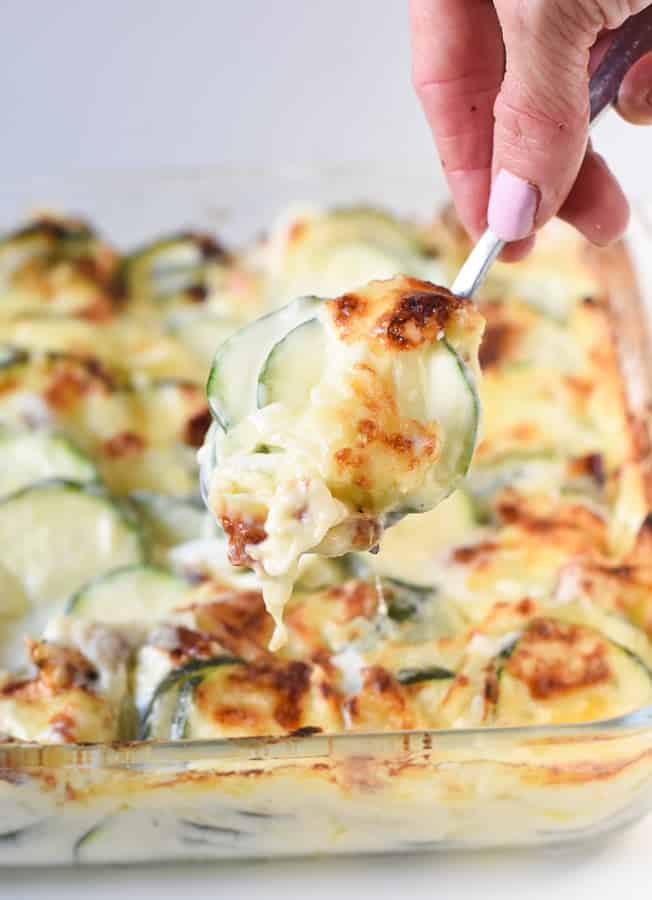 Lay the zucchinis in rows
That's the next important part of making this keto zucchini casserole right: lay the zucchini in rows.
This is not to make it pretty at all! It is all about cooking the zucchini slices simultaneously and ensuring we get the same uniform texture on the whole dish.
Look at the pictures below to see how I overlap the zucchini slices in single rows. As you can see, there is no layer of zucchini.
As a result, you won't have to worry about the bottom zucchinis getting mushy, and overbaked compared to the top ones.
Spreading the cheese sauce
This zucchini and cheese casserole has a thick creamy sauce made with sour cream. Therefore, it's not runny, but instead, it's deliciously thick and cheesy.
That's why you must use a spatula or spoon to spread the thick cheese sauce evenly over the top of the zucchini slices. This will ensure a consistent cheesy flavor.
Sprinkling more cheese
This is a keto cheesy zucchini casserole, so I believe there's never too much cheese.
But hey, this is up to you. You can always decrease the amount of cheese slightly on top of your casserole, depending on your taste.
Bake 15 minutes until cheese broils
That is the last crucial step. Baked zucchini casseroles require minimal baking time to avoid mushy zucchinis.
As a result, only 15-20 minutes are required to make the best zucchini casserole.
Whether you make it keto or not, this is the best baking time. Then, how do you know if the casserole is good?
A casserole is ready when the cheese is broiled on top if some bubbles form on the sides of the dish, and if the vegetables are passing the knife test, they must be soft but still tender.
Made this cheesy zucchini casserole and want to share your feedback or question? Add a comment in the section below!
Keto Zucchini Casserole
This Keto Zucchini Casserole is a cheesy keto dinner or side dish full of healthy low-carb vegetables and sour cream for only 6.6g of net carbs.
Nutrition Snapshot
Want My Kitchen Equipment?
Instructions
Preheat oven to 425°F (220°C). Grease a 1.5-liter square glass or ceramic baking dish with butter. Set aside.

Slice the zucchinis into 1/4 inch thick (0.6 cm), place on a large bowl, sprinkle 1 teaspoon salt all over the slices and toss with your hands to bring the salt in contact with all slices. Set aside 20 minutes. This step will extract the zucchini water and prevent a watery casserole, don't skip!

Drain the zucchini slices, then lay the slices onto absorbent paper and pat dry with more absorbent paper to remove as much excess water as you can.

In a large saucepan, melt butter over medium heat and fry onions until fragrant and soft. Stir in garlic, pour heavy cream, sour cream, and keep cooking until it forms bubbles on the sides.

Stir in half of the grated parmesan and half of the grated mozzarella and stir until the cheese is fully melted and it forms a cheesy sauce.

Lay the zucchini slices in a row into the square baking dish. See the picture in my post or watch the video to see how to make this.

Pour the cheese sauce and top of the zucchini and spread evenly to cover all the zucchini slices. Sprinkle the rest of the parmesan and mozzarella cheese all over the zucchini slices.

Bake for

15

–

20 minutes

or until cheese is broiled on top, the sauce bubbles in the pan, and zucchini are tender. Don't overbake, or the zucchini will become mushy.
Storage
Store in the fridge in an airtight container for up to 4 days. Rewarm in a saucepan or the microwave.

Freeze in a single-serve airtight container for easy single meal serve. Defrost in the fridge the day before and rewarm in the microwave or saucepan.
My Recipe Notes
Nutrition
Serving:
1
serving
Calories:
298.4
kcal
(15%)
Carbohydrates:
8.3
g
(3%)
Fiber:
1.7
g
(7%)
Net Carbs:
6.6
g
Protein:
13.4
g
(27%)
Fat:
24.3
g
(37%)
Saturated Fat:
14.6
g
(91%)
Cholesterol:
76.6
mg
(26%)
Sodium:
1216
mg
(53%)
Potassium:
491.4
mg
(14%)
Sugar:
5.1
g
(6%)
Vitamin A:
1100.3
IU
(22%)
Vitamin C:
28.4
mg
(34%)
Calcium:
342.2
mg
(34%)
Iron:
0.8
mg
(4%)
Posted In: