This Zucchini Slice recipe is a healthy Australian-inspired recipe called zucchini egg bake in the US.
It's an egg casserole filled with bacon, onion, and cheese for a delicious family breakfast that all your summer zucchinis.
I love baking classic local recipes for my kids' lunchboxes or breakfast.
This zucchini bake is one of their favorite, a classic Australian recipe that I revisited with my French touch, swapping a few ingredients to enhance its flavors.
How To Make Zucchini Slice
A zucchini slice is a very simple breakfast bake recipe that requires only a few ingredients.
Ingredients
Freshly Grated Zucchini – trim ends and keep the skin on for extra fiber and texture.
Large Eggs – I always buy local free-range eggs.
Milk of Choice – I used almond milk, even if the classic Australian recipe uses olive oil, we prefer the texture with milk.
Flour – the classic recipe uses all-purpose flour. You can use white whole wheat flour or almond flour for a low-carb alternative. Feel free to use an all-purpose gluten-free flour blend if needed.
Baking Powder
Salt and Pepper
Red Onion or white onions finely chopped.
Grated Cheese – I use a combination of grated cheddar and grated Parmesan cheese, but you can use any hard grated cheese you love.
Preparation
Before you start, preheat the oven to 180°C (350°F). Line a large 20-cm x 30-cm baking dish (9-inch x 13-inch) with parchment paper.
Slightly oil the paper with olive oil and set the dish aside.
First, trim the end of the fresh zucchini and grate them using a box grater.
Squeeze gently to remove some of their juice. This prevents the egg bake from being watery.
You can also use a kitchen towel to squeeze them even more, but it's not needed if you are using all-purpose flour, squeezing by hand is enough. Set the zucchini aside in a bowl.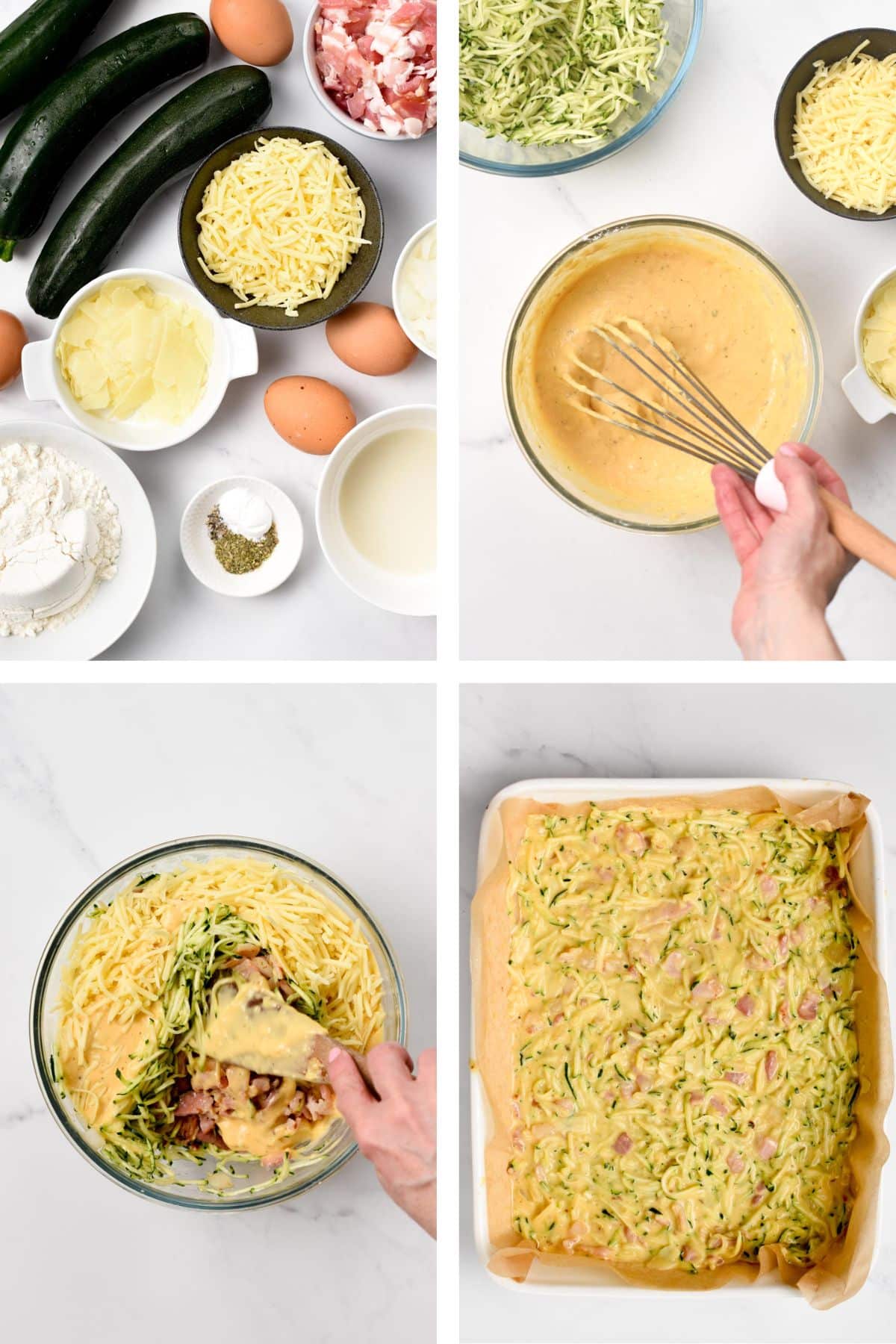 Making The Egg Batter
Next, beat the eggs, milk, salt, pepper, dried oregano, and garlic powder in a large mixing bowl.
Then, stir in flour and baking powder until smooth, or just a few flour lumps show. Don't worry about them. They will disappear while baking.
Egg Slice Filling
You don't have to stir fry the onion or bacon before adding them to the batter.
The onions soften in the oven while baking. That's the idea of the authentic Australian recipe version.
However, I found the recipe way tastier if you stir fry the bacon pieces in a nonstick skillet over medium heat. Then, stir in the onion and cook in the bacon fat.
Cool down on a plate for a few minutes before adding the egg mixture in the next step.
Combining Ingredients
Now, stir the grated zucchinis, bacon pieces, and onion into the bowl with the egg mixture.
Transfer the zucchini mixture to the prepared 9-inch x 13-inch baking dish.
Bake in the center of the oven for 30 to 40 minutes at 180°C (350°F).
The baking time varies depending on how well you squeezed out the water from the zucchini and on the size of the dish.
Bake until the top is golden brown and eggs are set in the center.
You can insert a toothpick or skewer in the center of the egg bake to check. If it comes out clean, it's cooked through.
Cooling Down
Let the zucchini slice cool down for 10 minutes before cutting into squares, and serve lukewarm or cold.
The slices firm up in the fridge overnight, making them perfect for a kid's lunchbox as they hold their shape perfectly well.
Tips For Making Zucchini Slices Taste Amazing
The classic recipe is pretty simple and straightforward.
However, I found that it can be so much better by adding some simple spices and steps like:
Add dried Italian herbs – dried oregano, marjoram, or thyme are the best combination with zucchinis.
Stir fry onion in bacon grease – this changes the whole slice's flavor!
Swap the oil for milk – this makes the eggs ultra fluffy and not as packed or dense.
Play with cheese flavors – the classic recipe uses grated cheddar but try swapping some of it for freshly grated Parmesan cheese or even crumbled feta, and you will be amazed by the boost of flavor it delivers to the dish.
Serving
Zucchini slices are served hot or cold in New Zealand.
It's a great lunchbox filler for school lunch, and kids enjoy them cold in summer.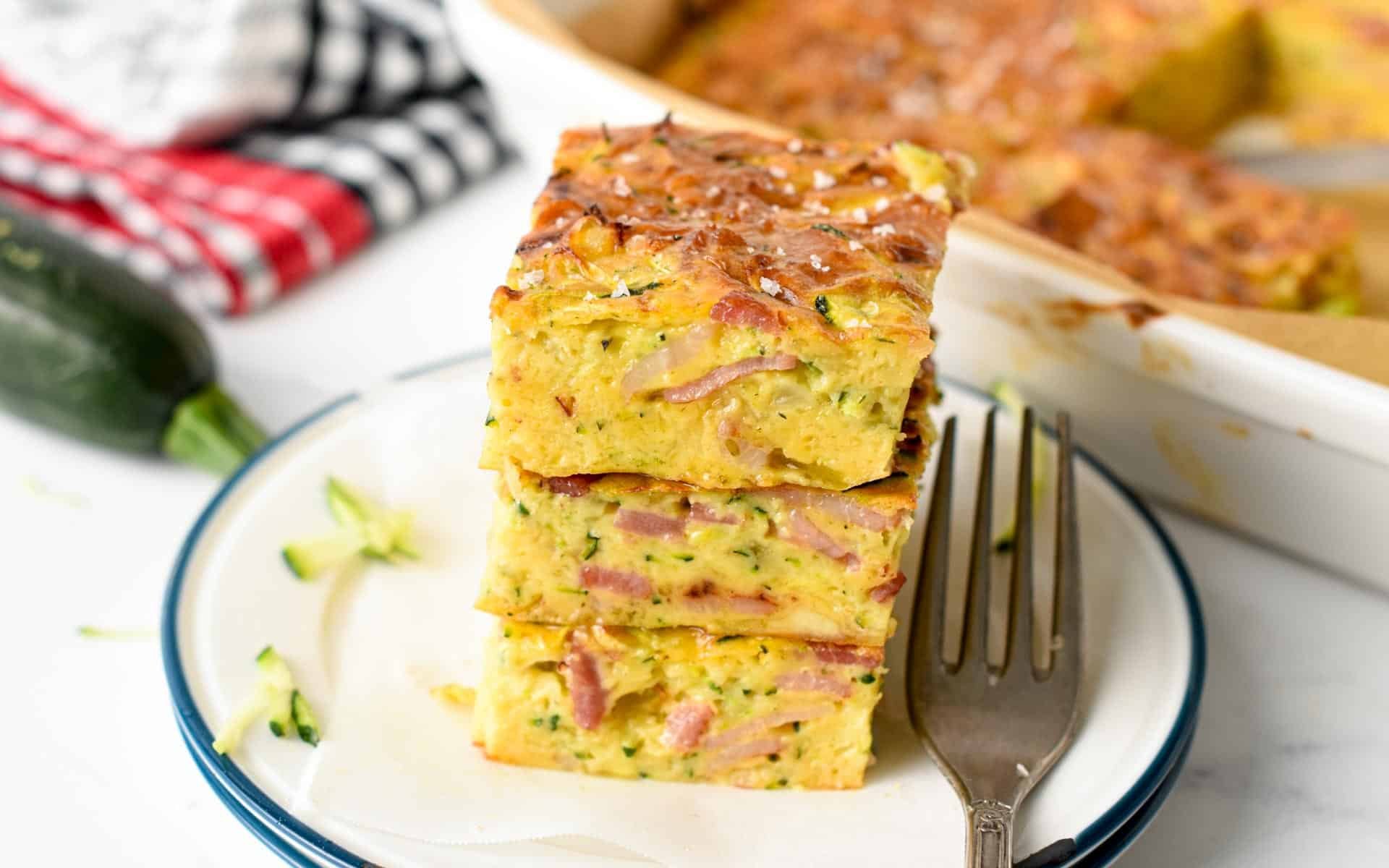 Storage Instructions
Store the sliced leftover in a sealed airtight container in the fridge for up to 4 days.
You can also freeze them for later and thaw them in the fridge the day before.
Allergy Swaps
Below I listed some allergy swaps you can apply to the recipe.
Low-Carb Keto-Friendly – The only non-keto ingredient in this slice is the all-purpose flour. It can easily be swapped by almond flour use 1 1/2 cup ultra-fine almond flour instead of 1 cup flour, and make sure you have squeezed the juice off the zucchini to avoid a watery slice. Low-carb flours won't absorb the liquid as well, so this step is even more crucial for the low-carb version.
Onion-Free – Feel free to skip onion or replace them with olive slices or sundried tomatoes.
Vegetarian – You can replace the bacon with sundried tomatoes, olives, or chopped walnuts.
Dairy-Free – You can use a dairy-free cheese alternative in the recipe or skip the cheese and add 1/4 cup of nutritional yeast for a dairy-free cheesy flavor.
Frequently Asked Questions
Below are the answers to your most frequent questions about this recipe.
Can I Use Anything Other Than Zucchini?
You can replace grated zucchini with some grated carrots or finely chopped baby spinach.
Can I Use Frozen Zucchinis?
You can use frozen zucchini after thawing them and squeezing out all their juice otherwise the egg filling wouldn't set properly.
Have you made these zucchini slices? I would love to hear your feedback on this easy recipe, share a comment or review below.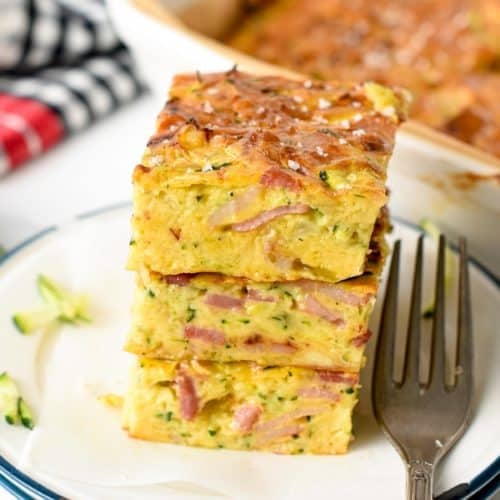 Zucchini Slice
This Zucchini Slice recipe is a healthy, Australian-inspired recipe, also called zucchini egg bake in the US. It's an egg casserole filled with bacon, onions, and cheese for a delicious family breakfast that uses all your summer zucchinis.
Nutrition
Want My Kitchen Equipment?
Instructions
Preheat the oven to 180°C (350°F). Grease a 20-cm x 30-cm baking dish (9-inch x 13-inch) with olive oil. Set it aside.

In a non-stick skillet, over medium heat, cook the bacon pieces. When cooked, stir in chopped onion and cook in bacon fat for a few minutes until fragrant and golden. Set aside on a plate to cool.

Trim the end of the zucchinis, keep the skin on, and grate finely. Squeeze to release their juice and discard the juice. Set aside the grated zucchinis in a bowl.

In a large bowl, whisk egg, milk, dried oregano, salt, pepper, and garlic powder.

Whisk in the flour and baking powder until smooth or only a few flour lumps remains.

Stir in diced onion and bacon pieces, grated zucchinis, and both grated cheese – cheddar and Parmesan.

Pour the mixture into the prepared baking dish and bake in the center rack of the preheated oven for 30-40 minutes or until eggs are set and golden brown on top.

Serve hot or cold with scallions or fresh parsley on the side.
Storage
Store in the fridge, in the baking dish wrapped with plastic wrap for up to 4 days, or freeze and thaw in the fridge the day before.
Note 1: For the low-carb keto option, replace flour with 1 1/2 cup of almond flour and slightly squeeze the grated zucchini in a clean kitchen towel to remove their moisture before adding them to the egg mixture. Net carbs per slice will be 3 grams (dish serves 16).
My Recipe Notes
Nutrition Facts
Zucchini Slice
Amount Per Serving (1 slice)
Calories 143.1
Calories from Fat 81
% Daily Value*
Fat 9g14%
Cholesterol 73.5mg25%
Sodium 270.6mg12%
Potassium 164.8mg5%
Carbohydrates 8.8g3%
Protein 6.7g13%
Net Carbs 8.1g
Vitamin A 226.6IU5%
Vitamin B12 0.3µg5%
Vitamin C 6.3mg8%
Vitamin D 0.4µg3%
Calcium 90.4mg9%
Iron 0.9mg5%
Magnesium 14.5mg4%
Zinc 0.8mg5%
* Percent Daily Values are based on a 2000 calorie diet.