Gluten-Free Keto Zucchini Brownies
These super moist Keto Zucchini Brownies have a delicious dark chocolate fudgy texture and are perfect to use all your summer zucchinis.
Bonus, these zucchini brownies are also gluten-free, dairy-free, and paleo-approved, with only 2.3 grams of net carbs per square.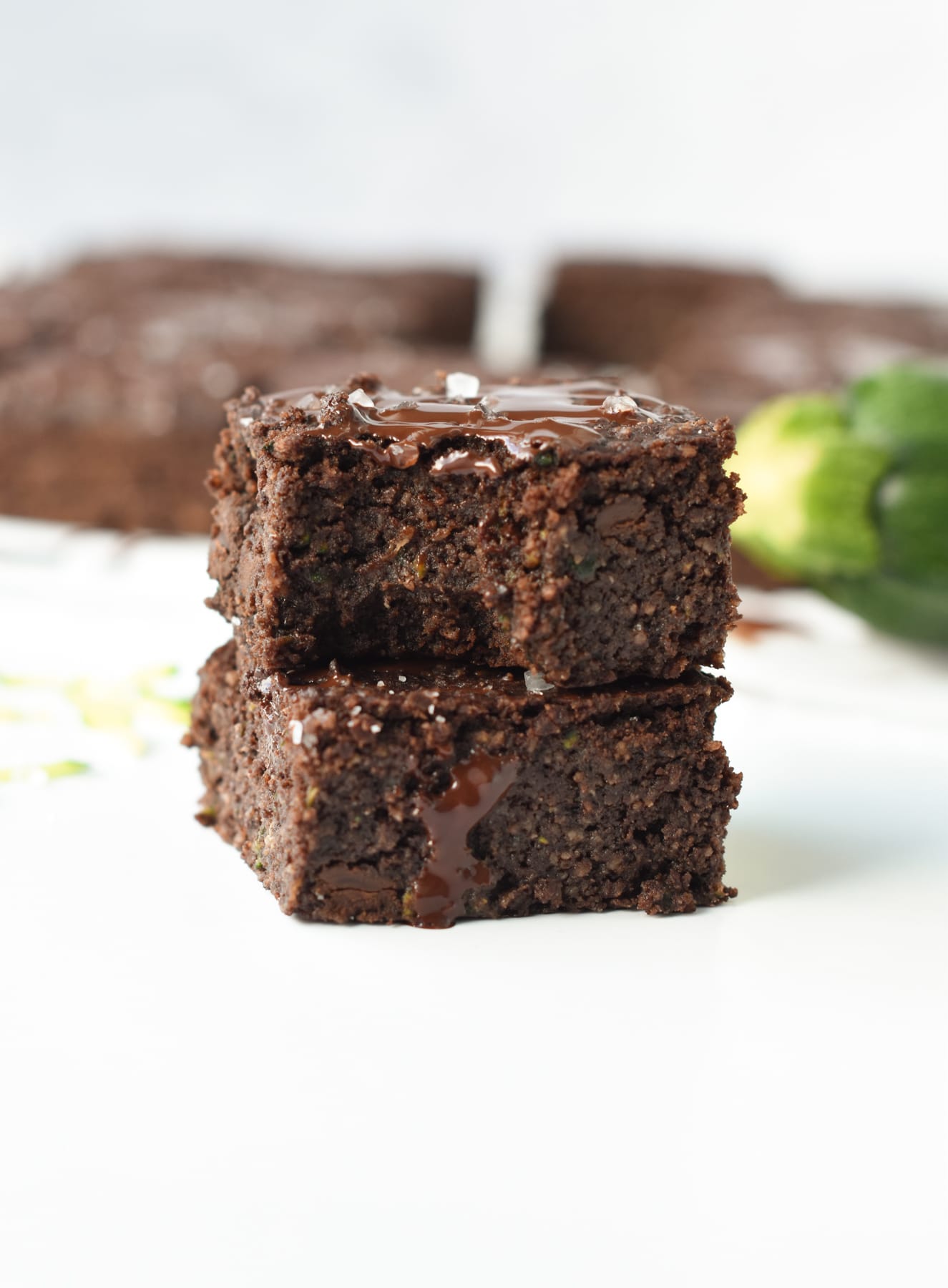 Are Zucchini Brownies Keto?
Zucchini is a very low-carb keto vegetable, but unfortunately, a classic zucchini brownie recipe is not keto-friendly.
In fact, the authentic zucchini brownie recipe contains high carbs ingredients, including wheat flour, sugar, and sometimes melted chocolate.
Therefore, to enjoy a moist, fudgy chocolate brownie recipe with zucchini and no sugar, you must follow my recipe below.
How To Make Keto Zucchini Brownies
Luckily, it's super easy to make a keto zucchini brownie recipe.
So, if you are overloaded with zucchini this summer, this keto brownie recipe comes to the rescue!
Ingredients
All you need to make this brownie recipe are:
Shredded zucchinis – Make sure you trim ends and keep the skin on to preserve the important nutrient and fiber of these keto-friendly vegetables. Below I explain how to perfectly prepare zucchinis for keto brownies. Keep reading for tips and tricks.
Almond flour – I used ultra-fine almond flour for the best texture. Almond meal is coarse and slightly gritty, and I don't recommend this option for my keto baking recipe. However, if it's all you have in the pantry, the recipe works with it. But, the texture of the keto zucchini brownies won't be as smooth. Read how to choose the best keto flours.
Unsweetened cocoa powder
Sugar-free crystal sweeteners like erythritol or a combo of erythritol and monk fruit. You can use my keto sweetener converter to swap for any other sweetener brands you have at home.
Large eggs – at room temperature. Note that this recipe won't work without the eggs or using egg replacer like flax eggs. You must use eggs, or the brownie batter won't hold together. Follow my egg-free keto brownie recipe if you can't eat eggs.
Baking powder or use half the amount of baking soda.
Sea salt
Unsweetened almond milk – at room temperature.
Melted butter or melted coconut oil for a dairy-free paleo option.
Vanilla extract
Dark sugar-free chocolate chips – this is optional but adding 1/4 cup to 1/2 cup of sugar-free chocolate chips adds the best extra chocolate flavor in this low-carb zucchini brownie recipe.
Preparing The Pan
First, preheat the oven to 325°F (160°C). Line an 8-inch square baking pan with parchment paper and lightly oil the paper with cooking spray or butter.
Set it aside.
Preparing The Zucchinis
The best way to make a moist low-carb zucchini brownie is to:
Shred the zucchini finely using the smaller grating attachment of your hand grater.
Drain out the zucchini water – with 95% water in zucchinis, you must remove their juice before adding the shredded zucchinis to the batter, or your brownie would end up very soft and fragile.
Measure the shredded and drained zucchinis – always drain the shredded zucchinis before measuring the amount required by the recipe for precision.

Combining Ingredients
First, in a large mixing bowl, stir almond flour, cocoa powder, baking powder, and salt. Set aside.
In another mixing bowl, beat eggs, almond milk, melted butter, and vanilla extract. Finally, stir in the shredded, drained zucchinis.
Finally, stir the liquid ingredients into the dry ingredients until it forms a thick, smooth keto brownie batter.
If you like, and I actually highly recommend it for sweetness, stir in some sugar-free chocolate chips in the batter.
Baking
Spread the batter into an 8-inch square pan. Bake in the center rack of your oven until the top is just set and starts to dry out.
Don't overbake the keto zucchini brownies, or they would lose all their moisture.
You can insert a toothpick in the center of the brownie to check their baking progress. If the pick comes out with a little crumb on it, remove the pan from the oven.
Cool the brownie down in the pan for 5 minutes, then use the hanging pieces of parchment paper to release the keto zucchini brownies onto a cooling rack.
Cool Completely
Cool the keto brownies with zucchini for about 30 minutes before slicing.
If you want to add a chocolate ganache on top of your brownies, wait until they reach room temperature.
Serving Ideas
These keto zucchini brownies are delicious on their own but even better served with a dollop of:
Sugar-free vanilla ice cream
Whipped cream – you can use whipped canned coconut cream for a dairy-free option.
Fresh berries like raspberries or strawberries.
Peanut butter or almond butter – drizzle some drippy nut butter on top of your slice, and you just made the best keto dessert ever!
Nutrition
The nutrition panel below includes the sugar-free chocolate chips glaze.
I highly recommend adding both options for the most delicious keto chocolate dessert.
Storage
These zucchini brownies can be stored for up to 4 days in an airtight container in the fridge.
The texture of these keto brownies becomes fudgier in the fridge, and I actually recommend waiting for a few days to enjoy an even more intense chocolate fudgy texture.
Of course, this keto brownie recipe can be frozen as well, and it's a great idea for portion control.
Wrap one serving of keto zucchini brownie on a ziplock bag and freeze.
Thaw your keto zucchini brownies at room temperature the day before.
Allergy Swaps
Of course, if you want to make changes to this recipe, I have suggestions for you to try.
Dairy-free – swap melted butter for melted coconut oil or light olive oil.
Nut-free – replace almond flour with the same amount of fine sesame flour or sunflower seed flour. These flour options are keto-friendly and gluten-free but add a light, bitter flavor to keto baked goods.
Egg-free – unfortunately, I had no success making these brownies with egg replacement like flax eggs. The texture is too fragile, and the brownies fall apart. Use my keto egg-free brownie recipe if you have an allergy to eggs.
Zucchinis – you can replace zucchinis with summer yellow squash.

More Keto Zucchini Recipes
In summer, I love to bake desserts, cakes, and bread using zucchinis.
It's not only delicious and nourishing but also a great way to use the zucchinis over growing in my garden.
Below I listed more keto zucchinis recipes for you to try.
Did you make this low-carb zucchini brownies recipe? Share a comment or review below to let me know how it goes or for a classic fudgy brownie, try my keto brownie recipe!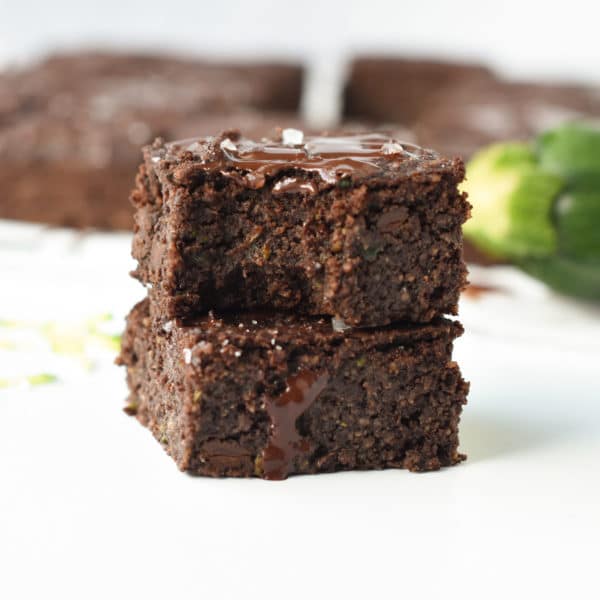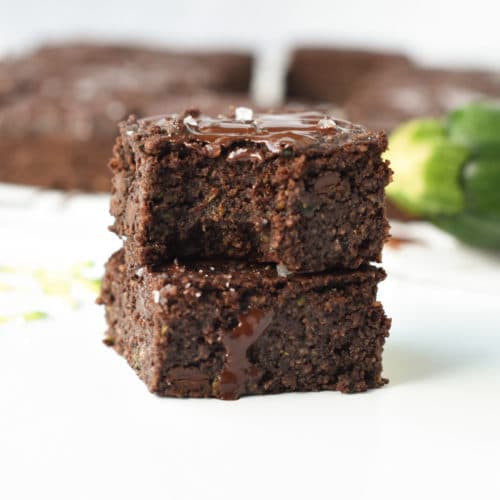 Keto Zucchini Brownies
An easy ultra-moist, Keto Zucchini Brownie recipe with almond flour to make good use of all your summer zucchinis and enjoy a chocolate treat.
Yield:
brownies (30g/1oz)
Serving Size:
1
square with glazing (30g/1oz)
Nutrition Snapshot
Want My Kitchen Equipment?
Instructions
Preheat oven to 325°F (160°C). Line an 8×8-inch baking pan with parchment paper. Slightly oil with coconut oil. Set aside.

Trim zucchini ends, keep their skin on, and using the thinner side of your box grater, shred the zucchinis. Place the shredded zucchinis in the center of a clean kitchen towel, gather the corner and wrap the zucchinis firmly until all the zucchini juice has been removed. Measure 1 cup of shredded, drained zucchinis. Set aside in a bowl.

In a mixing bowl, whisk almond flour, cocoa powder, baking powder, sea salt, and sweetener. Set aside.

In another bowl, beat eggs, melted butter, almond milk, and vanilla. Stir in shredded zucchinis.

Pour the dry ingredients into the liquid ingredients and stir with a spatula to combine.

Stir in 1/3 cup sugar-free dark chocolate chips.

Transfer the batter into the prepared pan, spread evenly.

Bake for 20-25 minutes in the center rack, or until a toothpick inserted in the center comes out with few moist crumbs. You know they are ready when the edges are dry and the middle still looks moist and soft.

Cool down on a cooling rack and slice into 16 squares.

Decorate with a drizzle of melted sugar-free chocolate if you like.
Chocolate ganache
In a saucepan, under medium heat, melt sugar-free chocolate chips and coconut oil until it's glossy and chocolate is melted. Drizzle on top of the cooled zucchini brownies before slicing.
Storage
Store in the fridge for 3-4 days or freeze in an airtight container. Thaw at room temperature the day before eating.
My Recipe Notes
Nutrition
Serving Size:
1
square with glazing (30g/1oz)
Yield:
brownies (30g/1oz)
Serving:
1
square with glazing (30g/1oz)
Calories:
150
kcal
(8%)
Carbohydrates:
5.1
g
(2%)
Fiber:
2.8
g
(12%)
Net Carbs:
2.3
g
Protein:
3.2
g
(6%)
Fat:
14.5
g
(22%)
Saturated Fat:
4.1
g
(26%)
Polyunsaturated Fat:
1.7
g
Monounsaturated Fat:
3.9
g
Trans Fat:
0.1
g
Cholesterol:
33.4
mg
(11%)
Sodium:
178.2
mg
(8%)
Potassium:
44.9
mg
(1%)
Sugar:
0.4
g
Vitamin A:
396.8
IU
(8%)
Vitamin B12:
0.1
µg
(2%)
Vitamin C:
0.1
mg
Vitamin D:
0.2
µg
(1%)
Calcium:
45.9
mg
(5%)
Iron:
0.7
mg
(4%)
Magnesium:
10.5
mg
(3%)
Zinc:
0.2
mg
(1%)
Posted In: