This Keto Avocado Chocolate Cake is the easiest fudgy keto chocolate cake! Plus, this almond meal chocolate cake is also sugar-free, keto, gluten-free, and paleo!
Chocolate Avocado Cake – keto chocolate cake!
There are some foods you are obsessed with, right? Chocolate avocado must be one of them. I've recently shared my chocolate avocado brownies and since then, I have been innudated with requests for an avocado chocolate cake recipe.
So, here you are, an easy fudgy chocolate cake made with no butter, only creamy ripe avocado and cream!
Why baking with avocado?
Of course, you are wondering why you should bake with avocado, right? So let me tell you the 3 main reasons to add avocados to your baked goods.
1- Texture. Obviously, this is the main purpose of adding avocado to this chocolate avocado cake. Believe me. It creates the fudgiest texture! Avocado is also a great addition to keto ice cream or keto puddings.
2- Health. Avocado is one of the healthiest keto vegetables. Avocado brings many health benefits. Among many of them, we should note that avocado has a high amount of healthy fats called omega-3 fatty acids. These are the best fat to lower blood pressure and protect your heart against failure.
3- Fat macro. On a low-carb diet, you should feed your body with fat first. Adding avocado to your baked goods is the healthiest way to reach your fat macro daily.
ⓧ
Are you new to Keto?
Receive my Keto Quick Start email series to learn all about the Keto diet and kick start your keto journey!

How to make a gluten-free avocado chocolate cake?
This chocolate avocado cake is probably the easiest chocolate cake ever! Indeed all you need are less than 10 simple ingredients and a blender.
Almond meal or almond flour both work well. Read more on how to choose the best keto flour.
Eggs – don't substitute for flax egg. It wouldn't work as well!
Unsweetened cocoa powder
Sugar-free crystal sweetener – I use a Monk Fruit and Erythritol sweetener blend. Check out my best keto-friendly sweeteners.
Baking soda – it gives a little rise to the cake.
Avocado – make sure you use ripe avocado and if unsure of your avocado size, check the amount of flesh in your avocado. Here in New Zealand, one avocado makes about 1/2 cup of avocado puree.
Yogurt – you can use any yogurt, including dairy-free yogurt, all work.
Salt – don't skip this. It adds a delicious balance to the frosting.
Vanilla – because there's no cake without a touch of vanilla.
It's a two-step easy chocolate cake recipe. All you have to do is blend the wet ingredients into a blender or food processor to ensure there are no lumps of avocado in your cake.
Then, combine the dry and wet ingredients to form a thick chocolate cake batter.

How does avocado chocolate cake taste?
Again, avocado doesn't add flavor to baking. So, this avocado chocolate cake doesn't taste like avocado at all!
Plus, it only makes use of one ripe avocado in the cake batter. It means that the amount of avocado is very low and it will add just the right texture without any aftertaste.
It should be noted that you can use up to two avocados in baking. However, more avocado adds an intense fudgy texture closer to brownies.
That's why this avocado chocolate cake uses a combo of avocado and yogurt.
In fact, this combo creates the best low-carb chocolate birthday cake. A delicious chocolate flavor, moist, airy, and slightly fudgy with NO avocado flavor at all!
Making the chocolate avocado frosting
The frosting is optional, but I highly recommend it! It tastes like a chocolate mousse, and it's the most decadent addition to this simple chocolate avocado cake.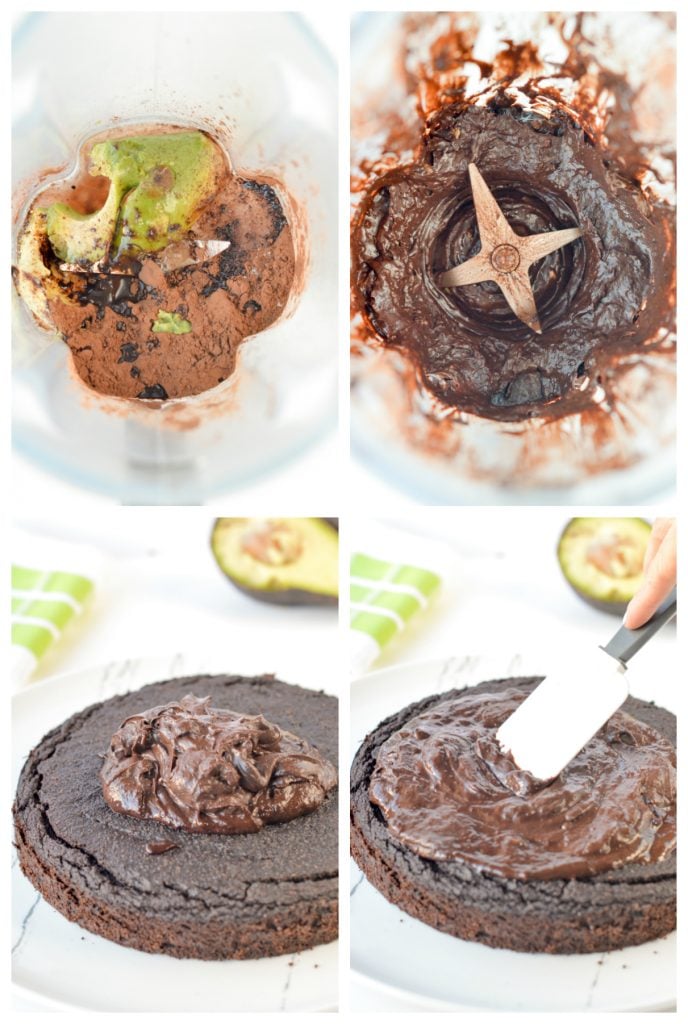 Otherwise, you could also simply drizzle melted sugar-free chocolate on top. But the extra chocolate topping on this chocolate avocado cake is a MUST!
You can also make a layer birthday cake with this recipe. I would recommend to double up the recipe and bake the recipe in 2 different round cake pans.
Then use the chocolate avocado frosting to stick the 2 cake layers together.
I hope you enjoyed this new chocolate avocado creation. Any questions, drop a comment below. I love to help!
More keto chocolate cake recipes
xoxo Carine
Recipe Card
Keto Chocolate Avocado Cake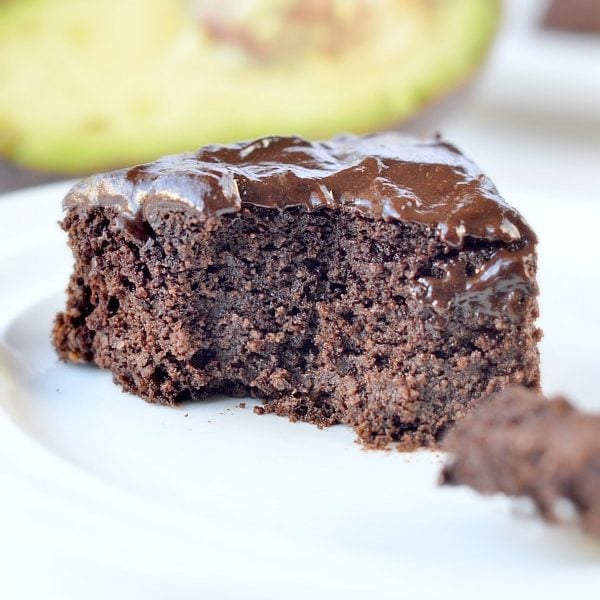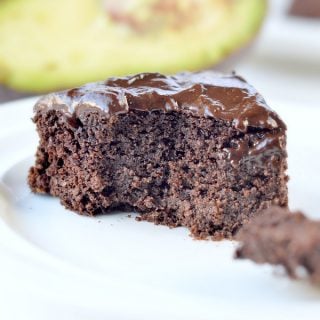 This chocolate avocado cake is a healthy, fudgy, keto, and gluten-free cake. 100% Sugar-free, low-carb, and paleo.
Ingredients
Wet ingredients
1

Avocado

about 1/2 cup avocado puree

½

cup

Full-fat yogurt

or coconut yogurt for a dairy-free option

½

cup

Unsweetened Almond Milk

or milk of your choice

2

Eggs

1

teaspoon

Vanilla Extract
Chocolate Avocado Frosting
Instructions
Preheat oven to 180°C (350°F). Grease an 8-inch round cake pan with coconut oil (or any oil of your choice), set aside.

In a large mixing bowl, combine all the cake dry ingredients: almond meal, unsweetened cocoa powder, sugar-free crystal sweetener, and baking soda. Set aside.

In a blender or food processor, add all the wet ingredients: avocado, yogurt, almond milk, eggs, and vanilla.

Process/blend until a smooth batter forms with no more lumps of avocado - it shouldn't take more than 45 seconds on high speed.

Pour the liquid onto the dry ingredients and combine with a spatula until it forms a consistent chocolate cake batter.

Transfer the cake batter into the prepared round cake pan.

Bake for 30-40 minutes or until a skewer inserted in the middle of the cake comes out clean. I recommend checking the cooking every 5 minutes after 25 minutes of cooking time to make sure your cake comes out perfectly.

Cool down on a wire rack for about an hour before spreading the chocolate avocado frosting on top.
Chocolate Avocado Frosting
In a blender or food processor, add all the frosting ingredients: avocado, coconut cream, sugar-free crystal sweetener, unsweetened cocoa powder, melted coconut oil, and salt.

Blend/process until it forms a chocolate frosting with no more lumps of avocado. You may have to stop your blender every 20 seconds, scrape down the bowl with a spatula and repeat until your thick shiny chocolate frosting forms with no lumps.

Spread the chocolate frosting on top of your chocolate avocado cake. 

You can freeze the whole cake for 10 minutes to set the frosting better and get a really fudgy cake texture or simply serve immediately.

Store in the fridge for up to 3-4 days in a cake box. The cake gets super fudgy in the fridge, it is delicious!
Sugar-free crystal sweetener: you can use Monk fruit sweetener (here) or Swerve (here) or erythritol (here).
Paleo NON-sugar-free option: use coconut sugar (here)
This chocolate avocado cake serves 12 slices. Nutrition panel is for one slice using full-fat Greek Yogurt and Sugar-free Monk fruit sweetener.
Net carbs: 4 g per slice
My Recipe Notes
Tools
Starting Keto
What Is Keto Diet?
Macro Calculator
Sweetener Converter
Keto Meal Plans
Keto Recipe Ebooks
Intermittent Fasting
Keto Fruits
Keto Vegetables
Keto FLours
Fighting Keto Flu
Keto Sweeteners
Nutrition Facts
Keto Chocolate Avocado Cake
Amount Per Serving (1 slice)
Calories 203.6
Calories from Fat 161
% Daily Value*
Fat 17.9g28%
Cholesterol 32mg11%
Sodium 147.7mg6%
Potassium 215.1mg6%
Carbohydrates 9.3g3%
Protein 6.7g13%
Vitamin A 123.1IU2%
Vitamin C 2.5mg3%
Calcium 78.5mg8%
Iron 1.6mg9%
Net Carbs 4.1g
* Percent Daily Values are based on a 2000 calorie diet.