This Keto Cake recipe is an easy, no-fail, 1-bowl keto cake recipe perfect for keto beginners looking for a sweet chocolate cake to fix their sweet tooth with only 2.2 grams of net carbs per serving.
Plus, this almond flour chocolate cake is also gluten-free with a dairy-free option.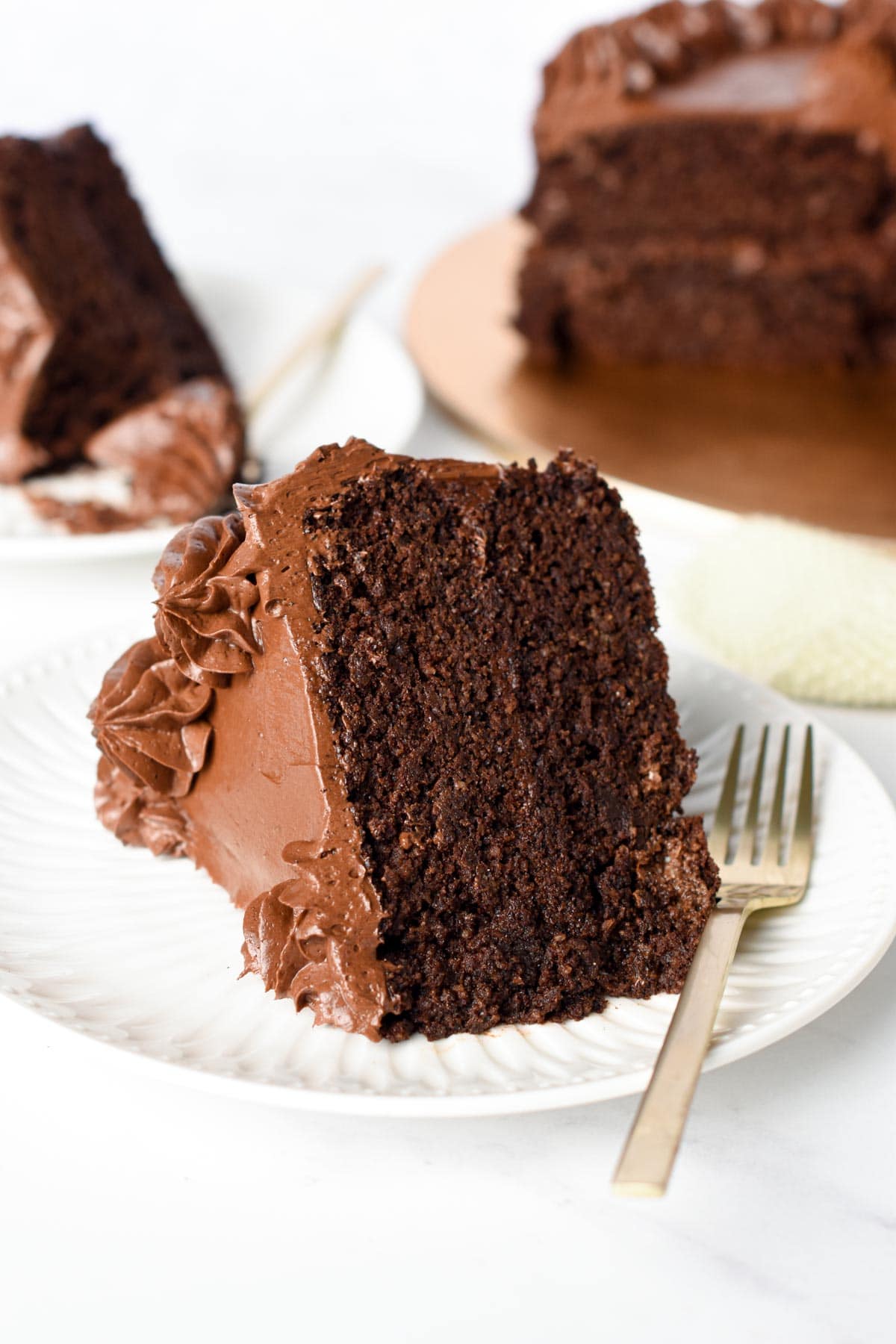 What's A Keto Cake?
A keto cake is a low-carb cake recipe made with low-carb flour and sugar-free sweetener to keep the total carbs and sugar to a minimum.
It has a very similar taste and texture to regular cakes and most of the time, Keto Cakes are also low-carb gluten-free cakes.
This keto chocolate cake recipe is the best treat for a low-carb birthday party!
Why You'll Love This Recipe
I love this cake recipe because it's the easiest you will find as a newbie to the keto diet and can make perfect birthdays.
There are no complicated steps to follow, no kitchen appliances needed, and this keto dessert fits all food allergies.
It's naturally:
Gluten-Free
Nut-Free Option
Dairy-Free Option
Low-Carb
Keto
Paleo
Grain-Free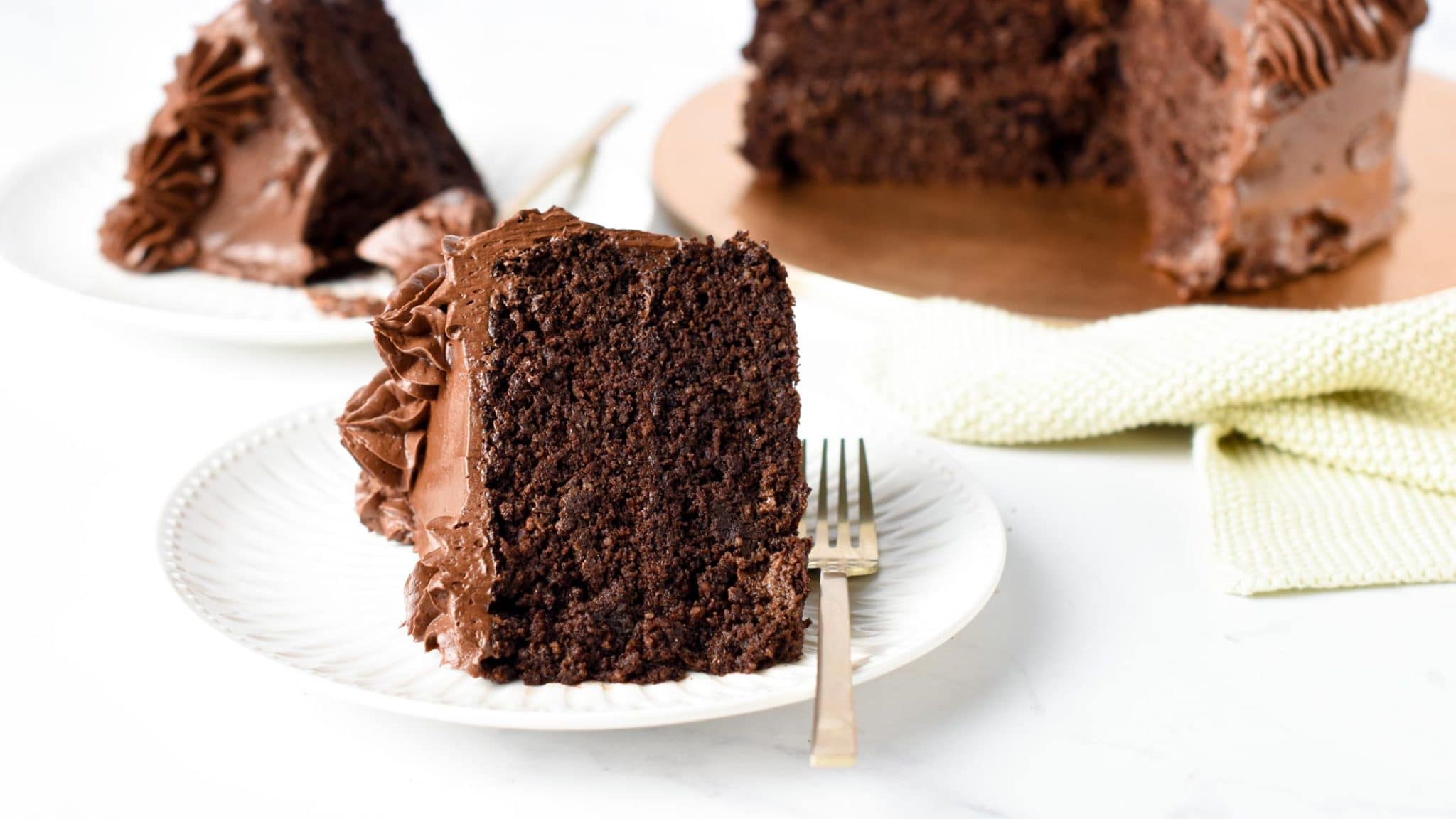 How To Make This Keto Cake
There are many ways to make a cake keto-friendly. You can make a keto coconut flour chocolate cake, a keto vanilla cake, or this 1-bowl keto cake.
But here I am sharing the easiest keto cake recipe ever, a no-fail almond flour chocolate cake.
Ingredients
All you need to make a moist almond flour cake are:
Almond Flour – Use ultra-thin almond flour with a pale, golden color. It's not ground almond or almond meal. These two last options are coarse and make almond flour cakes gritty, so avoid them to avoid disappointment with the recipe. Almond flour is one of the best keto-friendly flours.
Cocoa Powder – For a keto cake, use unsweetened cocoa powder.
Baking Powder
Salt
Erythritol or any keto sweeteners you love like allulose, Monk fruit sweetener, or xylitol.
Eggs – You must use regular eggs in this recipe as it doesn't work well with egg replacers, an egg substitute, or flax eggs. It's not recommended as a keto vegan cake. Eggs are keto-friendly.
Unsalted Butter – Butter is a keto-friendly ingredient that needs to be melted in this recipe. You can also use melted coconut oil.
Water – from the tap – You can also use unsweetened almond milk to add more almond taste.
Vanilla Extract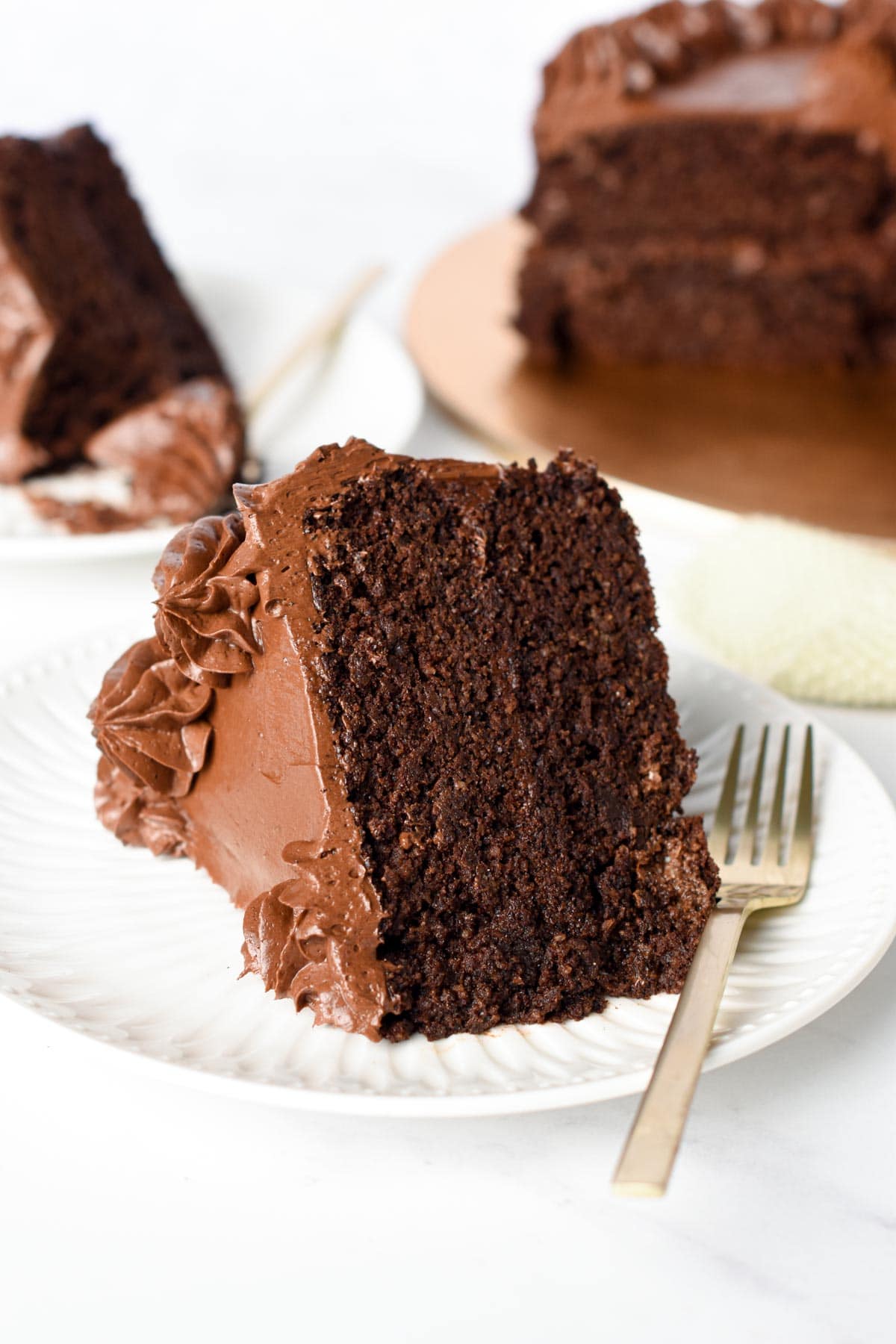 Making The Cake Batter
To make the batter, it's as easy as using a mixing bowl where you will:
Beat the eggs with water, melted butter, and vanilla extract.
Then, fold in the dry ingredients: almond flour, granulated sugar-free sweetener, baking powder, unsweetened cocoa powder, and salt.
Stir to form a thick low carb chocolate cake batter. It can look a bit grainy, and that's always the case when you make an almond flour chocolate cake so don't panic.
Baking
Preheat the oven to 325°F (160°C). Line an 8-inch round pan with parchment paper at the bottom and lightly oil the bottom and sides with oil spray.
Pour the cake batter into the pan and spread evenly.
Bake the cake in the center rack of the oven until a toothpick inserted in the center of the cake comes out clean or with a little crumb on it.
It's better to get a little crumb, it means the cake is still moist and not dry.
The baking time varies with the size of the pan you used. If you use a 9-inch pan, the cake will bake faster as it's shallower.
Cool down the cake on a wire rack before frosting.
Layered Keto Cake
To make a layered cake, repeat the recipe one or two times depending on what you are aiming for, a 2-layer keto cake or a 3-layer sugar-free cake.
Frosting
You can of course serve this cake plain or with some keto chocolate buttercream frosting or keto cream cheese frosting.
Before frosting the cake, make sure the layers have completely cooled to room temperature.
Other delicious keto toppings for cakes are:
Whipped Cream
Sliced Almonds
Chopped Nuts – peanut, almonds, hazelnuts.
Melted Chocolate- sugar-free or 85% cocoa chocolate is keto-friendly.
Storage Instructions
This cake can be stored in a cake box or any sealed container in the fridge for up to 4 days.
You can also freeze keto cake leftovers either whole or in slices and pop them in the fridge the day before to thaw the cake.
It's ok to freeze the cake frosted or plain.
Tips For Best Low-Carb Cakes
It's not difficult to bake a delicious low-carb cake recipe. But, if you are new to keto baking, there are 4 things you should know.
Tip 1 – Ingredients at The Same Temperature
One of the common mistakes in keto baking is to use cold eggs straight out of the fridge or hot melted butter.
When both liquids come together, it can scramble the eggs and create a strong egg flavor with lumps in the batter.
Always take out the eggs from the fridge 30 minutes before baking a keto cake and wait a few minutes before incorporating melted coconut oil or melted butter.
The FDA recommends leaving eggs no more than 60 minutes at room temperature, so it's fine to do so.
Tip 2 – Flour Swaps And Measurements
Almond flour is the key ingredient to making a moist sugar-free birthday cake don't swap almond flour for coconut flour or any almond ground or almond meal.
Coconut flour contains four times more fiber and can dry out cakes if you don't adjust its ratio or add more eggs or liquid.
Use a coconut flour cake recipe if it's the flour you want to use but don't swap almond flour for the same amount of coconut flour.
Also always measure flour with a US measuring cup, fill and sweep but don't over pack flour in the cup or press it down.
Tip 3 – Baking At Low Temperatures
Bake almond flour cakes at a lower temperature than wheat-based cakes.
The best is to cook at 325°F (160°C) and check often by insetting a pick in the center of the cake.
It should come out with a little crumb on it meaning the cake is moist and not dry.
Tip 4 – Don't Thin Out The Batter
Don't add milk or more water if your batter looks thick, it's normal.
Keto cake batter is always thicker and looks grainy, and that's normal.
Adding liquid like water, milk or heavy cream will dilute the batter, and the cake won't firm up.
Frequently Asked Questions
Below I listed the most common questions you have about this easy cake keto recipe.
Can I Make It Nut-Free?
Absolutely yes, the best nut-free low-carb flours for cakes are sesame seed flour and sunflower seed flour.
Both can be made at home in a high-speed blender by grinding the seeds on high speed until flour forms.
Wait for the homemade flour to cool before using it in the keto cake recipe. Use as a 1:1 ratio swap to almond flour.
Can I Remove The Sweetener?
Yes, you can make a sugar-free cake by removing all sugar substitutes from the recipe, but the cake will be very bitter and not sweet at all.
Is The Nutrition Panel For A 2-Layer Cake?
No, the nutrition panel is for a one-layer cake with no frosting and a serving of 12 slices out of an 8-inch round cake pan.
Can I Make A Dairy-Free Keto Cake?
Yes, replace melted butter with melted coconut oil or olive oil. You can use dairy-free spread in the frosting instead of butter.
More Cake Recipes
If you are looking for a healthy birthday cake, I listed some of my most popular cake recipes for you to try.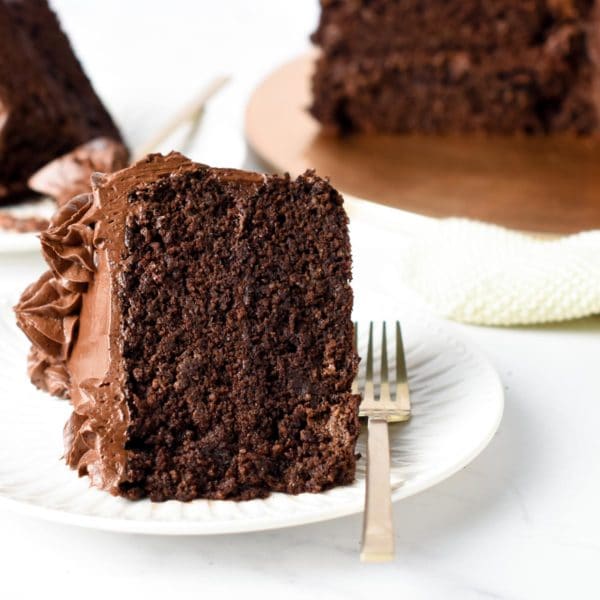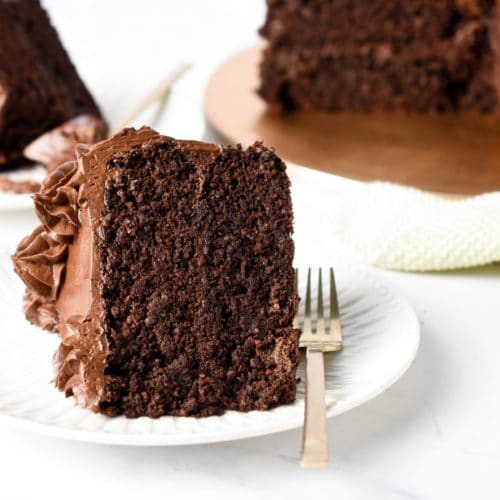 Keto Cake
This is the easiest Keto Cake recipe you will ever make with a moist chocolate crumb and delicious chocolate buttercream frosting.
Serving Size:
1
slice (no frosting/1 layer)
Ingredients
1 ¼

cup

Almond Flour

½

cup

Unsweetened Cocoa Powder

1

teaspoon

Baking Powder

½

teaspoon

Salt

½

cup

Erythritol

4

large

Eggs

3

tablespoons

Melted Butter

or melted coconut, cooled few minutes

⅓

cup

Water

1

teaspoon

Vanilla Extract
Chocolate Buttercream Frosting
This recipe may contain Amazon or other affiliate links. As an Amazon Associate I earn from qualifying purchases.
Instructions
Preheat the oven to 325°F (160°C). Grease one 8-inch cake pan with coconut oil. Cover the bottom and side of the pan with parchment paper and oil them too. Set aside.

In a large mixing bowl, whisk dry ingredients: almond flour, sweetener, cocoa powder, baking powder, and salt. Set aside.

In another bowl, whisk eggs with slightly cooled melted butter, water, and vanilla extract.

Stir wet to dry ingredients until a smooth, slightly thick batter forms.

Pour the keto cake batter into the prepared pan and bake for 20-30 minutes in the center rack of the oven or until a pick inserted in the center of the cake comes out clean or few a little crumb on it. Don't over bake or it gets dry.

Cool down on a wire rack immediately until the cake reaches room temperature.

Repeat the recipe for a two-layer cake, and frost the cake when both layers are at room temperature.
Storage
Store cake in the fridge for up to 4 days or freeze and thaw in the fridge the day before.
Want My Kitchen Equipment?
Serving Size:
1
slice (no frosting/1 layer)
Serving:
1
slice (no frosting/1 layer)
Calories:
124.2
kcal
(6%)
Carbohydrates:
4.8
g
(2%)
Fiber:
2.6
g
(11%)
Net Carbs:
2.2
g
Protein:
5.3
g
(11%)
Fat:
10.7
g
(16%)
Saturated Fat:
1.8
g
(11%)
Polyunsaturated Fat:
1.1
g
Monounsaturated Fat:
2.2
g
Trans Fat:
0.01
g
Cholesterol:
62
mg
(21%)
Sodium:
190
mg
(8%)
Potassium:
79.5
mg
(2%)
Sugar:
0.6
g
(1%)
Vitamin A:
215.2
IU
(4%)
Vitamin B12:
0.2
µg
(3%)
Vitamin C:
0.01
mg
Vitamin D:
0.3
µg
(2%)
Calcium:
59.4
mg
(6%)
Iron:
1.3
mg
(7%)
Magnesium:
20.2
mg
(5%)
Zinc:
0.5
mg
(3%)
Posted In: