Keto Pineapple Upside-Down Cake
This easy Gluten-free Keto Pineapple Upside-Down Cake is surprisingly low in carbs with only 3.8 grams of net carbs per slice and the best buttery, moist pineapple cake crumb ever!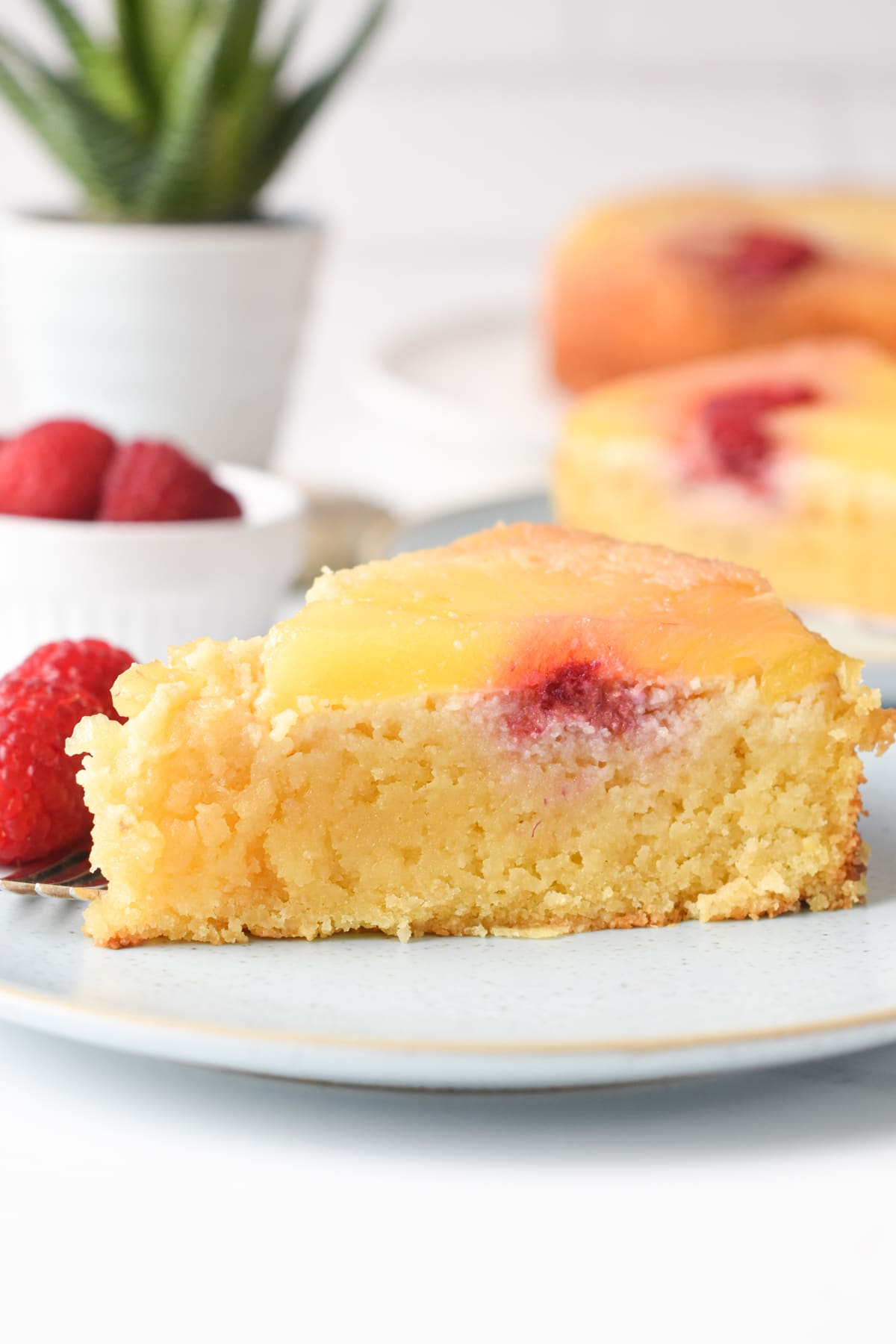 I know what you think, pineapple is high in carbs and sugar, and I can't eat pineapple on a keto low-carb diet. Well, not exactly, and let me explain below.
How To Make Keto Pineapple Upside-Down Cake
Luckily, you can make a keto pineapple cake using some tricks to bring out all the natural flavor of pineapple without the added sugar or excessive carbs.
All you need to make this moist, buttery cake are a few simple ingredients, split into two steps.
Bottom Layer Ingredients
An upside-down pineapple cake is made with a buttered cake pan filled with pineapple rings and glazed cherries.
To make a low-carb pineapple cake, you will need to tweak the authentic recipe by using the ingredients below :
Pineapple Cake Batter
For the cake batter, you need:
Cutting The Pineapple
First, peel the fresh pineapple and then cut the fresh pineapple into very thin rings.
You should aim for 3-mm/0.1-inches pineapple rings. Remove the center of each ring using the back of a piping nozzle or a round shape.
Pat dry the pineapple ring in absorbent paper to remove extra juice and prevent the top of the cake from becoming too moist.
Preparing The Cake Pan
Next, select a non-stick 9-inch round cake pan – mine has a removable side and bottom, which is very convenient to unmold this almond flour pineapple cake easily.
In a bowl, combine softened butter and sugar-free brown sweetener until creamy.
Using a silicone spatula, press and rub the butter mixture on the bottom and the sides of the pan.
Add the three pineapple rings to the bottom of the pan and add 3 raspberries into the hole of each ring. You can add 2-3 more on the sides if you like!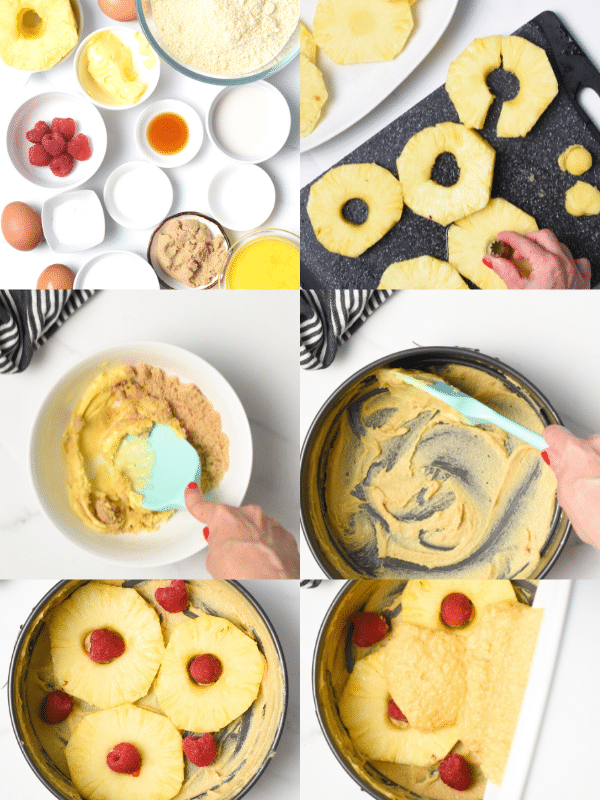 Almond Flour Pineapple Cake Batter
In a large mixing bowl, whisk the eggs, almond milk, sweetener, pineapple extract, vanilla extract, and melted butter.
In another bowl, combine all the remaining ingredients: almond flour, baking powder, and salt.
Finally, stir the dry ingredients into the wet ingredients until a slightly thick and grainy cake batter forms.
Assembling The Pineapple Cake
Spread the keto pineapple cake batter over the pineapple rings evenly using a spatula.
Baking The Cake
Bake the cake in the center rack of the oven until golden brown and a pick inserted in the center of the cake comes out clean.
Cooling Down
Cool the cake down in the pan for 30 minutes, then release the sides of the pan.
Flip the cake upside down on a serving cake plate.
Making It Shine
This is totally optional, but to make the top of the cake shiny, you can brush 1-2 tablespoons of sugar-free pineapple syrup on top of the cake.
Baking Tips
Here are my tips for using high-carb pineapple in keto recipes.
Tip 1: Use Fresh Pineapple
Skip the canned pineapple pieces or rings that are soaked in pineapple juice. They are even higher in carbs!
Tip 2: Use A Small Amount And Do The Math!
A 9-inch cake serves about twelve portions (of a generous 100g or 3.5oz) and pineapple contains about 12 grams of net carbs per 100 grams.
So it's totally fine to use 100 grams (3.5 oz) of pineapple in a cake recipe. You will only get 1 gram of net carbs (12 grams of net carbs split into 12 portions) coming from the fresh fruit.
Tip 3: Use Pineapple Extract Or Pineapple Flavoring
The best way to add pineapple flavor in keto recipes is to use one of the zero-carb options below:
Pineapple Extract – natural but a bit expensive.
Pineapple Flavoring – often made from artificial flavors, but cheaper.
Pineapple Stevia Drops – also add sweetness to the recipe.
Frequently Asked Questions
Is Pineapple Keto-friendly?
Pineapple is not a keto-friendly fruit – it's rather high in carbs and natural sugar from fructose.
So if you are craving fruits on a keto diet, don't eat pineapple. With more than 20 grams of net carbs, a cup of pineapple will reach all your daily macros.
Instead, if you want to eat fruits, snack on berries or keto-friendly fruits.
Can I Eat Pineapple On A Keto Diet?
On a keto diet, nothing is 100% bad or 100% good. It's all about the quantity taken.
So pineapple is not a keto-friendly snack to fill you up on its own because you would need a large quantity to feel full.
But you can use small amounts to flavor a dish or a cake.
The keto diet consists of switching your body to a ketosis mode to burn fat as a source of energy instead of glucose.
This state naturally occurs in the body when you eat less than 25 grams net carb per day (this number varies slightly from person to person).
So with 11.6 grams of net carbs per 100 grams (3.5oz), pineapple is a high-carb fruit.
If you want to sneak some fresh pineapple into your daily macro, you will have to weigh your portion and keep it very small!
As a result, 25 grams of pineapple bring about 3 grams of net carb, so it's what you should aim for.
More Keto Cake Recipes
I love sugar-free cakes, and below are my top low-carb cake recipes for you to try: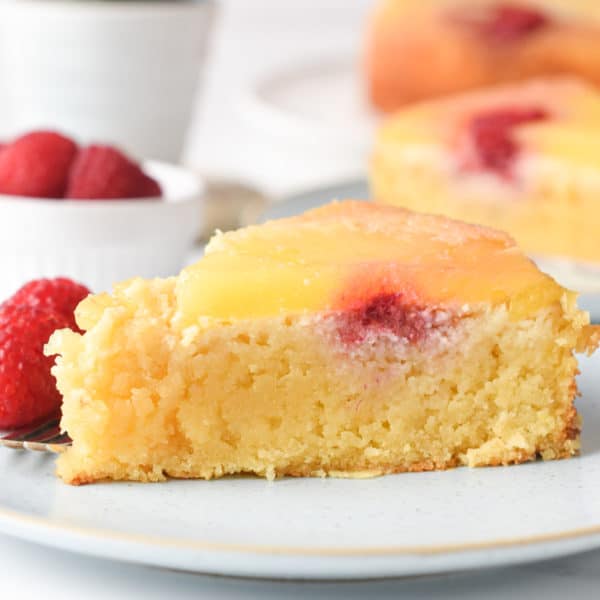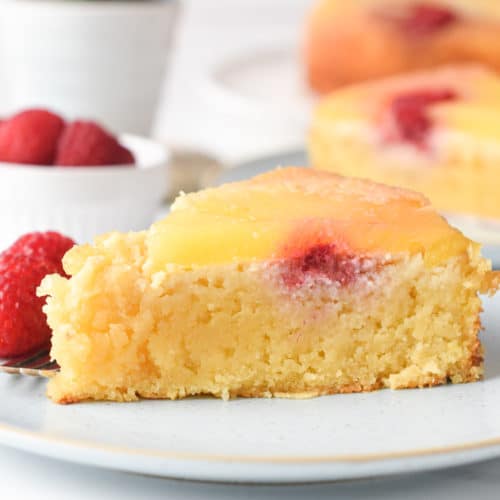 Keto Pineapple Upside-Down Cake
This Keto Pineapple Upside-Down Cake is an easy, moist, and buttery childhood favorite upside down cake revisited sugar-free and gluten-free, with a delicious pineapple caramel flavor.
Ingredients
For the cake batter
3

large

Eggs

beaten, at room temperature

½

cup

Erythritol

⅓

cup

Unsweetened Almond Milk

2

teaspoons

Baking Powder

¼

teaspoon

Sea Salt

1

teaspoon

Vanilla Extract

2

teaspoons

Pineapple Flavoring

or pineapple extract

½

cup

Unsalted Butter

melted (or melted coconut oil)

3

cups

Almond Flour scooped and leveled
Optional – to brush on top
1-2

tablespoons

Pineapple Sugar-free Syrup
This recipe may contain Amazon or other affiliate links. As an Amazon Associate I earn from qualifying purchases.
Instructions
Preheat oven to 350°F (180°C).

Peel the fresh pineapple and cut it into thin rings of about 3 mm/0.1 inch thickness, using a sharp knife (remove the hard center part of each ring using a round shape. A ring is about 1.2 oz.

Pat dry each pineapple ring into some absorbent paper to remove extra juice that could release into the cake and make it too moist.
Bottom Layer
Prepare the topping in a small bowl by beating softened butter and brown erythritol to form a creamy paste.

Use a silicone spatula to spread the creamy, buttery paste all over the bottom and sides of a non-stick 9-inch springform pan. Set aside.

Arrange the fresh pineapple ring all over the bottom of the pan and place a raspberry in the center of each ring. Set aside at room temperature.
Cake Batter
In a large mixing bowl, using a manual whisk, beat eggs, erythritol, unsweetened almond milk, baking powder, salt, vanilla extract, pineapple extract, and melted butter. Make sure the melted butter is not too hot, or it can cook eggs and form lumps.

Gradually pour the almond flour into the liquid ingredients and stir until it forms a thick, slightly grainy cake batter.

Pour the cake batter into the greased pan.

Bake cake for 40-45 minutes in the center rack of your oven. I recommend tenting the cake pan with a large piece of foil after 25 minutes to prevent the cake's top from burning.

After 30 minutes, insert a skewer in the center of the cake, and if it comes out with almost no crumb on it, the cake is ready.

Cool the keto pineapple cake into the pan for 30 minutes, then release it on a cooling rack for at least 3 hours before slicing.

When the cake has reached room temperature, you can brush a sugar-free pineapple syrup on top to make it shine!

Slice into 12 even slices.
Storage
Store the cake in a sealed cake box in the fridge for up to 3-4 days.

Freeze cake slices in airtight zip lock bags or a box and thaw at room temperature the day before serving.
Want My Kitchen Equipment?
Serving:
1
slice
Calories:
271.7
kcal
(14%)
Carbohydrates:
6.8
g
(2%)
Fiber:
3
g
(13%)
Net Carbs:
3.8
g
Protein:
7.7
g
(15%)
Fat:
25.6
g
(39%)
Saturated Fat:
6.8
g
(43%)
Polyunsaturated Fat:
1.3
g
Monounsaturated Fat:
3.9
g
Trans Fat:
0.3
g
Cholesterol:
66.8
mg
(22%)
Sodium:
246.5
mg
(11%)
Potassium:
22.7
mg
(1%)
Sugar:
1.1
g
(1%)
Vitamin A:
429.4
IU
(9%)
Vitamin B12:
0.1
µg
(2%)
Vitamin C:
0.3
mg
Vitamin D:
0.4
µg
(3%)
Calcium:
116.9
mg
(12%)
Iron:
1.4
mg
(8%)
Magnesium:
2.2
mg
(1%)
Zinc:
0.2
mg
(1%)
Posted In: