Red velvet cake is a classic dessert that I have always loved. However, if, like me, you're following a keto diet, you might think that you have to give up this indulgent treat. But fear not! This keto red velvet cake can be enjoyed without guilt. It is a delicious recipe with a smooth crumb and subtle vanilla, cocoa, and buttermilk flavor. This red velvet cake won't disappoint!
What's A Keto Red Velvet Cake?
A red velvet cake is more than a vanilla cake with red color. It is a moist, vanilla cocoa cake with a subtle flavor of buttermilk.
This keto red velvet recipe has all of these without the carbs or sugar. It uses almond milk and apple cider vinegar to mimic classic buttermilk. The secret to a moist low-carb cake crumb is to use ultra-fine almond flour, not coarse almond meal.
Ingredients For Keto Red Velvet Cake
This very easy red velvet cake recipe is made with just a few simple ingredients.
But before you start baking this amazing keto cake, there are a few simple things you need to know to make sure you get the most delicious cake.
Preparation Tips
This is a standard for any keto baking recipe. In fact, if you don't use ingredients at room temperature, your batter can end up ultra-thick or lumpy. So, what does it means to bring ingredients to room temperature, you would ask?
Well, it means taking all the ingredients out of the fridge before you start baking.
Eggs – If you want to bring eggs to room temperature quickly, you can immerse them in a hot water bath for 20 minutes. Don't use boiling water, or you will cook the eggs! Otherwise, the best method is to place the eggs out of the fridge for up to two house before baking (to avoid bacteria).
Butter and cream cheese – To soften butter or cream cheese quickly, I recommend measuring the amount called by the recipe. Then, cut the block of butter or cream cheese into small cubes. Finally, store the cubes of butter or cream cheese in a bowl on the kitchen countertop for at least 3 hours or overnight. You know your butter is ready when it is ultra-soft. If you squeeze it with your fingers, it melts easily.
Other ingredients – If you usually store flour or erythritol in the fridge, take it out the day before or 3 hours before baking.
Ingredients Picking Tips
Almond Flour – An almond meal is coarse and would not be a good fit for this cake. It would dry the cake crumb, making it dense and not moist at all. So use ultra-fine almond flour.
Erythritol – or allulose or a blend of Monk fruit and erythritol. Note that erythritol decreases the ingredients' temperature. Read more about it in my keto sweetener article. Therefore, if you bake this cake in winter, make sure your house is between 68°F and 72°F (20°C-22°C), or erythritol can solidify butter, forming lumps.
Liquid Natural Red Food Coloring – If you want to use food coloring powder instead of liquid coloring, add 1 1/2 tablespoons of unsweetened almond milk to compensate.
Large Eggs – They must be at room temperature and large. In fact, using small eggs results in a dry cake crumb.
Butter – Soft at room temperature. Read my paragraph above for more details about how to bring butter to room temperature quickly.
Light Olive Oil – Or any nut or seed oil like avocado oil, almond oil, or grape seed oil. I don't recommend using coconut oil in this recipe simply because it firms up when in contact with unsweetened cocoa powder.
Unsweetened Cocoa Powder
Baking Powder – This is a gluten-free keto cake, so it won't rise much. Gluten protein is what reacts with baking powder and raises cakes a lot. The baking powder will react with apple cider vinegar to add a lighter texture to the cake layer. Don't expect a high-raising layer like a regular red velvet cake, though.
Vanilla Extract
Unsweetened Almond Milk or unsweetened coconut milk.
Apple Cider Vinegar – The specificity of red velvet cakes is the buttermilk flavor. Since this is a keto cake recipe, we don't use dairy, buttermilk contains sugar from lactose, so it is better to avoid it on a keto diet. As a replacement, we use apple cider vinegar and unsweetened almond milk. It adds a similar buttermilk flavor to the cake without the carbs.
How To Make Keto Red Velvet Cake
It is an easy keto cake recipe that can be made in just a few steps.
Let me guide you through each step, including any cake troubleshooting tips to help you achieve the tastiest red velvet cake.
Step 1: Beating Butter And Sweetener
First, you have to beat the soft butter and sweetener with an electric beater or stand mixer using the whisk attachment. That's very easy to do, but if your butter is hard, half-soft, or cold, you can get into trouble.
Plus, if your sweetener is crystal erythritol, it can result in serious butter lumps. In fact, erythritol is known for its endothermic reaction, which means it decreases the temperature of ingredients coming in contact with it.
So, if you also use butter that is not soft enough or too cold, this problem will be exacerbated. To troubleshoot this, bring the bowl into a bain-marie, and read my recipe card note to learn more about removing butter lumps.
Step 2: Adding Eggs
Next, you must add eggs one by one into the beaten butter. As above, if eggs are not cold, you won't have a problem achieving a lump-free batter.
Also, always add eggs quickly every 15 seconds to decrease the beating time which could lead to lumps too.
Step 3: Oil and Cocoa
In another bowl, you will combine oil, red food coloring, and unsweetened cocoa powder. While you could add this directly into the previous batter, I recommend stirring these 3 ingredients together first.
In fact, this will ensure that the cocoa powder dissolves well and avoid bitter lumps of unsweetened cocoa powder. The only trick here is to use an oil that is liquid at room temperature, so coconut oil is not a good choice. The best keto oils to use in this keto cake recipe are light olive oil, avocado oil, or almond oil.
Step 4: Combine Ingredients
Finally, bring all the ingredients together using the electric beater on low speed or a stand mixer. You know the batter is ready when it is read/pinkish in color, smooth and liquid.
It shouldn't be thick. This would mean you are missing some liquid.
Step 5: Spreading The Batter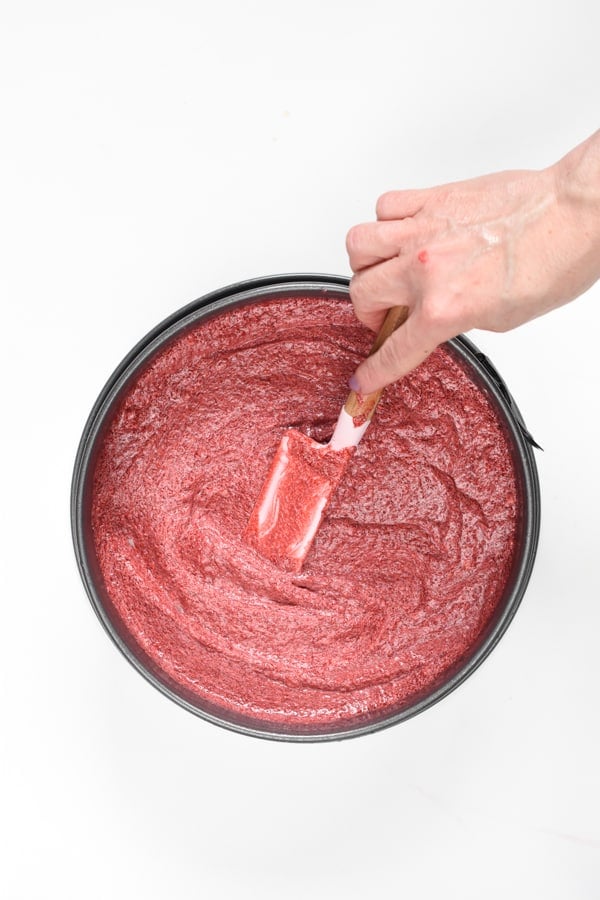 This keto red velvet cake is a two-layer cake. Therefore, you will bake each cake layer into separate 9-inch round non-stick pans.
It is crucial to double grease the pan to prevent the batter from sticking to the pan. First, spray oil all over the cake pan. Then, lay a circle piece of parchment paper at the bottom of each pan. Finally, respray some oil.
To create 2 layers of the same thickness, you should add the same amount of cake batter to each cake pan. For this keto cake recipe, it means adding about 2 cups of cake batter to each pan.
Step 6: Baking The Cake
There are two ways to bake your keto red velvet cake, regular more or convection mode. Whatever mode you choose, don't change the temperature for this keto cake recipe. Simply note that convection mode bakes 5 to 8 minutes faster.
First, set the oven to 325°F (160°C) and place the cake pans on the center rack of the oven. Then, bake the cake for 25 to 30 minutes, checking the baking time after 20 minutes with a skewer.
Finally, remove the cake from the oven when the skewer comes out dry or with just a few crumbs on it. It means the cake is cooked through.
Step 7: Cooling Down
To prevent the cake from sticking to the pan, it is better to unmold the cake shortly after taking it out of the oven. 5 minutes is the ideal time.
You may have to run a knife around the edge of the pan to loosen the cake if it sticks slightly.
Red Velvet Decoration
Like most red velvet cakes, this keto cake uses a cream cheese frosting. However, this is a sugar-free cream cheese frosting using powdered erythritol, butter, and vanilla extract.
As a result, it is an almost zero-carb frosting, and any leftover can be used as a sweet keto snack!
Sugar-Free Cream Cheese Icing
A cake turntable is very convenient for decorating layer cakes. I love to use this for my keto chocolate cake or keto vanilla cake recipes.
First, place the first layer of cake on the turning table.
Next, add 1/3 of the frosting to the center of the cake. Then, turn the table with one hand and hold a spreading tool with the other hand to press/spread the frosting as you turn.
Finally, add the last cake layer and repeat the frosting spreading process until fully covered with icing.
Cake Crumbs
I love to decorate the sides of this low-carb red velvet cake with cake crumbs. Usually, red velvet cake layers raise a lot in the middle. So, the layers are leveled with a knife, and the leftover cake crumb is used as a decoration.
However, keto cake layers don't raise much, and you don't have any leftover cake crumbs.
My secret is to set aside 1/4 cup of cake batter and bake it for 10 minutes on a tray covered with greased parchment paper. It results in a thin layer of red velvet batter that you can crumble into pieces and use as cake decoration.
Storage Instructions
This recipe serves a double-layer keto cake with 12 slices. Therefore, you won't be able to eat the whole cake quickly, except if it is a celebration cake to share.
The good news, you can freeze the leftover keto cake slices in airtight containers.
Or simply store the cake in a cake box in the fridge for up to 3 days.
More Keto Cake Recipes
I love cakes, and I have a large collection of cake recipes for you to try!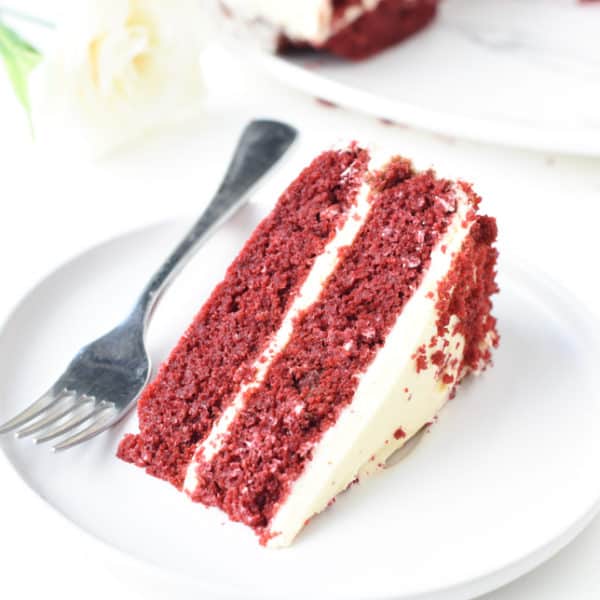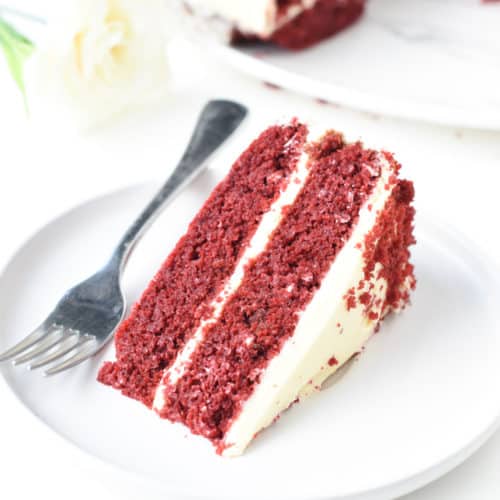 Keto Red Velvet Cake
This is a keto version of the classic red velvet cake with a moist crumb and vanilla cocoa flavor, 100% sugar-free, low-carb, and gluten-free.
Ingredients
½

cup

Unsalted Butter

not cold, at room temperature for at least 3 hours or overnight, 4oz.

½

cup

Erythritol

4

large

Eggs

not cold, at room temperature, not cold, at room temperature for at least 3 hours or overnight

2

teaspoons

Vanilla Extract

¼

cup

Avocado Oil

or light olive oil or any seed/nut based oil but not coconut oil!

2

tablespoons

Unsweetened Cocoa Powder

1

teaspoon

Apple Cider Vinegar

1 ½

tablespoon

Natural Liquid Red Food Coloring

1 ¾

cup

Almond Flour

¼

cup

Unsweetened Almond Milk

1

tablespoon

Baking Powder
Cream cheese frosting
16

oz

Cream Cheese

3

tablespoons

Unsalted Butter

⅓

cup

Powdered Erythritol

1

teaspoon

Vanilla Extract
This recipe may contain Amazon or other affiliate links. As an Amazon Associate I earn from qualifying purchases.
Instructions
Before starting the recipe, make sure that all the ingredients are at room temperature, not cold, or the butter will form lumps in the batter. See recipe notes to troubleshoot butter lumps in baking.

Preheat oven to 325°F (160°C).

Grease two 9-inch round cake pans with coconut oil or butter. Cut out a piece of parchment paper into a 9-inch circle and stick it to the bottom of the pan. Grease the paper and the sides of the pan again. These steps prevent the cake from sticking to the pan. Set aside.

In a large mixing bowl, add soft cubes of butter with sugar-free crystal sweetener (erythritol or allulose) and vanilla extract.

Beat on low speed with an electric beater until creamy, then beat in the eggs, one at a time

Set aside the egg/butter batter.

In another bowl, combine light olive oil, apple cider vinegar, unsweetened cocoa powder, and red food coloring with a spatula. Don't use coconut oil, as it tends to form a paste when in contact with cocoa powder, or you want the mixture to be liquid for the best cake texture.

Using a baking spatula, stir the previous cocoa mixture into the first bowl with the egg/butter mixture.

Add in the almond flour, baking powder, and unsweetened almond milk.

Beat on low speed to combine and form a smooth cake batter with no lumps.
Cake Decoration – optional
Scoop out 1/4 cup of cake batter and spread in a thin layer on a separate baking tray, covered with a piece of oiled baking paper. Bake this cake layer at 160°C (325°F) for 10 minutes or until set. Crumble this to decorate the top of the cake!

Cool it down, then crumble with your fingers to form a red crumb and decorate the cake at the end.
Bake the cake layers
Fill each greased baking pan evenly. Usually, each layer will be made of about 2 cups of cake batter. Spread the batter evenly with a spatula, then tap the baking pan a few times on the benchtop to make sure you remove any air bubbles locked in the batter.

Bake for 22-30 minutes in the center of your oven. The fan-bake mode is ideal if you have one. Otherwise, use regular mode (same temperature). Your cake is cooked when the top is still soft and moist, and a skewer inserted in the middle comes out clean with no crumbs sticking on the skewer. Note: this is a gluten-free cake. It won't raise and form 2 moist, thin, flat cake layers of red velvet cake layer.

Remove from the oven, cool for 5 minutes in the pan, then unmold and cool on a cooling rack until it reaches room temperature – about 1 hour.
Cake Frosting
In a large mixing bowl, beat softened cream cheese with soft butter, powdered erythritol, and vanilla.

Place the first layer of cake onto a cake frosting turning table, then add 1/3 of the frosting to the center of the cake layer. Spread with a spatula, turning the cake frosting table to spread evenly.

Place the second cake layer on top of the previous one, add more frosting, and repeat the previous step to cover the top and side of the cake.

Cut the cake in 12 slices and serve one slice as one serving.
Frosting storage
Store leftover frosting in an airtight container in the fridge and eat as a zero-carb keto snack. You can also freeze this frosting in an ice cube tray to make single-serve keto frozen snack treats.
Cake storage
Store the cake in an airtight cake box in the fridge for up to 3 days or freeze in slices in an airtight container. Defrost the day before at room temperature.
Notes
How to troubleshoot butter lumps in cake batter? This happens if you are using cold butter or cold eggs. To fix the issue, prepare a large baking bowl with hot water. Place the baking bowl (with the butter/erythritol mixture) on top of the hot bowl (called 'bain-marie'). The heat from the warm bowl will transfer to the cake batter bowl gently. As you keep stirring the butter/erythritol mixture, the lumps will disappear.
Want My Kitchen Equipment?
Serving:
1
slice
Calories:
373.5
kcal
(19%)
Carbohydrates:
6
g
(2%)
Fiber:
2
g
(8%)
Net Carbs:
4
g
Protein:
8.2
g
(16%)
Fat:
36.5
g
(56%)
Saturated Fat:
14.8
g
(93%)
Cholesterol:
126.6
mg
(42%)
Sodium:
323.4
mg
(14%)
Potassium:
87.9
mg
(3%)
Sugar:
2
g
(2%)
Vitamin A:
881.4
IU
(18%)
Calcium:
150.6
mg
(15%)
Iron:
1.3
mg
(7%)
Posted In: