These easy Keto Coconut Macaroons have a delicious toasted coconut crunchy texture and only 0.9 grams of net carbs per serving.
Plus, these keto coconut macaroons are made with only 4 ingredients and ready in just 20 minutes for a quick keto dessert, 100% gluten-free.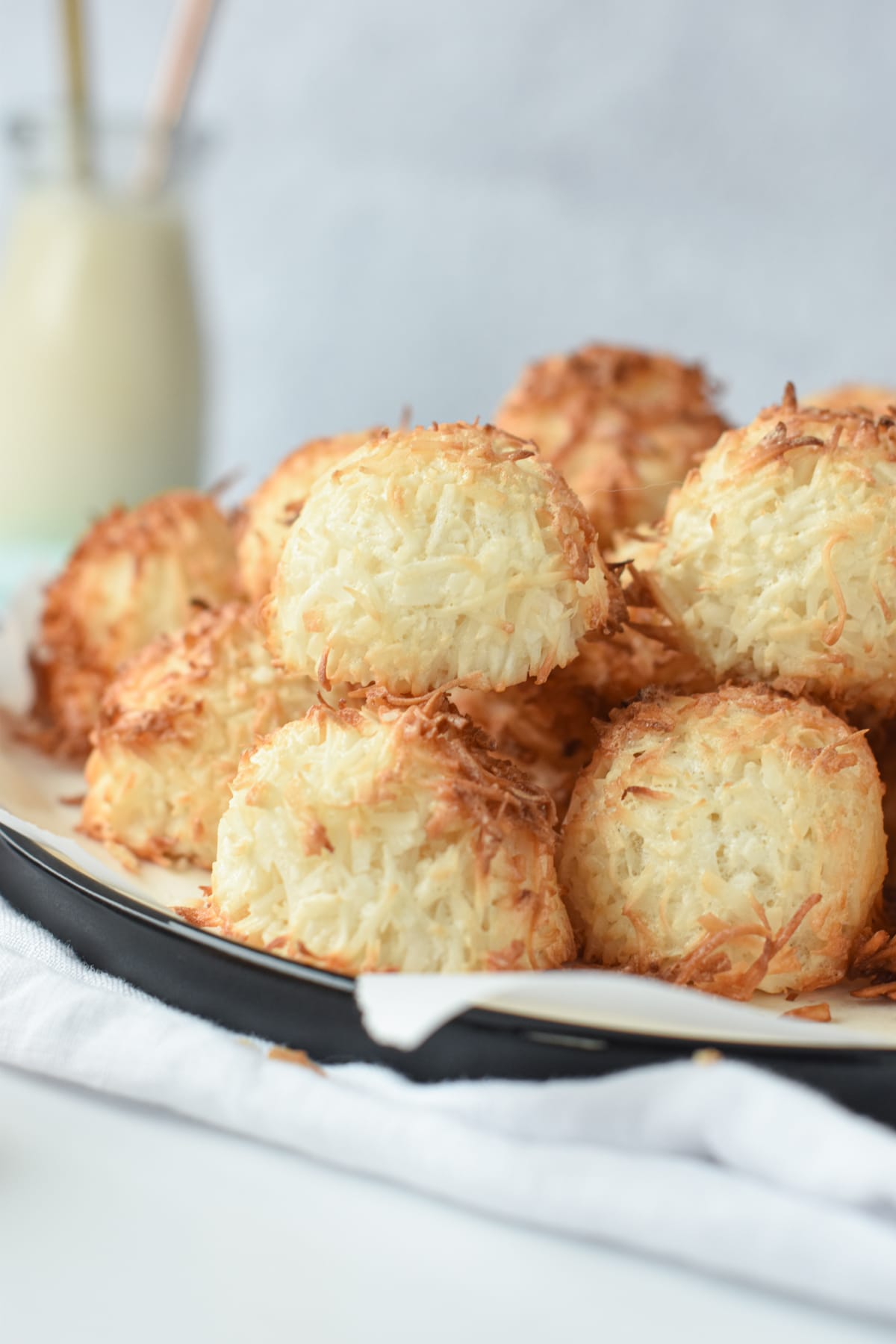 Are Macaroons Keto-friendly?
No, authentic coconut macaroons are full of added sugar from sweetened condensed milk and sugar.
Therefore, it raises your blood sugar levels, and one regular macaroon will keep you out of ketosis quickly with 7 grams of net carb each!
How To Make Keto Coconut Macaroons
It's super easy to make delicious keto low-carb macaroons for the holiday season.
Ingredients
All you need to make these gluten-free macaroons without condensed milk are:
Large Egg Whites – I insist on large egg whites! If your egg whites are too small, the batter won't get saturated by the amount of coconut called in the recipe. As a result, the batter will spread and won't firm up in the oven.
Erythritol – I don't recommend xylitol as a keto sweetener in this recipe because it makes the coconut spread too much. You can use any keto granulated sweetener or any granulated sweetener you like if you are not on a keto diet like coconut sugar for a paleo macaroon recipe. Learn how to choose your keto flours.
Vanilla Extract
Unsweetened Shredded Coconut – this refers to medium coconut thread. It's thicker than desiccated coconut, but not as thick as coconut flakes. The difference matters when it comes to making the best macaroons!
Whip The Egg White
First, separate the egg white and egg yolks. Keep the egg yolks aside to make my keto banana pudding, for example.
Then, in a large mixing bowl or the stand mixer bowl, add the egg white and sweetener you choose.
Beat the egg whites with a hand beater or the whisk attachment of your stand mixer at high speed. Whisk until a stiff peak forms – if you turn the bowl upside-down, the egg white won't fall.
Stir In The Coconut
Now, use a silicone spatula to gently fold in the vanilla extract and shredded coconut. This action breaks the egg whites, but if you work gently, you can keep some fluff.
You must have a batter with many bites of coconut, not too wet. If your egg whites are larger, you may need to add more coconut or if your coconut thread is finer.
Adjust until it looks like the picture below.
Press and scoop
The trick to making beautiful macaroons, keto or not, is to:
Scoop small amounts of batter using a cookie dough scoop – it is about 2 tablespoons of batter or 30 grams. Don't use your hands. It is way too hard to shape macaroons that hold their shape by hand.
Press the batter firmly into the cookie scoop, as seen in the picture below. This is so important as the thread of coconut wouldn't stick together otherwise, and the macaroons would fall apart in the oven.
Release with a quick push on the cookie scoop to avoid breaking the macaroon apart.
Leave half a thumb of space between each macaroon.
Don't flatten the macaroons.
Baking
Macaroons bake super fast. First, Preheat the oven to 350°F (180°C). Line a baking sheet with parchment paper and grease lightly with coconut oil.
Bake in the center rack for 10-12 minutes until just golden brown on top and firm and crispy on the sides.
Remove from the oven and cool down for 12 minutes on the rack.
Then, use a flat tool, like a spatula, to slide under each paleo macaroon to gently unstick from the paper and release it on a wire rack to cool down fully.
Serving Ideas
This keto macaroon recipe contains 0.9 grams of net carbs per serving. If you don't mind a few extra carbs, drizzle some melted sugar-free chocolate on top or dip the bottom of each macaroon into the melted chocolate.
Place the macaroons upside-down on a plate and pop them in the fridge to harden the chocolate.
Storage
These low-carb coconut macaroons store very well in the fridge for up to 4 days. Then, freeze in ziplock bags or an airtight container and thaw at room temperature before eating.
Frequently Asked Questions
Why Does My Macaroon Batter Fall Apart?
This happens when you have too much coconut in the batter. It could be three reasons:
Your egg whites are smaller than the ones used in the recipe.
Your shredded coconut is coarser – especially if you chose coconut flakes.
You didn't press the batter firmly into the cookie scoop maker before releasing the batter on the tray.
To fix a batter that is too loose and if packing the batter in the scoop is not enough, add extra whipped egg white in the batter.
Whip an extra egg white and add gradually to your batter until wet enough to come together.
Why Is My Macaroon Batter Dry?
It can be that you cooked the macaroons for too long, or the coconut thread is coarse and stays dry.
Always choose shredded coconut for the best results.
Why Is My Batter Too Wet?
You have two options:
Add 1/4 cup of almond flour to soak up the extra liquid from egg white.
Add more shredded coconut.
More Low-Carb Cookie Recipes
If you like low-carb cookies, you'll love these!
Have you made these sugar-free coconut macaroons? Share a review or comment below to connect with me!
XOXO Carine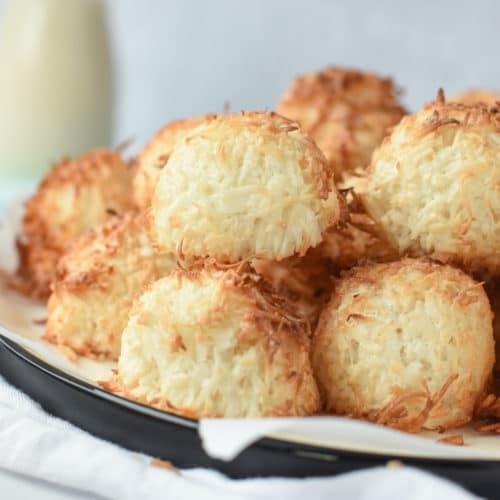 Keto Coconut Macaroons
This easy Keto Coconut Macaroons recipe has the best toasted coconut flavor and crunch. 100% gluten-free and dairy-free.
Nutrition Snapshot
Want My Kitchen Equipment?
Instructions
Preheat oven to 350°F (180°C). Line two cookie sheets with parchment paper and lightly oil with coconut oil. Set aside.

Place the egg whites and erythritol in a mixing bowl, and using a hand mixer, beat egg whites until a stiff peak forms. You can add 1/4 teaspoon cream of tartar or a pinch of salt to help the egg white firm up.

When the egg whites are firm (when you can turn the bowl upside-down and the egg whites don't fall), use a silicone spatula to gently fold in the shredded coconut and vanilla into the fluffy egg whites mixture.

The batter should be quite dense, saturated by the amount of coconut but still easy to shape into balls if pressed into a cookie scoop. If too liquid (too much egg whites), add an extra 1/2 cup of shredded coconut.

Use a cookie dough scoop to scoop out the batter, then pack it firmly in the scoop to form a coconut ball that holds well together.

Now, scoop out the batter onto the cookie sheet, don't flatten the macaroons, and repeat the steps above, leaving half a thumb of space between each macaroon.

You should make 24 macaroons with the batter. Bake them on two cookie sheets separately at 350°F (180°C) for 10 minutes, one batch at a time, leaving the extra cookie sheet on the kitchen benchtop while the first one is baking.
Storage
Store in an airtight container for up to 4 days in the fridge or freeze and thaw the day before.
My Recipe Notes
Nutrition
Serving:
1
macaroon
Calories:
67.8
kcal
(3%)
Carbohydrates:
2.5
g
(1%)
Fiber:
1.6
g
(7%)
Net Carbs:
0.9
g
Protein:
1.3
g
(3%)
Fat:
6.3
g
(10%)
Saturated Fat:
5.5
g
(34%)
Polyunsaturated Fat:
0.1
g
Monounsaturated Fat:
0.3
g
Sodium:
12.7
mg
(1%)
Potassium:
62.1
mg
(2%)
Sugar:
0.8
g
(1%)
Vitamin B12:
0.1
µg
(2%)
Vitamin C:
0.1
mg
Calcium:
2.9
mg
Iron:
0.3
mg
(2%)
Magnesium:
9.4
mg
(2%)
Zinc:
0.2
mg
(1%)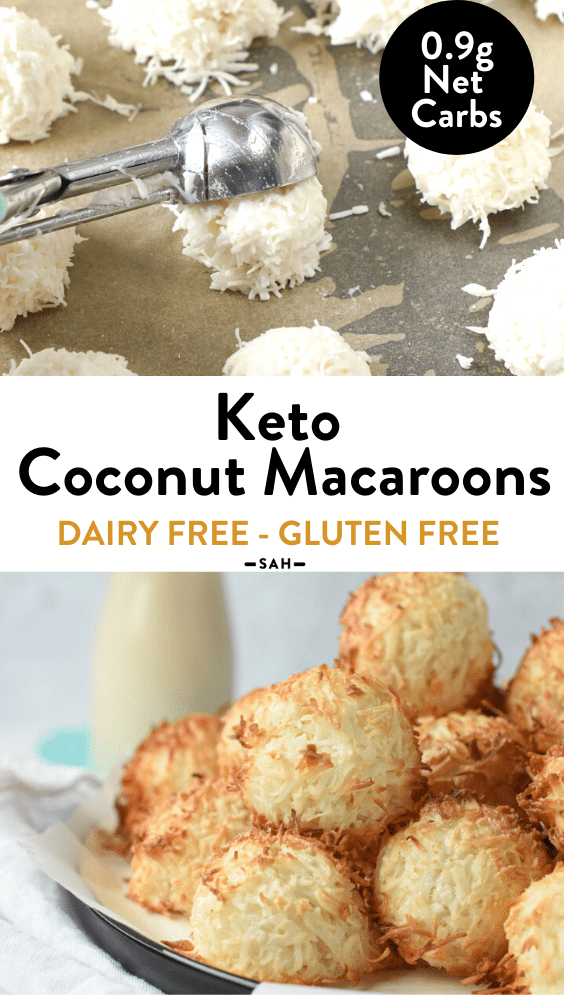 Posted In: