Keto Chocolate Chia Pudding (4 Ingredients)
This Keto Chocolate Chia Pudding with almond milk is one of the best healthy breakfasts to start the day.
Bonus, this chia seed pudding recipe is sugar-free and dairy-free with only 3.7 grams net carbs per serving.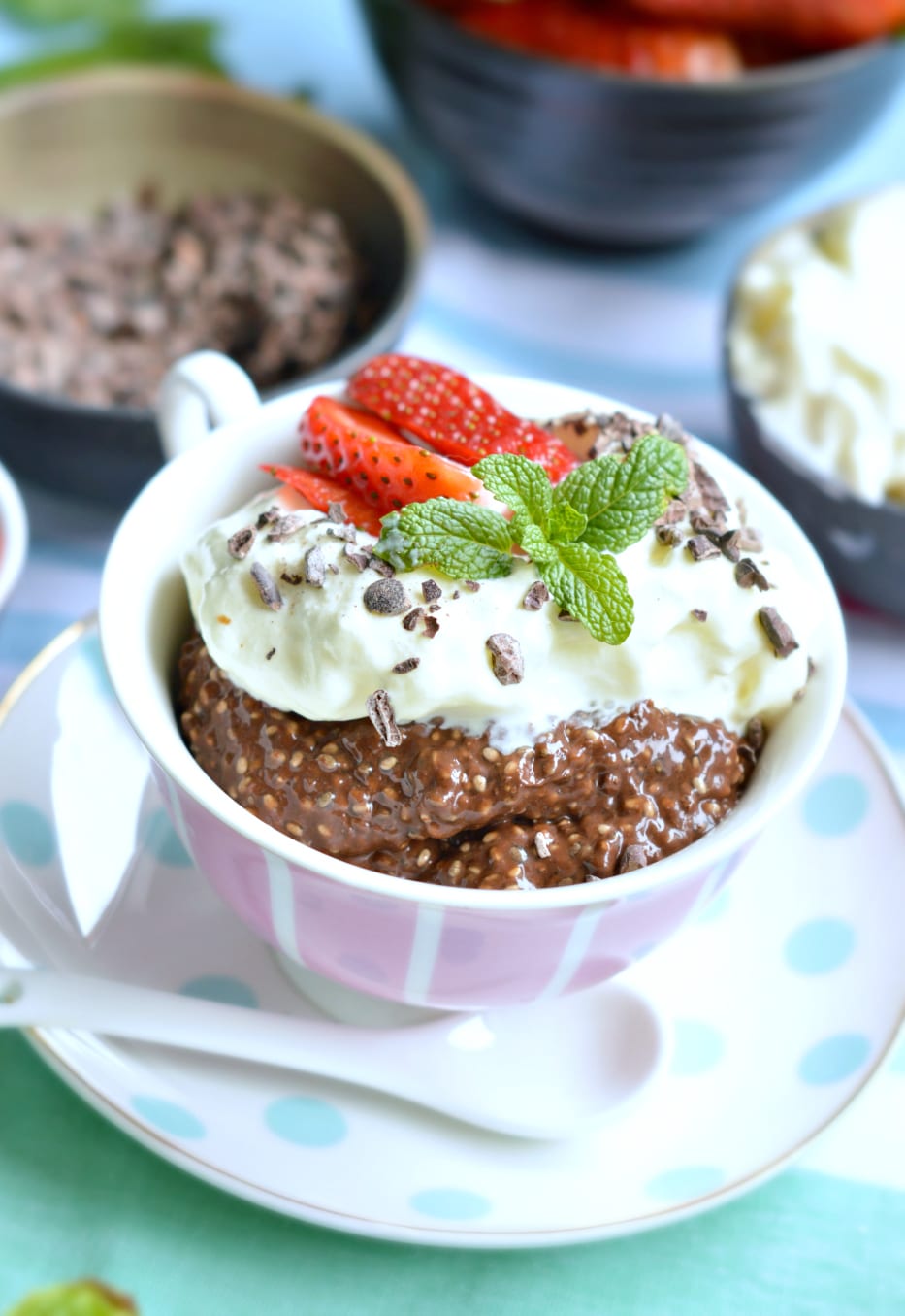 What Is A Keto Chocolate Chia Pudding?
A keto chocolate chia pudding is a healthy breakfast recipe combining chia seeds and low-carb milk to create a smooth, creamy breakfast bowl.
It has a similar texture to tapioca pudding, it's creamy with slimy round bites of seeds.
However, puddings made of chia are healthier than the ones made of tapioca pearls. Indeed, the chia seeds are super seeds!
They contain almost no carbs, lots of vitamins, and fiber. Chia seeds are also loaded with 34 grams of fiber per 100 grams.
In fact, that's this high amount of fiber that provides the amazing properties of chia seeds.
They are highly liquid-absorbent and double in size when soaked in water or milk, creating a creamy, silky smooth texture like pudding.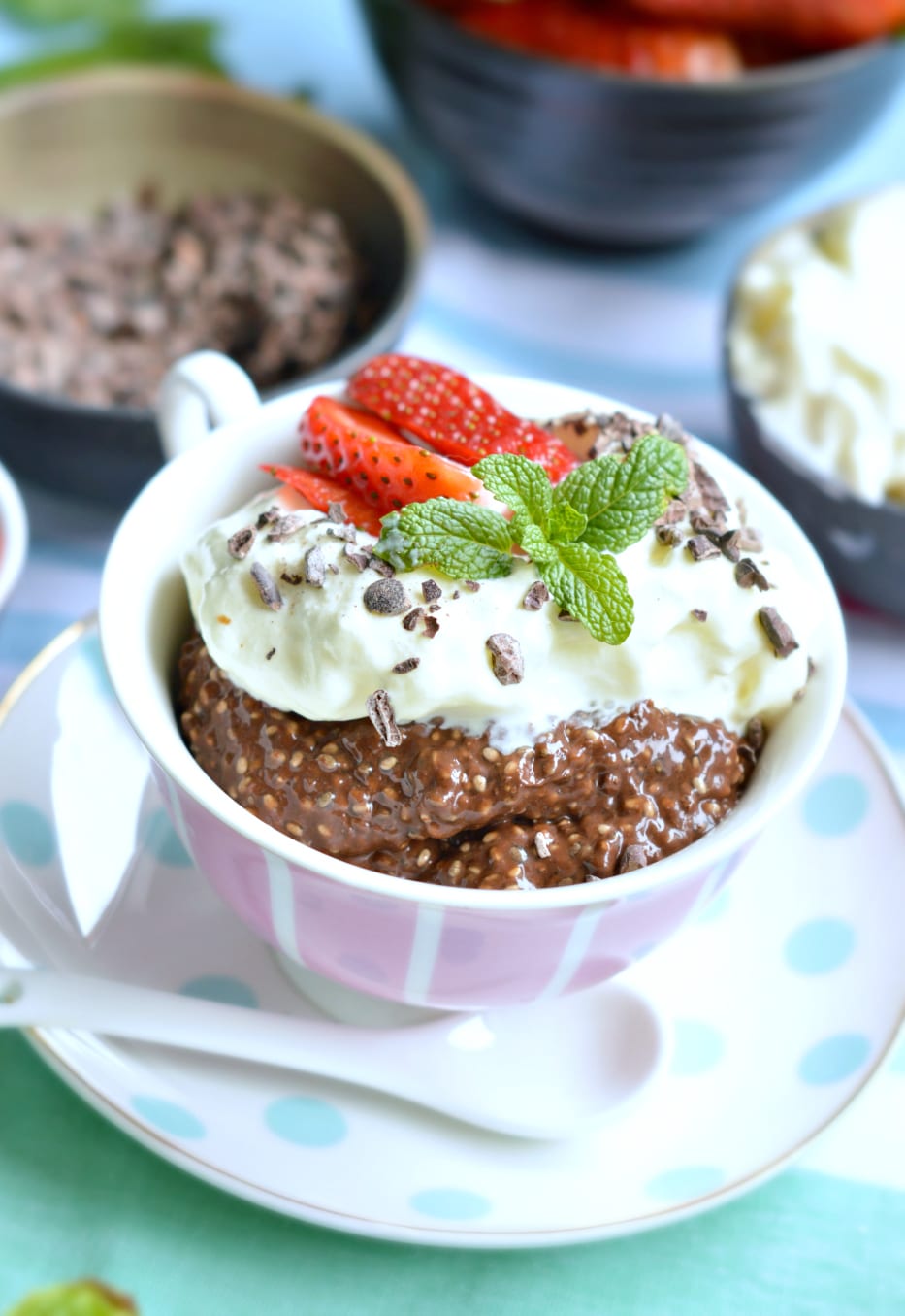 How To Make Keto Chocolate Chia Pudding
This Keto Chocolate Pudding with chia is a very easy 4-ingredient recipe.
As a general rule, if you want to get a silky smooth texture, you must use 1/4 cup of chia seeds per 1 1/4 cup of milk or 45 grams of chia seeds per 300 ml of milk.
In this chocolate pudding recipe, we use unsweetened dairy-free milk to limit calories, carbs, and sugar. All you need to make this delicious chocolate chia seed pudding is:
Ingredients
Chia seeds – you can use either black or white chia seeds, it's up to you, they have the same properties.
Unsweetened almond milk – I love to use unsweetened vanilla almond milk from Almond Breeze. Indeed, this dairy-free milk contains no sugar added and just a few calories. It's a great addition to a healthy breakfast.
Unsweetened cocoa powder
Erythritol – in my opinion, the best sugar-free sweetener option.
Instructions
Making this Keto Chocolate Chia Pudding is extremely straightforward.
It will only take you about 5 minutes of your time and a night of waiting for it to be ready.
Start your pudding by combining all its ingredients in a glass mason jar.
Close the jar, ideally with a lockable lid, before shaking it vigorously to combine all the ingredients.
Place the Keto Chocolate Chia Pudding in the fridge and leave it there for at least 3 hours.
The ideal timing is closer to 8 hours, hence why it's also called an overnight porridge!
To get the best taste in the morning, it's ideal for stirring the jar with a spoon after 30 minutes in the fridge.
Serving
Serve your Keto Chia Pudding the next morning with fresh strawberries and a dollop of sugar-free coconut cream for the perfect keto breakfast.
Storage Instructions
You can keep your Chocolate Chia Pudding in the fridge for up to 4 days in their airtight mason jars.
Alternatively, you can also freeze them and leave them overnight in the fridge to thaw.
Allergy Swaps
If you are allergic to some of the ingredients, here are the swaps you can make:
Almond Milk: Swap for the same volume of Coconut Milk, Peanut Milk, or Soy Milk. Adding dairy milk would add a lot of carbs as milk is not a keto-friendly dairy product.
Cocoa Powder: if you are allergic to chocolate or don't like cocoa powder, you can replace it with peanut butter.
Erythritol: you can swap the erythritol for any sugar-free crystal sweetener you like.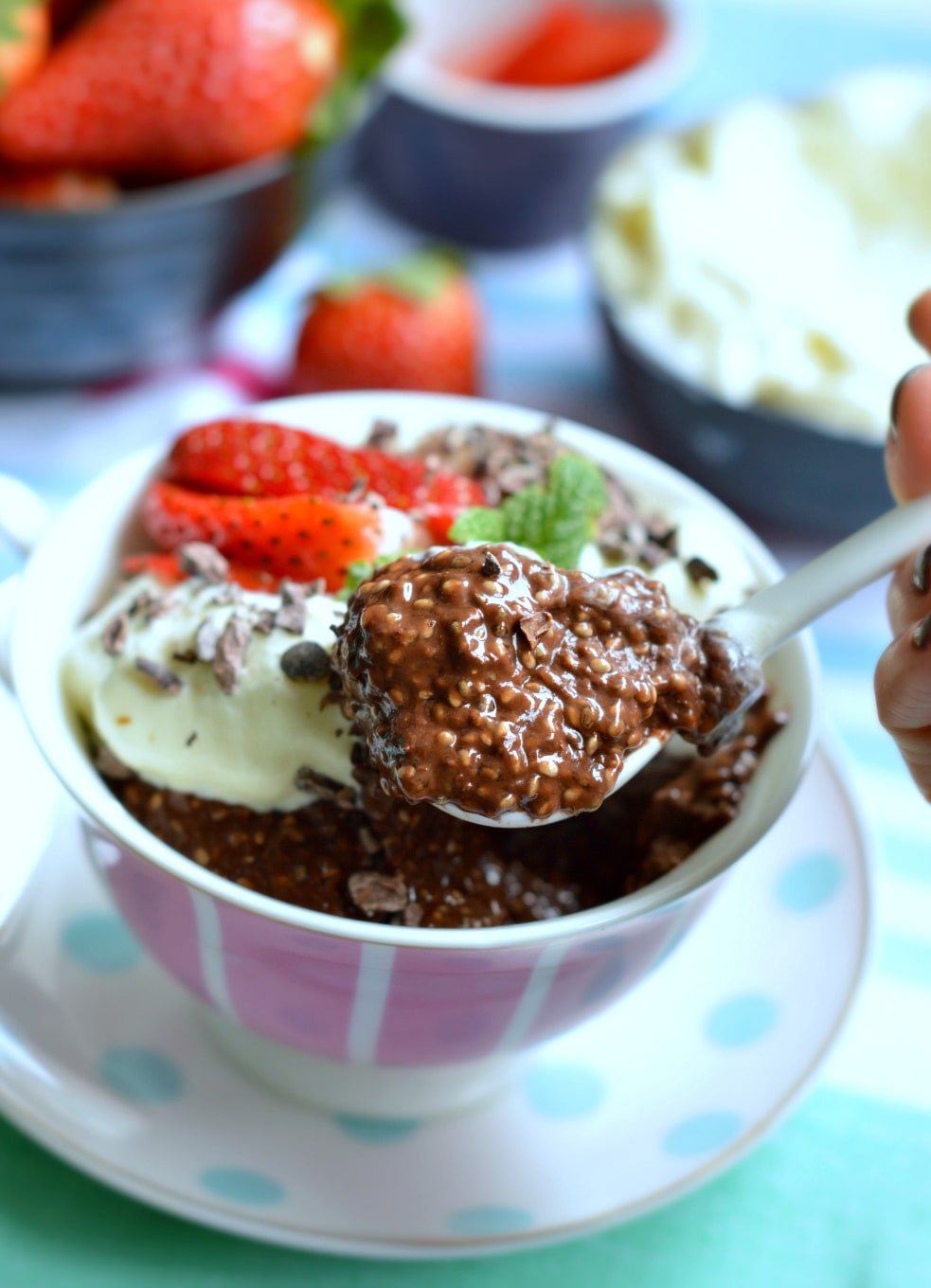 Frequently Asked Questions
How Does Chocolate Chia Pudding Taste?
Chia seeds are very bland in flavor, they mainly have a slimy texture to breakfast and desserts. If you are not a big fan of the viscous texture of the super seeds, you can grind them.
Grinding the chia seeds into a powder will essentially remove the slimy seed texture. Also, it will create smoother, creamier pudding more like a keto dessert.
Of course, the chia seed ratio in my ground chocolate chia seed pudding is different as the ground chia seeds are more water-absorbent.
Can I Turn It Into Popsicles?
Absolutely! You can pour the porridge into popsicle molds and turn this into a delicious ice block.
Make sure to do that after at least 3 hours in the fridge, so the chia seeds have absorbed enough milk.
More Keto Chia Pudding Recipes
This pudding recipe is perfect to start the day on a vegan keto diet.
Most of the carbs in chia are fiber. Therefore, one serving of this breakfast bowl has only 6.9 grams of net carbs.
I've listed below many different kinds of keto pudding recipes from the blog. Just follow the link to give them a go!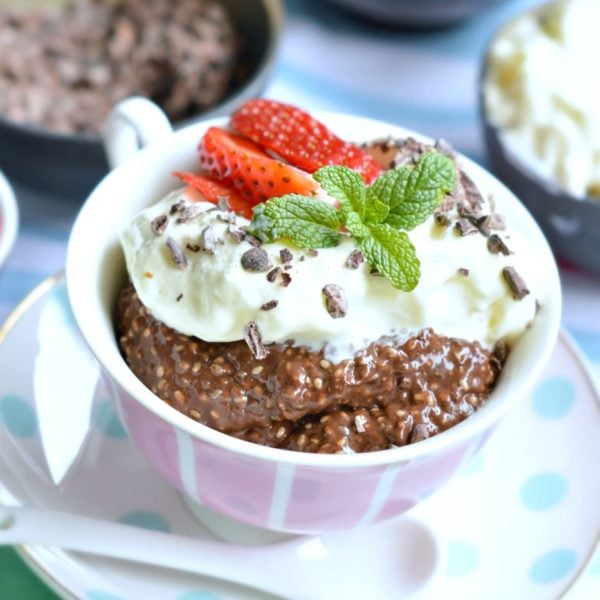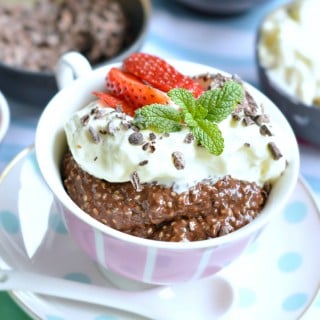 Keto Chocolate Chia Pudding
This delicious Keto Chocolate Chia Pudding with almond milk is an easy 4-ingredient whole30 breakfast recipe.
Ingredients
½

cup

Chia Seeds

(90 g)

¼

cup

Unsweetened Cocoa Powder

2 ½

cups

Unsweetened Vanilla Almond Milk

¼

cup

Erythritol
This recipe may contain Amazon or other affiliate links. As an Amazon Associate I earn from qualifying purchases.
Instructions
In a glass mason jar, add the chia seeds, unsweetened cocoa powder, erythritol, and unsweetened almond milk.

Close the jar and shake vigorously to combine all the ingredients.

Refrigerate for 30 minutes. Open the jar, give a good stir with a fork to prevent the seeds from sticking together and forming lumps. Close the jar and shake vigorously again for about 20 seconds.

Refrigerate at least 3 hours or overnight before serving.

When ready to eat, serve in an individual serving bowl with extra unsweetened whipped cream, cocoa nibs and fresh berries on top.

Can be stored in the fridge in a glass mason jar for up to 1 week.
Notes
Texture: If your pudding is too thick to your taste, you can adjust the consistency by adding slightly more almond milk, 1 tablespoon at a time. Sweetener: you can replace sugar-free liquid sweetener with a sugar-free crystal sweetener like Monk fruit or erythritol. Use the same amount and add 2 tablespoons of extra almond milk to balance the texture. Net carbs: 3.7 g per serve. This recipe serves 4 puddings.
Want My Kitchen Equipment?
Serving:
1
pudding
Calories:
144.6
kcal
(7%)
Carbohydrates:
13.5
g
(5%)
Fiber:
9.8
g
(41%)
Net Carbs:
3.7
g
Protein:
5.5
g
(11%)
Fat:
9.5
g
(15%)
Saturated Fat:
1.4
g
(9%)
Sodium:
207.7
mg
(9%)
Potassium:
182.2
mg
(5%)
Sugar:
0.7
g
(1%)
Vitamin C:
5.6
mg
(7%)
Calcium:
328.5
mg
(33%)
Iron:
2.4
mg
(13%)
Posted In: