Keto Chia Pudding with Peanut Butter
Peanut Butter Keto Chia Pudding is a healthy keto vegan breakfast or dessert made with chia seeds, unsweetened almond milk, and sugar-free monk fruit syrup.
What's a Peanut Butter Pudding?
Peanut Butter Pudding is a low-carb breakfast made by combining the goodness of chia seeds and peanut butter, soaking them in almond milk, and leaving the mixture overnight.
The pudding becomes thick, rich, and tasty for a healthy, keto-friendly breakfast.
Is Peanut Butter Keto?
Peanut butter is great keto-friendly nut butter. With only 1.4 grams of net carbs, it is going to keep you in ketosis!
Learn how to start a keto diet.
However, you need to find natural peanut butter, not one of these store-bought butter jars with added sugar and emulsifiers!
If you are in doubt, you can always make your own peanut butter. The recipe is super simple!
How To Make Peanut Butter Keto Chia Pudding
I am in love with ground chia seed pudding for breakfast.
Using ground chia seed in your pudding makes all the difference. It creates the smoothest pudding texture, with no slimy pieces of seeds.
It is almost like eating dessert for breakfast. I indeed also serve this for dessert!
Everyone will love it! This peanut butter chia pudding is also the simplest recipe.
Ingredients
All you need are a few ingredients:
Peanut butter – of course, that is the main ingredient in this recipe. Make sure you use one with no added sugar and no added oil. If you can't have peanuts for any reason, this recipe will work with cashew butter, almond butter, or even sunflower seed butter.
Ground chia seeds, also known as chia seed flour – if you don't find this in the supermarket, you can buy them online, or it is super easy to make your own. Add chia seeds into your blender. Make sure you add enough seeds to cover the blade fully. Blend until pulsed into a thin ground. Store ground chia seeds in an airtight container in the pantry for up to 1 year! You can watch my chocolate chia seed pudding recipe video to see how I make mine.
Unsweetened Almond Milk – I love to use almond milk in my chia seed pudding. It has low calories, no sugar, and very few carbs, and gives the perfect creamy texture to my recipe without using dairy.
Salt – optional, especially if your nut butter is salted.
Vanilla essence – just because everything is better with a hint of vanilla
Sugar-free Monk fruit syrup – this is a delicious natural syrup with no sugar, no carbs, with a delicious maple flavor. You won't believe it is sugar-free as it tastes like real maple syrup.
Making This Keto Chia Pudding
This is a straightforward recipe.
Blend all the ingredients in a blender.
Sweeten to taste
Transfer into small jars
Refrigerate for a few hours.
Please read the full recipe card to get all my tips and tricks for making the best keto chia pudding.
I highly recommend refrigerating this pudding for at least 3 hours.
While this pudding tastes absolutely amazing straight away, waiting to give the chia seeds fiber some extra time to absorb the liquid.
It will create the most delicious silky smooth pudding.
Tips To Meal Prep A Week's Breakfasts
If you love breakfast meal prep as I do, you can make this peanut butter chia pudding on a Sunday.
Store hen in an airtight container and serve a portion every morning.
This recipe serves 8 portions resulting in 6.4 grams of net carbs per serving.
I always have about half of my daily carb macros for breakfast, and this peanut butter chia pudding keeps me full for at least 5 hours.
One batch of chia pudding keto will cover your whole week. Though for Sunday I recommend my low-carb coconut flour pancakes instead or some keto almond flour crepes.
More Keto Breakfast Recipes
If you have enjoyed this keto chia pudding recipe, you will love these breakfast recipes:
I hope you enjoy this simple, delicious peanut butter chia pudding recipe. Don't forget to tag me on Instagram to share your wonderful creation with me!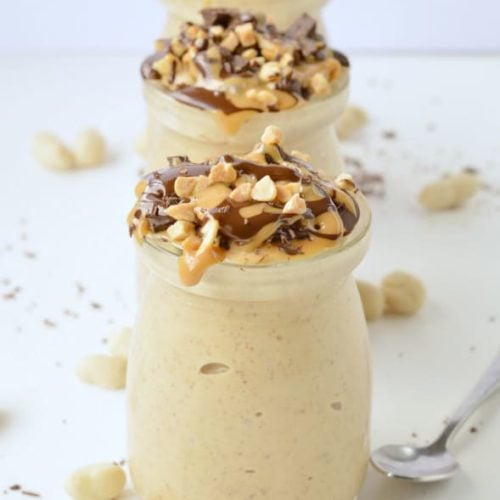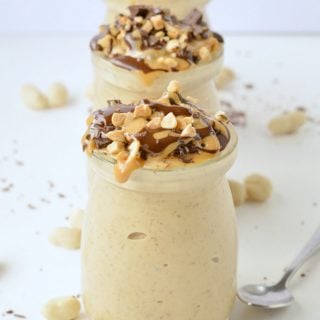 Peanut Butter Chia Pudding.
Peanut Butter Chia Pudding a healthy keto vegan breakfast or dessert made with chia seeds, unsweetened almond milk, and sugar-free monk fruit syrup.
Ingredients
Toppings suggestions per jar
This recipe may contain Amazon or other affiliate links. As an Amazon Associate I earn from qualifying purchases.
Instructions
In a blender, add all the ingredients. The order doesn't matter.

Blend for 30 seconds, stop, scrape the side and bottom of the blender with a spatula. Blend again for 30 seconds – 1 minute or until creamy and smooth.

I recommend you check the sweetness at this stage and adjust with extra drops of monk fruit extract (or stevia drops) for a sweeter pudding. You can also adjust sweetness with extra maple-flavored syrup but the pudding, but this will change the texture. The more syrup you add, the more liquid the pudding will be. That is why I prefer to adjust sweetness with drops.

Transfer into 8 small glass jars. 1 serving is about 1/3 cup (80ml).

Refrigerate at least 3 hours for the best creamy texture and flavors.

Serve with toppings of your choice. I recommend sugar-free dark chocolate chunks, a drizzle of melted sugar-free chocolate, a drizzle of peanut butter, and a pinch of crushed peanuts.

Store in the fridge for 5 days in an airtight container.

Serve for breakfast or dessert.
Notes
Ground chia seed: if you prepare the ground at home, ground the whole chia seeds first. Then measure the ground chia seeds required by the recipe. Net carbs: 6.4 grams of net carbs per serving for 8 servings per recipe.
Want My Kitchen Equipment?
Serving:
1
pudding
Calories:
240.3
kcal
(12%)
Carbohydrates:
12.2
g
(4%)
Fiber:
5.8
g
(24%)
Net Carbs:
6.4
g
Protein:
9.5
g
(19%)
Fat:
19.4
g
(30%)
Saturated Fat:
3.7
g
(23%)
Polyunsaturated Fat:
5.6
g
Monounsaturated Fat:
8.9
g
Trans Fat:
0.1
g
Sodium:
267
mg
(12%)
Potassium:
211.9
mg
(6%)
Sugar:
3.6
g
(4%)
Vitamin A:
2.9
IU
Vitamin C:
0.1
mg
Calcium:
97
mg
(10%)
Iron:
1
mg
(6%)
Magnesium:
74.6
mg
(19%)
Zinc:
1.1
mg
(7%)
Posted In: