I discovered chia seeds a few years ago when I started to bake a little bit healthier and I decided to completely stop eating refined sugar. First, I was not sure why people were so excited about it.
Well, I knew it is a supercharged seed rich in fiber and minerals but I did not think it added lots of taste to baking. I later understood that the power of chia seeds was not their taste but their amazing abilities to soak water 12 times of their weight!
And creating a jelly-like texture when soaked in liquid. As almost half of the chia seeds are made of fiber it also means that most of them are not digested by our body therefore not adding extra calories to our diet and improving transit.
Raspberry chia pudding
So I started to use them a lot in desserts to create pudding, parfait, flan, cream, or even jam. Today I am sharing one of my favorite snack recipes that I called a Raspberry and Cream Chia Seeds Pudding.
While not containing cream, I really think it tastes like the Strawberry & Cream drink I was used to drinking from Starbucks.
It is a very simple snack to prepare the only thing is it has to be made the day before to enjoy the pudding-like texture. But then, it stores very well in your fridge if you cover the bowl with plastic wrap to prevent the top from drying.
I like to experiment with different dairy-free milk, berries, or grounded nuts to create a variety of snacks each time. It has also been approved by my 2 years old little girl so I will say it is a very family-friendly snack or even dessert if you like.
ⓧ
Are you new to Keto?
Receive my Keto Quick Start email series to learn all about the Keto diet and kick start your keto journey!
I hope you enjoy this recipe. Leave me a comment if you try this. Carine.
More keto chia seed pudding recipes
If you love keto chia seed pudding for breakfast I recommend you also try :
Made this lovely raspberry chia seed pudding and want to share your picture with me? Join me on Instagram!
xoxo Carine
Recipe Card
Raspberry Chia Seeds Pudding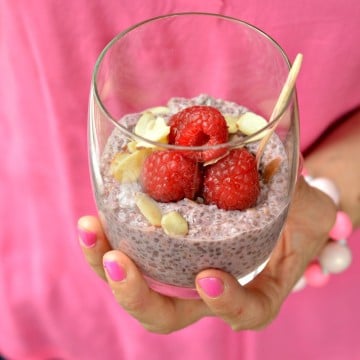 Raspberry Chia Seeds Pudding
Instructions
In a blender, blend all the ingredients at high speed for 30-45 seconds until smooth and with no lumps.

Otherwise, if you don't have a blender or if you love the chia seed texture, mash the raspberries with a fork and combine them with the rest of the ingredients.

Transfer into 2 breakfast bowls or glass. Cover the bowls with plastic wrap and refrigerate for at least 3 hours or overnight. Note that if you didn't choose the blender method, you might have to stir the pudding after 30 minutes to prevent the side from forming lumps!

The next day, serve for breakfast or snack, with sliced almonds and fresh raspberries on the top.
Storage
Store up to 3 days in the fridge, in an airtight container.
My Recipe Notes
Tools
Starting Keto
What Is Keto Diet?
Macro Calculator
Sweetener Converter
Keto Meal Plans
Keto Recipe Ebooks
Intermittent Fasting
Keto Fruits
Keto Vegetables
Keto FLours
Fighting Keto Flu
Keto Sweeteners
Nutrition Facts
Raspberry Chia Seeds Pudding
Amount Per Serving (1 pudding)
Calories 129
Calories from Fat 68
% Daily Value*
Fat 7.6g12%
Carbohydrates 13.5g5%
Protein 4.2g8%
Net Carbs 4.8g
* Percent Daily Values are based on a 2000 calorie diet.