This Raspberry Chia Pudding with Almond milk and coconut cream is a delicious vegan, gluten-free, and keto-friendly healthy breakfast.
It's an ideal low-carb breakfast, with a delicious taste and surprising texture.
What Is A Chia Pudding?
Chia puddings are breakfast puddings made by soaking chia seeds overnight to make turn them into a gooey and jelly-like texture.
Chia seeds are super-food seeds that contain many nutrients. It's rich in antioxidants, minerals (calcium, iron, magnesium, phosphorus, zinc), vitamins (B1, B3), fiber, and omega-3.
Supercharge your breakfast with my raspberry chia pudding recipe!
How To Make Raspberry Chia Pudding
Since this recipe only contains a handful of ingredients, it's ridiculously easy to make in just a few minutes. All you then have to do is to wait overnight for the seeds to make their magic.
Ingredients
Let's have a look at the ingredients necessary.
Chia Seeds – these superfoods are loaded with nutrients. This pudding has to be left in the fridge overnight to give the chia seeds time to absorb the moisture and turn into a gel.
Almond Milk – I prefer to use unsweetened vanilla almond milk. It gives this pudding the best taste without adding unnecessary sugar. But you can use any plant-based milk you like such as coconut milk or oat milk!
Coconut Cream – the coconut cream is bringing a touch of creaminess to the pudding.
Raspberries – or any of your favorite fresh fruits.
Sweetener Of Choice – I like to use erythritol as it brings no sugar to the recipe, but you can use any sweetener you like such as coconut sugar or maple syrup!
You can also add optional ingredients such as vanilla extract or lemon juice.
Instructions
Combine all the above ingredients in a high-speed blender.
Blend them on the high-speed setting for 30 to 45 seconds until it's smooth and no lumps are left.
You can also make this pudding by stirring the ingredients with a fork or whisk if you don't have a blender.
Transfer the chia pudding mixture into two jars and cover them with plastic wrapping or a lid. Leave them in the fridge overnight to let the chia seeds absorb the milk.
Serving Raspberry Chia Seed Pudding
When the chia pudding has been left overnight in the fridge, you can serve it immediately with the following toppings:
Fresh Raspberries or any fresh berry you can find.
Runny Natural Peanut Butter
Sliced Almonds
It's delicious as a simple breakfast or a refreshing dessert.
Storage Instructions
This raspberry chia pudding recipe can be stored for up to 3 days in the fridge in their airtight jar. Since there's no dairy, it might be possible to keep them even more.
It's also possible to freeze them, but you'd have to leave them to thaw overnight in the fridge.
Frequently Asked Questions
Is chia pudding good for you?
Chia pudding can be excellent for your health, in particular, if you use low-sugar milk and sugar-free sweeteners.
Why is chia pudding slimy?
Chia pudding becomes slimy when the chia seeds absorb moisture. They turn into a gel-like texture.
Is chia seed pudding better than yogurt?
Chia seed pudding brings vitamins and minerals that aren't present in regular yogurt, so it's a healthy alternative.
How long do you soak chia seeds for pudding?
Chia seeds need at least 6 hours of soaking to absorb enough moisture.
But you can eat your pudding before that, the seeds won't have the same gel-like texture.
More Chia Seed Pudding Recipes
If you love chia seed pudding for breakfast I recommend also trying these recipes:
Made this lovely raspberry chia pudding and want to share your picture with me? Join me on Instagram!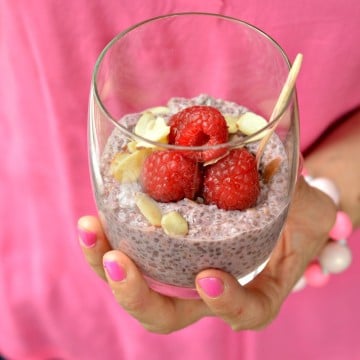 Raspberry Chia Pudding
This Raspberry Chia Pudding with Almond milk and coconut cream is a delicious vegan, gluten-free, and keto-friendly healthy breakfast.
Nutrition Snapshot
Want My Kitchen Equipment?
Instructions
In a blender, blend all the ingredients at high speed for 30-45 seconds until smooth and with no lumps.

Otherwise, if you don't have a blender or if you love the chia seed texture, mash the raspberries with a fork and combine them with the rest of the ingredients.

Transfer into 2 breakfast bowls or glass. Cover the bowls with plastic wrap and refrigerate for at least 3 hours or overnight. Note that if you didn't choose the blender method, you might have to stir the pudding after 30 minutes to prevent the side from forming lumps!

The next day, serve for breakfast or snack, with sliced almonds and fresh raspberries on the top.
Storage
Store up to 3 days in the fridge, in an airtight container.
My Recipe Notes
Nutrition
Serving:
1
pudding
Calories:
217.4
kcal
(11%)
Carbohydrates:
13
g
(4%)
Fiber:
8.4
g
(35%)
Net Carbs:
4.6
g
Protein:
4.7
g
(9%)
Fat:
17.6
g
(27%)
Saturated Fat:
7.4
g
(46%)
Polyunsaturated Fat:
5.4
g
Monounsaturated Fat:
3.7
g
Trans Fat:
0.1
g
Cholesterol:
33.6
mg
(11%)
Sodium:
133.1
mg
(6%)
Potassium:
146.8
mg
(4%)
Sugar:
2.3
g
(3%)
Vitamin A:
456.9
IU
(9%)
Vitamin B12:
0.1
µg
(2%)
Vitamin C:
8.3
mg
(10%)
Vitamin D:
0.5
µg
(3%)
Calcium:
253.2
mg
(25%)
Iron:
1.6
mg
(9%)
Magnesium:
69
mg
(17%)
Zinc:
1
mg
(7%)
Posted In: