Keto chia pudding are EASY 3 ingredients keto breakfast. Bonus, they are easy to make in different flavors : vanilla, chocolate, almond joy or coconut lime choose your favorite and starts the day with something sweet!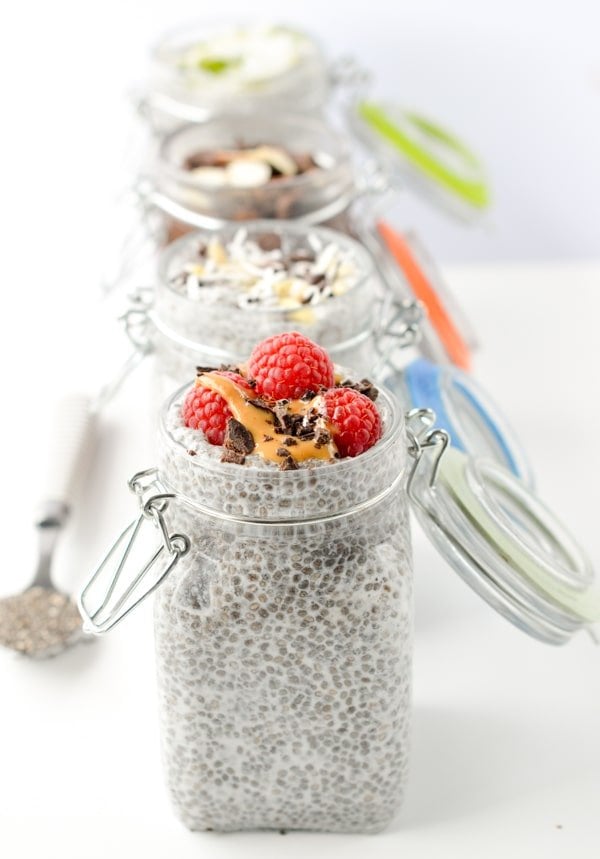 What's a keto chia pudding?
Chia seed pudding are by definition very low in carbs. Chia seed contains 46% carbs from which 83% are fiber. As fiber doesn't count in a low carb diet – you should count net carbs : carbs takeaway fiber – the amount of net carbs in chia seed is very low.
How to make chia pudding?
Chia seed pudding are easy breakfast recipe made with only 3 basic ingredients. Let me tell you more about this below.
Chia seed – you can use white chia seed or black chia seeds, both works. There is no nutritional difference between both it is only aesthetic preference. If you don't like black grey lump choose the white one.
Unsweetened almond milk. Almond milk doesn't contains lactose, the natural sugar occurring in milk. Therefore this is the best option to avoid carbs and sugar in your pudding
Sugar free crystal sweetener. There is many options like blend of Monk fruit Stevia or blend of erythrtitol stevia. Alternatively you can also use stevia drops. However, pure stevia must be use in smaller amount 2-4 drops, as it is highly concentrate and add bitterness.

How to flavor chia pudding?
I absolutely adore pudding with chia ! Earlier in the year I shared with you my ground chia seed chocolate pudding recipe, a delicious creamy low carb breakfast pudding with no lumps. It took me some times to appreciate the texture of soaked chia seed, but since I do I created 4 amazing pudding flavors that I am sharing with you today.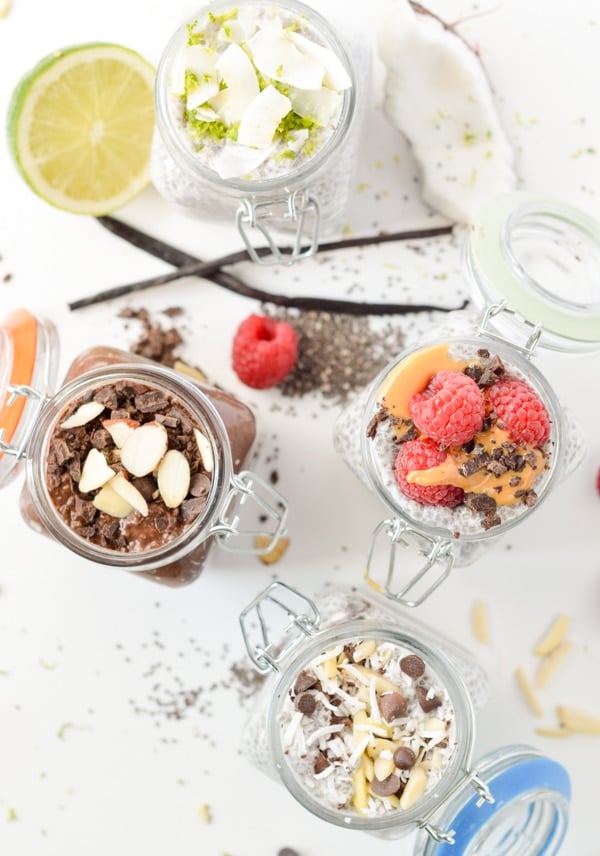 Vanilla chia seed pudding
Vanilla is the most classic flavor, the fastest to prepare too as I am using unsweetened vanilla almond milk from almond breeze which means you need only 3 ingredients to make this flavor. Their Vanilla almond milk has no sugar, a delicious vanilla flavor and creamy texture. I like this milk option as it avoids the use of vanilla essence that often contains alcohol. Alcohol don't evaporate in no-bake recipes and had a weird flavor, plus this is not good for your health either.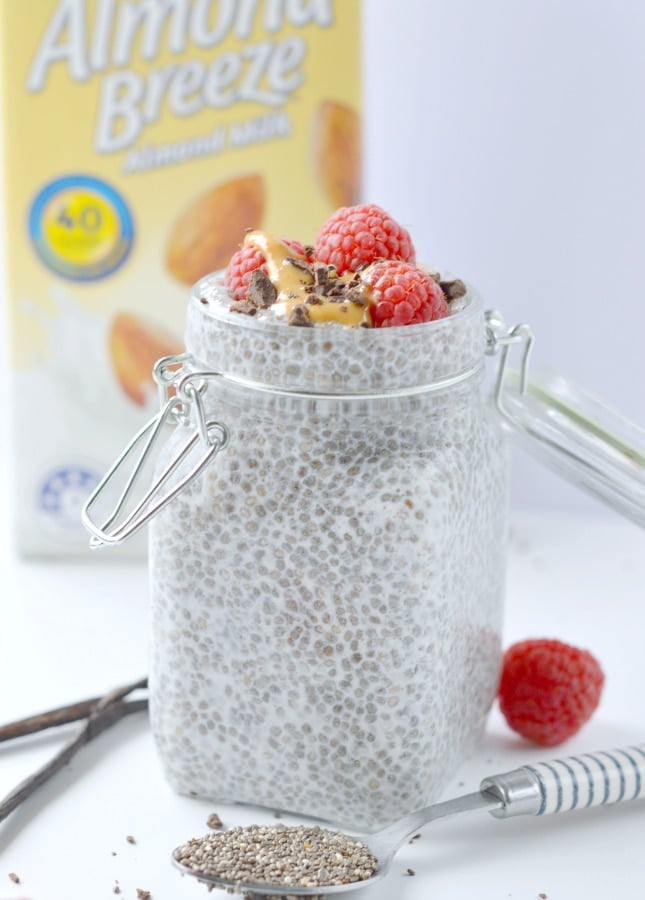 I love to top up my vanilla pudding with peanut butter, chopped sugar free dark chocolate and fresh raspberries.
Chocolate chia seed pudding
I am a chocolate lover if you are one too you will love this chocolate chia seed pudding with almond milk. It is cream and it has the perfect chocolate sweet flavor you expect using only unsweetened cocoa powder.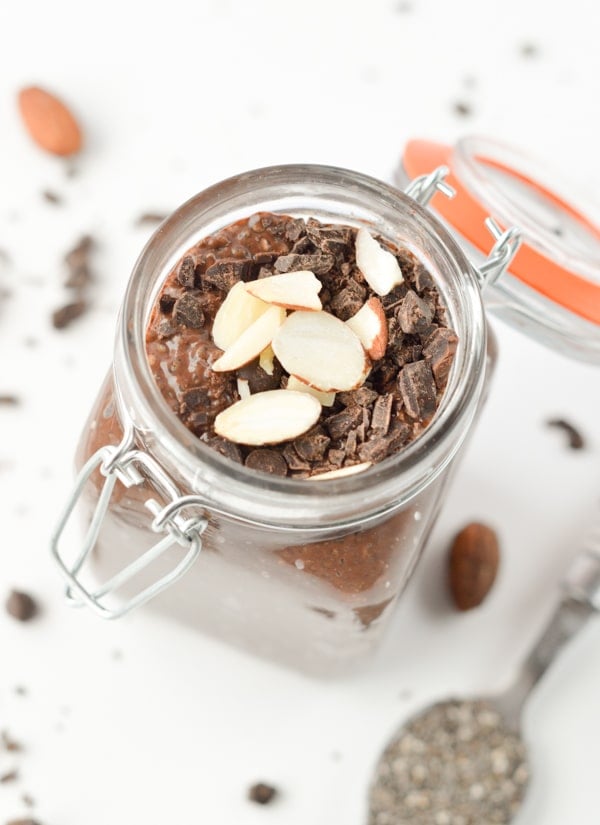 I love to top up my chocolate chia seed pudding with chopped sugar free chocolate or 85% cocoa dark chocolate and sliced almonds.
Almond Joy
I am sure there is almond joy lovers around here ! One reason I created this recipe flavor is that I have been a lover of almond joy bars in the past. Obviously, since I don't eat sugar anymore I don't eat those bars. As a result I love to create recipe that remind me the flavor of my favorite food like this pudding. This almond joy pudding has all the flavor of coconut, almond and chocolate you expect.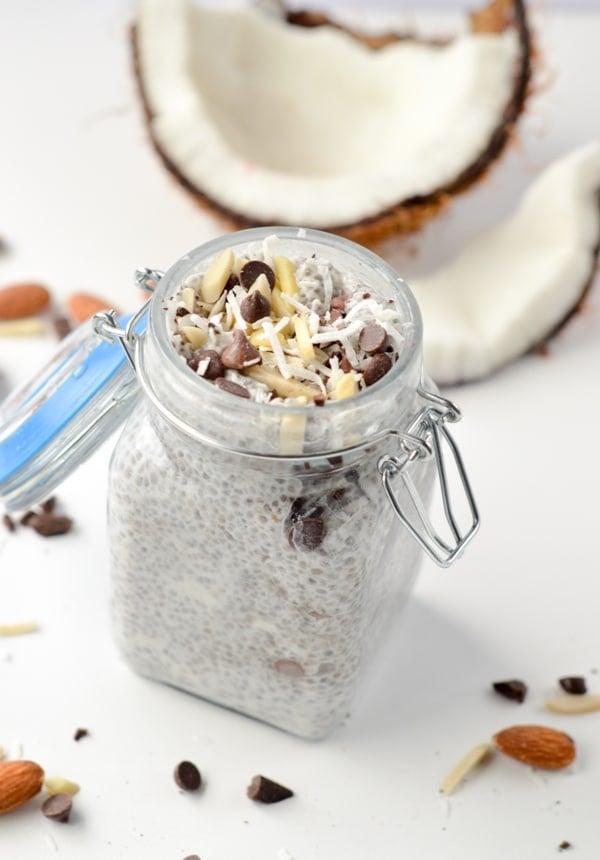 I love to top up my almond joy pudding with silvered almonds, sugar free chocolate chips and unsweetened shredded coconut.
Coconut Lime
On the other hands, I also love fresh tropical flavor for breakfast. So this coconut lime pudding is my option for summer.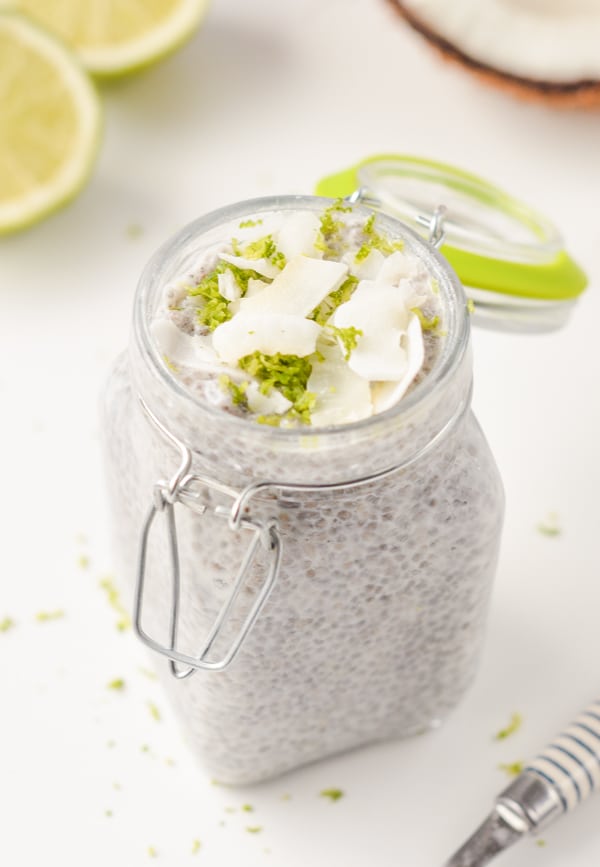 I love to top up the coconut lime pudding with lime zest and unsweetened coconut. I hope you guys enjoy all those delicious flavors. Let me know which one is your favorite and share your creation with me on instagram!
XOXO Carine
Low carb chia seed pudding almond milk
Low carb chia seed pudding almond milk, chia seeds and sugar free crystal sweetener are the onl 3 simple ingredients you need. Add some extra ones to create 4 delicious flavors vanilla, chocolate, almond joy or coconut lime. Starts the day with a bunch of plant-based protein, few carbs and healthy omega 3.
Prep Time: 10 mins
Resting time 6 mins
Total Time: 10 mins
2 people
Print The Recipe
Start the recipe the day before, or at least 6-8 hours before eating.

Choose the chia seed pudding flavors you want to make and prepare on glass mason jar for each flavor (minimum 2 cup, 500 ml volume).

Start adding the ingredients in this order: chia seeds, sugar free sweetener, other dry ingredients and unsweetened milk at last.

Close the jar, shake until all the seeds are evenly distributed into the liquid.

Place the jar in the fridge.

I recommend you check the pudding after 30 minutes, open, give a good stir to avoid the seed to coagulate to the bottom of the jar.

Close the jar and let in the fridge for a minimum of 6 hours or overnight.

The next day serve 1/2 of the jar as a breakfast or 1/4 of the jar as a snack/dessert.

Serve with your favorite toppings like nut butter, silvered almonds, sliced almonds, sugar free chocolate chips, lime zest or unsweetened coconut.

Store in the fridge up to 4 days in the sealed glass jar. I don't recommend freezing chia pudding.
Nutrition panel is for one serve of the vanilla chia seed pudding. One jar/recipe makes 2 servings. Net carbs : 3.4 grams per serve.
Nutrition Facts
Low carb chia seed pudding almond milk
Amount Per Serving (1 serve)
Calories 216 Calories from Fat 162
% Daily Value*
Fat 18g28%
Carbohydrates 10.3g3%
Fiber 6.9g29%
Protein 4.7g9%
Net Carbs 3.4g
* Percent Daily Values are based on a 2000 calorie diet.
This chia seed pudding almond milk recipe is sponsored by Almond Breeze Made from the best California Almonds and I received a compensation to develop this recipe but note that I only recommend product I love and trust on this blog. Thank you