Keto granola bars are healthy, easy, no-bake seed bars with a delicious chewy texture and sweet maple flavor from sugar-free monk fruit syrup.
These delicious breakfast hemp seed bars are allergy-friendly, 100% nut-free, vegan, dairy-free, and gluten-free. Start the day with one of these bars to remain full, they contain as much as 9 grams of plant-based protein and only 4.2 grams of net carbs.
Keto granola bars – easy no-bake granola bars
Not long ago I shared with you my low carb granola bars recipe and it was a great success. Some of you requested a nut-free version of this easy low carb recipe. So here you go, these no-bake keto granola bars are for you, 100% keto, nut-free, vegan, and gluten-free. All you need to make them are the ingredients below.
Hemp hearts – or also known as hemp seeds are seeds from the hemp plants. Yes, you read that well, the plants that also give cannabis, except the seeds contain only traces of THC so you are totally safe eating them. Hemp seeds have amazing nutritional value. They are high in healthy fats, fiber, proteins, and very low in carbs with only 1.4 grams of net carbs per serving of 30 grams. Amongst all seeds, they are the ones with the optimal ratio of fatty acids, omega-6 to omega-3 meaning they are powerful seeds for healthy skin and reduce heart disease. If you are vegan, they will bring you the highest amount of plant-based protein, 25% of calories are protein which by weight is similar to beef. Amazing, right?
Pumpkin seeds
Chia seeds
Sunflower seeds
Unsweetened coconut flakes – or unsweetened shredded coconut
Extra virgin coconut oil – you can use refined coconut oil or unrefined. Unrefined is the purest but it has a strong coconut flavor. I recommend refined coconut oil if you are not as much a coconut lover as me.
Sunflower seed butter – this is an amazing nut-free alternative to peanut butter on a low carb diet. Sunflower seed butter is often found in the healthy food store or organic aisle of your supermarket.
Super seed bars – keto magnesium natural supplement
I know that on a low carb diet we are obsessed with counting net carbs, which as a reminder is the number of total carbs taking away fibers and sugar alcohol. But could we stop a second and consider the micronutrient panel of those keto granola bars as well?
These are definitely super seed bars, one single bar contains 45% of your magnesium daily recommended intake. If you have been on a keto low-carb diet for a while, you should know that supplementing with magnesium is recommended.
This helps stabilize blood sugar level, decrease muscle cramps, or help with sleeping issues. So these bars, are not only delicious keto granola bars to start the day. They are natural magnesium supplement packed in a tasty on-the-go breakfast bar.
Receive my Keto Quick Start email series to learn all about the Keto diet and kick start your keto journey!
Hemp seed bars storage
These hemp seed bars are no-bake granola bars and must be stored in the fridge or they soften too much. Well, it's fine to carry them along for 20 minutes at room temperature.
But if you want to keep the shape of the bar, enjoy them straight away from the fridge.
Something I like to do if I plan to eat them within 3 hours, I freeze my bars the day before. Then the next day I carry them frozen, defrost along the way and perfect by the time I want to eat them! Clever, right?
Always a solution to keep your low carb diet on track, you see.
Enjoy the lovely keto granola bars and before you dig in, share a pic with me on Instagram! You know I look at all of them and love it.
More keto egg-free Breakfast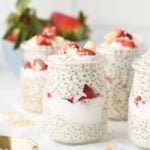 Recipe Card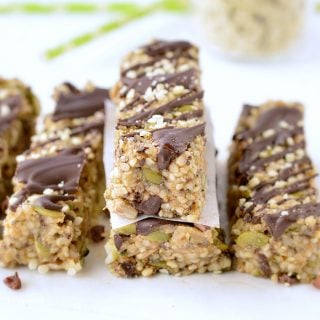 Keto Granola Bars Hemp Seed Bars
Keto Granola Bars are easy, chewy, no-bake hemp seeds bars. 100% Nut-Free, Grain-Free, and Vegan with only 4.2 grams of net carbs and 9 grams of protein per bar.
Recipe Macros
Want My Kitchen Equipment?
Instructions
Line a 9-inch x 5-inch loaf pan with parchment paper. Set aside.

In a medium mixing bowl, add all the dry ingredients, the order doesn't matter. Stir, set aside. 

In another mixing bowl, add sunflower seed butter, melted coconut oil, sugar-free syrup, and vanilla. 

Microwave for 30 seconds, stir. Microwave again for 30 seconds if your sunflower seed butter is too hard to combine. You must obtain a thick brownish paste. If you don't have a microwave, bring it on a stove in a small saucepan, often stirring until the ingredients are combined.

Pour the seed butter mixture onto the dry ingredients and combine with a spoon until the mixture covers all the dry ingredients evenly.

Transfer the mixture into the prepared loaf pan, press with a spatula firmly to compact the granola bar mixture as much as you can.

Freeze 20 minutes to set.
Chocolate drizzle
Meanwhile, melt the sugar-free chocolate chips and coconut oil in a small bowl. You can microwave by 30 seconds burst, or use a saucepan under medium heat.

Bring the bar out of the freezer. Lift the parchment paper to pull out the bar from the loaf pan and place it on a plate or chopping board.

Drizzle the melted chocolate on top of the bar and bring the bar back to the freezer for 2 minutes to set the chocolate.

Cut into 10 bars. I recommend warming the knife blade under a flame or hot water (dry the blade to avoid wetting the bar).
Storage and freezing
Store the bars in the fridge in an airtight container for up to 3 weeks or wrap them individually into plastic wrap and freeze them for up to 3 months. 

These bars must be kept in the fridge as they soften after 20 minutes out of the fridge.
My Recipe Notes
Nutrition Facts
Keto Granola Bars Hemp Seed Bars
Amount Per Serving (1 bar)
Calories 285
Calories from Fat 224
% Daily Value*
Fat 24.9g38%
Carbohydrates 13.5g5%
Protein 9.2g18%
Net Carbs 4.3g
Vitamin C 53mg64%
Iron 3.8mg21%
* Percent Daily Values are based on a 2000 calorie diet.