This Keto Oatmeal recipe is made with coconut flour and is a delicious, creamy coconut porridge to start the day.
Plus, this Keto Oatmeal is also paleo, vegan, and gluten-free!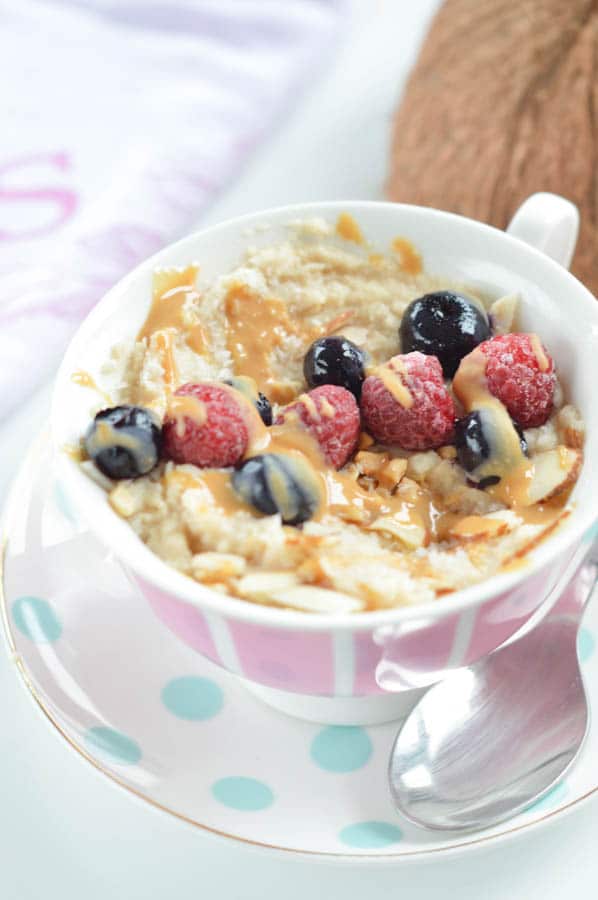 What's Keto Oatmeal?
A Keto Oatmeal is a low-carb, low-sugar version of the classic oatmeal. But since oatmeal is made with high-carb oats, classic oatmeal has to be made with other ingredients.
This healthy low-carb oatmeal recipe is made with coconut flour, almond butter, and almond milk. It's a great alternative to your regular oatmeal.
Why You'll Love This Recipe
Keto Oatmeal is a single-serve keto recipe ready in 5 minutes and 100% sugar-free. You'll love its creamy, silky-sweet texture.
If you watch the carbs, note that this single-serve oatmeal recipe contains only 6 grams of net carbs. It's also loaded with 8.2 grams of plant-based protein to feed those muscles!
It can be eaten for breakfast or as a light post-workout snack. Dairy-free, vegan, gluten-free, kids approved!
How To Make Keto Oatmeal
Do you miss hot creamy oatmeal in the morning? Obviously, we miss some food on a low-carb keto diet, but the good news is there's always an alternative.
So that keto oatmeal recipe or coconut flour porridge, call this as you want, will fix any porridge cravings. Plus, it ticks all the diets, keto, vegan, paleo, and gluten-free!
Bonus, there are only 5 ingredients needed to make this.
Ingredients
Additionally to its amazing taste, this paleo porridge is also very easy to make. Indeed, all you need to make this creamy hot keto oatmeal are 5 simple ingredients:
Coconut Flour – Coconut flour is a low-carb, high-fiber flour that is used as a keto flour in many baking recipes.
Shredded coconut – Choose unsweetened shredded coconut to avoid unnecessary added carbs.
Unsweetened Almond Milk or unsweetened coconut milk – it should be noted that as for any regular porridge recipe, the amount of milk you add will change the texture. For a sticky, dense porridge, add less milk, or cook the porridge longer to evaporate the liquid. For a silky smooth texture, add a splash of extra milk.
Almond Butter – or any nut butter you love. Obviously, seed butter works as well if you have a nut allergy.
Sugar-Free Crystal Sweetener – I prefer using erythritol but you can also use allulose or even liquid sweeteners such as sugar-free maple syrup.
Cooking The Keto Oatmeal
There's no difference between regular porridge and keto oatmeal when it comes to cooking them.
First, add all the ingredients to a saucepan and simmer for 2-3 minutes.
Next, keep cooking until it becomes thick and creamy, adjusting with more milk for a more liquid silky texture. The more milk you add, the runnier it will be.
Otherwise, the longer you cook your paleo porridge, the stickier and creamier it will be.
Keto Oatmeal Toppings
It's a deliciously comforting coconut porridge with a beautiful creamy texture, nutty flavor of the almond butter, and bites of shredded coconut.
The best keto low carb toppings to enhance the flavor of this low carb oatmeal recipe:
Fresh berries
Sliced almonds, pumpkin seeds, or crushed peanuts.
A drizzle of almond butter or sunflower seed butter.
Sugar-free liquid syrup – maple, caramel, or chocolate flavor.
The texture and taste are absolutely amazing! And you don't have to be a chef to make this. It only takes 5 minutes, and you'll love this healthy oatmeal recipe, I am sure.
Storage Instructions
I don't recommend storing this keto oatmeal. It doesn't reheat well.
If you absolutely need to make it ahead, don't add any topping and reheat it with a splash of plant-based milk.
Keto Oatmeal
This Keto Oatmeal recipe is made with coconut flour and almond butter and is a great alternative to regular oatmeal. It is a single-serve recipe, ready in 5 minutes, 100% sugar-free with a creamy, silky-sweet texture.
Nutrition Snapshot
Want My Kitchen Equipment?
Instructions
Place all the ingredients into a medium saucepan.

Heat until it starts to simmer, bring to a light boil, then lower the heat and simmer for 2-3 minutes, occasionally stirring, until it has thickened.

Take it off the heat when it reaches the consistency you like. If you like a creamy thick porridge, 2 minutes is ideal. If you like a drier texture, keep cooking as you will do for regular oatmeal.

Serve hot with your favorite toppings and add extra unsweetened almond milk if desired.
Notes
Toppings: I recommend a drizzle of almond butter, a few berries, sliced almonds, and unsweetened desiccated coconut. Sugar-free crystal sweetener: there are plenty of options with no calories and no carbs. My favorite brands are Swerve, Natvia or Erythritol, monk fruit sugar, and Norbu are great alternatives to pure stevia – I don't like its bitterness. The nutrition panel is for the whole recipe. This is a single-serve recipe – for one person. This nutrition data doesn't include any toppings.
My Recipe Notes
Nutrition
Serving:
1
person
Calories:
315.7
kcal
(16%)
Carbohydrates:
16.4
g
(5%)
Fiber:
10.4
g
(43%)
Net Carbs:
6
g
Protein:
7.6
g
(15%)
Fat:
26
g
(40%)
Saturated Fat:
14.1
g
(88%)
Sodium:
281.8
mg
(12%)
Potassium:
228.3
mg
(7%)
Sugar:
3.4
g
(4%)
Calcium:
280.5
mg
(28%)
Iron:
1.6
mg
(9%)
Posted In: