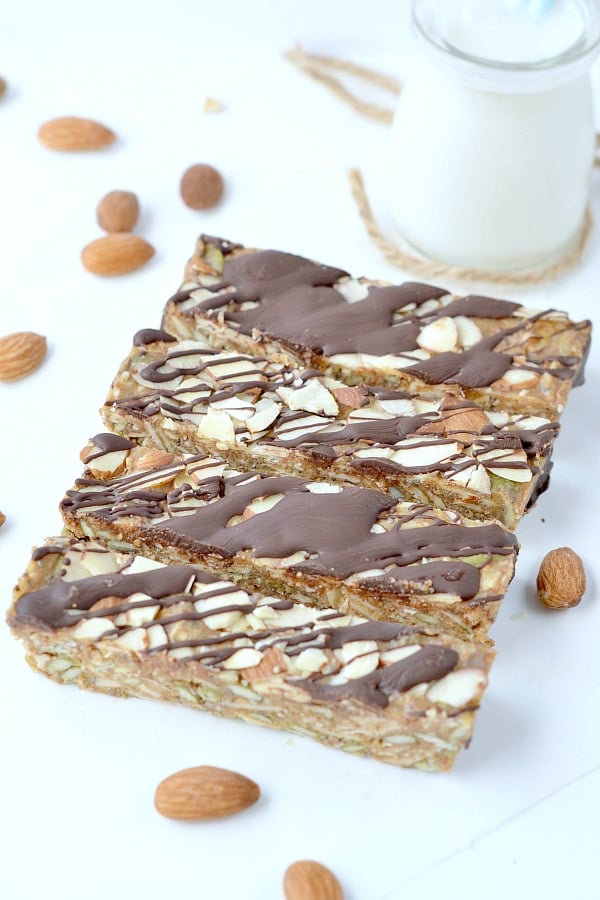 Low carb Granola bars or easy clean eating keto bars with NO baking ! Creamy almond butter, flaxseed meal, chia seeds, almonds, coconut and more superfood for a 100% Sugar free, gluten free paleo breakfast or snacks.
Low carb granola bars – superfood no bake bars
You know how much I love sweet flavors for breakfast, right? I am sugar free for 5 years – check my post on how to start a low carb diet  if you want to learn more.  I always found a way to enjoy  a delicious sweet low carb breakfast: low carb porridge is my daily favorite! Someday are busy and those low carb granola bars are great breakfast on the go. They are made of a bunch of super food, mainly 10 ingredients that all low carb lovers have in his pantry.
Easy no bake 15 minutes recipe
This no bake grain free bar is great make ahead breakfast bar recipe. All you need to make those low carb breakfast bars are 10 simple ingredients and 15 minutes.
Sliced almonds
Flax seed meal
Chia seeds
Pumpkin seeds
Unsweetened shredded coconut
Cinnamon
Sugar free crystal sweetener – I love to use a brand in New Zealand that combine erythritol and stevia but use what is available in your country like swerve in Us, pure erythritol or monk fruit sugar. A ll of those are 100% sugar free, keto approved and low carb
Almond butter or any nut butter you love like peanut butter or cashew butter. Make sure it is fresh from the jar, smooth and no sugar added.
Coconut oil – I love to use unrefined coconut oil because I enjoy coconut flavor. If you don't use refined coconut oil, it has no coconut flavor.
Sugar free dark chocolate chips or either use stevia sweetened dark chocolate or 90% cocoa chocolate if you are ok with some bitter cocoa flavor.

I love to freeze my bars 20 minutes to set them quickly but you can also leave the batch 3-4 hours – or overnight – in the fridge, both method works really well.
Low Carb Breakfast on the go
They are easy bars to carry in your bag and eat on the go. It is a no bake recipe so the bars tend to soften if they stay too long out of the fridge – specially on hot summer. I usually wrap mine in plastic wrap to make sure they stay fresh until I eat them.
Grain free granola bars : Nuts and seeds bars
Each bar is packed with nuts, seeds and creamy nut butter. The texture is crunchy and soft. It is not a chewy bar has there is no liquid sweetener involved but it is a delicious melt-in-your mouth bar with crunchy pieces of nuts and seeds to keep you full until lunchtime.
Watch the low carb breakfast bars recipe and make them now!
Enjoy the recipe,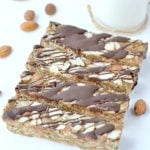 Print Recipe
low carb granola bars
Low carb granola bars easy clean eating keto bars, NO baking ! Creamy almond butter, flaxseed meal, chia seeds, almonds, coconut and more! 100% Sugar free, gluten free paleo breakfast or snacks.
Servings:
8
breakfast bars
Instructions
Line a a loaf pan, size 9 inches x 5 inches, with parchment paper. Set aside.

In a medium mixing bowl or a saucepan, place all the wet ingredients: peanut butter, coconut oil and vanilla.

Microwave by 30 seconds burst, stir and repeat until the coconut oil is fully melted and combine with the nut butter. It should not take more than 1 minute 30 seconds. Otherwise, melt the ingredients in a saucepan under medium heat, stirring often to avoid the mixture to stick to the pan.

Stir in the sugar free crystal sweetener, stir and microwave an extra 30 seconds to incorporate well. Erythritol don't dissolve very well but it will give some delicious sweet crunch into your bars or see paleo note.

In a large mixing bowl, add all the rest of the dry ingredients: sliced almonds, flaxseed meal, chia seeds, pumpkin seeds, shredded coconut and cinnamon. Stir to combine.

Pour the nut butter mixture onto the dry ingredients. Stir with a spatula to combine. You want to cover all the dry ingredients with the nut butter mixture.

Transfer the mixture into the prepared loaf pan. Press evenly the mixture with your hand to leave no air. Flatten the surface with a spatula.

Freeze for 20 minutes until the breakfast bars are hard and set.

Remove from the freezer, lift the parchment paper to pull out the bar from the loaf pan. Place on a plate. Sprinkle extra sliced almonds on top.

In a small bowl, microwave the sugar free dark chocolate and coconut oil until fully melted.

Drizzle the melted chocolate on top of the bar, return into the freezer 1-3 minutes until the chocolate is set.

Cut into 8 breakfast bars.

Wrap each bars individually into plastic wrap or bee wax. Store in the fridge up to 8 days.
Notes
Sugar free Sweetener:
this recipe is
100% sugar and use sugar free crystal sweetener.
I recommend
erythritol
or
monk fruit sugar
. Both are
zero carbs, zero sugar and natural.
Note that sugar free crystal sweetener don't dissolve very well in no bake goods and it is ok. It adds some delicious crunchy sweetness in the bars.
Nut butter:
I recommend
smooth almond butter
or
smooth peanut butter
, no sugar added
Paleo sweetener:
unrefined sugar I recommend is
coconut sugar. 
Nutrition
Serving:
1
bar
|
Calories:
306
kcal
|
Carbohydrates:
9.6
g
|
Protein:
7.9
g
|
Fat:
28.1
g
|
Fiber:
6.8
g
|
Sugar:
1.4
g
Nutrition panel is for one low cab breakfast bars. 2.8 g Net Carbs
Reader Interactions