4-Ingredient Keto Overnight Oats (No Oats)
An easy recipe of Keto Overnight Oats made with hemp heart and chia seed.
Plus, this creamy keto breakfast recipe is also gluten-free, dairy-free, and contains only 2.3 grams of net carbs per serving.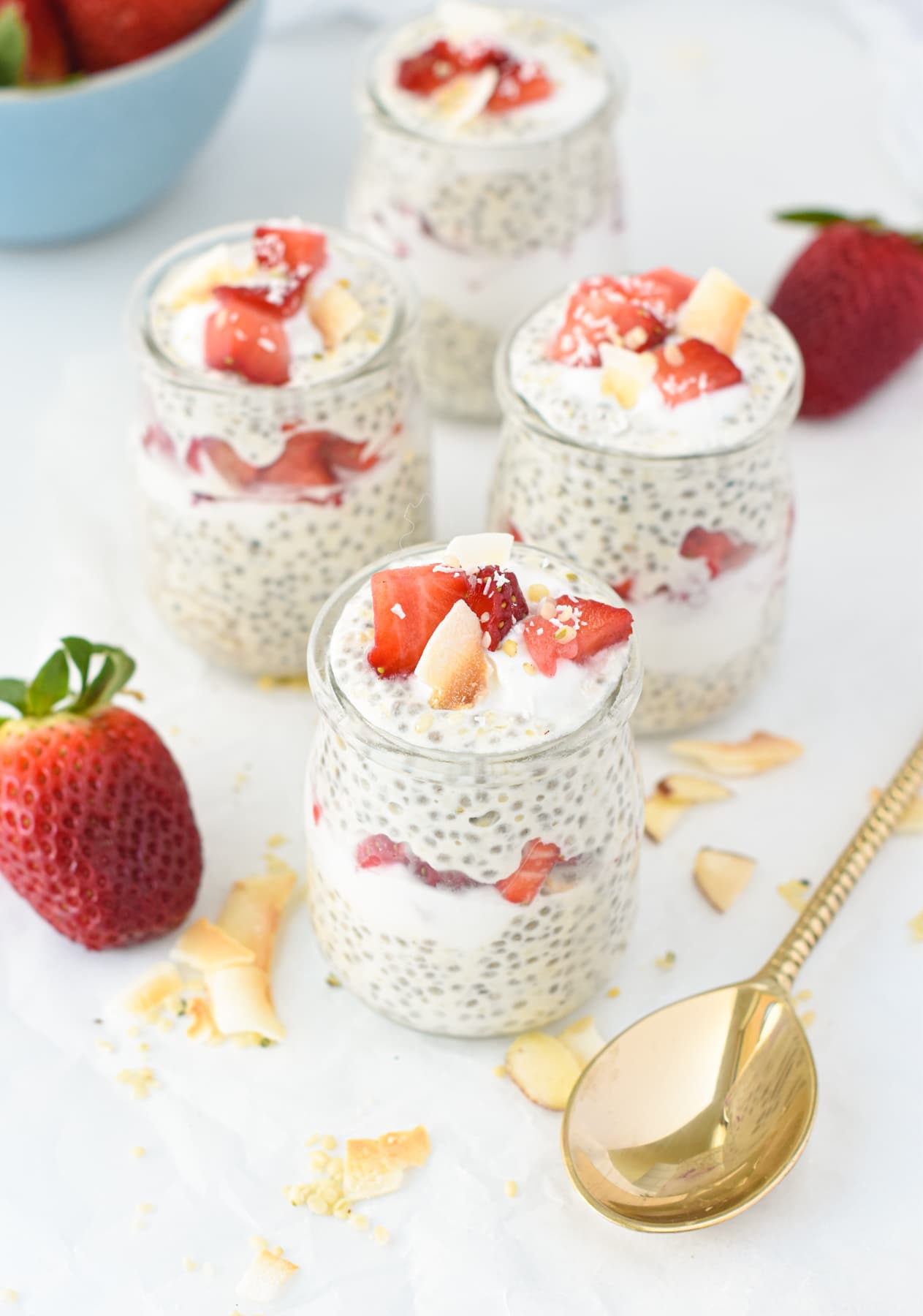 Are Overnight Oats Keto-Friendly?
No, the classic overnight oats recipe is made of oats, a wholesome natural grain but very high in carbs. In fact, oats contain about 56 grams of net carbs per 100 grams.
As a result, they spike blood sugar levels and are not approved on a keto diet.
How To Make Keto Overnight Oats
Luckily, even if oats are not keto-friendly ingredients, you can make some delicious mock overnight oats using seeds.
The trick is to use a combination of two high-protein seeds, some almond milk, and a touch of yogurt for creaminess.
Keto Overnight Oats Ingredients
The 4 ingredients you need to make overnight keto oats are:
Hemp hearts, also known as hemp seeds. These are keto superfoods loaded with 30% of healthy fat and barely any carbs. In fact, 2 tablespoons of hemp hearts contain only 0.8 grams of net carbs and as much as 7 grams of protein. Plus, all the fats in hemp are the good kind of fat, only omega-3 and omega-6.
Chia seeds – like hemp heart, chia seeds are another keto superfood. They contain less fat but so much fiber that they soak up all the liquid in your overnight breakfast bowl, creating the most delicious oat-like texture.
Yogurt – While regular yogurt is not keto-friendly, there are plenty of low-carb yogurt options on the market. Unsweetened coconut yogurt is by far my favorite option. It's ultra-creamy, flavorsome, and dairy-free. But plain Greek yogurt works as well in this recipe. The yogurt is a must for creaminess. You can swap it for more almond milk or simply a touch of Crème Fraiche.
Unsweetened almond milk – make sure to not use regular milk as dairy milk is high in carbs.
Instructions
It's very easy to make this sugar-free, low-carb overnight oats recipe.
However, there are two important tips I want to share with you to make this recipe of low-carb oatmeal perfect every time.

Use a wide bowl
Most recipes recommend a glass mason jar, but I found that the seeds migrate to the bowl of the jar, stick together, and the result is not as good.
So in a wide breakfast bowl, stir hemp seeds, chia seeds, and erythritol if you feel like adding a touch of sweetness to your breakfast.
Then, stir in yogurt and almond milk until all the ingredients are well combined.
Cover the bowl with plastic wrap and refrigerate for at least 6 hours or overnight.
Stir after a few hours
If you can, remove the plastic wrap from the bowl after 2 or 3 hours and give a good stir.
Place the plastic wrap back on the bowl and refrigerate again.
This extra step in the middle of the process ensures that the seeds absorb the liquid very well and won't form lumps or packets in the bowl.
Serving Ideas
The next day, serve 1/4 of the recipe as one breakfast and play with flavors and toppings to turn this simple low-carb keto breakfast into an amazing breakfast.
My favorite topping combinations are:
Strawberry, coconut yogurt, and unsweetened shredded coconut, as seen in the pictures – it tastes like strawberry and cream.
Peanut butter or almond butter with sugar-free chocolate chips.
Almonds and blueberries or any keto fruits you like, berries like raspberries are particularly well suited.
Almond Slices, Peanut chunks, or any other nut.
Storage Instructions
You can store these keto overnight oats for up to 4 days in the fridge, in their airtight jars.

Nutrition
The nutrition panel below includes only the four basic ingredients of this no oats oatmeal.
It doesn't include any toppings because we make different choices that impact the net carbs differently.
Note that the keto sweetener won't add anything to the net carbs, so feel free to add sp,e stevia drops, or erythritol to the mix.
Frequently Asked Questions
I've listed below the answers to the most common questions about this recipe.
Can You Eat Oats On A Keto Diet?
Oats are not a suitable ingredient for a keto diet. Oats contain 56 grams of net carbs per 100 grams. So you would have to use such a small amount to fit in your daily macros that you wouldn't taste the oats.
Are Overnight Oats High In Carbs?
Classic overnight oats can range from 25 grams to 50 grams of net carbs per serving. This is more than most people recommended macros to stay in ketosis.
Can You Eat Apples On Keto?
Apples are fairly high in carbs compared to other fruits. One typical apple is between 25 and 40 grams of net carbs.
Per 100 grams, it is about twice as high as strawberries.
Is Yogurt Keto?
Yogurt is a keto-friendly ingredient because it contains less than 4 grams of net carbs per 100 grams.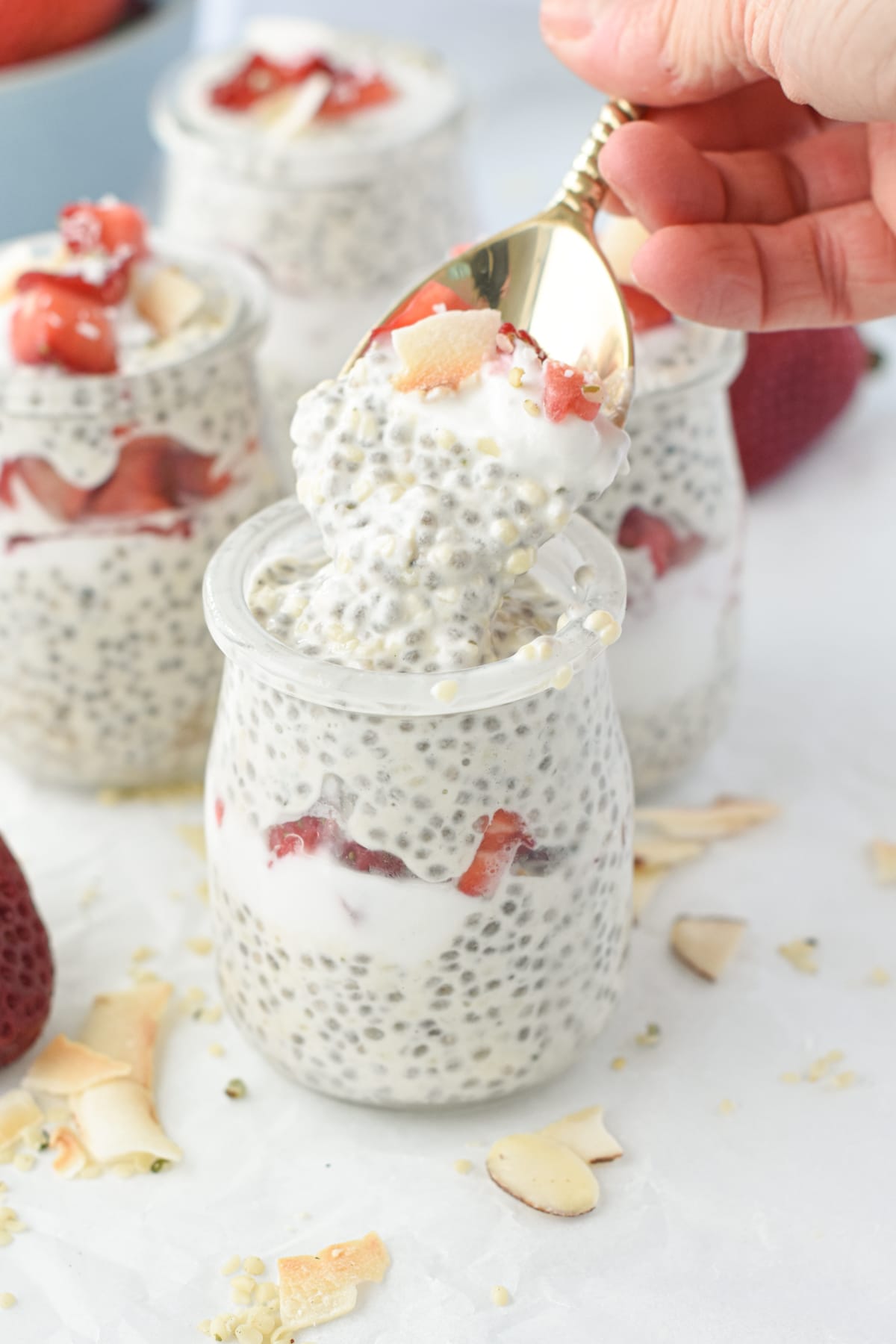 More Keto Breakfast Recipes
I love keto oatmeal for breakfast, and I created a range of keto-friendly breakfast bowls that are safe to have on your low-carb diet.
Try some of the recipes below if you like: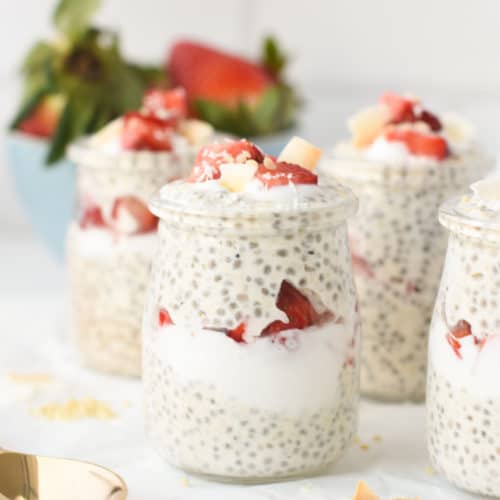 Keto Overnight Oats
An easy creamy 4-Ingredient keto overnight oats for a breakfast bowl that replaces your old favorite oatmeal bowl without the carbs.
Nutrition Snapshot
Want My Kitchen Equipment?
Ingredients
Optional – to add before or after soaking
Toppings ideas per serving
Instructions
In a wide breakfast bowl, stir the hemp heart and chia seeds. Stir in any crystal sweetener at this time, if desired.

Stir in yogurt and milk until evenly combined. Add any vanilla or almond butter now if desired.

Cover the bowl tightly with plastic film wrap and refrigerate overnight. I recommend giving a good stir in the mixture 2-3 hours later to prevent the seeds from migrating to the bottom of the bowl.

The next day, adjust the texture by stirring in up to 3-4 tablespoons of extra unsweetened almond milk if too thick. Then, serve 1/4 of the amount as one breakfast with some fresh strawberries, toasted coconut flakes, and extra yogurt.
My Recipe Notes
Nutrition
Serving:
1
serving
Calories:
203.9
kcal
(10%)
Carbohydrates:
6.2
g
(2%)
Fiber:
3.9
g
(16%)
Net Carbs:
2.3
g
Protein:
12.3
g
(25%)
Fat:
14.7
g
(23%)
Saturated Fat:
1.2
g
(8%)
Polyunsaturated Fat:
11.3
g
Monounsaturated Fat:
1.9
g
Trans Fat:
0.1
g
Cholesterol:
0.8
mg
Sodium:
47.9
mg
(2%)
Potassium:
36.6
mg
(1%)
Sugar:
0.6
g
(1%)
Vitamin A:
142.6
IU
(3%)
Vitamin C:
0.1
mg
Calcium:
145.6
mg
(15%)
Iron:
4.2
mg
(23%)
Magnesium:
30.1
mg
(8%)
Zinc:
0.4
mg
(3%)
Posted In: