This 3-Ingredient Chocolate Yogurt recipe is the easiest way to enjoy a high-protein dessert that genuinely tastes like chocolate pudding.
All you need is 5 minutes to make this easy healthy dessert, and it's easy to make sugar-free, vegan, and gluten-free.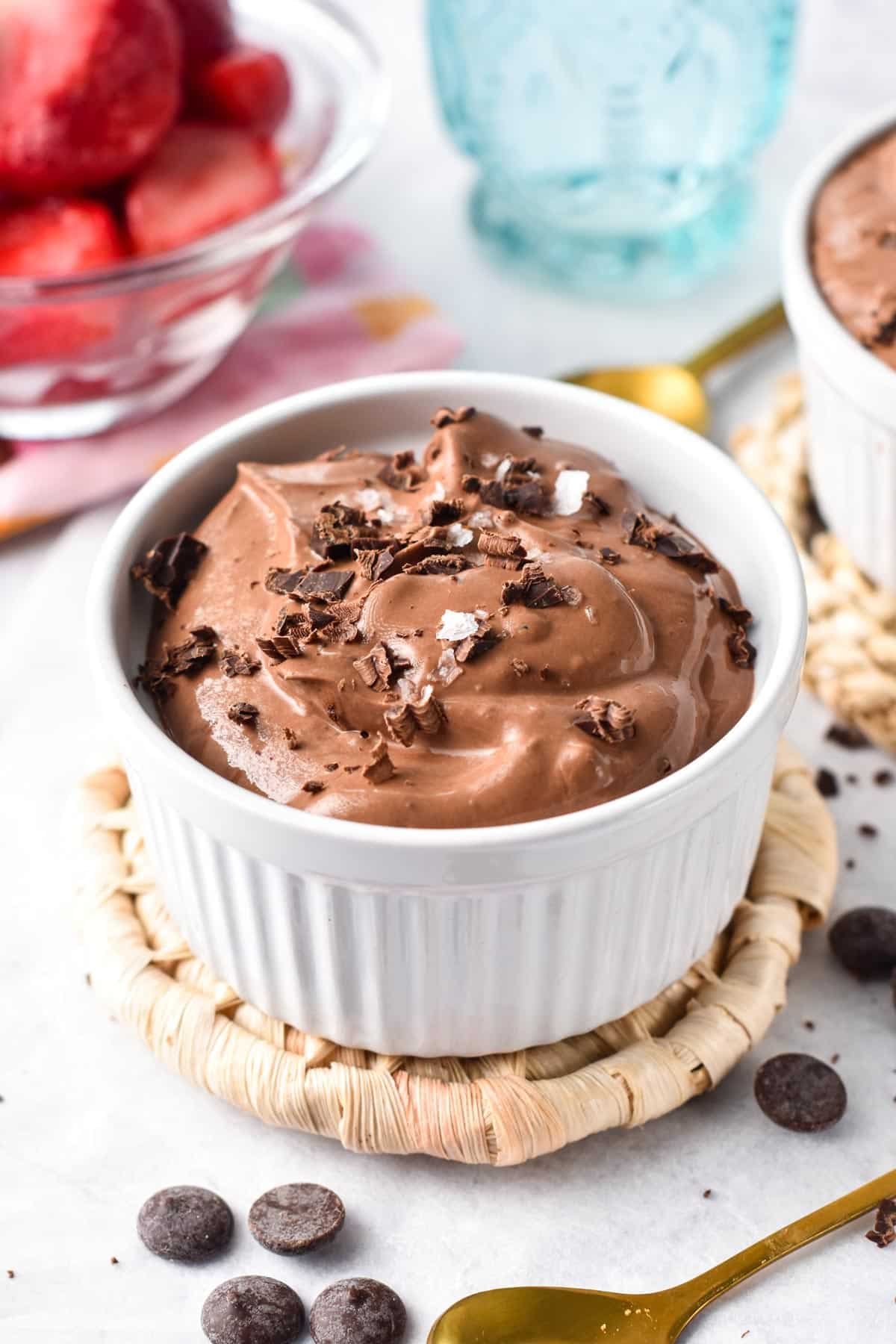 If you love chocolate, don't look further and try this chocolate-flavored yogurt. It's surprising how mixing just three ingredients can change everything.
Plus, you can make this recipe suit any diet. So, let me share how to make this delicious dessert in under 5 minutes.
What Is Chocolate Yogurt?
Chocolate yogurt is basically flavored Greek yogurt.
It's a healthy high-protein dessert with a thick, creamy texture close to chocolate pudding.
It's also easy to make dairy-free and low-carb.
How To Make Chocolate Yogurt
To make chocolate yogurt, you need only 3 wholesome ingredients.
Ingredients
Plain Greek Yogurt – Feel free to use any dairy-free Greek-style yogurt, like oat yogurt, soy yogurt, or almond yogurt. The thicker and richer your yogurt is, the better the texture will be.
Unsweetened Cocoa Powder or Dutch cocoa powder.
Sweetener – There are no limits here. Feel free to use maple syrup or agave syrup for a refined sugar-free option. Or, for keto low-carb food lovers, pick your favorite sugar-free liquid or powdered sweetener. I don't recommend granulated sweeteners, especially if you are not mixing ingredients in a blender. Granulated sweeteners won't dissolve as well and make the texture grainy.
Combine
The best way to combine ingredients together and remove any cocoa powder lumps is to use a blender.
Place all the ingredients into the jug of a blender jug or a smoothie maker.
Then, blend on medium speed until smooth, and consistent, and no lumps of cocoa can be seen. Taste and adjust the sweetness if you like, adding more sweetener for a sweeter taste.
Of course, adding more liquid sweetener thins out the chocolate yogurt. So don't add too much, or the pudding texture will fade.
Flavoring
Next, have fun and play with flavors adding some other ingredients to boost flavors or nutrients.
For example, I like to add:
A pinch of sea salt flakes – salt enhances the chocolate flavor!
Chili powder – If you like spicy chocolate dessert as I do, it's a must-try.
Vanilla Extract – from 1/4 teaspoon to 1/2 teaspoon, this adds a delicious vanilla flavor to the chocolate.
Drops of peppermint extract – chocolate mint is delicious in the holiday season.
Protein Powder – add 1 or 2 tablespoons to turn this into a high-protein chocolate pudding. Feel free to use any protein powder, from plant-based to whey powder. I do like chocolate pea protein powder for this dessert.
Peanut butter or almond butter – blend in 1 or 2 tablespoons to turn the yogurt into a chocolate peanut butter yogurt.
Serving
My favorite way to serve chocolate yogurt is with toppings like:
Unsweetened Coconut Flakes
Sliced Almonds
Crushed Peanuts
Strawberries or Raspberries
Drizzle of peanut butter or almond butter
Whipped Cream
Chocolate Chips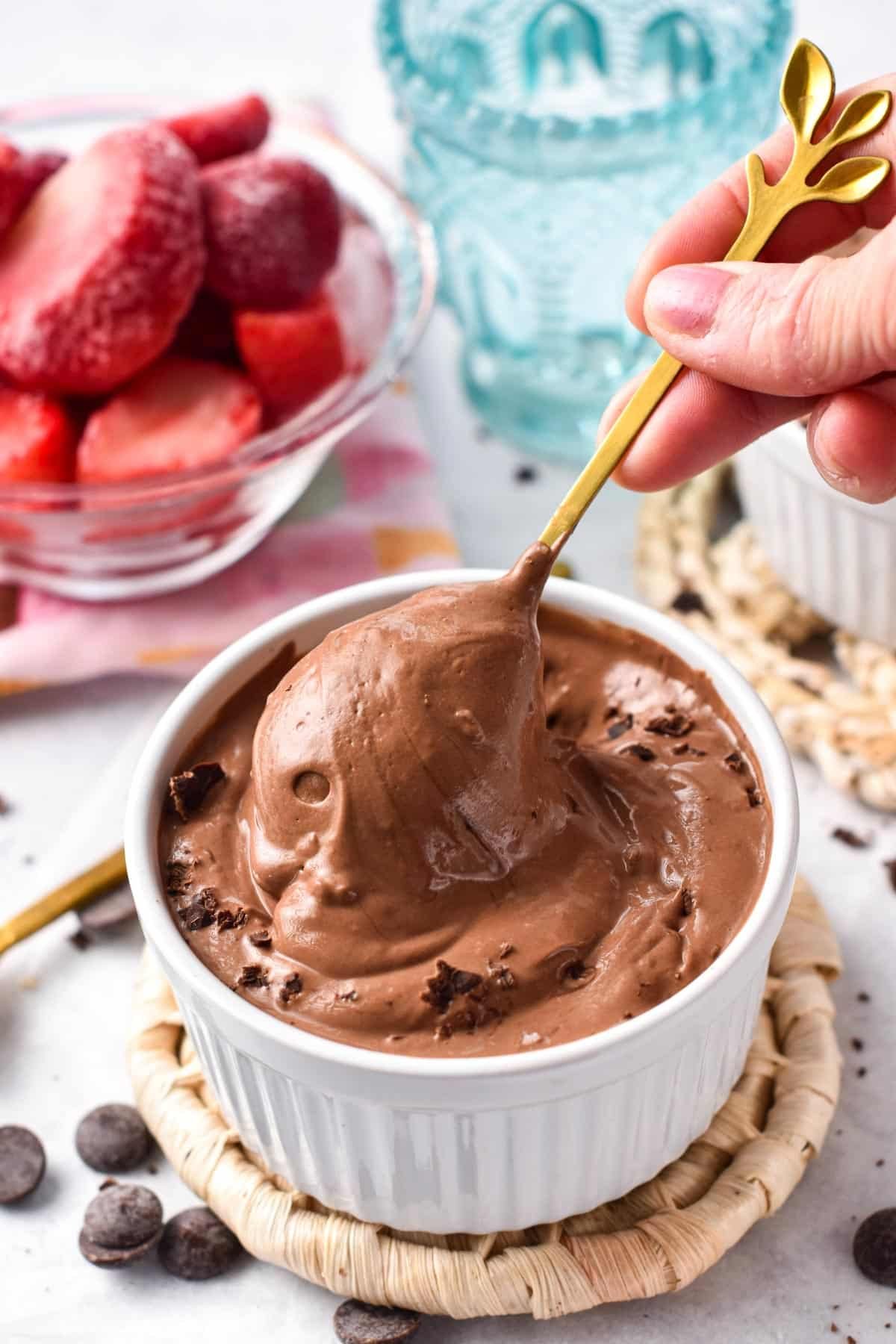 Storage Instructions
You can double or triple the recipe and store it in the fridge up to the expiration date of your yogurt packaging.
Store in a sealed, airtight container in the fridge and serve when desired.
You can also freeze this mixture into a popsicle mold to make chocolate yogurt popsicles. I won't lie. They turn a bit icy if you don't churn the mix, but they still taste perfect for satisfying a sweet craving.
Another option is to freeze the chocolate yogurt in an ice cube tray.
Then, remove 2 or 3 ice cubes and place them in a blender with 1/2 cup of unsweetened almond milk.
Blend until it turns into creamy ice cream. Or, simply use my chocolate popsicle recipe to make healthy chocolate ice cream at home.
Allergy Swaps
Below are some options to replace ingredients in this recipe if you have some food intolerance.
Dairy-Free – Any thick and rich dairy-free plain yogurt work as a replacement for Greek yogurt. For example, try plain coconut yogurt, soy yogurt, almond yogurt, or oat.
Sugar-Free – Use powdered erythritol or sugar-free maple-flavored syrup made of Monk fruit.
Cocoa-Free – Use carob powder instead of cocoa powder.
Frequently Asked Questions
Here are my answers to your most common questions about this easy chocolate dessert recipe.
Can I Make This Without A Blender?
You can make chocolate yogurt by hand, with a hand wish, or hand beater.
It takes a bit more time and works to whisk in cocoa powder into the yogurt and break lumps. But, in the end, you will get a pretty good thick and creamy yogurt without a blender.
Can I Add More Cocoa Powder?
To boost the chocolate flavor or increase the thickness of the yogurt, add an extra 1/2 tablespoon of cocoa powder.
How Can I Boost The Sweetness?
You can add stevia drops 1-2 drops are enough to make the yogurt very sweet without adding sugar.
More Healthy Chocolate Desserts
Here are some more healthy desserts for chocolate lovers.
Have you tried this chocolate-flavored yogurt recipe? Share a comment or review below to connect with me.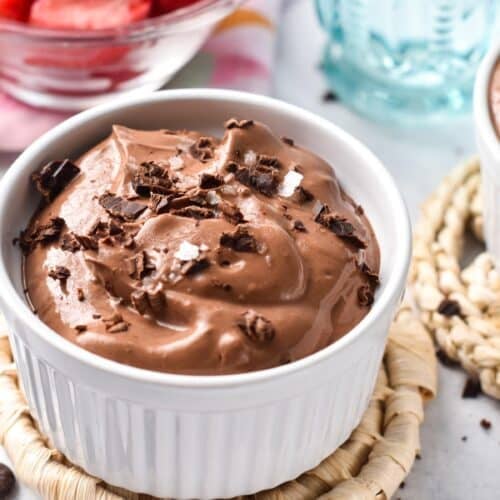 Chocolate Yogurt
This 3-Ingredient Chocolate Yogurt recipe is the easiest way to enjoy a high-protein dessert that truly tastes like chocolate pudding. In fact, all you need is 5 minutes to make this easy healthy dessert, and it's easy to make sugar-free, vegan, and gluten-free.
Yield:
servings (1/2 cup)
Serving Size:
1
serve (with stevia)
Nutrition Snapshot
Want My Kitchen Equipment?
Instructions
Blend all ingredients until smooth and creamy.

Taste and adjust sweetness or flavor by adding optional ingredients.

Serve immediately with a dollop of plain Greek yogurt and grated dark chocolate.
Storage
Store in the fridge for up to the expiration date of your yogurt packaging in a sealed container.
Notes
Note 1: Any plain yogurt works, including almond, oat, coconut, or soy. Note 2: Maple syrup, sugar-free syrup, or powdered sugar-free sweetener like allulose works.
My Recipe Notes
Nutrition
Serving Size:
1
serve (with stevia)
Yield:
servings (1/2 cup)
Serving:
1
serve (with stevia)
Calories:
75.3
kcal
(4%)
Carbohydrates:
7.2
g
(2%)
Fiber:
1.9
g
(8%)
Net Carbs:
5.3
g
Protein:
11.3
g
(23%)
Fat:
1.1
g
(2%)
Saturated Fat:
0.5
g
(3%)
Polyunsaturated Fat:
0.03
g
Monounsaturated Fat:
0.3
g
Trans Fat:
0.01
g
Cholesterol:
5
mg
(2%)
Sodium:
37.1
mg
(2%)
Potassium:
218.5
mg
(6%)
Sugar:
3.5
g
(4%)
Vitamin A:
4
IU
Vitamin B12:
0.7
µg
(12%)
Calcium:
117.5
mg
(12%)
Iron:
0.8
mg
(4%)
Magnesium:
36.1
mg
(9%)
Zinc:
0.9
mg
(6%)
Posted In: