Keto Fruit Dip with only 4 Ingredients
This keto fruit dip is light, fluffy, and great for parties or holidays. Serve this with your favorite keto fruits for a delicious sharing dessert platter.
What's A Fruit Dip?
A fruit dip is a light and fluffy dip usually made of beaten cream cheese and marshmallow crème.
It's a common dip for a holiday platter served with fresh fruits dipped into the mixture.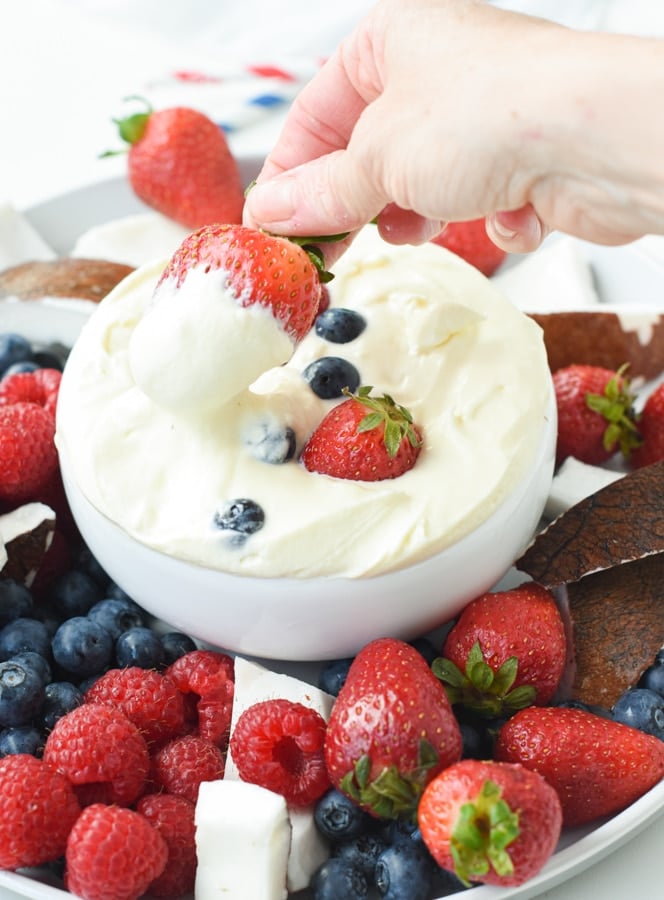 Are Fruit Dips Keto?
No, a classic fruit dip contains a lot of sugar because it's made of marshmallow crème and contains liquid fructose or corn syrup.
How To Make Keto Fruit Dip
Luckily, you can make a homemade keto-friendly fruit dip with similar light, fluffy texture, and a delicious marshmallow flavor, just like the authentic recipe.
Ingredients
To make your keto cream cheese fruit dip keto recipe, you need:
Softened cream cheese – remove the cream cheese from the fridge 30-60 minutes before making the recipe. Learn more about keto-friendly dairy products.
Heavy cream – cold, straight out from the fridge, you will use this ingredient to make homemade whipped cream. Cream is a keto-friendly product.
Powdered erythritol or any sugar-free powdered keto sweetener you love, like allulose or xylitol.
Marshmallow stevia drops – optional, but this magic ingredient adds the best marshmallow flavor to the dip.
Beating The Cream Cheese
First, add the softened cream cheese, powdered erythritol, vanilla extract, marshmallow stevia drops, and 1/4 cup of heavy cream into a large mixing bowl.
Then, use an electric beater to beat the mixture, starting at low speed increasing to high speed until fluffy and light.
Set it aside in the fridge.
Whipping The Cream
In another large mixing bowl, preferably a cold bowl, add the cold heavy cream.
Using the electric beater, whip the cream until stiff peak forms.
Remove the bowl with the fluffy cream cheese from the fridge.
Then, fold in the whipped cream until a fluffy cheesecake dip forms.
Refrigerating
Finally, wrap the bowl with plastic wrap or transfer the creamy dip into a sealed container.
Refrigerate for 30 minutes in the fridge before serving with the keto fruits you love.
Best Fruit With Fruit Dip
There is a large range of low-carb keto-friendly fruits that can be added to your fruit platter.
The best fruit to serve with this healthy low carb dip are:
raspberries
blueberries
strawberries
fresh coconut meat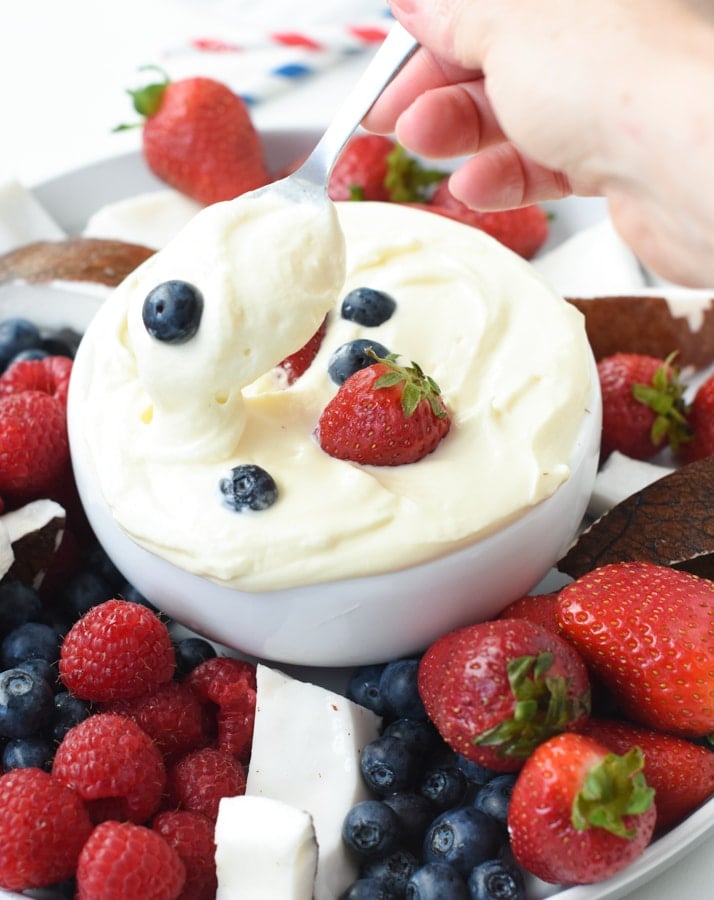 Frequently Asked Questions
Can I use Greek yogurt in my dip?
Yes, you can lighten up your low-carb keto fruit dip by replacing 2 ounces of cream cheese with 2 ounces of full-fat Greek yogurt.
You can't fully replace the cream cheese with yogurt, or the dip will be too runny and not fluffy.
How much can I eat?
A fulfilling serving size is 1/4 cup of fruit dip with 1/2 cup of fresh fruits like raspberries.
This makes a great keto dessert for parties or a great keto patriotic dessert served with blueberries and strawberries.
Can I flavor my fruit dip?
Sure, you can use this recipe to create a range of delicious keto fruit dips. To make a:
Chocolate fruit dip – beat in 2 tablespoons of unsweetened cocoa powder along with powdered sweetener.
Chocolate chips dip – add 1/3 cup of sugar-free chocolate chips.
Peanut butter fluff – beat 1/4 cup of peanut butter along with cream cheese in step 1 of the recipe.
What Can I Pair This Dip With?
A classic fruit dip is often served with fresh fruits and vanilla wafers. To make a beautiful keto fruit platter serve this keto fruit dip along with a collection of homemade keto biscuits.
The best keto biscuit recipes to dip in this dip are crispy plain vanilla or cinnamon biscuits like :
Storage Instructions
This fruit dip can be stored for up to 3 days in a sealed container in the fridge.
You can also freeze the fruit dip.
I recommend using an ice cubes tray so you can thaw only a small serving to use as a quick sweet keto snack.
More Keto Dessert Recipes
If you love keto desserts to share with family and friends, I listed some other delicious recipes for you to try.
Have you made this keto fruit dip recipe? Share a review or comment below to tell me how it went!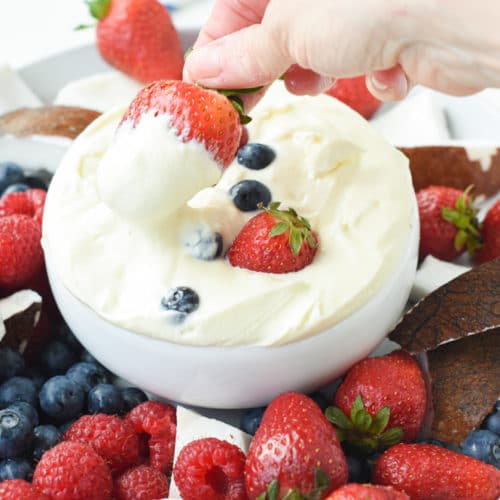 Keto Fruit Dip
An easy 4-ingredient Keto Fruit Dip to dip your keto fruits with only 2 grams of net carbs per serving.
Yield:
servings (1/4 cup)
Serving Size:
1
serving (1/4 cup, no strawbwrries)
Nutrition Snapshot
Want My Kitchen Equipment?
Ingredients
Optional for a natural marshmallow fruit dip flavor!
Instructions
In a large mixing bowl, add the softened cream cheese, 1/4 cup of heavy cream, powdered erythritol, vanilla extract, and marshmallow stevia drops (if using). Beat on medium speed until fluffy and combined – about 1 minute.

Stop and set aside while you whip the remaining heavy cream.

In another large mixing bowl, add the remaining 1 cup of heavy cream and whip with an electric beater until a soft peak forms.

Fold the whipped cream onto the bowl with cream cheese.

Gently incorporate until fluffy. Refrigerate 30 minutes before serving with your favorite keto fruits.
Storage
Store in an airtight container in the fridge for up to 4 days
My Recipe Notes
Nutrition
Serving Size:
1
serving (1/4 cup, no strawbwrries)
Yield:
servings (1/4 cup)
Serving:
1
serving (1/4 cup, no strawbwrries)
Calories:
225.3
kcal
(11%)
Carbohydrates:
2.2
g
(1%)
Net Carbs:
2.2
g
Protein:
2.4
g
(5%)
Fat:
23.5
g
(36%)
Saturated Fat:
14
g
(88%)
Cholesterol:
82.1
mg
(27%)
Sodium:
105.1
mg
(5%)
Potassium:
67
mg
(2%)
Sugar:
1
g
(1%)
Vitamin A:
927.4
IU
(19%)
Vitamin C:
0.2
mg
Calcium:
52
mg
(5%)
Iron:
0.1
mg
(1%)
Posted In: